The Xterra Fitness ERG220 rower is different. It doesn't look like a conventional rowing machine with its large turbine flywheel housing, it's a cool looking machine, and whats best of all is that Xterra hasn't held back on features either.
Boasting a long rail and whisper-quiet magnetic resistance, a belt drive system, and a folding feature the Xterra ERG220 has been designed perfectly for home use.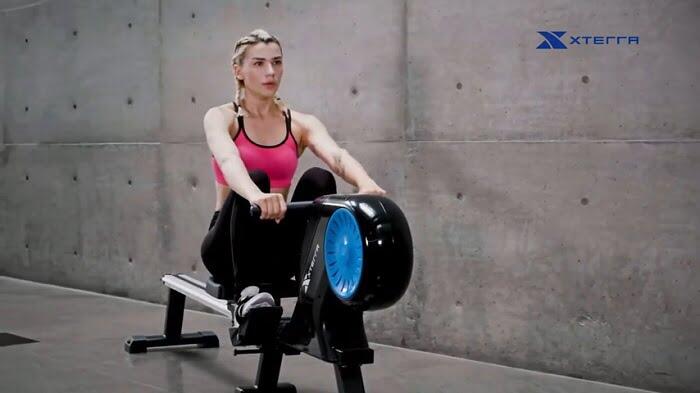 A long Way off Commercial Grade but Decent Quality For Price Point.
Yes, this thing is a long way of heavy-duty, but for a home rower, it's easily good enough.
Many users have praised the stability of this machine, and most importantly, they loved the smooth rowing stroke. For a low-cost rower, the ERG220 received surprisingly positive reviews, which is why I want to take a close look at it today.
Includes Comparison With Sunny Health's Best Seller the SF-RW5155 Rower
And while there's a ton of below-par cheaply built rowers in this price bracket, there are a few that really stand out, and one of them is the Sunny SF-RW5515 which, if you read to the end of the review, I will be comparing with the Xterra ERG220. It will be interesting to see how the ERG220 matches up against Sunny Health's best seller.
First, let's take a quick look at the Xterra ERG220 product specs!
Product dimensions – 80.3 x 19 x 29 inches LxWxH
Resistance type – Magnetic
LCD multi-function monitor tracks –  time, stroke count per minute, distance, total stroke count, calories, pulse
Why Do We Like The Xterra Fitness ERG220 Rower?
Many budget rowers suffer from short rails/beams, which can be a real headache if you're a tall guy, especially if you dont want to spend more cash on a midlevel rower with a longer beam.
Thankfully a few of the low-cost foldable rowers include long beams, and one of them is the Xterra ERG220 with a 40″ beam; it can accommodate users up to 6'4″, which is impressive and has a minimum height of 5'1″
As well as the machine's beam being long, it's quite wide, which is a good thing as wide rails help with stability.
Contoured Seat Prevents Your Butt Slipping
Something else I liked about the Xterra machine is its seat, as it's perfectly contoured to prevent slips in the leg push phase of the rowing stroke. I know this is just a small feature. Still, it's important as the last thing you want is your butt slipping, ruining your rowing form.
Another positive of the seat is that it's made from high-density foam. This is the good stuff because it's not too soft to cause stability problems or too hard to be off-putting it's just right.
Smooth Rowing Stroke
The rowing stroke of the ERG220 is smooth for the price bracket, and that thanks to the 9lb premier weighted flywheel, this is a decent weight for a low-cost rower flywheel, and many users have mentioned how smooth it feels.
Also, we have a belt drive system. Belt drives require little maintenance and are much quieter than a chain drive, so if you want to keep noise to a minimum, choosing a rower with a belt drive is your best choice.
Eight levels of Magnetic Resistance
Typically we find eight resistance levels on low-cost rowers, and the strength of resistance even in the upper levels isnt strong enough for serious rowers training for competitions.
This type of rower and its resistance strength is targeted more towards people who want to burn calories and increase their fitness levels.
Still, it isnt bad at all, as you can really feel the difference from the lower to the upper levels with the Xterra, so most people should get an excellent workout from the Xterra rower.
Magnetic Resistance Best Choice For Home Gyms
I usually recommend magnetic resistance for home use because this type of resistance system is whisper quiet when in operation.
The reason magnetic resistance is so quiet is that the magnets never make contact with the flywheel. It's a frictionless resistance system; thus, it doesn't make any noise.
Great for people who live in apartments or anyone who doesn't want to disturb others with the sound of their workouts.
Another positive of magnetic resistance is that it's cheaper to produce than air or water resistance systems, which brings down the rower price.
And lastly, magnetic resistance is a constant resistance that lets you if you wish, row on a strong resistance setting at a slow pace, great for building the legs muscles and something impossible with air resistance which is dynamic.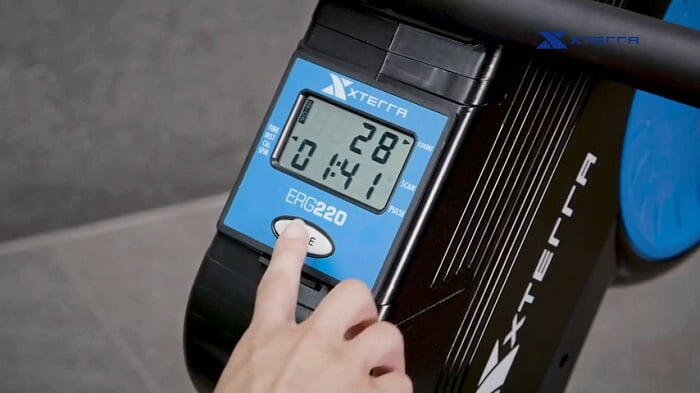 Easy To Use One Button Monitor
You won't find advanced monitors in this price bracket, so the best we can hope for is an easy-to-use monitor that tracks all your essential workout stats, and that is what Xterra has provided. This monitor is so simple to use it only has a single button.
It tracks all the important stuff such as distance, number of strokes per minute, calories, pulse, and the top part of the LCD screen tracks the number of strokes per session.
Xterra thought to include one advanced feature, wireless heart rate monitoring,  but you'll need to buy the heart rate chest strap separately.
You can pick a good chest strap for around $40. Wireless heart rate monitoring is a great option to include on a low-cost rower, and if your someone who loves to workout in their chosen heart rate zone, this is the most accurate way to do it.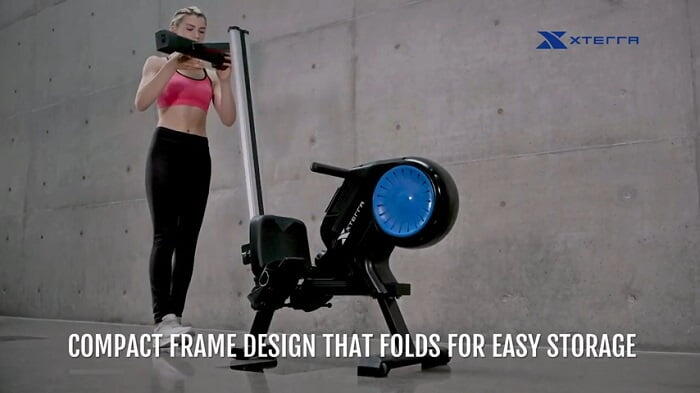 Folds For Easy Storage
Some indoor rowers have annoying folding mechanisms that are time-consuming and fiddly. So it was nice to see an easy to fold system included with Xterra.
All you need to do to fold the Xterra ERG220 is remove a pin, and it folds to almost half its original footprint takes a few seconds. You can then just tilt the rower and roll it to store on its built-in transport wheels.
40 Minute Assembly
You'll be happy to hear the main unit of the Xterra rower comes pre-assembled. All you'll have to do is attach the rail to the main unit, the seat, the three stabilizers, and the footrests.
The rower comes with a manual with clear instructions, and the basic tools for the job are provided. It's usually better to have two people for the job as some parts need to be held in place.
Long 40″ rail accommodates users up to 6'4″
8 levels of whisper-quiet magnetic reistnace
Belt drive system keeps noise down and requires no maintance
Easy to fold system – folds to half its original footprint
Buil in transport wheels just tilt and roll to store
Adjustable rear levelers – can be adjusted to keep the rower level on uneven surfaces
Basic monitor no-preprogrammed workouts
Not suitable for serious rowers
Heart rate chest strap not included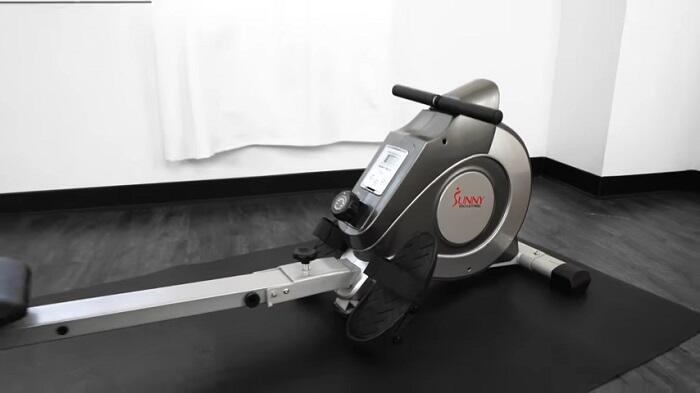 Sunny Health & Fitness SF-RW5155 Rowing Machine
Sunny Health are the king of high-quality, affordable gear. These are the guys to go to if your budget is tight, but you dont want to lose too much quality.
They make some of the best low-cost rowers out there, and the 5515 is their flagship budget magnetic rowing machine.
The Sunny SF-RW5155 has been around for a few years now, so it has stood the test of time, and it is still as popular now as it was five years ago. This machine is said by many to be the best budget rower out there and currently, for under $250 id have to agree.
So what makes it a better buy than the others that are similarly priced? Resistance strength: Most people who own this machine praise how strong the resistance is, which is unusual for a rower in this price bracket.
When I first reviewed this rower a few years back, people compared it with rowers they used in their local gym. It's that good, and there are not many budget rowers that can boast that.
In all, it's pretty similar to the Xterra in that both machines utilize magnetic resistance, both have eight resistance levels, both boast long rails for the price, and both fold easily for storage. However, the Sunny is quite a bit cheaper than the Xterra, and it almost matches it both on quality and features.
The only feature the Sunny doesn't include that the Xterra does is wireless heart rate monitoring, which may be a deal-breaker for some.
If you want a low-cost well built, high-quality rowing machine, the Sunny is worth some serious consideration because, at under $250, there's nothing else out there that can match it.
To Sum Up
Xterra has come up trumps again with their recently released ERG220 magnetic rowing machine, it's well built with its sturdy steel frame, and we love the primer weighted flywheel that keeps the rowing stroke smooth and uninterrupted.
Perhaps the best feature of this rower is its long rail, as it is one of only a handful of machines in this price bracket to offer taller users a low-cost option without having to pay mid-level prices.
Another excellent choice for people looking for a quiet machine for home use. It's not a heavy-duty option, and it doesn't have many monitor features, but Xterra got all the essentials right, and if you just want a well-built rower to lose weight and increase fitness levels, the ERG220 is one of the best options available right now.