Xterra are known well in the fitness industry for building some high-quality gear. They have a selection of rowers out right now, mainly consisting of budget to mid-level machines.
Today we're going to focus on their lowest cost rower, the Xterra ERG200 rower. However, another low-cost rower from Xterra was recently released, the ERG220, which is a slight step up from the ERG200.
I reviewed the ERG220 a few days ago, and just like the ERG200, it's an impressive machine for the price. Still, unless you're over 6'2″, it's not worth paying the extra cash as the only real difference compared to the ERG200 is that the 220 has a longer rail to accommodate larger uses and a slightly higher max capacity of 300lb.
So for now, you'll probably best sticking to the ERG200 rower is it offers the best value for money.
Xterra Doesn't Cut Back on Quality Even in The Lower Price Ranges.
The Xterra ERG200 is a budget magnetic rower, so we cant expect an advanced monitor in this price bracket or a heavy-duty build.
What we can hope to find is a rower that can cope with intense workouts and has the build quality to last, and is this where Xterra usually shines because they don't cut back on quality even in the lower price ranges.
Still, these guys will cut on features such as the monitor, but the machine's build standard continues to be high quality thought-out the ranges, even with their lowest-priced cardio machines such as the ERG200.
Before we get on with the review, let's take a quick look at the Xterra ERG200 product specs!
Product dimensions – 71.9 x 20.7 x 31.5 inches 
Resistance type – Magnetic
LCD multi-function monitor tracks –  time, stroke count per minute, distance, total stroke count, calories
Why Do We Like The Xterra ERG200 Rower?
As mentioned, Xterra got all the essentials right with this machine, and yes, there aren't any standout features of the ERG200, but it's the essentials that so many budget rowers get wrong.
You'll find many budget rowers do not provide a smooth rowing stroke. It's vital to own a rower with a smooth rowing stroke if you want to get the most out of your rowing sessions.
9lb Premier Weighted Flywheel
The Xterra boasts a 9lb premier weighted flywheel, which will help keep the rowing stroke smooth and uninterrupted.
Also, we have a wide rail that will keep things stable and two pairs of heavy-duty wheels, with stainless steel, high-grade ball bearings, which allow the seat to glide across the rail smoothly. All of these features will ensure a great feel when rowing and one of the smoothest rowing strokes in the price bracket.
Wide Countoured Comfy Seat Stops Your Butt From Slipping
Another plus of the Xterra ERG200 is the wide contoured seat, as it's been perfectly contoured to prevent your butt from slipping in the leg push phase of the rowing stroke. The last thing you want is your butt slipping, ruining your rowing form.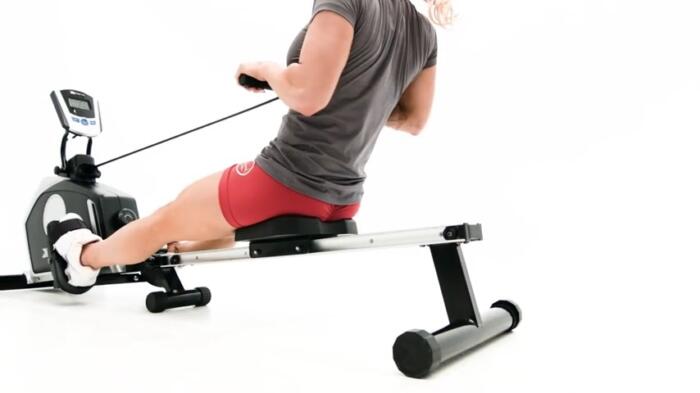 8 Levels of Whisper Quiet Magnetic Resistance
Magnetic resistance is the No.1 choice of resistance system when choosing a rowing machine for home use. Why? It's almost silent in operation, which means you can watch tv listen to music without being disturbed by the sound of the machines.
It's an excellent choice for people who live in apartments or anyone tight on space as you won't be disturbing people close to you with the sound of your workouts.
The reason magnetic resistance is so quiet is that the magnets of the resistance system do not make contact with the flywheel, making it a frictionless resistance system.
Frictionless Resistance Systems Require Litte To No Maintenance
Frictionless resistance systems have two benefits. The first is they're whisper-quiet, and the second is there is no wear and tear, which means it's maintenance-free.
Row on a High Resistance Setting at a Slow Pace
And one of the best workout benefits of magnetic resistance is that you can choose a high resistance setting but row at a slow pace, great for building and strengthening the muscles and something impossible to achieve with an air rower which utilizes dynamic resistance.
The Xterra ERG200 includes eight levels of magnetic resistance. This is the usual amount for a budget rower and should provide enough strength in the upper levels for interest calorie-burning workouts; users have mentioned they can really feel the difference in resistance strength for the lower to upper levels.
Basic But Easy To Use Monitor
Monitors in this price bracket are always a little disappointing, and the Xterra ERG monitor is no exception; this thing is about as basic as monitors come. There's no built-in workout programs or advanced features.
However, it does track all the essential workout data such as time, count (number of strokes completed during your current workout), total count (total strokes up to the present moment), and calories burned. There's also a countdown feature.
Sometimes basic can be best for many people as not all of us want to spend half an hour trying to work out how to use an advanced monitor, and not all of us need 100's of features and preprogrammed workouts. Plus, you save yourself a good amount of cash by choosing a rower without all the bells and whistles.
One Impressive feature of this monitor is its angle adjustable so you can move it to the perfect position that will allow you to see your workout data properly while exercising.
Any other likes & dislikes?
This machine folds to almost half its original footprint. It's a useful feature as you can then tilt the rower and roll it on its integrated transport wheel to store, and unlike other budget rowers, which can be time-consuming and fiddly to fold, this folding system is simple. Just pull a pin to fold takes a few seconds.
Something I dont like about this Xterra rower are the price fluctuations which is why I have held back from reviewing this machine for a long time. It seems one day it's priced well over $400 and another day it's under $300. Hold back until it's under $300. This is a budget rower, not a mid-level rower.
Easy Assemebly – Average Build Time Under an Hour
Most of Xterra ERG200's main body comes pre-assembled; this includes the flywheel, the magnetic resistance system, belt, and pulling handles. All you need to do is attach the rail, the foot pedals, the seat rear stabilizers, and the monitor. It's a good idea to have two people for assembly as some parts need to be held in place. Most people got it together in under an hour.
Sturdy frame for a low cost rower holds upto 250lb
Decent length rail – accommodates users up to 6'2″
Whisper quite magnetic resistance  great for home use
9lb flywheel and belt drive ensures a smooth rowing stroke
Contoured seat to prevent butt slipping on push phase of rowing stroke
Built in transport wheels
Basic monitor – no pre-programmed workouts
Seems price is always changing with this budget rower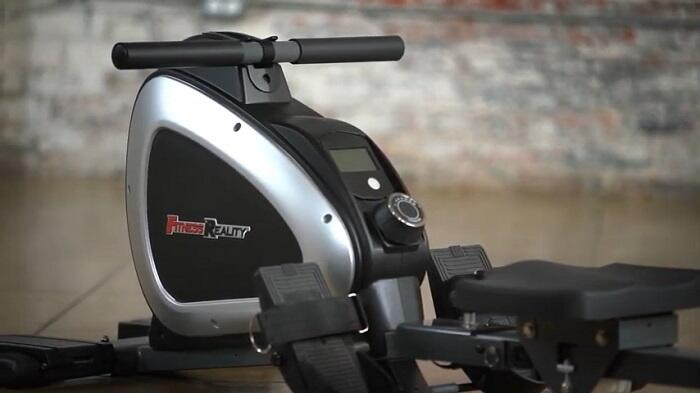 Fitness Reality 1000 Plus Rower
I've always liked Fitness Reality. These guys build some great gym gear which I've had the pleasure of reviewing many times over the years, and I've always been impressed with the quality and the price.
This is their budget magnetic rower, which retails just under $300. It's very similar to the Xterra in that both rowers include eight levels of magnetic resistance, both fold for storage, and both have the same length rails, suitable for users up to 6'2″.
But what is slightly different about the Fitness Reality machine is the monitor its more advanced than the Xterra ERG200. It includes Bluetooth and free access to the MYCloudFitness app, where you can download all your workouts stats onto your tablet or phone. There's a ton of other features included with the app, some paid and free, but the essential and most useful stuff is free.
Also, we have a slightly higher weight capacity with Fitness reality 1000 of 300lb. This rower comes with an extra pair of footplates at the front of the machine so you can use the rowing handles for upper body exercises such as bicep curls and standing rows, etc. It is a nice little feature, and something users seem to love.
Overall this is an excellent alternative to the Xterra rower, especially if Xterra has decided to bump the price up again of the ERG200.
To Sum Up
There's no doubt about it the Xterra Fitness ERG200 is an excellent budget rower, with its smooth rowing stroke and whisper-quiet resistance system. It's more impressive than many I've reviewed in this price bracket. If you can get hold of it for just under $300, it's a bargain! If it's priced at well over $400 when you read this review? I'd avoid it. Go for something like the Fitness Reality 1000 Plus Rower, easily as good and affordable.