The JLL R200 Magnetic Rowing Machine has been around for a few years, but thats a good thing because it's received a ton of feedback, and nearly all is positive.
For a low-cost rower, this thing is impressive, boasting a smooth rowing stroke, ten levels of whisper-quiet magnetic resistance, and a Maintenace free belt drive system. It's perfectly designed for home use.
And while it's still a long off commercial grade, the JLL R200 does include a decent weight flywheel, so resistance is strong and uninterrupted, something most low-cost magnetic rowers fail to achieve.
Review Includes Comparison with Sunny Health Best Seller the SF-RW5155 Rower.
Today, I want to look at everything the JLL R200 has to offer, including its drawbacks. At the end of the review, I'll compare the JLL-R200 Rower with the Sunny Health best-seller, the SF-RW5155 Rower. It will be interesting to see how the JLL R200 matches up to Sunny's impressive budget machine.
First, a quick look at the product specs!
Product dimensions – 180 x 52 x 49 centimetres LxWxH
Resistance type – Magnetic
LCD multi-function monitor tracks –  time, distance, total stroke count, stroke, calories, scan
Weight capacity – 220lb (100kg)
Why Do We Like The JLL R200 Rowing Machine?
A smooth rowing stroke is all-important when choosing a budget rower. If you haven't got a machine capable of producing one, you will not get the most out of your workout sessions, affecting your rowing form.
To achieve a smooth rowing stroke, your rower must include a seat that glides easily on its rail. Ideally, we look for three sets of wheels under the seat, and thankfully the JLL R200 includes the three sets. The JLL R200 seat glides effortlessly within the grooves of the rails; first thumbs up!
Also, to help keep things smooth, we need a decent resistance system and drive system. Belt drives are typically best for keeping things smooth, and they are less noisy than a chain drive.
The JLL R200 includes a belt drive and magnetic resistance system, and a decent weight flywheel, all of which contribute to a smooth rowing stroke.
Angled Rail
And lastly, an angled rail/beam is desirable. An angled rail will put you in the best position to drive the legs in the leg push phase of the stoke, and it also speeds up the recovery phase of the rowing stroke, the JLL-R200's rail is slightly angled, which is just what we are looking for.
So for a budget foldable rower, the rowing stroke is surprisingly smooth, and this is reflected in the user's reviews, with many people praising how good this rower feels when rowing on it.
Unboxing & Assembley Video
10 Levels of Quiet Magnetic Resistance
Most low-cost rowers (under £300) include eight resistance levels, so it was a pleasant surprise to see ten featured on the JLL-R200 rower. It doesn't necessarily mean the ten levels will be any stronger than the eight levels of other low-cost rowers, but it does give you more choice as you work through the resistance strengths as your fitness levels improve.
Magnetic Resistance Best For Home Use
Magnetic resistance has featured on cardio gear for over a decade now, so it's nothing new.
Still, we have only recently started to see it being used on low-cost cardio equipment, which is great news as magnetic resistance is easily the best choice for a home rower. Why? Because it's whisper-quiet in operation.
The magnets never have to make contact with the flywheel, which means it's a frictionless resistance system, and frictionless equals near-silent rowing and a maintenance-free resistance system.
Constant Resistance
Something else I've always loved about magnetic resistance is that you can set the rower to a high strength resistance stetting but row at a slow pace great for building up your leg muscles and something thats impossible with an air rower because air resistance is dynamic.
Belt Drive System
We've already mentioned the belt drive system helps to keep the rowing stroke smooth. Still, one of the other benefits of owning a rowing machine that utilizes a belt drive system is just how quiet it is compared to a chain drive; belt drives systems, just like the magnetic resistance system, is whisper quiet in use.
When you combine both of these features on any rower, you'll have one the quietest cardio machines out there, perfect if you want to watch tv while you exercise, and great for apartment living if you dont want to disturb others with the sound of your workouts.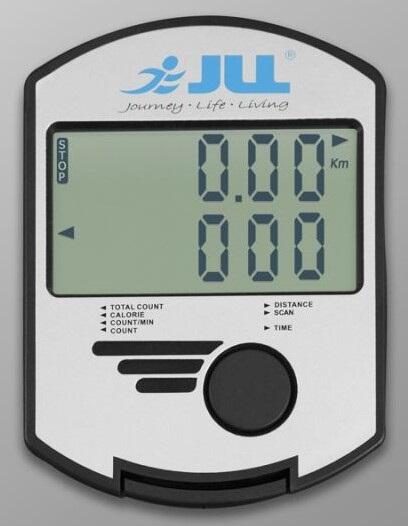 Easy To Use but Basic Monitor
I've reviewed many low-cost rowers over the years, and I haven't yet come across one rower with an advanced monitor, and in this price bracket, you wouldn't expect to.
The JLL-R200 monitor is basic, yes, but it does include a nice large LCD so you can see workout data easily while you're rowing.
There are no workout programs and no BlueTooth with this monitor. It only tracks the essential workout stats such as Total Count, Calorie, Count / Min (mins: secs), Count, Distance (km) & Time (mins: secs).
I dont mind basic monitors on cardio gear, they're easy to set up, easy to use, and they dont bump up the rower price. If you want an advanced monitor, you'd have to pay at least an extra £100, and most of the time, people dont use half the features of advanced monitors so that they can be a waste of money.
Anything Else We Liked or Disliked?
There's a couple of other features worth a mention, this rower includes a folding system, and unlike other rowers, it's easy to fold just pull a pin, and the rower folds to less than half its original footprint. You can then roll the rower on its built-in transport wheels to store.
Secondly the length of the rail is impressive for a low-cost rower. Usually, rail length suffers in this price bracket which limits the user height to 6ft. The JLL-R200 can accommodate users up to 6'2″, which is impressive. I've even heard of guys taller than this achieving full leg extension on the JLL Rower.
A few things I didn't like, there are no adjustable levelers on the front stabilizers. Levelers are great for keeping a rower stable on uneven surfaces its a shame not to see them featured here, so make sure you find an even surface for this rower.
Another drawback is that there's no tablet holder. Unusual for a budget rower, they usually include a tablet holder because the monitors are so basic a tablet holder is essential for some people to download their fitness apps.
Decent build quality for price point
Inlcudes 10 levels of whisper quiet magnetic resistance
Space-saving design – folds to less than half its original footprint
Can accommodate users up to 6'2″
Low maintenance and quiet belt drive system
Built-in transport wheels just tilt and roll to store
No adjustable levelers to help keep the rower stable on uneven surfaces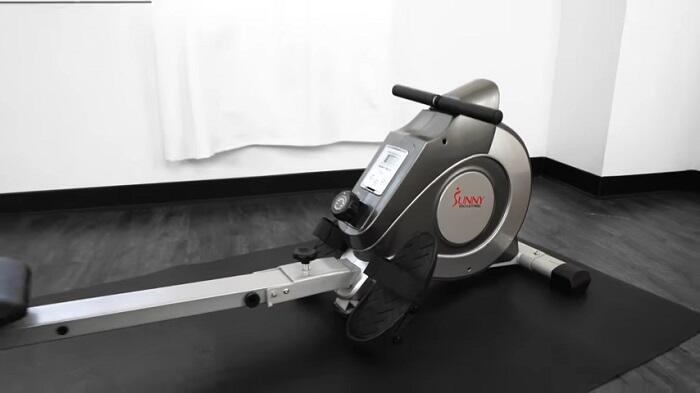 Sunny Health & Fitness SF-RW5155 Magnetic Rowing Machine
Sunny Health & Fitness are the market leaders for affordable cardio gear for our homes, these guys have been at the top of their game for over two decades, and their rowing machines outsell everything else out there.
Their SF-RW5155 is the Flagship budget rower. It retails at the same price as the JLL-R200 and is just as impressive.
The Sunny, just like the JLL-R200, boasts a smooth whisper quiet magnetic resistance system but with eight levels rather than the ten of the JLL-R200.
But the reason this machine sells so well is because of the strength in the upper levels of its resistance system, with some users comparing the Sunny rower to ones they have used in their local gyms, and there are not many budget magnetic rowers who can claim that kind of praise.
And just like the JLL-R200, the Sunny folds easily for storage, uses a belt drive system, and comes with a fairly basic but easy-to-use monitor. Both rowers are very similar, and both are impressive for the price tag.
The only real difference between the two rowers is that the Sunny Health includes the longest rail in the price range, can accommodate users up to 6'4″ with ease, and can handle 250lb in weight rather than 220lb of the JLL-R200.
It's tough to choose between the two rowers as both offer a lot for the money. The Sunny will be more appealing to taller, heavier uses, while the JLL-R200 is a more compact, lighter machine that makes it easier to move, etc.
To Sum Up
Finding a rower that includes a smooth rowing stroke, has a decent build quality, and comes with more than enough resistance strength for beginners and intermediates in this price bracket is rare, which is why the JLL-R200 Rower offers great value for money.
The JLL-R200 is an excellent choice for a home gym thanks to its drive and resistance systems which are both designed to be almost silent. If you've been looking for a fuss-free rower to increase fitness levels and burn off a few pounds, you won't find much better for under £300.