We all know how vital cardio training is for our health and our physical appearance. Together with a healthy diet, cardio training is probably the best tool in fighting the illness of the modern world – obesity.
Question is what is the best cardio training for you and what kind of home gym cardio equipment will suit you the best. Actually, the best cardio training is one you can do outside in the fresh air. However, most of us are not living near big parks where we could do our training.
Driving to a place that is suitable for training is also time-consuming, and no one has time to waste nowadays. And what if it is raining, snowing or it's simply too cold? In that case, going out for a run can seem more harmful than useful.
You can skip one training, but what if the bad weather situation lasts for a longer period? At that point, you see the importance of home gym cardio equipment.
Of course, not all cardio machines and training are the same, that's why we will talk about the most popular ones and hopefully help you choose the best one for you.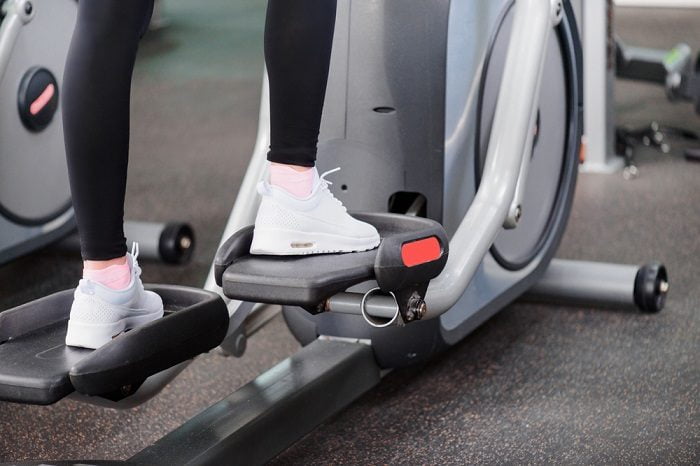 Stationary Bike
A stationary bike is an excellent machine for the home gym since it doesn't take much space and its very mobile. In case you decide to purchase this machine go for the magnetic one with a minimum of 8 difficulty levels plus monitor. You can place it in front of the tv so you don't get bored while training.
The price depends on the quality but they are usually not very expensive and you can find a good quality machine at a reasonable price.
Elliptical Machine
An elliptical machine is an excellent machine for a home gym, and you can also find it in gyms. It is a bit bigger than a stationary bike, so it takes a bit more space. This machine gives you more intense training than a stationary bike, and it's probably more suitable for younger people though this is not the rule.
Along with classic cardio training on this machine, you are also doing great training for your thighs and glutes. There are several difficulty levels, and you can adjust it in time, so it suits your training level as you progress.
Same as for a stationary bike, the price of ellipticals is not very high even for good quality ones.
Treadmill
A treadmill is a big machine that we usually see in gyms and fitness centers. It is very big and takes up a lot of space, and it is also heavy, so if you plan to use it in your home gym, make sure you have enough room for it.
The treadmill is probably the best cardio machine. Apart from running on the treadmill, you can also do fast walking that is becoming very popular when it comes to training.
You simply punch in the program, the treadmill gives you the rhythm, and you need to follow it. On the treadmill, you can also adjust the inclination level to raise the difficulty of your training.
Some manufacturers go as far as to put in little screens on the treadmill that allows you to choose the scenery through which you are supposedly going while walking or running on a treadmill.
The price is higher than the cost of elliptical machines and stationary bikes, but the treadmill offers excellent cardio training, so it is worth paying a little bit extra if you have enough space for it in your home.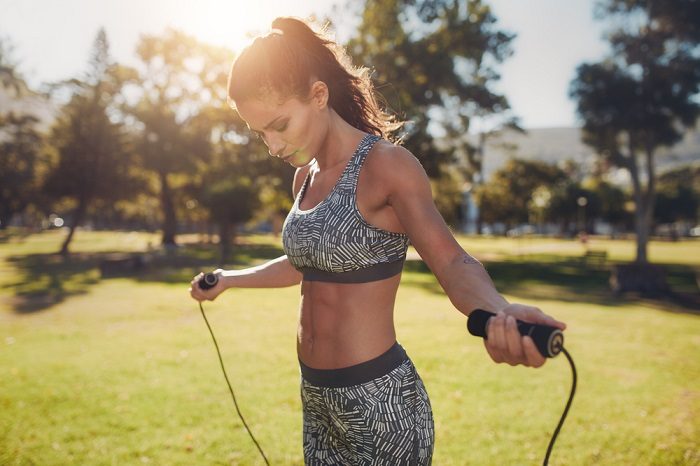 Jump Rope
Jump rope is the cheapest option for cardio training but it is still very efficient. It does not require a lot of space and after the training, you can simply fold your rope and put it away which is something we can not say for all the other cardio equipment.
Jump rope is suitable for younger and lighter people since the older and heavier people might experience some problems with the joints while doing this kind of training. With the rope along with the cardio training, you are also developing good coordination.
Punching Bag
A punching bag can be found in some gyms and fitness centres. When it comes to home use it is great. It does not take up a lot of space and you can put it in the basement if you have one.
With a punching bag, you can have excellent cardio training while you are working on your strength and speed at the same time. If you combine the punching bag and jump rope you have a great cardio training.
There are many different types of punching bags available on the market and the prices vary depending on which you decide upon buying.
To Summarise
Having a cardio machine at home is very useful for so many reasons. First, it saves you time which you would waste driving to the gym and back, it is always available and ready for you to use so you can train at your own time and you are more likely not to give up on your training if the machine is actually in your home.
Whatever machine you decide to purchase make sure that it is the one you will have fun using each of these machines will benefit you greatly.