If you're looking for budget gym equipment, then you should start with Marcy. This company perfectly caters to the demands of beginner and mid-level fitness enthusiasts.
Today, we will be talking about the Marcy Recumbent Bike NS-716R. Stay here and don't go anywhere because we will be giving you a thorough and honest review about this capable recumbent bike.
Marcy NS-716R at a Glance
This recumbent bike uses a combination of black, grey and yellow color motifs for a clean and simple look. It doesn't look very bulky when compared to other products at the same price. All the components are designed well and are coherent with the overall design.
Marcy's recumbent bike has all the features that make it a great budget friendly recumbent bike. It has an adjustable seat, foam covered handles, digital tracking panel (LCD), eight levels of magnetic resistance, tension knob, and transport wheels. I will discuss each of these features in detail later on.
Product dimensions –  52 x 25 x 38 inches 
Resistance Type – Magnetic
Key Features of Marcy Recumbent Bike NS-716R
In this section, we will be talking about the features of this product that we love. Are you ready? Let's move on and get the discussion started!
Excellent Weight Capacity
The Marcy NS-716R, with its durable steel frame and components, is perfect for people carrying extra weight.
It can handle people up to 136 kg. Only a few products within the same price range and category offers the same capacity as this recumbent bike. The Marcy Recumbent is perfect for heavy people who have limited budgets.
Easy To Assemble
One of the most important factors that you should consider before buying a recumbent bike is assembly. After all, what's the point of buying one if assembling it is very tricky and might cost you more money? We're happy that this recumbent is not a puzzle and assembles with ease.
With a few simple tools at your disposal, you won't be scratching your head while trying to assemble this product.
The instructions show very detailed graphics that convey how to fit and link each part together. Assembly may take up to 30 minutes or 1 hour depending on your expertise, but rest assured that doing so won't stress you out.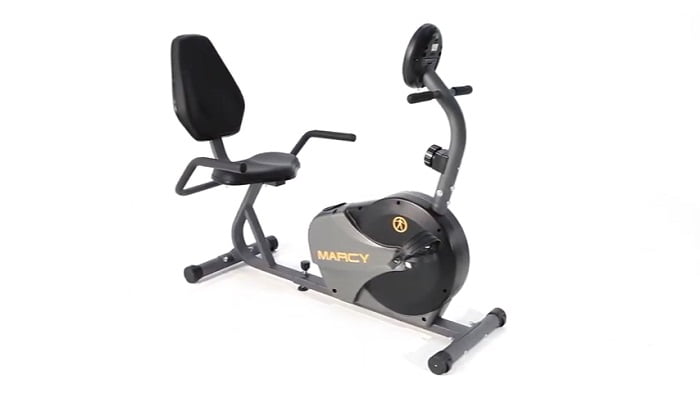 Lightweight and Portable
You'll have no trouble transferring this recumbent bike from one place to another inside the house. The Marcy Recumbent Bike uses a sturdy lightweight steel frame that weighs about 26 kilos. The steel frame is further protected against rusting and other forms of corrosion by reinforced paint.
For mobility, manufacturers installed small wheels on the front end of this recumbent bike.
This means that there's no need for you to lift the bike when transferring it to various places within the house. Though small, the wheels are strong enough to bear the weight of the steel frame and other components. They turn smoothly as well.
Comfortable
Though quite cheap, Marcy Recumbent Bike NS-716R gives the same comfort that premium grade recumbent bikes offer.
The adjustable seat means that you can comfortably position yourself regardless of your height. This feature also allows people of various heights ranging from 5″ – 6'2″ to use this recumbent bicycle. Lastly, the adjustable seats help you take more comfortable strides while using this recumbent bicycle.
Comfort is reinforced by the high-density foam on the seat and back pads. The foam helps to relieve tension experienced by the upper back, lower back, and the buttocks when exercising on the Marcy. This feature is helpful if you're prone to experience pains in the hips, legs, and back.
Located on each side of the seat are handles. These are directly connected to the lower portion of the back pad frame.
As the resistance of the recumbent bike increases, you're prone to commit an awkward body position while you pedal harder. Handles help to solve this problem. They provide more stability and balance as you take more powerful strides. Aside from this, they also help you give more strength to your legs and feet.
The handles are covered with foam. This means that there's no need for you to worry about blisters no matter how hard you grip them.
As a bonus, manufacturers also made a bottle holder located inside the cover of the flywheel housing. The bottle holder is installed near the seats so that you may take a quick gulp and refresh yourself by simply reaching out for the bottle placed on it.
Monitor/Console and Knob
Nothing provides more relief than knowing that your recumbent bike gives you essential information that's important for your fitness routine. The Marcy Magnetic Recumbent Bike provides this very feature. At the topmost part of the steel post installed at the cover of the magnetic resistance is an LCD display that faces you directly.
This LCD display shows how many calories you're burning,  distance traveled, how hard you're pedaling, and other essential information.
On a personal note, we're very happy that the LCD is not prone to glitches. Other recumbent bicycles of the same price have monitors that often lag and give inaccurate numbers after some time of use. Users haven't encountered this issue with Marcy Recumbent Bike NS-716R so far.
On the middle portion of the steel post which holds the LCD in place is the knob. The knob allows you to utilize the 8 resistance levels that this recumbent bike has.
The knob shifts from levels 1 to 8 or vice versa. It turns smoothly and is very responsive. Upon switching, the resistance level immediately changes without awkward sounds or delays.
Who Is This Recumbent Bike For?
Marcy's recumbent bike is perfect for beginners and mid-level fitness enthusiasts. The fact that it's easy to assemble and has the basic features of an excellent mid-grade recumbent bike attests to this.
The 8 levels of magnetic resistance are just right if you're just starting to develop lower body strength and cardiovascular endurance.
To put it simply, if you have just started to work for a well-toned body and want to exercise at home or is looking for a quality mid-grade recumbent bike, then the Marcy Recumbent Bike might suit your needs.
Wrapping It Up
To end the following are the pros and cons of Marcy Recumbent Bike NS-716R:
Excellent weight capacity
Transport wheels for portability
8 smooth magnetic resistance levels
Handles for increased stability and balance