For under $1000, you wot find a recumbent bike that delivers on the essentials more than the Nautilus R618 Recumbent Bike. Yes, there are the Schwinn bikes, all impressive machines, but Schwinn is a company owned by Nautilus, and if there's one thing I've noticed, it's that Nautilus prefers to update its line of equipment more often.
So if you choose a Nautilus recumbent bike, which is basically the same as a Schwinn recumbent bike, at least you'll have the latest tech, even though they share the same price tags. And this is why I've always favored Nautilus over Schwinn for the past few years.
R618 – Heavy Duty Build, Walk Thru Frame, and a Great Monitor
The R618 is the top-of-the-line recumbent bike from Nautilus. Its sturdy, weighing over 100lb; the design is impressive with its walk-through frame, making it easy to get on and off. And users love how smooth it feels, which is thanks to its premier weighted flywheel. Yes, there are a few drawbacks, which ill get into later, but overall I've found the Nautilus R618 offers more bang for your buck than anything else under $1000.
And in today's review, I want to take a close look at everything this recumbent bike has to offer, including those drawbacks I mentioned. At the end of the review, I'll compare the Nautilus R618 with another impressive recumbent bike, the Xterra SB2.5R, just to see how they match up.
First, let's take a quick look at the Nautilus R618 product specs!
Product dimensions – 41 x 22 x 13 Inches
Resistance Type – Magnetic
Why Do We Like The Nautilus R618 Recumbent Bike?
Accessibility and comfort are the most important things you need to consider when choosing a recumbent bike, and something that impresses me about the R618 is its seat.
It's a wide comfy contoured gel-padded seat. This is exactly what you want for a recumbent seat; you might spend hours sitting on this bike every week, so you need that comfort.
It's a gel padded seat which I prefer as it's not too soft to cause any stability issues when exercising or too hard to be offputting. It's just right.
Also, the seat is adjustable, making it easy to find the perfect pedaling position to suit your size. It's a 10-position seat with a height range of 5'2″ to 6'2″.
The only downside you'll find about the seat is that the backrest isn't adjustable, which can be a problem for people with bad backs who need a backrest that adjusts to suit. Still, finding a recumbent bike for less than $1.5k with an adjustable backrest is impossible. It's certainly a privilege you must pay a lot more for.
Easy To Get on and off
As I just mentioned, easy seat access is just as important as comfort, which is why a walk thru frame is a must. A walk-through frame design gets rid of that awkward horizontal bar you have to step over.
Walk-thru frames are designed for people with bad knees, anyone recovering from ops or seniors with arthritis. And also, with the R618, you have the long seat handlebars, which are helpful to grab hold of for stability as you sit down on the seat.
Is The Low Profile Design a Good Thing?
One of the design faults with a lot of recumbent bikes, including the Nautilus R618, is the low profile design; yes, low profile is great for bike stability, but it will make getting on and off the bike that much harder because you have to bend down further to sit on the bike.
So while the low profile design of the Nautilus R618 will make for a more sturdy bike, some of you may find it difficult to bend down that far.
Sturdy, Well Made Machine
What I love about the Nautilus R618 recumbent bike is its weight. It's a heavy recumbent bike for the price point. It's not a cheaply made machine like so many in this price bracket.
That 107lb build tells me it's made from quality materials. And that extra weight really helps keep the recumbent bike planted on the floor. It's a sturdy recumbent bike, almost heavy-duty, which is surprising for a recumbent under $1000.
Also, you have wide front and rear stabilizers that aid stability, and you get adjustable levelers built into the rear stabilizers. Levelers are handy as you can adjust them independently to keep the recumbent bike stable on uneven floors.
For me, it's the sturdy build that shines most about this recumbent. It has the build of a much more expensive machine. Yeah, it might be a little more difficult to move because of its weight, but that's a minor compromise for a well-made solid machine.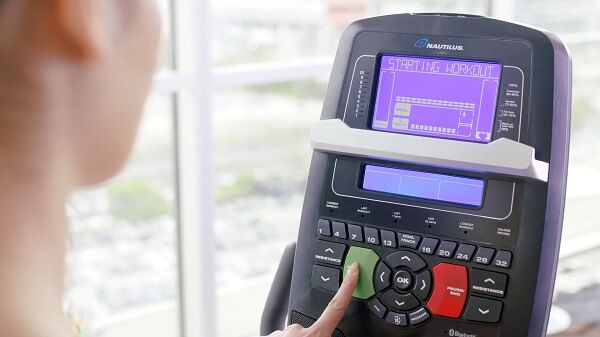 Decent Monitor With Lots of Features
The first thing that stands out about this monitor is that it includes a lot of built-in workout programs, 29 in total. It's nice that it's not forcing you to pay for a subscription app in order to access workout programs like the ProForm or NordicTrack recumbent bikes.
Also, you get advanced features like wireless heart rate monitoring, which is a much more accurate way to monitor your heart rate than the built-in pulse sensors. Plus, they throw in the HR chest strap for free, which is always nice to see.
Dual Screens
One of the main problems with many monitor screens is that you hide them when using a tablet and can't see your workout stats. The Nautilus monitor comes with dual screens, which means even when using your tablet, you can view your essential workout stats on the smaller second screen, a feature you won't find on many recumbent monitors.
The monitor is pretty easy to use, with large quick-touch buttons for resistance and workout programs, and there are only a few menus to scroll through, nothing too complicated.
A cool feature I liked was the seat handlebar buttons for resistance strength. They're situated on the end of the seat handlebars and save you from reaching forward to the monitor in the middle of your workout to change your resistance level.
Overall a well thought out monitor with everything you need. Oh, and there is an app called the Explore The World app, which allows you to download all your workout stats, set goals, etc. There are even a few global routes to try, but you'll need a tablet or phone. The app works with both Android and IOS.
Smooth Pedaling Motion
If you want to avoid a jerky stuttering pedaling motion, you must look for a recumbent bike with a fairly heavy flywheel, as the weight of the flywheel is the main factor determining how smooth your machine feels. Low-cost recumbents typically use flywheels under 10lb, and you can really tell the difference. Look for over 15lb for a premium feel.
The R618 uses a 17lb flywheel, which is right for the price point. Thankfully this is a premier weighted flywheel that gives it an extra smooth feel.
But it's not just the weight of the flywheel that affects how smooth your recumbent feels; you also need a magnetic resistance system.
Magnetic resistance is a frictionless resistance system, the magnetics never have to make contact with the flywheel; thus, it keeps everything smooth. Also, the R618 comes with a belt drive system which is much smoother than a chain drive system.
Many users have commented how smooth this recumbent feels, and this is because it includes all the features I just mentioned, so thumbs up here to Nautilus
25 Levels of Whisper Quiet Resistance
Magnetic resistance is a frictionless system, and because of that, it's not just smooth it's also whisper quiet. You can watch TV or listen to music without being disturbed by the sound of the machine.
And you have the belt drive system, which is much quieter than the noisy chain drives on some bikes. A magnetic resistance system and a belt drive system is the quietest and smoothest combination for a recumbent bike.
You have 25 levels of resistance with the R618, which you can adjust via the monitor or from the seat handlebar buttons.
2-3 Hour Assembly
There's a lot of parts to assemble with recumbent bikes. They're a little more tricky to assemble than a treadmill or an elliptical, but if you take your time and follow the instructions, you should be fine. This is quite a heavy bike, so I recommend you ask a family or friend to help you unbox and get everything in place.
The bike does come with a fully illustrated induction manual and all the tools for the job. Most of the complicated stuff, like the drive and resistance systems, already come pre-assembled. It shouldn't take longer than 3 hours to attach the other parts to the main frame.
Well made, solid recumbent bike
Walk thru frame, make it easy to get on and off of the bike
Comfy contoured adjustable seat
Impressive monitor with dual screens, wireless heart rate monitoring, and 29 workout programs
Smooth pedaling motion, thanks to premier weighted flwyheel
25 levels of frictionless resistance – quiet
Adjustable levelers built into the rear stabilizer bars – keeps recumbent bike stable on uneven floors
Built-in transport wheels, cooling fan, bottle holder, and tablet holder
Low profile design, means you have to bed further to sit on the bike
Seat backrest isn't adjustable
Lots of parts can take up to 3 hours to assemble
Xterra SB2.5R Recumbent Bike (under $600)
Xterra Fitness are a company that specializes in high quality low-cost fitness gear. I've been reviewing their equipment for years and have always been impressed with what's on offer for the price. And their SB2.5r recumbent bike is one of my favorite recumbent bikes on the market.
The reason Im so impressed by this bike is that it weighs over 100lb, which is around 40lb heavier than most in its class. We have to remember the Xterra recumbent bike costs just under $600. And to find a well-built heavy machine in this price bracket is rare.
And the design of this bike is excellent as well, as it includes the desirable walk thru frame, but what's most impressive is that Xterra made this bike slightly taller than most on the market. You don't have to bend down so far to sit on this bike, making it appealing to people with knee problems.
Still, perhaps what's even more impressive about this low-cost recumbent bike is the weight of its flywheel. It weighs 22lb which is surprisingly heavy for a recumbent bike under $600. A flywheel this heavy ensures the pedaling motion is extra smooth and consistent, and resistance in the upper levels is strong.
The monitor is more basic than the Nautilus monitor; it doesn't include wireless heart rate monitoring, and there's no dual screens or any fitness apps. But it's still good for the price, with 24 workout programs and 24 resistance levels.
Overall an excellent low-cost recumbent bike from Xterra, and if you have trouble with your knees, this might be a better choice than the R618 from Nautilus.
To Sum Up
Nautilus almost everything right with their R618 recumbent bike; most importantly the build quality is high. You won't find anything more sturdy and well-built than this bike for under $1000. And the pedaling motion is smooth and consistent, as many users have praised. The monitor isn't lacking either; it's full of features and easy to use. I like that you get so many built-in workout programs, and these guys supply you with the HR chest strap.
There isn't much I can fault about the R618 apart from the low profile design may not suit everyone, it's pretty low, and if it hurts you to bend, you may want to look for a slightly taller recumbent bike.