Low impact! These are the reasons most people want to get hold of a recumbent bike: joint problems, back problems, recovering from an injury. All of these health issues require a low impact cardio machine that can offer you as much support and comfort as possible while delivering a decent workout.
Low Impact Exercising at An Affordable Price
The Sunny Folding Recumbent Bike may not come with all the bells and whistles of the higher priced recumbents but with 8 levels of quiet, smooth magnetic resistance, a compact, folding design, and a padded seat and backrest, the Sunny Health & Fitness bike offers up low impact exercising at a very affordable price.
Product dimensions –  32 x 20 x 46 inches
Resistance Type – Magnetic
Frame – Light gauged steel/foldable
Why Do We Like The Sunny Folding Recumbent Bike?
I think what sells the Sunny Health & Fitness Recumbent bike for me is its foldable design, not all of us have a dedicated gym space to store our workout gear and a foldable design deals with this problem easily.
Exercise bikes, on the whole, have quite a large footprint, being foldable allows the Sunny bike to almost half its overall footprint, allowing the bike to be quickly stored in a cupboard or leaned up against a wall.
Not only that, the Sunny Health Fitness bike has integrated transport wheels, transport wheels make moving the bike super easy, all you have to do is tilt and roll, it's as simple as that.
Magnetic Resistance
Another feature you are going to love about this bike is its resistance type, magnetic resistance is a whole lot quieter than air resistance, you can watch TV or listen to music without being disturbed by the sound of the machine, something almost impossible with air bikes.
The smooth, whisper-quiet pedaling motion is the main reason why magnetic resistance has become so popular over the past decade, commercial gyms are even replacing their air bikes and rowers with magnetic.
Yes, magnetic resistance is the way to go when choosing your recumbent bike, but we need to remember this is a budget level recumbent, don't go expecting the resistance strength of the top-level bikes.
The 8 resistance levels of this bike should be enough for beginners and intermediates, seasoned cyclists will need to spend a few hundred dollars more for their specific needs.
LCD Monitor
Sadly, as with nearly all entry-level cardio machines, the monitor is basic, there are no pre-set workout programs, no pulse receivers and the calorie count will always be inaccurate as the machine has no way of knowing your weight or heart rate, etc.
Don't let the basic monitor be a deal-breaker, the monitor on the Sunny Health bike still tracks some useful workout stats, such as distance traveled, speed and time spent cycling.
Adjustable Seat
The adjustable seat of the Sunny folding recumbent bike should cater to most people's height, however, this is a compact recumbent bike so maximum user height will suffer slightly, users with a height of 5′ to 6'1″ have had no issues finding the perfect cycling position.
Comfort
It's a mixed bag when it comes to comfort on this bike, some users have nothing but praise for the comfy padded seat and backrest while others find the bike very uncomfortable, this usually depends on body size, but if you were looking for a wide comfy seat, you won't find one here.
Folding bikes rarely have wide comfortable seats, yes, they are padded but use hard padding, what you can do if you plan on cycling for long periods is fold a towel or place a foam cushion on the seat, this should help prevent a sore butt!
8 levels of quiet, smooth resistance
Non-slip footrests with straps
Great price for a quality entry-level recumbent
Another folding recumbent but this time we're looking at a heavy-duty option, the Exerpeutic Gold, built from tough heavy-duty steel and featuring a max user weight capacity of 400lb, the 525XRL has the highest weight capacity I've seen on any folding recumbent, this bike has been built to last!
The Exerpeutic is slightly larger than the Sunny Folding bike and has a max user height of 6'5″.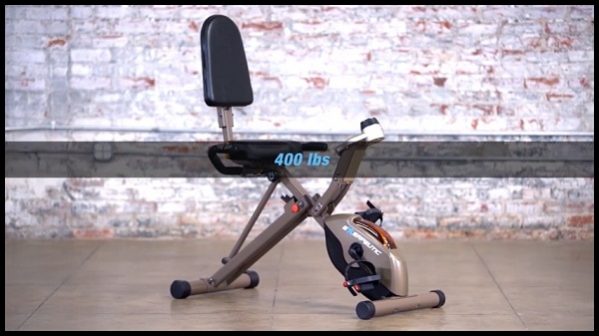 We're still in the budget price range with Exerpeutic, (under $200) which is a great price considering the bike features a pulse meter built into the handlebars, rare to find in this price bracket.
The Exerpeutic has been designed with larger people in mind, although anyone from 5'2″ to 6'5″ should have no issues getting the most from this excellent recumbent.
The Exerpeutic benefits from 8 levels of strong magnetic resistance with users actually praising the strength of resistance, saying they can really feel the difference between the low and high levels, reassuring to hear as the common complaint of most budget recumbents is weak resistance.
The Exerpeutic Gold 525 is one of the best folding bikes currently on the market, durable, high-quality build, and stable.
The 525XRL is also one of the lowest-priced recumbents to include a pulse meter if you don't mind spending a few extra bucks on your folding recumbent, why not spare a few minutes and read our full review of the Exerpeutic Gold 525XRL Folding Recumbent
To Sum Up
The Sunny Health & Fitness folding bike has just about all the features you need for a decent low impact workout.
Sunny Health & Fitness has been around for years now and is the leading company in the entry-level magnetic range not only for recumbent bikes but for rowers, mini bikes and exercise bikes, their products always receive high ratings and users are generally very pleased with their purchases.
You will not find a more capable folding recumbent for under $100, yes, the monitor isn't the greatest but you can not expect too much at this price.
If you're after a durable, well built recumbent to help you lose some calories and strengthen lower body muscles and joints, the Sunny Folding Recumbent Bike shouldn't disappoint.