Exerpeutic 900XL Magnetic Recumbent Bike
There's nothing special about the Exerpeutic Recumbent Bike 900XL, it doesn't have a fancy monitor with tons of pre-set workouts, it's not built from heavy-duty steel, in fact, I can't find one redeeming feature about the bike.
All You Need For Under $200
So there must be something that makes this particular bike so popular? As you might have guessed, price plays a big part in the 900XL's popularity.
Many people realized you can get hold of a solid more than capable recumbent for under $200.
And that's exactly what the Exerpurtic is, a well-priced entry-level recumbent.
The Exerpeutic 900XL recumbent bike includes everything you need for a challenging low impact workout, without the frills of the higher-priced bikes.
In this review we'll take a close look at Exerpeutic's budget recumbent, I'll compare it with a couple of other top-rated, similarly priced recumbents to see how the 900XL matches up, by the end of the review you should have a good idea if this is the right bike for your needs.
Product dimensions –  22 x 34 x 54 inches
Resistance Type – Magnetic
Why Do We Like The Exerpeutic 900XL?
For a long time, air resistance was the go-to resistance type of most cardio machines, but in the last decade, magnetic resistance has become hugely popular not only in commercial gyms but also for our home gym cardio machines.
And this is the first feature I particularly like about the Exerpeutic 900XL, the Exerpeutic has 8 levels of magnetic resistance, more than enough for most fitness levels.
Okay, this is a budget machine so not suitable for seasoned cyclists but for most of us the 8 levels of resistance should prove challenging enough for a decent cardio workout.
Is magnetic resistance better than air? Yes, in most cases the positives of magnetic resistance outweigh that of air, air resistance utilizes a fan to create resistance which can be very noisy.
Magnetic resistance, on the whole, is whisper quiet, you can work out without disturbing you or others around you, and if you like to watch TV while you work out, etc. the noise of the machine will not disturb you.
Magnetic resistance lets you cycle at a slow pace with high resistance, something that's impossible with air resistance, magnetic is a constant resistance i.e. it doesn't matter how fast you pedal, the resistance stays the same unless you change it via the resistance knob, air resistance only gets stronger when you pedal faster, dynamic resistance.
Step-Through Design
One of the most useful features you will find on this bike is the step-through frame design, I know a lot of people have trouble getting on and off regular upright exercise bikes, which is why this feature is so useful, it allows you to easily get on the bike and off without that awkward bar getting in your way.
Stability
What's great to see on the 900XL are the wide stabilizing feet at either end of the bike, the last thing you need when exercising is the bike to wobble or slip.
The wide feet should help with any wobble and the capped feet should prevent any slippage on polish floors, also the capped feet will protect your flooring.
Wide, Comfy Adjustable Seat
We all come in different shapes and sizes, so an adjustable seat is a must for any recumbent bike you chose, and thankfully the 900XL has a good amount of adjustable positions.
Users from 5'3″ to 6'5″ should have no issues achieving the perfect cycling position.
We also need to take into consideration the weight capacity of the bike, most recumbent bikes come with fairly large weight capacities and the Exerpeutic 900XL is no exception, with a max capacity of 300lb.
The Seat
Recumbent bikes are all about working your lower body while supporting your upper body, you are going to be spending a lot of time on the seat, the seat needs to be wide enough to make you comfortable, supportive and well padded.
The 900XL has been praised by users for being surprising comfy and supportive, the backrest of the bike is also padded, there's nothing worse than leaning back on a hard backrest so it was nice to see the Exerpeutic 900XL offers a large padded backrest.
Monitor
When it comes to monitors don't expect anything advanced in this price range, there are no preset workout programs.
Bluetooth is an option but you have to pay $50 for the privilege, calorie counts are inaccurate as the machine does not know your weight, etc. But the 900XL does track some of the important basics such as distance traveled, time, speed and heart rate.
On the positive side, Exerpeutic does provide a nice big LCD for you to read your workout stats, and the Exerpeutic 900XL is one of the only entry-level machines to have a pulse reader built into the handlebars, big thumbs up here!
Assembly
Said to be one of the easiest recumbent bikes to put together as the majority of the bike is delivered pre-assembled, the Exerpeutic recumbent bike 900XL takes on average 1.5 hours to assemble.
While Exerpeutic claim you only need one person for assembly, in my experience having a friend to help is always a good idea, as there are usually a few parts which need to be held in place.
Step-through design, easy access
Oversized padded seat and backrest
Great price for a quality recumbent
8 smooth, whisper-quiet resistance levels
Large pedals with foot straps
Built-in pulse sensors in the handlebars
No pre-set workout programs
Short 90 day warranty on parts
The Exerpeutic 525XRL is another well-built recumbent from this reputable company, built from heavy-duty stainless steel, the 525XRL has been built to last.
The 525XRL  also has one of the highest weight capacities you will find on any folding recumbent.
Designed with larger users in mind the 525XRL has a max user height of 6'6″ which will make it appealing to many taller users.
But don't go thinking this bike has been designed just for larger users, the seat has 5 adjustment levels so can accommodate a height range of 5'2″ – 6.6″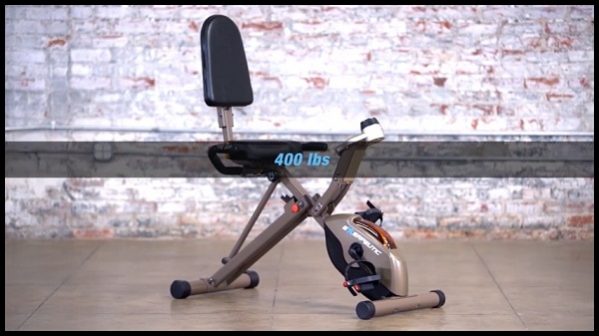 The most attractive feature of the Exerpeutic 525XRL is that it folds for storage, many of the folding bikes lack any real quality and durability, this isn't the case with the 525XRL, users have praised how well the bike has been made and there have been hardly any complaints of quality issues.
If you're tight on space and need a well built high quality folding recumbent then the 525XRL should make the top of your list.
Marcy Recumbent Bike ME-709
Marcy is a great company known well for producing top quality products at affordable prices, and their entry-level recumbent is one of the best you'll find in this price bracket.
Very similar in design to the 900XL with the step-through frame design, the Marcy has been designed well for people who need an easy to mount exercise bike but don't need the frills of the higher-priced recumbents.
Just like the Exerpeutic 900XL, there are no preset workouts, but you'll find 8 levels of smooth, quiet magnetic resistance.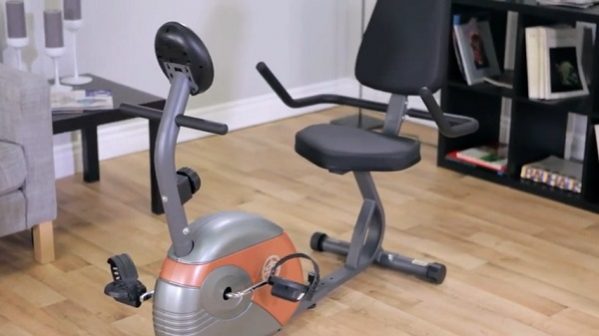 Many budget recumbents suffer from weak resistance, this isn't true of the Marcy, the upper levels of the resistance of the Marcy have been praised for their strength with many users saying how they can really notice the difference between the lower and upper-level resistance strength.
A very capable recumbent bike with a large padded seat and back support, including oversized pedals to accommodate users of all sizes. This is another no-fuss recumbent bike, built to last from a company you can trust. The Marcy ME-709 should not disappoint.
To Sum Up
The Exerpeutic 900XL Recumbent Bike is one of the most popular bikes on the market for good reason, great build quality, easy to get on and off, a basic, but easy to use monitor, enough resistance levels to suit most people's needs and pulse sensors built into the handlebars, all this for under $200 is an excellent buy, you'll be hard pushed to find a better recumbent for the money.