With rave reviews wherever this recumbent bike is sold, 5 stars on Amazon! We thought we better take a closer look and see what all the hypes about.
I've reviewed over 20 recumbents and, normally, I like to keep the price well below $1000 for our recumbent reviews, why? Simply because there's a heck of a lot very well built, capable recumbents selling at affordable prices.
For the 3G Cardio Elite Recumbent Bike, I made an exception, yes, this bike is well over a grand, but the 3G offers up so much more than most I couldn't resist but to write a detailed review on this excellent recumbent.
Read through to the end of the review as I'll be comparing the 3G Cardio Elite with two other high-end recumbents.
Product dimensions –  49″ L x 27″ W x 43″ H
Resistance Type – Magnetic
Frame – Heavy duty steel tubing
Why Do We Like The 3G Cardio Elite Recumbent Bike?
When we search out a recumbent to buy before we get carried away and start checking how many resistance levels the bike has, and how advanced the monitor is, etc. we need to look at something many people overlook when choosing a piece of exercise equipment:
Is it comfortable to use and does it suit my physical needs?
First things first, a recumbent bike has to be easily accessible, by this, I mean easy to mount, many people who buy a recumbent bike are recovering from surgery or have joint issues and need an exercise machine they can easily mount.
If mounting the recumbent bike is a major concern for you, then checking if the bike is easy to get on and off of (look for step-thru frame designs) should be first on your tick list.
The 3G Recumbent RB is thankfully, fairly easy to mount, the bike includes a low step-thru frame. Step-thru frames are an essential design feature all recumbents, in my opinion, should include (many do not).
The step-thru frame, allows anyone with joint pain or certain restricting disabilities to mount the bike in a pain-free way.
Bear in mind the 3G recumbent has a slightly higher step-thru than most, yes, it's still low in design but this isn't a full step-through frame, you will need to be able to lift your leg around 12″ to step over the frame to mount the bike.
Build Quality
What sells this versatile recumbent for me is the build quality, this recumbent bike is top end! Commercial grade build quality, at dare I say it, a very good price. This thing weighs 115lb, that's a heavy beast considering it's a compact recumbent!
But don't let the weight scare you off, heavy is good! It's really good, a heavy recumbent is usually a very good sign that this bike has been made from high-quality materials.
Low budget recumbent bikes are made from light gauged, cheap steel and plastics, and you can really feel how cheaply a bike has been made when you exercise on it, they move around and in general, feel unstable, durability is also a massive concern.
Heavy recumbents such as the 3G Cardio Elite are stable, the extra weight of the bike will stop the recumbent moving around and of course with quality materials also comes long term durability, and it's no wonder the guys at 3G offer a lifetime warranty.
The 3G RB recumbent shines quality and it should do at this price.
I know many will be thinking 115lb 'wow' that's going take some effort to move, and yes, I agree the heavier the bike the harder it is to move, but with the 3G's compact design and integrated transport wheels it shouldn't be too difficult to move from room to room if needed, just tilt and roll.
Adjustable Seat & Back Rest
The seat of the 3G Cardio recumbent bike has been specially designed for extra comfort, 3G goes as far as calling it the comfiest bike to use on the market. And to be honest they might be right.
This is the first recumbent bike I have reviewed where you can adjust the angle of the backrest, a great feature for anyone with back issues, the height of the backrest is also adjustable.
The seat looks to be heavily padded and wide enough to fit most sizes, the seat is also highly adjustable with 25 back/forward positions, so you should have no trouble finding the perfect cycling position.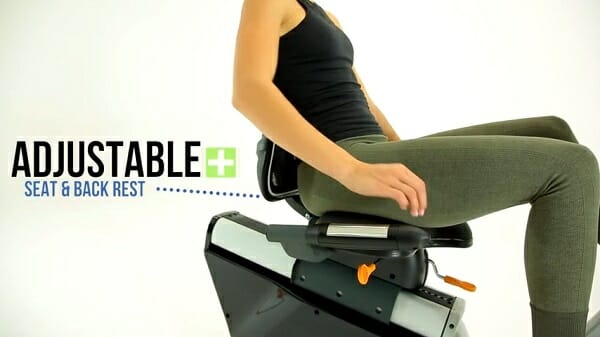 Big thumbs up here for seat and backrest design, it's the best I've come across, and most definitely the most versatile, and let's not forget the backrest is made from Infinite Airflow Mesh Flex, which can really help reduce sweating and let air flow freely while you exercise.
Advanced Monitor
As monitors go the 3G Elite's isn't the best I have seen, and I could almost say dated if I was being fussy, why? There's no Bluetooth option, which means no syncing with fitness apps to track your progress etc or race against friends.
The lack of Bluetooth isn't a deal killer not everyone wants to track their progress via fitness apps, but I feel should be an option at this price point.
Ok, now the good stuff, the 3G monitor does offer you 16 levels of smooth magnetic resistance, magnetic resistance has become hugely popular as of late, why? Because it's so quiet in operation compared to the noisy fans of air resistance.
Magnetic resistance allows you to watch TV while you exercise, without disturbing yourself or anyone else around you.
And another benefit of magnetic resistance is that the resistance is constant, i.e you can cycle at a slow pace with a high resistance level, something that is impossible with air resistance.
Another feature that made me smile about this excellent recumbent was being able to change the resistance strength and programs from the buttons built into the end of the handlebars, in one word, cool!!
These easy to reach buttons are actually quite a useful design feature, it means you don't have to reach up and change programs via the monitor in the middle of exercising.
Pulse sensors are also built into the handlebars to track heart rate, and the monitor includes 3 heart rate programs, very handy for exercising in your target heart rate zones.
A wireless heart rate chest strap is also included. Which is great, you normally have to buy these separately.
And lastly, the monitor includes 12 preset workout programs, I love preset programs they allow you to set new goals and they take away some of the monotony of exercising for long periods with pre-set programs such as hill climbs, etc.
So, while some may think the monitor is slightly outdated because of the lack of any exercise apps, I've decided I actually quite like it.
There are more than enough resistance settings and workout programs, the monitor is also large, easy to read and backlit, overall a very capable monitor, simple to use and not over complicated.
Durable, commercial-grade build
Compact design ( small overall fotprint compared to other recumbents)
Highly adjustable seat and backrest (includes height and back rest angles)
16 levels of smooth, quiet magnetic resistance
Handle bar pulse sensors and hear rate chest strap included
Lifetime guarantee on frame and 7 years on parts
Schwinn 270 Recumbent Bike
Schwinn have been producing high-quality road bikes and exercise bikes for over 100 years.
Scwinn probably have more experience than anyone out there when it comes to exercise bike design and technology.
The Schwinn 270 recumbent bike is their top of the line recumbent bike.
The 270 recumbent is packed full of features including Bluetooth, it is currently the No.1 best seller for recumbents under the $1000 mark and there's good reason why: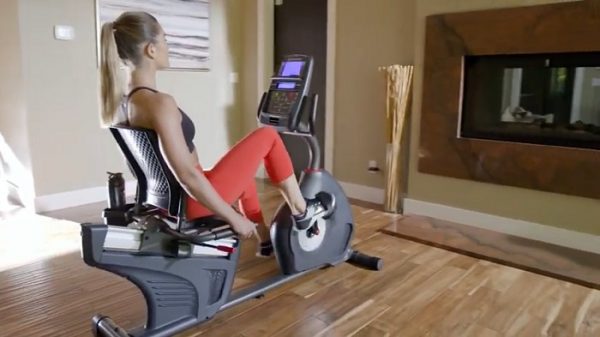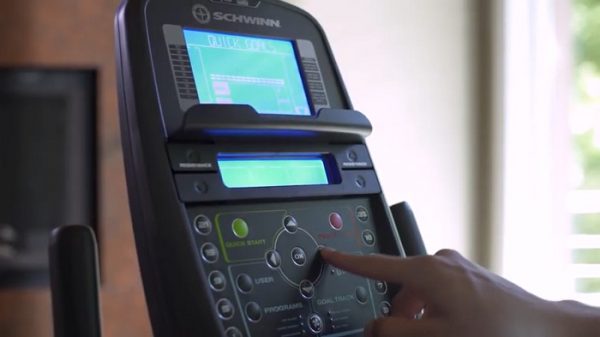 For around $550 the Schwinn offers you more features than recumbents costing twice as much, with 29 workouts programs and 25 levels of strong magnetic resistance, Bluetooth, Virtual Reality option and a full step-thru frame design, there really isn't anything that comes close to this bike for the money.
And you don't have to worry about quality either, this is Schwinn! Known well for their high-quality products, they receive top users ratings everywhere.
If your mind isn't fully made up on the 3G Cardio Elite, you might want to take a closer look at this awesome recumbent.
Take a few minutes to read our full review here: Schwinn 270 Recumbent Bike Review
Stamina Total Body Recumbent
Stamina is another very well respected company in the home gym fitness market, they've been around for decades and have built a reputation for producing some of the best cardio equipment available and their Stamina Total body recumbent bike is no exception.
This is a full-body workout machine, the Stamina recumbent includes two flywheels, one with handles to work out your upper body and one for your legs.
Usually, full-body recumbents cost into their $1000's but Stamina has been able to create a very capable machine for home use at a great price.
Ok, this machine isn't commercial grade but the quality is right up there with best, many users commenting at what great quality the recumbent is for the price.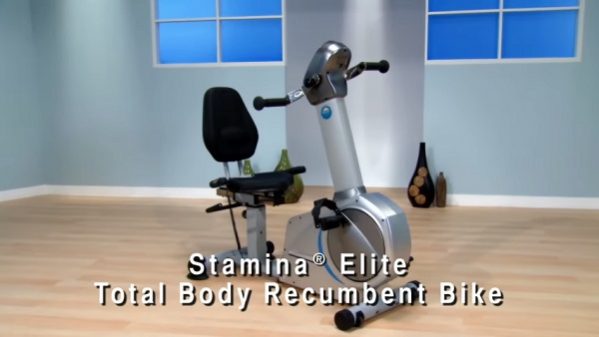 A fairly basic monitor with this one which lacks pre-set workouts and Bluetooth, but includes 8 levels of strong magnetic resistance and pulse monitoring.
A well built, solid machine, comfy to use with a step-thru frame design, if you fancy something a little different, why not take a closer look at this full-body workout recumbent.
To Sum Up
When it comes to build quality the 3G Cardio Elite Recumbent is almost unmatched, with perhaps the exception of the Schwinn 270.
But there's one feature the 3G Cardio RB includes that none of the others do and that's  5 adjustable angles for the seat's backrest.
I think for comfort the 3G Cardio recumbent is unbeatable.
The 3G is also the most compact, so if your tight for space or don't have a dedicated gym room the 3G Cardio Elite should prove to be a great choice.
Quilty, comfort, and great design are what sells the 3G Cardio Elite for me, yes, it's pricey but you get a lot for your money here.
If you have been looking for a durable, top of the line recumbent with enough resistance strength for most fitness levels, then the 3G Cardio Elite Recumbent Bike could be for you. I'd be very surprised if anyone is disappointed with this machine.