Exerpeutic really pulls out the punches when it comes to home cardio equipment, they produce top-line gear with the latest technologies, at a price most competitors can not match, and their Exerpeutic 4000 magnetic recumbent bike is no exception.
BlueTooth – Tons of Resistance Levels & Pre-Programmed Workouts.
The Exerputic 4000 has a ton of features you would normally find on bikes costing twice as much, the 4000 includes BlueTooth technology, mobile application tracking, pre-programmed workouts, and a whopping 24 resistance levels, all this for under $400!
An appealing recumbent for sure, so let's take a closer look at Exerpeutic's mid-range magnetic recumbent.
Product dimensions –  58 x 30 x 41 inches
Resistance Type – Magnetic
Why Do We Like The Exerpeutic 4000 Magnetic Recumbent?
The first thing we liked about this bike is that it has been designed with larger people in mind if your carrying a few extra pounds you will not need to worry about being uncomfortable.
The Exerpeutic features an oversized seat and backrest, the seat has some of the thickest padding I've seen on any recumbent and it's nice and wide, so if you're looking for comfort, the Exerpeutic 4000 provides it in spades.
Step-Through Frame
Another great feature of this bike is the step-through frame design, so many recumbents feature the awkward bar you have to step over to mount the bike, which can be really annoying for people with disabilities or joint problems.
A step-through frame design takes away all the hassle of mounting the recumbent, it allows you to easily get on and off the bike with as little discomfort as possible.
Magnetic Resistance
Over the past few decades, magnetic resistance has become hugely popular, why? Because it is whisper quiet compared to its noisy air counterparts.
Gone are the days where you have to put up with the sound of noisy fans while you exercise at home, you can now watch TV while you workout without being disturbed or disturbing others thanks to the smooth, quiet motion of magnetic resistance.
Magnetic resistance is certainly the future of most cardio machines at home and thankfully, the Exerputic 4000 offers a massive 24 magnetic resistance levels, more than enough for most fitness levels, you can be sure you will not be outgrowing this recumbent anytime soon.
It's always a good idea to buy a recumbent that can accommodate you when your strength increases, you do not want to be splashing out more cash on another machine with stronger resistance in a years time.
From the hours of research I have put into the Exerpeutic review, I failed to come across one complaint of issues with resistance strength. Big thumbs up here!
Monitor/Console
For under $400 you are getting one of the most advanced monitors on the market right now, firstly, you have the 12 pre-programmed workouts, these are great for making any exercise session more fun and challenging.
You also have 7 different types of training styles, but I think what's most impressive about the Exerpeutics monitor is the ability to download your exercise data so you can track your performance from workout to workout. This app feature is usually only seen on high-end machines which cost a whole lot more than the Exerpeutic.
The monitor also tracks time, distance, revolutions per minute, calories pulse and user. And not forgetting the 24 resistance levels, all of which can be accessed from the monitor.
Your heart rate is tracked through the sensors in the handgrips of the recumbent, the monitor includes 4 heart rate programs to choose from, sadly, there is no heart rate chest strap option for the Exerpeutic 4000 magnetic recumbent bike.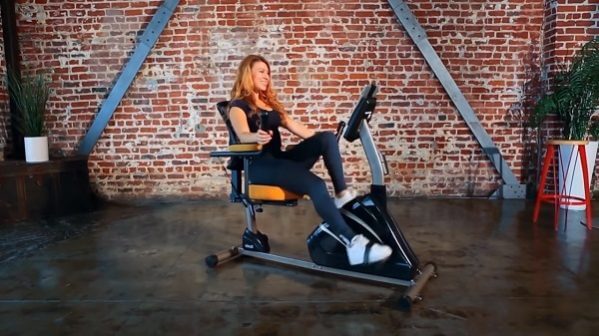 Stability
The Exerpeutic 4000 has wide stabilizing feet at the front and rear of the bike these should go a long way in keeping this thing stable, the bikes feet are capped which will help with any slippage issues on hard surfaces, the capped feet will also protect your floors. 
Height Restrictions/Storage
While most recumbents struggle with anyone over 6'1 the Exerpeutic has quite a wide height range with an upper limit of 6'3″ and a lower limit of 5′.
Storing a recumbent bike can be difficult if you do not have a dedicated gym space to keep the bike, recumbents, generally, have a large footprint especially the step-through frame versions, as nearly all of the step-through frames are not foldable.
Please make sure to measure your space before you buy. The bike does include integrated transport wheels which makes moving the recumbent a little bit easier, just tilt and roll!
Well-built, stable recumbent
Exerpeutic, reputable company, good customer service
Great price for feature-packed recumbent
Considerable amount of resistance settings should suit most fitness levels
Some smaller users had trouble adjusting the seat to fit them (5′ and under)
Backrest is not adjustable
A few users complained of long assembly times
Schwinn 230 Recumbent Bike
There are not many companies out there that can boast over 100 years of experience but Schwinn is one company that can, founded in Chicago over 100 years ago these guys really know what they are doing when its comes to fitness gear.
Schwinn recumbent bikes are some of the most popular on the market and there's good reason why, with top-quality builds, plenty of features and smooth strong magnetic resistance, the Schwinn 230 and Schwinn 270 bikes receive high user ratings where ever they are sold.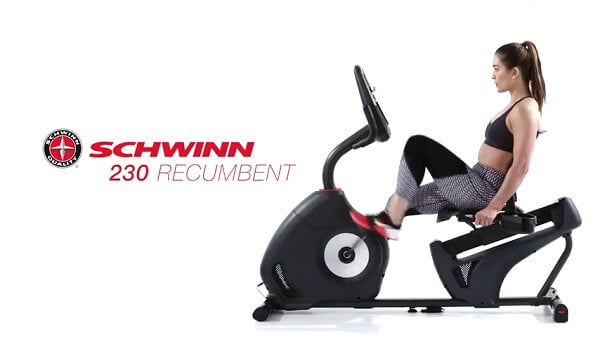 The Schwinn 230 recumbent is very similar to the Exerpeutic 4000, both feature a high number of resistance levels, the Schwinn 20, compared to the Exerpeutics 24, but the Schwinn outshines the Exerpeutic when it comes to preset workout out programs with a massive 22 in total compared to the Exerpeutics 12.
Both have excellent build quality for the price, both offer the user enough scope for years of use, the only real difference here is the Schwinn recumbent bike does not offer BlueTooth.
Also, something I know a few users didn't like about the Schwinn was the lack of padding for the seat which will make long workout sessions quite uncomfortable for some.
The Schwinn and the Exerpeutic are the top 2 recumbents in this price range and there really is, very little between them, if you prefer a wider range of workouts programs then I recommend you take a closer look at the 230, if your after comfort and an affordable BlueTooth option then there's no better than the Exerpuitc in this price range.
Take a close look our full review: Schwinn 230 Recumbent Bike Review
To Sum Up
The Exerpeutic 4000 Recumbent Bike outclasses all in this price range, excellent build quality, a large number of resistance levels and advanced features normally seen on bikes at twice the cost. A very capable recumbent that has been designed with comfort in mind. The Exerpeutic 4000 Recumbent Bike Should not disappoint.
Note: 2 people recommended for assembly