Nautilus R616 Recumbent Exercise Bike
There's so much choice out there when it comes to recumbent exercise bikes it can be very confusing trying to pick out the right one for your needs.
A good starting point when looking for a recumbent is to go for a bike that's been built by a reputable company.
When you're spending this amount of money you need to look for a company that has a history of producing top-level equipment, one with great customer service and most importantly a company customers trust, and give high ratings to their products.
Nautilus 40 Years Experience
For over 40 years Nautilus has been revolutionizing the fitness industry, they own high profile brands such as Bowflex, Schwinn, and Universal, the vast majority of their fitness products receive high user ratings and their customer service is said to be second to none.
So, we can be happy the Nautilus R616 Recumbent Bike has been built by a company at the top of their game, but what you now need to know is, is the Nautilus recumbent bike the right one for you?
In this review were take a close look at the R616 recumbent exercise bike, I'll also compare with the Nautilus with another similarly priced top-rated machine and by the end of the review, you should have a good idea whether this bike is the right bike for your cardio needs.
Product dimensions –  64 x 27 x 50 inches
Resistance Type – Magnetic
Resistance levels – 25 + 29 preset workout programs
Frame – Heavy duty steel tubing
Why Do We Like The Nautilus R616 Recumbent Bike?
What we like most about the Nautilus R616 is the step-through frame design, the last thing you need when you purchase a bike is pain when you try to mount it, after all, the main purpose of a recumbent is to provide people who would normally have issues exercising on a regular exercise bike an easy to use alternative.
A step-through frame design does away with the awkward bar you have to step over to mount the exercise bike, it makes getting on and off the bike so much easier for seniors, people with joint problems and anyone recovering from knee or hip surgery.
Resistance Type
Before magnetic resistance became popular nearly all cardio machines used air (fan) as resistance, the problem with air resistance is that it is very noisy which doesn't make it best suited for home use.
Magnetic resistance, on the other hand, is whisper quiet when in operation, making it perfect for home use, you can watch TV without disturbing yourself or others around you, although Nautilus states the R616 utilizes Eddy current resistance this is just another term for magnetic.
And that's not all, magnetic resistance is constant i.e it doesn't matter how fast you pedal, the resistance will stay the same unless you manually change it, constant allows you to pedal at a slow pace but on a high resistance setting. This is impossible with air resistance, as air resistance is dynamic, the faster you pedal the harder the resistance becomes.
Monitor/Control Panel
The Nautilus R616 includes one of the most advanced monitors we have seen in this price bracket, with 25 levels of magnetic resistance and 29 workout programs.
Pre-set workout programs bring something extra to your workout, cycling on one of these things can be boring especially when exercising for long periods which is why we love the huge choice of workout programs the R616 offers.
With workouts that simulate rolling hills, a ride in the park, Pike's Peak, Mount Hood, and pyramids. The monitor also includes challenging workouts such as an uphill finish and intervals.
Another excellent feature of the R616's monitor is its ability to connect to apps, you'll be able to export and import data to Nautilus Trainer 2 app and other similar services for fitness tracking.
And one other very cool feature is the ride social app, you can sync with this app and have a virtual ride anywhere in the world with friends, in real-time! It's hard to find features like this on recumbent bikes costing twice as much, great stuff from Nautilus!
Stability
A nice heavy, well built recumbent bike. Cheap, lightweight bikes often suffer from stability issues but with weight comes stability, and at 97lb the Nautilus is a good weight for a recumbent, not only does weight help with the stability it also gives us a good clue to the overall quality of the recumbent.
The Nautilus R616 has wide stabilizing feet at the front and rear of the bike, which include suction pads to help keep the bike super stable in operation. Overall a very stable recumbent, with no users complaining of stability issues.
Strong, well-built recumbent
Step through frame design for easy mount
Tracks your data by exporting your workout data to fitness tracking apps (BlueTooth)
Comfortable padded seat on sliding seat rail, easy to adjust
Easy to use control module
Built-in heart rate sensors
Built-in transport wheels
Enough resistance settings to suit most fitness levels
Back rest of seat is not adjustable
No option to use heart rate chest strap
Needs a mains power supply 
Assembly
Most of the heavy work has been done for you when its come to the assembly, 90% of this recumbent arrives pre-assembled, just the stabilizing feet, the seat and monitor need to be attached to the machine.
Most users found the instructions to be clear and many said the bike was very easy to assemble, with build times of between 30-60mins.
Schwinn 230 Magnetic Recumbent
This recumbent is defiantly worth a mention, the Schwinn 230 recumbent is by far the best you'll find under $500, there's no other bike out there that offers such a wide range of workout programs and resistance levels at this price point.
Build quality is top rate and user ratings refect this.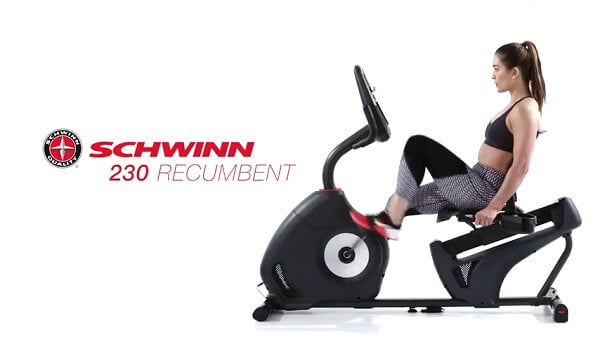 Again we see magnetic resistance, so another very quiet bike in operation, the resistance strength of this bike has also been praised by its users with many saying you can really feel the difference between the lower and upper levels.
Okay, this bike doesn't have a few of the advanced options of the Nautilus, but if you want to save yourself a $100 and can live without BlueTooth, I highly recommend checking out this more than capable recumbent from Schwinn.
To Sum Up
I was surprised to see just how much the Nautilius Recumbent R616 offered for the price point, great build quality as you would expect from this company, and the control panel is up there with recumbents costing twice as much.
Always nice to see the step-through frame design for a stress-free mount, and an easily adjusted seat, usability is just as important as console features when it comes to recumbent bikes, you need be comfy and well supported, the Nautilus ticks these important boxes.
If you have been after a well built, extremely well-priced recumbent, you will not be disappointed with R616, there's enough strength in the resistance levels to last most users years of usage.