Why Buy A Recumbent Exercise Bike?
Obviously, the primary reason why anyone would buy a recumbent bike is to keep fit. But with so many exercise solutions on the market, why would you choose a recumbent bike over all the other options?
Recumbent bikes put far less stress on the back, and with so many people today having back problems, this may be a great reason by itself.
The fact that you can watch TV, use your tablet, or even read a book while using a recumbent bike means that you can distract yourself from the exercise and, without realizing it, spend more time on the bike than you otherwise might have.
They are a perfect entry-level workout tool for anyone who might be overweight, or for elderly users, and those with weaknesses in their legs.
The key features to look for on recumbent bikes
When considering the purchase of a recumbent bike, there should be five aspects that you want to consider. These fundamental issues will affect how much you use the bike in the future and whether you will have any future problems.
Comfort
One of the most significant of the selling points of recumbent bikes over other forms of exercise equipment is comfort. There are a variety of seats fitted to recumbent bikes. Some are soft padded seats and other a hard plastic seat. Surprisingly, some of the hardened plastic woven ones are the most comfortable as they allow better breathing.
There may be other features connected to comforts, such as the design of the handlebars, a built-in fan, sound systems, and BlueTooth connections.
Resistance
Bikes will have a resistance setting so that users can adjust how hard they need to pedal. This is often a magnetic system that features a brake pad with magnets that moves closer to the flywheel to create resistance. This type of brake does not require any source of power to function.
Adjustability
Different models have varying numbers of resistance settings, as described above, and the bike can be adjusted in various other ways as well. Basic models will have the ability to slide the seat nearer or further from the pedals. More expensive models will also feature an adjustment to the angle of the seat.
Drive Mechanism
All recumbent bikes have a flywheel. The pedals are joined to the flywheel by a belt, which reduces noise and reduces any maintenance. The flywheel usually is smaller than the pully wheel but will be more substantial.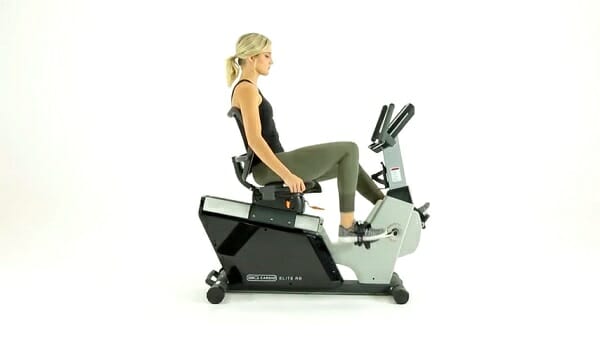 Maintenance
Another great feature of recumbent bikes is the lack of maintenance they require. The actual works come pre-assembled and pre-lubricated, so nothing to do there. All you have to do is keep the machine clean, and that is it.
What Else To Consider When Buying A Recumbent Bike
When you are considering the purchase of a recumbent exercise bike, there are several other factors you will want to consider as you look at various models and make your decision. These factors will be very personal ones and depend on your individual circumstances. They include the following.
Storing Your Recumbent Bike
Recumbent bikes are big, bigger than upright bikes, and will take up a lot of floor space. You need to be absolutely positive that you have enough room to place one in your home. Remember, they are heavy to lift and are not something that you will want to move around much. Ideally,m once you place it, that should be the final position.
Installing Your Recumbent Bike
A heavyweight recumbent bike is a positive feature. If it is heavy, it will be more stable. You will probably get help from the delivery guys in bringing the bike into your home, but if they just dump it inside the door because you do not yet know where you are going to keep it, you are then faced with moving it again. Make sure that you have cleared the permanent location before the equipment arrives.
What Is Your Budget For This Purchase?
Recumbent exercise bikes are available at a range of prices from around $150 to well over $1,000. It is just dependent on the size of your budget as to what features the bike will possess. I am going to review bikes at a range of prices so that you can make comparisons.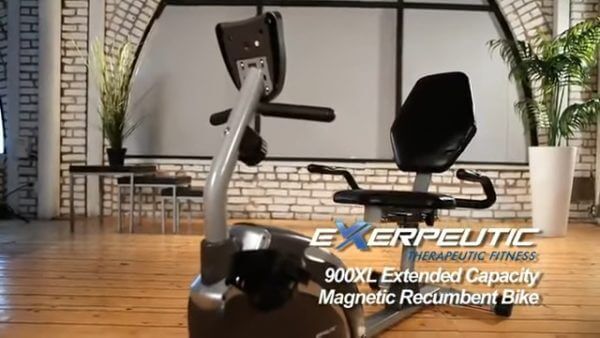 Exerpeutic 900xl Recumbent Bike
The 900XL comes in at a price of under $200, and its one of the lower-priced machines available. Because of the very competitive price, it has proven to be a very popular model for the company. It offers all the essential features at a very affordable price.
Features
You are going to get most of the features that are expected on a mid-range bike despite its competitive price. It will take most people with its generous 300lb weight limit, and the resistance settings have eight settings. The small LCD computer will also measure your heart rate, which is a very useful feature.
300-pound weight capacity which will cover most people
LCD computer gives information about your workout
An easy to use Step thru-design
8 level magnetic tension systemIt has wheels for transporting it
 I keep mentioning the price of this model, and that is because you would typically expect to pay around $500 for a machine with all of these features, and that makes the Exerpeutic 900XL Recumbent Bike well worth considering.
On the negative side, the warranty tries to claim it is something that it is not by saying it is a 3 -year limited warranty. In reality, it is 3-years on the frame. Everything else is just 90-days.
Fantastic value for money (I may have already mentioned that)
Monitors speed, distanced cycled, and time taken
Includes built-in pulse sensors
Built by a reputable company
It is large and needs a lot of floor space
Takes a long time to adjust for various heights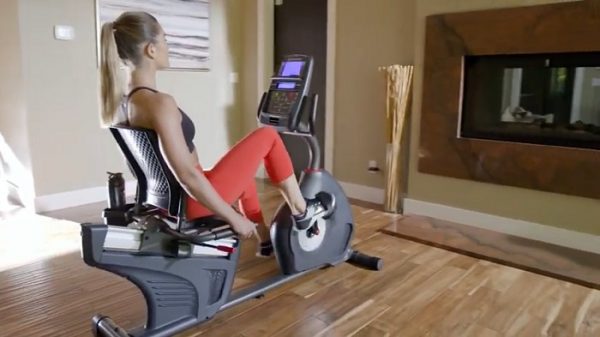 Schwinn 270 Recumbent Bike
A simplified model of a recumbent bike is the Schwinn 270. The bike features a massive 29 workout sessions and 25 levels of resistance. Users tend to describe the ride on this bike as very smooth and comfortable. It is certainly worth having a closer look at this model.
Features
A massive 29 workout programs
Not just one, but, Two LCD backlit monitors
Computer tracks time, distance and calorie trackingIt is compatible with the popular MyFitness Pal App
Monitor boasts 25 levels of resistance
You can get exercise bikes cheaper than the Schwinn 270 Recumbent Bike (see the Exerpeutic 900XL Recumbent Bike above), but for around $500, you are going to get a branded bike that has built a solid reputation.
One negative point was that The warranty only covers ten years for the bike frame, two years mechanical, one year for the electrical and only 90 days on labor.
Jam-packed with functions and workout programs
High quality, durable build
Built by a company with over 100 years of expeirence
Features wireless heart rate monitoring (chest strap)
Easy to assemble compared to other models
Some users find the seat to be uncomfortable
No manual supplied have to go online to download
Exerpeutic 400xl Folding (semi) Recumbent
I thought I would include a folding recumbent bike in the review, which is ideal for those of us with just an apartment and where space is at a premium. You should be paying under $150 for this model, so it is also a much cheaper solution.
Features
You can fold this bike to half it's size
Whisper quiet
It has an LCD computer which tracks distance, calories, time, speed and heart rate
It's not so recumbent as other models. We should regard it as Semi-recumbent
Resistance via the 8 Level magnetic tension
Surprisingly it still supports up to 300 pounds
 As one of the most popular recumbent bikes on Amazon, it is just perfect for an exercise session in front of the TV, after which you can fold it away for storage.
Represents excellent value for money
Users found it easy to assmeble
Despite being foldable its still sturdy
Some users have doubts over the accuracy of the bike hear rate monitoring (to be expected at this price)
Not suitable for users over 6ft tall
Serious fitness freaks may need something more challenging
Our Favorite Model
Looking at the three models we reviewed, each had particular features that charmed us, but I had to ask myself if I were buying a recumbent exercise bike, which model would I really want in my home?.
In terms of space, the Exerpeutic 400XL Folding (semi) Recumbent would probably be best for me, but then I would be sacrificing features that I know I would find useful. So I guess in the end I have to say that the Schwinn 270 Recumbent Bike is the one I would choose.