If you wanted to buy a heavy-duty Olympic weight bench, you'd be looking at spending over $500, which is a lot of money for a weight bench, and if you're a beginner or intermediate lifter, just getting into barbell lifting at home? Spending that much on an Olympic bench is overkill.
So today, I want to focus on the Best Olympic Weight Benches under $300 as there's a ton of impressive Olympic benches in this price range worth taking a closer look at.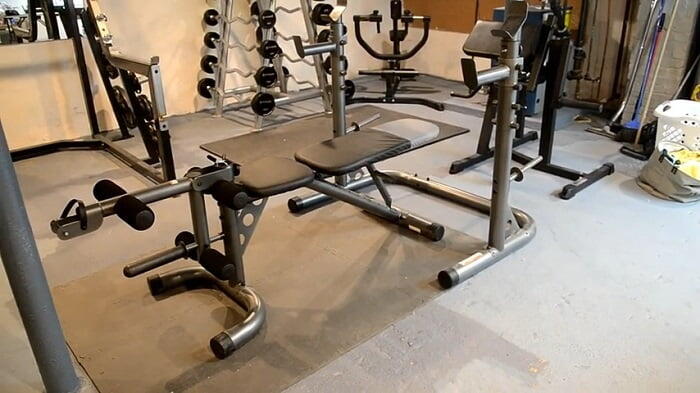 Some Excellent Benches But Don't Expect Commercial Grade.
Still, we can't get too carried away; Olympic benches under $300 are a long way off from something you might have used in your local gym. There are some good ones but don't expect commercial quality.
For those a little more serious about their lifting, I will also be looking at the Xmark International Olympic Bench, it's about as close as we're going to get to heavy-duty before starting to spend the big bucks.
The Xmark International is the best Olympic bench under $400 and a bench worth considering if you want a step up from the budget benches.
Reviews & Comparison Table
And for those in a rush, below is a comparison table I compiled which compares the Top 3 Olympic Weight Benches currently available. Please scroll past the comparison table and read my summary for each bench and our buyer's guide if you have more time.
Best Under $300
Marcy MD-857
Weight Capacity – 600lb

Adjustable Seat – Yes

Back Pad Positions – 6

Spotter bars – Yes

Preacher Curl & Leg developer

Weight – 115lb

Suitable 7 & 8ft barbells
Best Under $400
Xmark International
Weight Capacity – 700lb

Adjustable Seat – Yes

Back Pad Positions – 6

Spotter bars – Yes

Preacher Curl & Leg developer

Weight – 129lb

Suitable 7ft barbells
Weight Capacity – 600lb

Adjustable Seat –  No

Back Pad Positions – 6

Spotter bars – No

Preacher Curl & Leg developer

Weight – 95lb

Suitable 6 & 7ft barbells
Best Olympic Weight Benches Under $300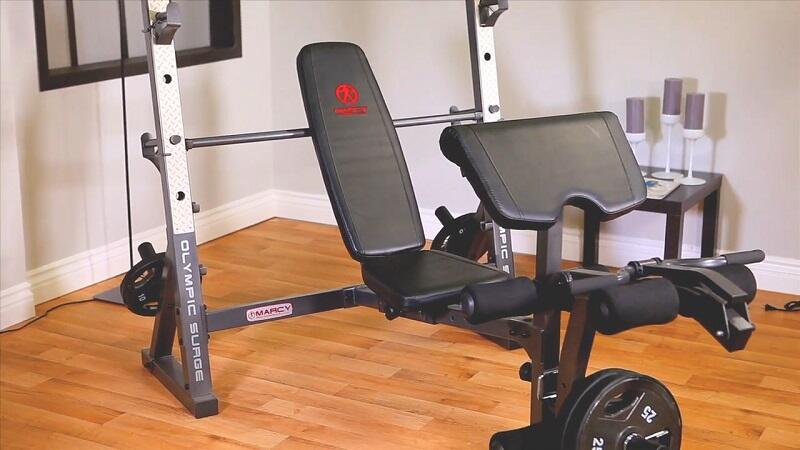 1. Marcy MD-857 Olympic Weight Bench
Marcy specializes in building high-quality, low-cost gym gear for our home gyms. These guys have been around for nearly 3 decades and are the market leaders for budget Olympic weight benches.
I've been reviewing their products for over a decade, and they rarely fail to impress. Bang for buck, Marcy are usually unbeatable.
The Marcy MD-857 is their flagship Olympic bench. It's packed full of useful features and is my top pick of Olympic benches costing just under $300.
Heavy Stable bench 115lb
What makes this bench stand out among the others in its price range is its weight. The MD-857 weighs 115lb thats almost twice as much as the Body Champ and Gold Gym XRS 20 Olympic benches.
And the extra weight is a good thing because not only is a heavy bench a telling sign, it's made from quality materials. The extra weight will also help keep the bench planted to the floor, and thats exactly what we want. Stability is a must when pressing heavy barbells.
Adjustable Seat For Support When Low Incline Pressing
Another impressive feature of the MD-857 is that it includes an adjustable seat. It's the only low-cost Olympic bench to have one.
An adjustable seat will stop your butt from slipping down the bench in low incline positions. It provides a stable base to press from, thus increasing your pressing power.
The MD-857 also boasts 6 adjustable back pad positions that includes a decline for decline presses and a near-vertical for military presses.
I was happy to see a near-vertical as most low-cost Olympic benches do not include this important angle. Many of them only adjust to a max of 70 degrees which isnt high enough to hit the shoulders hard.
We need a back pad that adjusts to 80-85 degrees; this angle allows you to target the shoulders fully and lets you arch your back slightly, which puts you in the best position to press from.
A big thumbs up to Marcy to include decline, a near vertical, and an adjustable seat.
Spotter Bars For Safty
Perhaps what's best about the MD-857 Olympic weight bench is that it includes spotter bars. Spotter bars are normally only found on high-end Olympic benches.
They are an essential feature because we have zero safety when pressing without them unless you have a spotting partner.
Spotter bars allow us to lift heavy barbells in solitude safely, and thats what lifting at home is all about. We can lift on our own without the fear of being pinned under the barbell.
And lastly, the weight capacity, the MD-857 is probably one of the only low-cost Olympic benches that can take its max capacity of 600lb, thats user and weight lifted combined.
Still, even though this bench has an impressive 14 gauge powder coated frame and decent welds, it's always going to be a low-cost bench, so I'd advise staying 100lb or so under its max capacity just to be on the safe side. It's not that I think it will break, but when you take any low-cost bench to its max, they become unstable, which can be dangerous.
Overall the Marcy MD-857 is an excellent choice for beginners and intermediate lifters. It offers more than anything else in its price range.
Its great they included the adjustable seat, and you can lift safely thanks to the spotter bars. Yes, it's not heavy-duty, but for $300, it's a lot of bench for the money.
High quality for price point
Vesitile bench that inculdes decline and near vertical plus an adjustable seat
Adjustable spotter bars – allows you train safely
High density foam padding for the bench
Preacher curl and leg deveoper
Can use the storage horns to add extra weight to the bench, increasing stability
Can use the storage horns to add extra weight to the bench, increasing stability
Most found assembly to be relatively easy
Squat rack catcher positions may be a little high for some users
Bench not suitable for serious lifters
Some users mentioned quality issues when they received the bench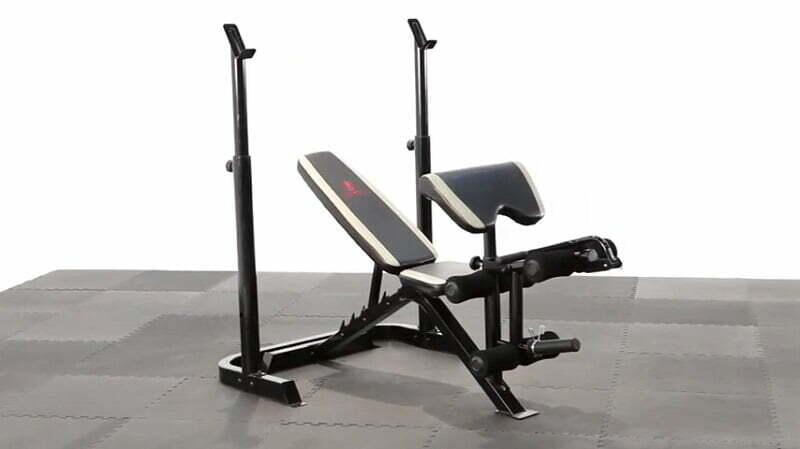 2. Marcy MD-879 Olympic Bench
There's something a little different about the Marcy MD-879? It's a two-piece Olympic weight bench. The barbell rack is separate from the bench. Many people prefer this kind of setup because it lets you use the bench independently from the rack, opening up more exercises.
Also, because the rack is separate from the bench, we can use the rack as a walk-in squat rack which is a big plus. You can even perform box squats using this set up just make sure to move the bench into the rack and that the bench is on even ground.
However, two-piece Olympic benches do have their drawbacks, and the main one is stability.
Stability isn't such an issue with heavy-duty two-piece sets, but with lightweight budget ones, the rack/crutches lack the weight to keep them rock-solid. There will be some movent.
However, most movement can be avoided as the barbell crutches of Marcy include storage horns on each upright. We can load them with weight plates to add some much-needed weight and stability to the crutches.
Something else that impressed me about this Marcy Olympic bench is its ladder adjustment system for the back pad.
Ladder adjustment systems are much faster to adjust, sturdier, and can handle more weight than the pull pin type, great to see on an Olympic bench costing under $200!
And surprisingly, the back pad has 6 adjustment angles just like its bigger brother, the MD-857, again with the near-vertical and decline. Sadly though, there's no adjustable seat with this bench.
On the positive, Marcy did include the high-density foam padding for the back pad and seat. This stuff is the gold standard for weight benches. It's not too hard to be off-putting or too soft to cause stability issues it's just right for your pressing needs.
Overall this is an impressive two-piece set from Marcy. There isnt anything else on the market costing under $200 that can challenge the MD-879 Olympic bench in the way of features or quality.
It's another well-designed Olympic bench from Marcy and a good option if you prefer to have a bench you can use independently from the barbell rack.
Decent build quality for price point
Two-piece set allows you to use the crutches as a walk-in squat rack
Fast to adjust ladder adjustment system for the bench
6 back pad positions – that include decline, flat, 3 inclines, and near-vertical for seated shoulder presses
Quality padding and covering
Suitable for 6 & 7ft barbells
Powder coated steel frame prevents rust 
Storage horns for weight plates – Loaded will help with stability
You have the choice of using 1″ standard plates and 2″ Olympic plates
No adjustable seat for support when low incline pressing
No adjustable spotter bars for the squat rack – Best to train with partner if you plan on lifting heavy
A few people found assemebly tricky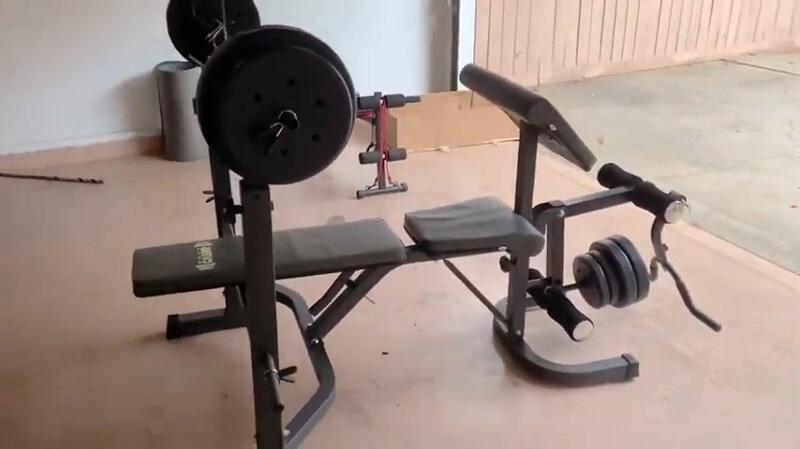 3. Body Champ
BCB5860 Olympic Bench
The Body Champ Olympic Bench has been around for a few years and has always been popular.
And there's a good reason why it's so popular this thing boasts some great features. It includes 7 adjustable back pad positions with the near-vertical for military presses, and it's more compact than most other Olympic benches, so if you are tight on space, this one is a good choice.
We also have 600lb weight capacity, preacher curl, and a leg developer, plus it can be used with 6ft and 7ft barbells and 1″ or 2″ weight plates. So if you already have standard plates and a barbell at home, you won't have to spend any more on Olympic-sized gear.
But when I look at the price, I feel its expense. The quality isn't any better than Marcy's top bench, the MD-857.
The Body Champ doesn't include an adjustable seat or spotter bars and weighs just 80lb. Yet the Body Champ bench costs $50 more. Sometimes it's on offer for just under $300, but for $350 when compared to its competition, it's overpriced.
It is another good choice for beginners looking to transition from dumbbell lifting to barbell lifting at home, and being compact will appeal to many. Still, for me, it just doesn't offer enough for the price tag to challenge the top 2 Marcy Olympic weight benches.
Solid design, decent quality
Realistic 600lb combined max capacity
Leg developer preacher curl included
7 position back pad – includes vertical for seated shoulder press and decline
2 storage horns included for your weight plates – also good for adding some extra weight to the bench for stability
Suitable for Standard and Olympic plates
No spotter bars – Zero safety when pressing
Preacher curl and leg developer get in the way when setting up for pressing exercises. It takes a few minutes to unscrew to remove it.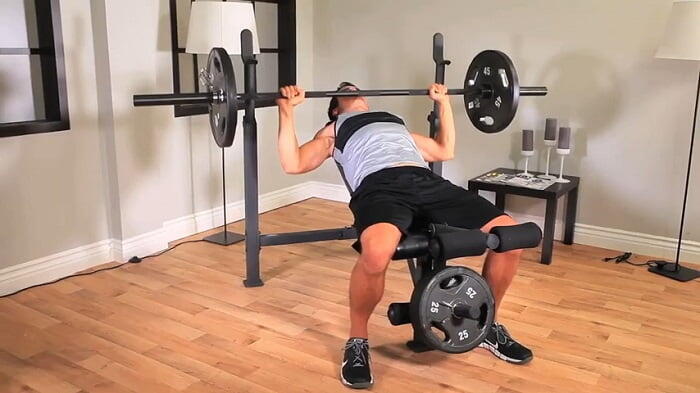 4. Impex Competitor CB-729 Weight Bench
The Impex Olympic bench is a well-built fuss-free Olympoic bench. It doesn't include as many features as the other benches in this review, but if you dont want to spend too much, this is my favorite one-piece unit under $200.
The good thing about this Olympic bench made by Impex/Marcy is that although it's cheap, they didn't cut on the important things such as the frame.
The frame is made from 14 gauge powder-coated steel and weighs 68lb which isnt bad for a budget compact bench.
Impex also included high-density foam padding, and we thankfully get the near-vertical for seated shoulder presses.
There are only 5 adjustable back pad angles in total, which is slightly disappointing, but at least there's a decline and a couple of incline positions. Some benches in this price bracket dont include any incline options at all.
The Impex bench has been designed for Olympic barbells and standard-sized barbells, although the attachments only take 2″ Olympic plates.
There isnt any spotter bars and no adjustable seat, plus we haven't got any storage horns to store the plates, but as I said, this is your no-frills Olympic bench. At least the build quality is there, unlike many benches hovering around $200.
And lastly, we do have the ladder adjustment system for the back pad, which is great, easy to adjust, and sturdy.
If budgets tight and you want a solid compact but basic Olympic bench, this is one of the best choices out there right now,
High quality build for price point
5 position adjustable back pad – includes decline and near-vertical for seated shoulder presses
600lb combined weight capacity
Adjustable height crutches
High density foam padding
Best Olympic Bench Under $400
Xmark International Olympic Weight Bench
Xmark are a company known for building heavy-duty gym gear, but at affordable prices, I reviewed a ton of their stuff, and these guys shine when it comes to quality.
Their Olympic bench is a beast of bench weighing 130lb its heavy. Still, surprisingly I cant give it a heavy-duty badge, we're getting so close, but Xmark built this bench using 14 gauge steel, unlike their other gym gears thats made with the much heavier commercial grade 11 gauge steel.
However, if Xmark had built this thing from 11 gauge steel, it would have a price tag over $500.
So at 130lb, we can still be happy that this bench will be a solid bit of kit for our home gym, and because it's Xmark, it's packed full of all the important features you need from an Olympic bench to lift heavy at home safely.
What does it inlcuide? We can use the uprights for squats as they're a good height for most users and come with adjustable catchers. We have adjustable spotter bars for pressing, so no getting pinned under the bar on chest day!
And we have the 700lb weight capacity, more than enough for most lifters' needs.
The back pad includes 6 adjustment angles with near-vertical, decline, and Xmark provides a two-way adjustable seat for support when low incline pressing.
Plus, we get the high-density foam padding and really tough vinal covering for the upholstery, the same stuff they use on their regular benches, and I know from experience it last years without tearing.
The bench uprights are sadly too wide to accept standard 6ft barbells, so you'll have to use an Olympic barbell with this bench, but you can use standard 1″ plates for preacher curl and leg developer. Xmark also throws in a couple of Olympic adaptors for the attachments if you only have 2″ plates.
Overall a tough well built Olympic bench. You won't find anything thats going to match this one on quality for under $400. If you're serious about your lifting, the Xmark International should be at the top of your list.
Bench includes flat incline and decline
2 way adjustable seat for support when incline pressing
High density foam padding used for the seat and back pad of the bench
Most people will be able to use the uprights for squats
Storage horns will allow to add some extra weight to the bench increasing stability
Comes with Olympic adaptors
Rack too wide for standard sized barbells
Holes for the spotter bars need to be a little lower to be perfect for bench pressing.
A few people found the bench tricky to assemble. Best to allow an afternoon for this one
Olympic Weight Bench Buyers Tips
It's a good idea to know exactly what you want from an Olympic weight bench before spending your hard-earned cash on one.
And because the quality and features vary so much from one Olympic bench to the next, I thought I'd put together a short buyer's guide that will help you when choosing the ideal Olympic weight bench for your home gym.
Is Weight Important?
The bench's weight is something most people do not consider when buying their first Olympic weight bench. But it's more important than you think.
A heavy-weight bench is going to be more stable than a cheaply built lightweight bench. The weight of a bench also gives us a good clue to the overall quality of the thing.
The heavier, the better when it comes to weight benches or any gym equipment. Yeah, heavy equipment is more difficult to move or store, but if you want something thats going to last and feel solid when you're using it, always go heavy.
Bench Attachments
Many of the low-cost Olympic benches come with a ton of attachments, such as a preacher curls leg developers and fly arms. Some people may find these useful, and some like myself find they get in the way of foot placement when setting up for presses.
It's really up to you and your training schedule whether you will use the attachments or not.
Weight Capacity
When you consider the weight capacity of an Olympic bench or any weight bench, you need to be careful. A lot of companies love to boast high-weight capacities. Still, their products do not have the quality of build to support heavy weight loads regularly.
With any low-cost weight bench, it's best to stay 100lb under the max capacity of the bench, even if it's a well-built budget bench. Low-cost benches do not include high-quality welds, and they certainly dont have heavy commercial-grade frames.
If you want your bench to last, stay under its max capacity, low-cost benches become unstable under super heavy loads. If you keep well below the max capacity of a budget bench like a Marcy or the Body Champ, they should last years of use.
Back Pad Adjustment Angles
The amount of back pad angles is important because you need enough angles to develop all parts of your pectorals and if we're lucky, a near-vertical for seated shoulder presses.
Consider a Olympic bench with at least 4 back pad angles, including decline for decline presses. This will help you add mass to your low pectorals, flat for overall development of the pecs and incline, or a few incline angles for incline presses to develop the upper pectorals.
A near-vertical angle is a bonus, not many Olympic benches include the near-vertical. Most budget Olympic benches only adjust to 70 degrees which to low to target the shoulders fully.
You ideally want a near-vertical angle as this allows you to arch your back slightly, which puts you in the best position to press from.
You'll find some benches include a the full vertical 90 degrees and while this is better than not having a vertical at all, it doesn't allow you to arch your back. 80 degrees or 85 degrees is what we want.
One Piece Vs. Two-Piece Olympic Weight Benches
It's a tough choice whether to choose a one piece Olympic unit or a two-piece set. I love the two-piece sets as they give you more choice as to what exercises you can perform because you can use the rack and the bench independently.
Still, two-piece sets suffer from stability issues because there isn't enough weight in the barbell crutches to keep them stable. Also, the design of some of the cheaper two-piece sets isn't ideal as the feet stabilizers aren't wide enough.
If you want a two-piece budget set, you need to make sure it includes the storage pegs/horn on the upright because you can load these with weight plates to add extra weight and stability to the barbell crutches.
Also, look for nice wide stabilizing feet. These will prevent any unwanted wobble.
One Piece Olympic Benches
Thanks to the barbell rack being attached to the bench, a one-piece budget unit will always be more stable. Plus, the good low-cost one piece Olympic benches come with storage horns for the plates, so once loaded, you can add an extra 100-200lb of weight to the bench, giving it an overall weight close to 300lb, which is excellent for stability.
I think if you're going to opt for a low-cost Olympic bench, it's probably best to go for a one-piece unit. Stability is all-important when pressing heavy barbells. In a few years, you can always upgrade to a heavy-duty two-piece set.
Safety Spotter Arms
The majority of low-cost Olympic benches, even some mid-level Olympic benches, offer zero safety. If you fail on one of those presses, you're in trouble. It's not a deal killer. It just means you'll either have to hold back on your lifts or have a spotting partner spot you, both of which are not ideal options for training at home.
However, a few Olympic benches under $400, even under $300, include spotter arms. A pair of adjustable spotter arms are an essential feature if you want to lift heavy at home in solitude safely.
If budget allows, choose an Olympic weight bench that includes spotter arms, they will save you getting pinned under the barbell. And you won't have to hold back on that last killer rep.
To Sum Up
I was happy to find a few Impressive benches in the lower price brackets. I was particularly impressed with the Marcy MD-857.
The MD-857 Olympic bench includes everything you need to lift heavy barbells at home, including spotter arms, an adjustable seat, and the correct angles for the back pad. Yes, it's not heavy-duty, but for the price, it's unbeatable compared to anything else I've seen.
I also liked the Impex Olympic Bench, this is a solid compact bench, and if you don't want to spend more than $200 but still want quality, you can't go wrong here, a excellent first Olympic bench for beginners.
Overall I feel Marcy are the guys who own the budget Olympic bench market! The quality isn't super high, so don't expect too much, but it's still better than anything else out there for the same price.