Body Champ BCB5860

Olympic Weight Bench
Built from 2.5″ heavy-duty square tubing, the Body Champ Olympic Weight Bench looks like a heavy-duty bench? But this thing only weighs 80lb.
80lb isnt bad for the price point, but the weight does give us a good clue to the overall quality of the materials used in the build, and 80lb would definitely mean this bench is made from light gauge steel. (thin steel)
Not For Serious Liferts But a Great First Bench For Barbell Workouts.
Light doesn't always mean bad, and it doesn't mean it is cheaply built, but it does, however, limit the weight capacity, so if you are a serious lifter, this probably isnt the best bench for your needs.
The Body Champ BCB860 Olympic Weight Bench is a great bench for beginners and intermediates who want to transition from dumbbell workouts to barbell workouts at home.
In this review, we're going to take a close look at everything the Body Champ has to offer, including its drawbacks.
I'll also compare the Body Champ with its closest rival in this price bracket, the Marcy MD-857, an excellent budget Olympic bench which offers something a little different from the Body Champ.
First, a quick look at the Body Champ product specs!
Product dimensions – 76 x 56 x 55 inches
6 back pad positions for weight bench which includes decline
Includes leg developer and preacher curl for the bench
Compatible with 6′, 7′, and 8′ barbells length between collars of the bar must be greater than 38.5″
Weight capacity – 600lb combined – user plus weight load
Olympic and standard weight plates can used
Why Do We Like The Body-Champ Olympic Bench?
What you have to love about this bench is how much it has to offer because not only do we have an adjustable weight bench with 7 back pad positions.
It also includes a preacher curl and leg developer plus, you're not limited to barbell workouts. You can use the bench for dumbbell workouts too.
Full FID Bench
But I like most about the bench is that it's a full FID bench (flat,incline, decline) there's a lot of Olympic benches that do not include a near-vertical or vertical for military presses, with many of them only adjusting to 70 degrees which is to low to target the shoulders fully.
If we want to hit the shoulders hard, we need a bench with a near-vertical, and thankfully the guys at Body Champ thought to include this important angle, and it's good to see the bench includes a decline as well.
Decline is great for decline sit-ups and presses. Decline presses will help add mass to your lower pecs, and if you don't own dip station, decline presses are a must for lower pectoral development.
Stability & Storage Pegs
Heavy benches built from heavy-gauge steel are usually the most stable. The Body Champ isnt super heavy, but at 80lb, it has some weight.
The weight of the bench and rack will help keep the bench stable when lifting, but what's great about the Body Champ Olympic bench is that it includes storage horns on either side of the rack.
Sortage horns are useful for keeping your weight plates off the floor and close to the barbell on the rack, but they are also useful for adding extra weight to the bench.
Load the storage horns evenly on each side with your weight plates. This will give the bench some much-needed extra weight which will help a ton with stability.
Another thing this Olympic bench has going for when it comes to stability is that it's a one police unit.  Generally, one-piece Olympic benches are much more stable than the two-piece sets.
However, if you go for a one-piece unit such as the Body Champ, you do miss the chance of using the Barbell crutches as a walk-in squat rack.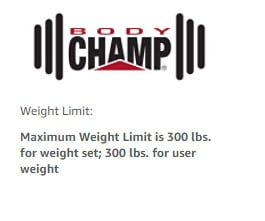 600lb Weight Capacity – Can it take it?
The Body Champ boasts a 600lb weight capacity thats 300lb on the bar and 300lb for the user (600lb combined).
And 600lb is surprisingly realistic for a bench with this build quality. I'm glad they didn't slap on some stupid high capacity like so many of the cheap benches do.
Still, as I mentioned, this isnt a heavy-duty option. It's built from light gauged steel and will not have the quality of welds you would see on commercial benches. So as with all affordable Olympic benches, it's best to stay about 100lb under the max capacity if you want to keep things safe and for the bench to last.
Anything I didn't Like?
There are a couple of drawbacks with the Body Champ, but both of these drawbacks are common amongst Olympic benches in this price range. They dont just affect the Body Champ.
The first issue is with the seat of the bench as it doesn't adjust.
Adjustable seats are a must if you want to press heavy in low incline angles. They stop your butt from slipping down the bench and provide you a stable base to press from, thus increasing your pressing power.
Not having an adjustable seat is disappointing, but unless you want to spend more, it's something you'll have to go without in this price bracket.
The next issue is safety? The problem is there's zero safety if you fail on one of those presses, as low-cost Olympic benches are not supplied with spotter bars. If you plan on lifting heavy, get hold of a friend to spot you.
1″ & 2″ Plates + 6′-8′ Barbells
Some people get confused as to what size barbells and plates can be used with Olympic benches. The Body Champ has been designed to be used with 1″ standard plates. But it can also be used with Olympic plates because they supply the adaptor with the bench.
The shortest Barbell you can use is a 6ft barbell but will accommodate up to 8ft. Actually, the only thing you need to worry about here is if your barbell has a minimum distance of 38.5″ between the collars.
Solid design, decent quality
Realistic 600lb combined max capacity
Leg developer preacher curl included
7 position back pad – includes vertical for seated shoulder press and decline
2 storage horns included for your weight plates – also good for adding some extra weight to the bench for stability
Suitable for Standard and Olympic plates
No spotter bars – Zero safety when pressing
Preacher curl and leg developer get in the way when setting up for pressing exercises. It takes a few minutes to unscrew to remove it.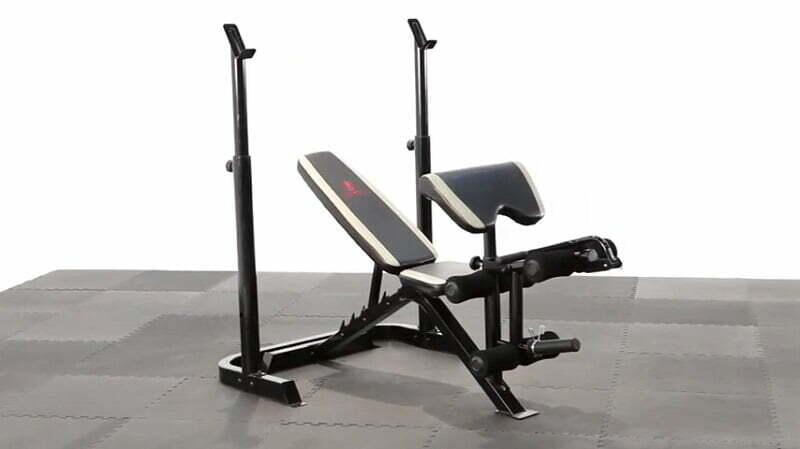 Marcy MD-879 Olympic Bench
Marcy are the company that specializes in high-quality, low-cost gym. I've reviewed a ton of their stuff over the years, and they never fail to impress. Bang for buck Marcy is usually unbeatable.
The Marcy MD-879 is similar in quality to the Body Champ. It weighs around 90lb, so it's a little heavier, which is a good thing. Made from 14 gauge powder-coated steel, it's not commercial grade, but it's going to be tough, as is all their gym gear.
The Marcy shares the same weight capacity as the Body-champ of 600lb combined, and the bench offers decline and the important vertical for military presses.
Plus, just like the Body Champ, the Marcy Boasts a leg developer and preacher curl.
But what I like about the Marcy is its two-piece design. This gives us more workout options.
You can take the bench out and use it separately for dumbbell workouts without the rack getting in the way. We can also use the Barclell rack as a walk-in squat rack which is a big bonus.
Obviously, being a two-piece set, it's not going to be as stable as the one-piece units because the rack is separate, but the rack does include two storage horns so we can load those to add weight and stability to the rack.
Surprisingly the Marcy is slightly cheaper than the Body-Champ, which makes it even more appealing. Still, the Marcy bench does suffer from the same drawbacks as the Body champ. There's no adjustable seat or spotter bars.
Both the Marcy and Body Champ are great benches for the price point. It's really down to the individual if they prefer the extra stability of a one-piece unit or the versatility that a two-piece set can bring to their workouts.
To Sum Up
Overall I was impressed with the Body Champ BCB5860, especially compared to similarly priced one-piece Olympic benches. This thing outshines the competition both on quality and features.
Yes, it's a long way off commercial grade, so dont go expecting gym-quality when it arrives at your doorstep, but it's easily good enough for home use.
Remember to load the storage horns up with weight plates to add some weight to the bench, and make sure to use a spotter when you want to go heavy.
The Body Champ bench is a great choice for beginners or anymore looking to get into compound lifting at home.