Built from 14 gauge steel, the Marcy MD-879 Olympic Weight Bench isnt a heavy-duty option. Still, it's not cheaply built either both the squat rack and the bench have a combined weight of around 95lb, which isnt too bad considering the MD-879 is on offer for under $300.
Gym gear such as benches and squat racks need to be heavy. It helps a ton with stability, and it's also a telling sign as to the quality of materials used in the build.
Marcy Unbeatable on Price & Quality
I've reviewed loads of Marcy gym gear over the years, and for the price, these guys are unbeatable. And by the looks of things, the Marcy MD-879 is another impressive bit of kit offered at an affordable price.
However, the big mistake people make when opting for low-cost gear is they expect gym quality which is a mistake. Marcy gear is good, but it's a long way of commercial-grade as everything will be in this price bracket.
Marcy are a company that specializes in low-cost, high-quality equipment (two decades of experience). Yes, there are always a few drawbacks when choosing a cheap Olympic weight bench which ill talk about later, but if you dont want to pay over $300, then a Marcy Olympic weight bench is probably your safest bet.
Before we get on with the rest of the review, let's take a quick look at the product specs!
Product dimensions – 65.75″L x 65.50″W x 64.50″H 
6 back pad positions for weight bench which includes decline
Removable leg developer and preacher curl for the bench
Compatibale with 6′ and 7′ barbells
Olympic and standard weight plates can used
Weight capacity 300lb for the rack 600lb for the bench
Why Do We Like The Marcy MD-879 Adjustable Olympic Weight Bench?
The best feature of the Marcy Olympic bench is that it comes as a two-piece set.
Most Olympic benches are attached to the barbell catch rack which limits the number of exercises and makes it difficult to use the weight bench for any else other than barbell movements.
With the Marcy bench, we get the best of both worlds we can use the bench as a free-standing adjustable weight bench, plus we can use the benches barbell catch rack as a walking squat rack.
You can even use the rack to box squat just bring the weight bench into the squat rack space and have it completely flat to make sure it stays balanced.
The one downside to owning a rack thats not attached to the bench is stability issues. Thankfully the Marcy squat rack does come fitted with a couple of storage horns.
It's a good idea to load these horns with weight plates this will add some much-needed weight to the stand which will help with stability. Plus it keeps the plates off the floor and makes them easily accessible to the bar on the rack. 
The crutches are adjustable in height allowing them to be used for both presses and squats. Still, something that is always an issue with Olympic benches that dont inlude spotter bars is safety, there is zero safety if you fail on one of those presses or squats!
Always best to have a spotting partner with you if you're planning on lifting heavy.
Good quality Bench For the Price (6 back pad positions)
Marcy makes surprisingly good weight benches. The MD-857 bench is similar to their best-selling SB-670 adjustable bench, a bench I reviewed over 6 years ago and a bench that still reviews high praise today.
Okay, the MD-857 bench isnt a tank of a bench, but it's quite heavy. It's built from 14 gauge powder-coated steel and weighs on its own around 50lb. So it will feel solid and not like a cheaply built unstable bench.
I was happy to see the bench uses a ladder adjustment system, something I highly recommend, especially on low-cost benches.
Ladder adjustment systems tend to be sturdier, can take heavier weight weight loads, and are much faster to adjust than the pull pin systems.
The bench includes 6 adjustable back pad positions easily enough for all of our pressing needs, and the padding isnt too soft to cause stability issues nor hard to be uncomfortable. It's just right.
Although the MD-857 is one of their cheaper models Marcy hasn't cut on quality which is a good thing. However, it does cut on a few features, and one of those is an adjustable seat.
I feel an adjustable seat is vital if you want to press heavy in low incline angles. Why? Because an adjustable seat stops your butt from slipping down the bench, it provides a stable base to press from, thus increasing pressing power.
Is the lack of an adjustable seat a deal killer? It depends on how heavy you're going to lift? If you're not going to press super heavy, you can get away with not having an adjustable seat.
Bench attachments
On the positive, the bench does include a preacher curl and leg developer. Not everyone will get use from this, but it's still worth having.
I'd recommend removing the leg and preacher curl when using the bench to flat press as they can get in the way of foot placement which is really annoying. Thankfully they are detachable.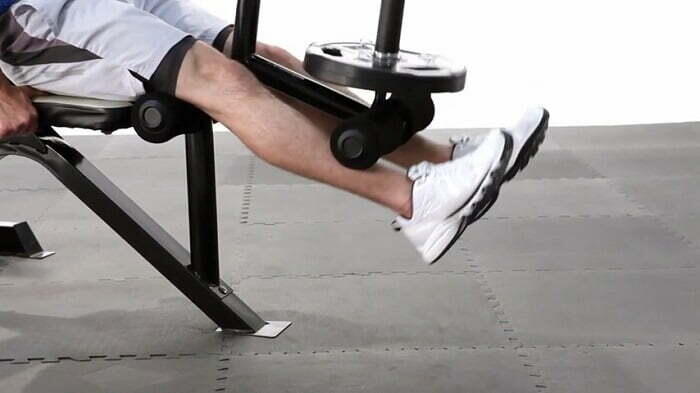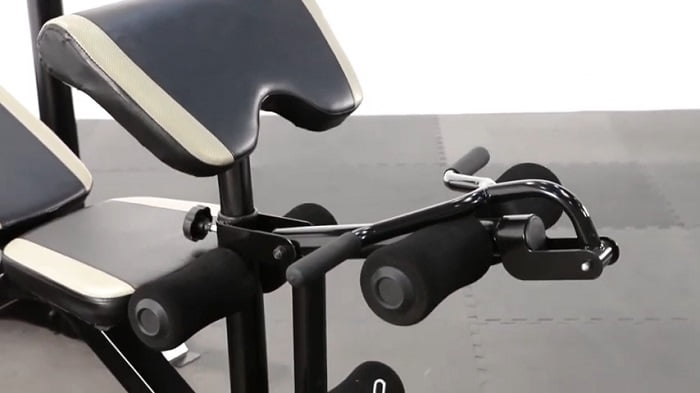 Weight  Capacity 600lb on The Bench – 300lb For Catchers
It's always important to know first the weight capacity of both the bench and the barbell crutches when buying an Olympic weight bench.
As I've already mentioned, the Marcy Olympic bench isn't a heavy-duty option, so we can't expect this thing to boast 1000lb+ capacities.
But at 600lb for the bench, we're sort of in mid-weight range for an Olympic bench. The question is can it take it? And thats a good question to ask as there are so many Olympic benches out there that love to boast high capacities but, in reality, dont have the build to handle it.
I'm glad Marcy didn't slap some silly high-capacity on the bench. 600lb is realistic for a 50lb well-built bench with a ladder adjustment system. However, cheap benches don't include the high-quality welds of commercial benches, so we still  need to be cautious.
I wouldn't take it right up to its max regularly always safer to stay at 100lb below the max capacity of both the bench and rack.
Also, we need to remember the max capacity of the weight bench includes your own body weight.
Average Time For Assembly 2 hours
Some people found the Marcy a breeze to put together, while others said instructions weren't clear. Tools for the job come with the bench, but many people have used their own tools, such as a 5/8 socket and an adjustable wrench. 
If you need a little help with assembly, check out this guy's assembly video.
Decent build quality for price point
Two-piece set allows you to use the crutches as a walk-in squat rack
Fast to adjust ladder adjustment system for the bench
6 back pad positions – that include decline, flat, 3 inclines, and near-vertical for seated shoulder presses
Quality padding and covering
Powder coated steel frame prevents rust 
Storage horns for weight plates – Loaded will help with stability
You have the choice of using 1″ standard plates and 2″ Olympic plates
Suitable for both 6 and 7ft barbells
No adjustable seat for support when low incline pressing
No adjustable spotter bars for the squat rack – Best to train with partner if you plan on lifting heavy
A few people found assemebly tricky
Body-Champ Olympic Weight Bench

(

BCB5860)
The Body Champ Bench is Marcy's main rival in this price bracket. It has been around a few years, and it's popular for a good reason. This thing is well built, weighs close to 80lb, is slightly lighter than the Marcy but not by much, and includes the preacher curl and leg developer attachment.
The Body Champ will feel more solid than the Marcy because it's a one-piece unit, but we dont have the option to use the barbell rack as a squat rack, which might be a deal killer for many of you.
Again just like the Marcy, we get a decent bench with this one. It includes 7 adjustable back pad positions and is built from 2.5″ heavy-duty square tubing. 
The padding on the Body-Champ is thin, so it might be uncomfortable when pressing heavy loads, but I havent heard of any complaints regarding this, so hopefully, it shouldn't be off-putting.
Just like the Marcy, the Body Champ misses a few important features, such as an adjustable seat, and there are no spotter bars for the rack, something to be expected in this price bracket.
Overall the Body Champ is another impressive weight bench thats outshines most in this price range. Still, it does cost a little more than the Marcy, but doesn't offer anything extra.
I'd check this Olympic bench out only if you dont need a squat rack simply because the one-piece units are more stable.
Suitbale for 6ft and 7ft barbells
To Sum Up
It's no surprise to me that Marcy has again come up trumps with another excellent low-cost piece of gym equipment. Their MD-857 Olympic bench is better than anything else I've come across for under 300.
What I like most about this two-piece set is the bench. It's a good heavy bench that can be used on its own or with the rack, which is a big plus.
Make sure to load the storage horns to keep the rack stable and have a spotting partner with you if you're going to lift heavy, and you shouldn't have any problems when using the Marcy MD-857 Olympic Bench.
Overall a lot of the bench for the money; yeah, it lacks a couple of features, but thats to be expected in this price bracket, but at least the quality is there, so durability shouldn't be an issue.