Schwinn 230 Recumbent Exercise Bike
The Schwinn Recumbent Bike 230 has been designed well for people with mobility issues, the step-through frame design lets you easily get on and off the bike without the hassle of an awkward bar getting in your way.
But this excellent mid-range recumbent isn't just for those who have mobility issues, this is a great bike for anyone who wishes to have that extra little bit of comfort when they exercise.
A comfy wide vented seat and backrest help take away any unneeded stress on your joints, allowing you to reap all the cardio benefits of a regular exercise bike in a low impact way.
Founded in Chicago over 100 years ago, Schwinn has an absolute ton of experience when it comes to building bikes, Schwinn has always been well respected by customers worldwide for the quality of their products.
You can rest assured when you buy an exercise bike from Schwinn, you are purchasing a bike from a company who have been at the top of their game for decades.
Product dimensions –  66.5 x 27 x 12.5 inches 
Resistance Type – Magnetic
Pre-set workout programs – 22
Why Do We Like The Schwinn Recumbent Bike 230?
I believe the reason for the 230's popularity, and the one reason I think it's such a great choice is the price. If we compare it with the Schwinn 270 which costs almost $200 more, there really isn't a whole lot of difference, the actual build of the 230 is almost identical to that of the 270.
Okay, the Schwinn 270 has a few advanced features such as Bluetooth, and the option of being able to track your calorie count with MyFitnessPal, these are options many of us will not use and certainly not worth paying a few hundred dollars for.
The Schwinn 230 has a built-in pulse monitor in the handlebars just like the 270, not as accurate as a chest strap but does a pretty good job at monitoring your heart rate.
The 230 also includes 20 levels of resistance and 22 workout programs, this is more than enough choice for most fitness levels, the Schwinn 270 offers 25 levels of resistance and 29 workout programs, as you can see there's not a huge difference here.
If you can live without Bluetooth and a few additional workout options, I see no reason why you would need to splash out the extra couple of hundred dollars on essentially, the same recumbent.
Resistance Type
The Schwinn 230 utilizes a magnet for its 20 levels of resistance, Schwinn terms this resistance, eddy current resistance, which is just a fancy name for magnetic resistance.
Magnetic resistance is starting to become the number 1 choice of resistance for home and commercial cardio machines, and there's a good reason why:
It's whisper-quiet in operation, you can exercise without being disturbed by the sound of the machine, something that was almost impossible with air resistance.
If you have been looking for a super quiet cardio machine that will not disturb you and others around you, or you like watching TV while you exercise, opting magnetic will always be the best choice.
And because magnetic resistance is constant i.e the resistance strength only changes when you manually select another level, you have the option to pedal slowly at high resistance, again this is impossible with air resistance which only gets stronger when you pedal faster.
Monitor/Control Panel
The Schwinn recumbent bike 230 comes fully equipped with one of the most advanced monitors you will see in this price bracket, as we mentioned earlier there's easily enough resistance settings to suit most fitness levels.
Users have praised the strength of the magnetic resistance, one user mentioned even at level 5 this thing kicked his butt, which is a great sign that it will take most users a very long time to outgrow the Schwinn 230.
Let's not forget the 22 workout programs which consist of heart rate programs, fun rides, hill climbs, challenges and two fitness programs to measure your physical fitness improvements.
While workout programs are not essential, they do offer you that something extra to relieve the monotony of long exercise periods, some of the more challenging programs like hill climbs are great for getting the heart rate up and burning a few extra calories.
All of the resistance levels and pre-set programs can be selected from the easy to use LCD control panel.
Assembly
I haven't heard about too many issues with getting the 230 up and assembled, with many users getting the job done in around one and a half hours. Schwinn provides a full detailed manual and we recommend asking a friend or family member to help as some parts may need to be held in place
Adjustable Seat
You may have read a few reviews for this recumbent mentioning the bike has a max user height of 6'4″ .
However, I've researched this bike fully and heard of a couple of guys who purchased with heights of only 6'3″ and were having issues, this is a shame at this price, I'd expect a height limit of around 6'5″, so just a' small warning', we'd rate this bike with a max user height of 6'2″
Also, another drawback of the seat is the fact there is no padding on either the seat or backrest, not a deal killer but if you are going to be using this bike for extended periods I can see it getting quite uncomfortable for some. (gel seat pads are quite cheap and great for adding some extra comfort)
Excellent advanced monitor for the price range
Strong smooth magnetic reistance
High speed, high inertia drive system
Easy to adjust slide rail seat
No padding on seat or back rest
Low user height limit 6'2″
Alternative & Comparison Table
Our Choice
Schwinn 230 Recumbent Bike
Weight – 96lb

Step-Thru Design

Workout Programs – 22

Resistance Levels – 20

Rating 4.4/5
Schwinn A20 Recumbent Bike
Weight – 76lb

+ Step-Thru Design

Workout Programs – 7

Resistance Levels – 8

Rating 4/5
For an alternative, I thought we could take a quick look at the Schwinn A20, yes, another bike from Schwinn, but this reputable company also make the best recumbent under $300 and it's an awesome bike for the price.
It doesn't come with all the bells and whistles of the 230 and 270 but what it does offer is excellent build quality coupled with strong, smooth magnetic resistance.
And it's one of the only recumbent bikes in this price bracket to include pre-set workout programs, 7 in total.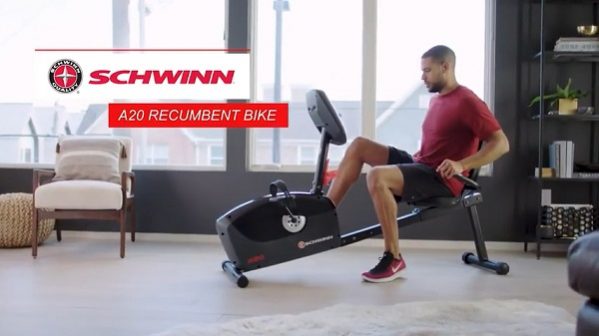 There's no step-through design with the A20 so you may be thinking, mounting this bike is going to be tough, but many users have said how easy it is to get on and off and that's because the A20 has a low profile design, and long handlebars to grab onto, they will help to keep yourself stable when mounting the bike.
A slimmed-down version of a mid-range Schwinn, the A20 offers a lot for its price tag: strong, smooth magnetic resistance, comfy padded seat and backrest, 7 preset workout programs, and most importantly the unrivaled build quality from Schwinn.
To Sum Up
The Schwinn 230 Recumbent Bike surpasses every other recumbent in the under $500 category: solid, stable build, super easy to get on and off thanks to the step-through design and easily has the most advanced monitor in this price bracket.
If you have been looking for a low impact cardio machine to help work/build lower body muscles and burn some calories, the Schwinn 230 offers more than enough features and resistance strength to help you reach your goals.