Velocity Exercise Recumbent Bike
In this review of the Velocity Exercise Recumbent Bike, we are looking at a very affordable economy model that offers tremendous value. What we need to look at is whether it's all about cost or if it represents a quality product as well. I hope by the end of this review you will know.
Packed With Great Features
The Velocity Exercise CHB-R2101 Recumbent Exercise Bike, despite its very affordable price, is jam-packed with features that you might normally expect to be present on top-end bikes. Some of these features include:
A wide range of heights between as little as 5ft and a whopping 6ft 3 ins
A choice of 8 resistance levels
A console that tracks fitness data
I am sure you will have been surprised to see that they have included a console that tracks all your fitness data on a bike with such a low price. I was too when I first looked at this bike. This is a feature that some bikes that cost substantially more are lacking.
Product dimensions –  53 x 24 x 37.5 inches
Resistance Type – Magnetic
So, What Is Good About The Velocity Exercise Recumbent Bike?
When it comes down to it, there should be one question we need to ask. Can this exercise bike help you reach your exercise and fitness goals? Everything else fades into insignificance when compared to that question.
Yes, it's nice that you have a wide choice of resistances to choose from, and the fact that you have pulse sensors for heart rate monitoring is excellent. Still, always the most important thing is that it will provide the workout you need, and the Velocity Exercise Recumbent Bike will most certainly do that.
One of the extras I do particularly like is the display. Utilizing this feature means that you can view your progress easily.
You can check what speed you are working at, how much time you have been exercising, and of course, the number of calories you have burned. This kind of information can be a great incentive and help you set goals.
Two Way Flywheel
The two-way flywheel is another feature that not all budget recumbent bikes possess. You may not really understand why this is so important, but it is a very useful feature.
Having a two-way flywheel means that you can cycle both forwards and backward. When cycling backward you will use a different set of muscles to those that you will utilize when cycling forwards. This provides your legs with a superior workout.
Magnetic Resistance
This again seems an obscure feature to be getting excited about and you may also wonder why this is important. Well, your exercise bike has 8 levels of resistance.
Magnetic resistance works by increasing or decreasing the distance of the magnets from the flywheel. The closer they are, the more resistance increases. All this happens without the magnets touching the flywheel and thus reduces both noise and wear and tear.
 Having eight levels of resistance is enough to give you options on how hard you need to work without having so many it is confusing. The resistance levels are marked on the knob that controls the tension. Just lean forward to adjust the knob to the required setting.
You turn it to the right to increase resistance and to the left to reduce it. The resistance is provided by magnets that are moved closer to/further away from the flywheel (which is enclosed) to adjust the load you are pushing against. Nothing touches so it is very quiet and there should be no maintenance requirements.
Level 1 is a nice easy ride with hardly any resistance and gradually as you increase the numbered setting up to a maximum of eight, the amount of work required increases. Only a few people will make it past level 6. Levels 7 and 8 are like cycling up steep hills on a real bicycle.
 Monitor/Console
The console is made up of two elements; the sensors mounted in the handlebars and the display itself. The console can measure time, distance traveled, speed, and cumulative distance cycled.
By holding onto the sensors it will also calculate calories burned and your heart rate. These last two measurements are accurate enough for the purposes of the bike but see them only as a guide.
Using the monitor is easy. It can be set to scroll through the various readings automatically every six seconds or be set to remain on one measurement. The console is powered by the means of two AAA batteries which are inserted at the back of the console.
 Stability
The unit is made sturdily and is stable when assembled correctly and placed on a flat surface.
Height Restrictions/Storage
A wide range of heights is supported between as little as 5ft and a whopping 6ft 3 ins. It is fully adjustable but is tricky to do compared to some other bikes.
Great price for a decent quality recumbent
Wide range of height adjustments
Quiet in use – 8 levels of magnetic reistance
The monitor screen isnt backlit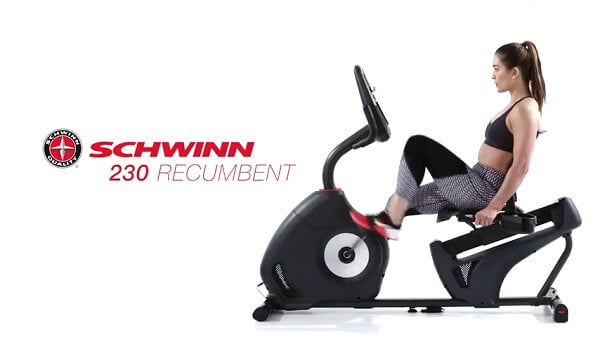 Schwinn 230 Recumbent Bike
An alternative bike would be the Schwinn 230 Recumbent Bike. Schwinn has a lot of experience in this business (over 100 years).
This model is well built, sturdy and popular, It has more than 20 resistance settings and plenty of features. There is no doubt that it is a quality product and will serve the user well for many years. The only question is. Is the Schwinn worth three times the price of the Velocity Exercise Recumbent Bike?
To Sum Up
I think I would have to say that unless someone is an avid fitness fan and would be using the recumbent bike every day without missing a session; that the Velocity Exercise Recumbent Bike is probably all you would need.
In buying the cheaper model you would have a functional exercise bike that works well but misses out on all that the more expensive models have to offer. If that is ok with you then the Velocity Exercise Recumbent Bike is for you.