Advenor are known for building some decent cardio gear, I've reviewed a few of their products, and I was pleasantly surprised not only by the build quality but also by the price. Bang for Buck, these guys are right up there with market leaders Sunny Health & Fitness.
Well Built Budget Rower
Today I want to take a close look at their lowest cost foldable rower, the Advenor Magnetic Rowing Machine. It's a budget machine, so we cant expect gym quality, but it offers everything you need for a full-body workout at home.
Reaping the benefits of full-body workouts is one of the reasons a few of the good budget rowers are selling so well. There's no other cardio machine out there that can offer you a full-body workout and a pro cardio workout at the same time for under $300.
The rowing machine is an excellent bit of kit for a home gym, and the best part is you dont have to spend a ton of money to get hold of a decent one such as the Advenor.
Product dimensions – 72.5L x 19.5W x 25H inches
Resistance type – Magnetic
LCD multi-function monitor tracks –  time, distance, total stroke count, calories, scan
Why Do We Like The Advenor Magnetic Rowing Machine?
The best feature of the Advenor rower has to be its magnetic resistance system. This type of resistance system keeps noise to a minimum because the magnetics don't need to make any contact with the flywheel.
Frictionless resistance has been around for a long time, but it's only recently we've seen it featured on home cardio gear.
Magnetic resistance is now the preferred choice for home use because of its near-silent operation. You can watch tv listen to music without being disturbed by the sound of the machine.
Constant Resistance Allows You Workout on a High Resistance Setting & Row at a Slow Pace.
Another benefit of magnetic resistance is working out on a high resistance level at a slow pace, something thats impossible with air rowers because they utilize dynamic resistance.
The Advenor boasts eight levels of magnetic resistance, which we usually find on low-cost rowers; 8 levels is a wide enough selection in resistance strength for both beginners and intermediates, but the strength in the upper levels isnt strong enough for seasoned rowers training for competitions, etc.
The Advenor Magnetic Rower has been designed for people who are just starting their fitness journey and for people after light to medium workouts wanting to lose some unwanted fat and increase their fitness levels.
Belt Drive – Less Noisey Than Chain Drives
Chain drives are a good choice if you're going to workout in the gym. They give a more realistic feel than the belt drives, but they're noisy, and if you dont want to disturb others around with the sound of your workouts, it's always best to choose a belt drive rower rather than a chain.
The belt drive of the Advenor may not last a lifetime, but it will keep noise to an absolute minimum.
A rower such as the Advenor with a belt drive system and magnetic resistance is the quietest combination available great if you prefer an almost silent rowing experience.
Impressive Rail Length For a Budget Rower
Many cheap rowers suffer from short rails, which can be an issue for taller users who want to achieve full leg extension when rowing.
There's just a handful of budget rowers that boast long rails, and the Advenor is one of them with a max height limit of 6'3″ which is impressive at this price point.
Advenor do not state the lower height limit, but usually, most rowers lower limit is around 4′ 11″
However, having a longer rail does mean, sadly, a larger machine to house. Still, the Advenor rower includes a folding system that is nice and easy to fold; just remove a pin, and it folds to almost half its original footprint. You can then tilt and roll the rowing machine on its built-in transport wheels to store up against a wall.
Smooth Rowing Stroke
There's a lot that goes into achieving a smooth rowing stroke, most importantly rowing form (check YouTube for advice), but you can't have a decent rowing stroke if you own a below-par rower.
First, we need a seat that glides smoothly along the rail, and thanks to the high-quality ball bearings of the Advenor, there shouldn't be any issues there.
Also, the rail beam needs to be slightly angled; this helps intensify the leg push phase of the stroke and speeds up the recovery phase.
And lastly, you need a decent flywheel weight. Premier weighted is best for magnetic machines, and I was surprised to see one featured with the Advenor. Yes, the premier weighted flywheel is relatively light at 3lb, however, it's still going to help keep things smooth and uninterrupted.
So for a budget rower, the rowing stroke is not too bad at all, which is why many users praise how good this rower's feel is.
Basic Monitor – No Workout Programs
Monitors on budget rowers are nothing to get excited about, they're usually basic and track all the vital workout data such distance, time, strokes etc. But rarely include any advanced features such as HD screens and BlueTooth.
I never feel a basic monitor is a deal stopper, though, because if you want a more advanced monitor, you'll have to spend a load more cash, and most of the time, people dont use half the features of advanced monitors, and they are a waste of money.
A basic monitor is easy to use easy to set up, and the Advenor monitor includes a tablet holder, so if you want to follow any of your favorite fitness or rowing apps, you can.
Stability – Includes Adjustable Levelers
Stability is an issue with budget rowers and always will be because they are light and made of cheaper materials than the heavy-duty rowers you might be used to in your local gym.
So if we haven't got the extra weight to help keep things stable, how can we prevent any movement from a budget rower? The best idea is to get hold of a cheap rubber floor mat especially if you're going to use the rower on a polished floor.
And to stop any wobble, look for a rowing machine that includes adjustable levelers; these are excellent for keeping the rower stable on uneven floors. The Advenor includes adjustable stabilizer levelers.
And lastly, look for wide stabilizing feet. The wider, the better, the Advenor is good here too, with wide stabilizers on either end of the rower.
Note. The Advenor isnt super light at 55lb its heavier than a lot of budget rowers I've reviewed so there should be some weight to help aid stability.
Assembly – Under 1 Hour
The heavy front part of the machine that includes the drive, the flywheel, and the resistance systems comes pre-assembled.
All you'll need to do is insert the seat into the rail, attach the rail to the main unit and add the footrest and front and rear stabilizers. Detailed illustrated instructions are provided and the basic tools for the job.
Maintenance is low with magnetic rowers because the resistance system is frictionless, plus the drive system uses a belt rather than a chain, so it doesn't need regular lubrication.
Basic maintenance will include keeping the rail clean so the seat continues to slide smoothly and always checking for loose parts which may need tightening after use.
Sturdy frame can hold up to 265lb
Whisper quite resistnace system great for home use
Good length rail for a budget rower can accommodate users up to 6'3″
Buil in transport wheels just tilt and roll to store
Adjustable levelers keeps rower stable on uneven surfaces
Great price for a well built rower
No option to monitor pulse
Not suitable for serious rowers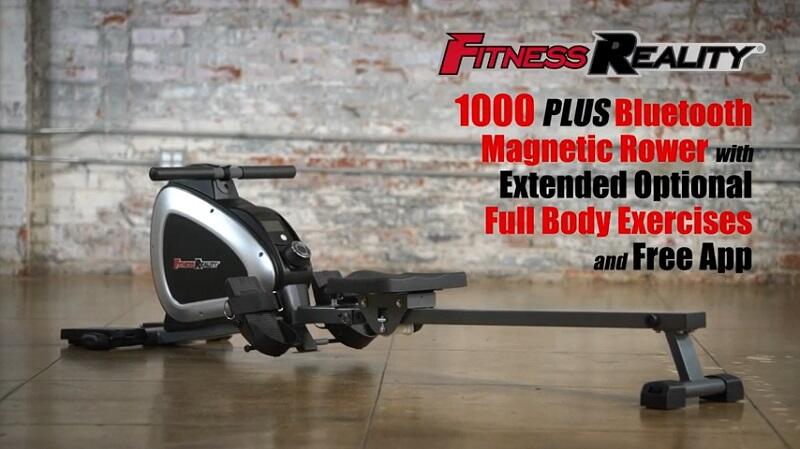 Fitness Reality 1000 Plus Rower
I've always liked Fitness Reality. These guys make some great gym gear and cardio gear, and their prices are usually affordable. Their 1000 plus rower is another low-cost rower, and just like the Advenor it's priced at just under $300.
The Fitness Reality Rower is very similar to the Advenor rower in that they share the same resistance type. They are both belt drive rowers, and both include eight levels of resistance the Fitness Reality 1000 is also another budget rower with an impressive rail length accommodating users up to 6'3," and this rower folds for storage.
So as you can see, both rowers are very similar and both excellent for the price point.
But the Fitness Reality is fitted with a slightly more advanced monitor that includes BlueTooth, so you can download their MyCloudFitness app and store all your workout data. There's a ton of other features included with the app, some paid but mostly free.
Another feature many people love about the Fitness Reality rower is that it comes with a second set of footpads based at the front of the machine. This allows you to use the rower for various standing exercises such as bicep curls, upright rows, etc. it's a nice feature to have and something you dont usually find on a budget rower.
The Fitness Reality is one of my favorites in this price bracket as it boasts more features than most and still benefits from the impressive build quality you would expect from Fitness Reality.
It's a great alternative to the Advenor, especially if you like the idea of a rower that includes  BlueTooth.
To Sum Up
Advenor have done well with their budget rower. They managed to get all the essentials right such as a sturdy build and quiet smooth rowing stroke.
I was particularly impressed with the length of the rail as it saves taller users having to pay twice the price for a mid-level rower with a long rail.
The monitor is basic, yes, but it doesn't really take away anything from the appeal. Build quality is more important than the monitor, and the Advenor Magnetic Rwoing Machine shines in this aspect. A well-priced fuss-free rower, just as good as anything else out there in this price bracket.