A rowing machine will really get the heart pumping and lungs working, providing you with a serious aerobic workout, but compared to an exercise bike these machines are game-changers, they also work out three major muscle groups and will help you develop both your upper and lower body
Affordable Pro-Cardio Workout
Luckily indoor rowers are now an affordable option for our home workouts, no longer do we have to spend a $1000 + to take advantage of the amazing health benefits a rowing machine has to offer.
In this review we'll take a close look at the recently released Efitment rowing machine which is an excellent entry level air rower.
I'll also compare the Efitment RW036 rower with two other similar priced machines and by the end of the review, you should have a good idea whether this rower is the right one for you.
Assembled dimensions: 74.8″L  x 19.9″W x 22.8″H
Exercise Monitor: Time, count, SPM, calories, scan
Why Do We Like The Efitment RW038 Rower?
There's a lot to like about Efitment's most recent addition to their air rower line, what makes the RW038 stand out from most budget rowing machines is the build quality, this is a solid, stable rower with a smooth, maintenance-free, belt driven resistance.
Ok this rower is not going to be whisper quiet like its magnetic counterparts, but for an air rower it shouldn't produce too many decibels, this is partly due to the nylon belt ( much quieter than chain) and the 3 pairs of rubber wheels which also benefit from heavy duty ball bearings.
The heavy-duty ball bearings will really help keep the noise down and let the seat glide smoothly along the rail.
Resistance
There are no resistance settings with this rower, the RW036 uses progressive fan resistance.
With progressive air resistance, the harder you pull, the more resistance, in simple terms, this rower's resistance is dynamic, you are not restricted by the number of settings, usually 8 on entry level magnetic rowers. 
I think one of the main selling features that persuade many to choose air(fan) resistance over magnetic is the air rower closely mimics the resistance felt while rowing on water. You are not controlled by what level resistance you choose, the resistance only becomes stronger the harder you row, the same as when rowing on water.
It's very important to get hold of a stable machine for any cardio workout, the last thing you need is for the rower to slip-slide or wobble when in use.
There are a few things you should look out for if stability is important to you, the first being weight, yes, it's nice to have a light machine, this makes it easy to store and move.
But when we lack weight, we lose stability. In general, the heavier the machine, the better, weight aids stability and it also gives us a good clue to the overall quality of the rower.
The Efitment rower weighs around 57lb which isn't too bad for an entry level rower, enough weight to help with stability and light enough to move easily.
The Efitment rower has rubber capped, stabilizing feet, great for stopping the rower from sliding on hard floors. Also, the Efitment rower is low profile in design, a lower center of gravity will always help with stability.
Monitor
Efitment has built an excellent entry level rower, stable, durable, strong, smooth rowing action and then they go and stick a very basic monitor on it! But we shouldn't expect too much at this price point, it's very rare to find an advanced monitor on any entry level cardio machine, so maybe we should be thankful that at least the rower itself is of high quality.
The monitor tracks count (total strokes) reps/min(strokes per min) and calories burnt, there are no programmed workouts and no way to track pulse rate, etc.
It's worth noting that the calories burned feature will not be accurate, the monitor has no way of knowing your weight, or your pulse, stats from this will only be a rough estimate at best.
Smooth rowing action for price
Folds for storage/built in transport wheels
Well built, high quality, steel frame
Good length rail, should accommodate up to 6'3″
Pivoting footrests with adjustable straps
Noisy compared to magnetic
When this rower arrives on your doorstep, you will be happy to hear that most of the assembly has already been done for you, all you'll have to do is attach the front and rear stabilizers, the footrests and the seat to the rail, most users have the rower built in under 30 mins. 
Rowers usually have quite a large footprint, which is why many of them including the Efitment RW036 include the fold for storage feature, simply remove a pin, fold and you will more than half the footprint of your rower. To move, simply tilt and roll.
Sunny Health & Fitness SF-RW5155
One of the most popular magnetic rowers on the market, and surprisingly for an entry level magnetic rower, the 5155 provides strong smooth resistance. One of the benifts of owning a magnetic rower is you can row at a slow pace on a hard setting, something you can not acheve with an air rower.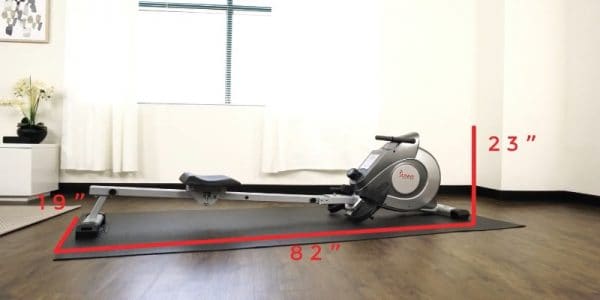 The 5155 has enough resistance settings, 8 in total, to suit most fitness levels and benefits from a long rail, users up to 6'4″ have had no issues achieving full leg extension with the Sunny Health rower.
The Sunny Health rower is a very capable machine, with a smooth rowing action, if the noise of an air rower puts you off, then 5515 is an excellent alternative.
Our full review can be found here: Sunny Health & Fitness 5155 Review
Titan Fitness Magnetic Rower
Titan Fitness has been around for a long time now, best known for their awesome power racks, this company seems to be able to produce all sorts of top quality gear at low-level prices.
Is their rower any good? Well, first, there's not enough strength in the resistance to attract any seasoned rowers, but this rower hasn't been designed for serious rowers, it's been built for beginners and intermediates.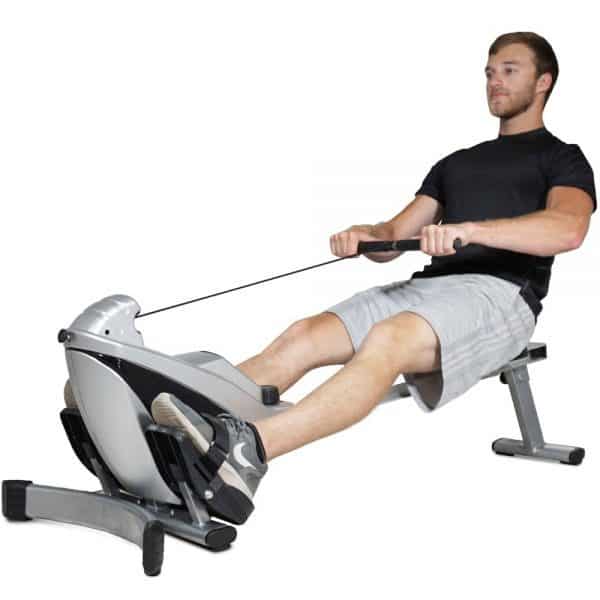 The Titan Fitness rower is a lightweight, compact rower, great for people who lack workout space in their home gyms.
This is a well built no frills rower, and there's a ton of people out there who will buy a machine like the Titan just for warm-ups and cool-downs. A rowing machine will give you a full body warm-up, unlike a bike.
The Titan includes 8 resistance settings, a basic monitor, a comfy seat and folds for storage. Another whisper quiet machine at a great price.
To Sum Up
The Efitment Aero Rower offers excellent build quality and a smooth rowing action, one of the best air rowers in this price range. It features a good length rail and a foldable steel frame, not bad at all for an entry-level rower, well worth every dollar.