There really aren't that many decent rowers for under $300. Sunny Health & Fitness makes a couple of impressive magnetic rowers in this price bracket, but the choice is minimal when it comes to air rowers.
The Efitmenst Rowing Machine is one of the only decent budget air rowers out there; it boasts a sturdy build, a silky smooth resistance and drive system, plus a surprisingly long rail.
Dynamic resistance – suitable for any fitness level.
The Efitment Rower is still a long way off commercial grade, but it's easily good enough for home use and burning off some calories.
Its dynamic resistance system sells this machine as it allows for an infinite amount of resistance levels, making it an excellent choice for anyone looking to improve their cardio fitness.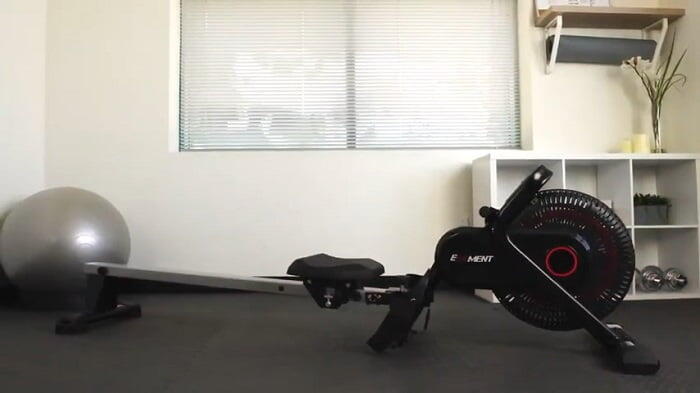 It's certainly a rowing machine worthy of some serious consideration which is why I want to take a close look at everything this impressive budget rowing machine has to offer, including its drawbacks.
First, a quick look a the Efitment Rowing machine product specs!
Product dimensions – 74.8 x 18.9 x 22.83 inches
Exercise monitor: time, count, SPM, calories, scan
Why Do We Like The Efitment Rowing Machine?
The best feature of the Efitment rower has to be its dynamic resistance system. Why? A dynamic resistance system mimics the feel of outdoor rowing more closely than any other type of resistance system. The faster you row, the stronger the resistance, just like rowing on actual water.
If you want that natural feel from your indoor rower, you'll need a rowing machine that utilizes a dynamic resistance system.
And because the resistance is dynamic, there's literally a limitless amount of resistance levels.
It's not like a magnetic rowing machine where you have a number of resistance levels to choose from; with dynamic resistance, the pace of your workout determines the amount of resistance you feel which means it is suitable for any fitness level from beginner to a seasoned rower.
Quiet Maintenance-free belt drive system
Instead of a noisy chain drive which most air rowers use, the Efitment rower benefits from a belt-drive system. I prefer a belt drive system because there is no maintenance involved, they are much quieter (fewer vibrations), and they keep the rowing motion smooth.
How stable is the Efitment Rower?
We need to remember this isn't a heavy-duty rower. It's a low-cost rowing machine, so it's not going to weigh 80lb+. Still, for a budget rower, this thing is sturdy; it weighs 60lb which is a good weight for the price range (most budget rowers weigh 45-50lb) that extra bit of weight will help keep the Efitment planted to the floor and it's a telling sign this machine is made from quality materials.
There are a few other helpful stability features, and one of them I particularly like are the adjustable levelers built into the rear stabilizer.
Adjustable levelers are a handy feature because they can be adjusted independently to keep the rowing machine stable on uneven surfaces. Also, we have nice wide stabilizers front and rear, which help keep this rower stable.
Another stability feature is the seat. I've seen a lot of rowers in this price bracket without a contoured seat which is a mistake. You need a contoured seat like the one supplied with the Efitment rowing machine because it stops your butt from slipping in the push phase of the rowing stroke. It's an important feature, especially if you want to keep correct rowing form.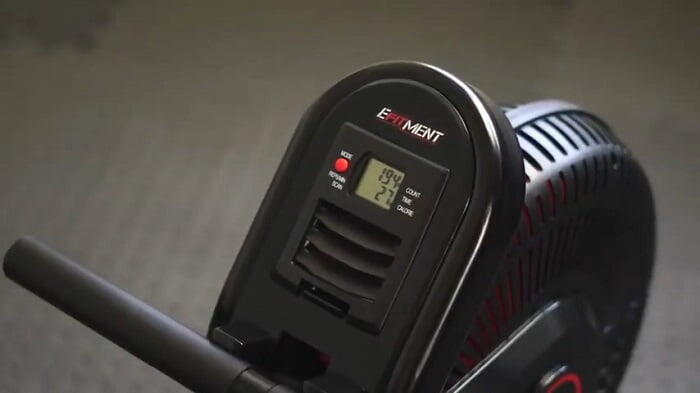 Basic but Easy to Use Monitor
Air rowers and water rowers all suffer from basic monitors. I've been reviewing them for years, and they never seem to improve even machines costing twice as much as the Efitmnet rower come fitted with a basic dated monitor.
Still, a basic monitor isn't always a bad thing. They are easy to set up and use, they don't require a power outlet and they keep the rowing machine's price down. If you wanted a monitor with an HD screen, tons of workouts, and all the other bells and whistles, you'd be paying hundreds extra for the privilege.
A basic monitor like the one featured on the Efitment air rower tracks all your essential workout data such as time, distance, strokes per minute, and calories which is all you really need.
The only downside of this monitor is that the screen is on the small side, and there is no way to measure pulse.
Any Other Features Worth Mentioning?
The folding feature is worth mentioning because it's not one of those fiddley folding systems. This one is a pull-pin type. It's easy to fold takes just a few seconds. And when folded, it halves the overall footprint of the rower.
Long Rail
Another feature I was impressed with was the 40″ inseam of the Efitment rower's rail. Most rowers in this price bracket come with short rails and can only accommodate users up to 6'2″. The Efitment rowing machine can accommodate users up to 6'5″, which is great news for larger people.
Don't worry if you're petite because the minimum height limit is around 4'11".
Also, the rail is angled. An angled rail is a good thing because it intensifies the push phase of the rowing stroke 'great for the legs' and speeds up the recovery phase, plus puts you in the best position to row from.
Heavy Duty Ball Bearings
And lastly, you have a seat that glides effortlessly across the rail thanks to not two but three sets of rollers, and the rollers boast heavy-duty ball bearings, which help add to the smooth feel of this machine.
Easy Half an Hour Assembly
All the complicated stuff like the drive and resistance systems come pre-assembled. All you'll need to do is connect the rail to the front part of the rower attach the seat to the rail, attach the footrests and the front and rear stablizers.
Full detailed instructions and the basic tools for the job are provided—average build time 30 minutes.
well built – sturdy rower
Dynamic resistance system – mimics the feel of outdoor rowing and is suitable for any fitness level
Quiet smooth maintenance free belt drive system
Adjustbale levelers to keep rower stable on uneven surfaces
Transport wheels – just tilt and roll to move
Noisey it's an air rower!
Monitor screen isn't backlit making it hard to read in low light conditions
Sunny SF-RW5155 Magnetic Rowing Machine
The Efitment air rower is undoubtedly one of the best air rowing machines you can find for under $300, so I thought it would be interesting to compare it with one of the best magnetic rowing machines for the same price bracket.
The Sunny SF-RW5155 is Sunny Health & Fitness's flagship budget magnetic rower. This machine outsells every other budget rower on the market, and it has done for years.
The reason why it sells so well is because of its resistance strength. It's one of the only budget magnetic rowing machines that people actually praise the resistance strength, saying it feels like a rowing machine they have used in a local gym; this is unheard of for a rower in this price bracket.
The Sunny uses a magnetic resistance system, so it's much quieter in use than the Efitment rowing machine, its almost silent, so you can watch TV listen to music without being disturbed by the sound of the machine.
Still, magnetic resistance is a constant resistance, i.e., the resistance strength only changes when you manually select another level which means it doesn't have that natural feel of an air rower like the Efitment Rower.
Overal the Sunny is a well-built, quiet rowing machine with a surprisingly low price tag. Even without the natural feel, this machine delivers a smooth, strong resistance and boasts some other impressive features such as a long rail, a wide contoured seat, it folds for storage and includes adjustable levelers to keep it stable on uneven surfaces. A great alternative to the Efitment rower if you need something quieter for home use.
To Sum Up
As I mentioned earlier, there are not many cheap air rowers on the market, so to find one that's well built and provides a smooth rowing motion is a nice surprise.
The 60lb frame is sturdy and because of that, it won't feel cheap and unstable. But it's the dynamic resistance I like most about this machine. It gives the rower that natural feel we all want from a home rower. Because of this, it's more desirable than a low-cost magnetic rower with constant resistance.
Yes, air rowers are pretty loud because of the fan that creates the resistance, still, it's not offputting if anything the sound of the air going through the blades of the fan makes you want to work out harder.
It's an impressive machine for the price tag, and if you're looking to increase fitness levels at home and want a full-body workout at the same time? The Efitment Rowing Machine is more than cable of providing both.