Demand for home gym equipment is at an all-time high, many of us are getting sick of busy commercial gyms and a lot of us just don't have the time to go, more and more people are now realizing the benefits of training at home.
So, it should come as no surprise, that one of the most popular pieces of home gym equipment bought is a rowing machine, yes they've been around for years but never has there been so much choice at such an affordable price!
And the one segment of the market that seems to be getting a lot of attention at the moment is the magnetic rower, why? Noise, the big difference between a magnetic and an air rower is the amount of noise they make when being used.
A machine like the Titan Fitness Magnetic Rower is whisper quiet when in operation, you won't disturb others around you plus you can listen to music, watch a movie all without being disturbed by the sound of the rower.
"Be sure to check out the comparison table and alternatives at the end of this article."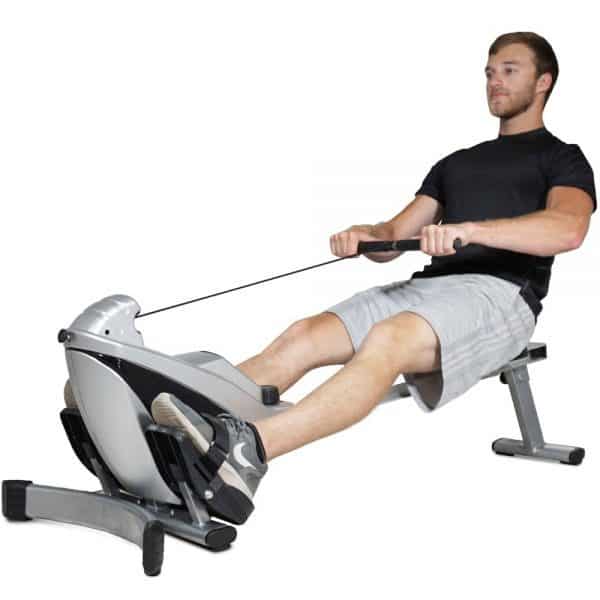 Why Choose The Titan Magnetic Rower?
What we need to point out first is, the Titan Rower is not for serious professional rowers, this is an entry level magnetic rower, and it's targeted towards beginners and people who are looking for a medium resistance machine.
Yes, you can get a useful workout from the Titan and you will lose calories on the higher resistance levels, but if you're hoping for gym quality and strong resistance then you will have to look at higher priced heavy duty rowers.
You can't expect the resistance levels of a Concept 2 rower but don't let that put you off, for starters, not all of us are looking for large commercial grade rowers for our homes.
Many of us are looking for a rower that can help us burn some calories, build and tone a little muscle and improve heart and lung health and that's just what an entry-level rower like the Titan will provide you with.
And don't forget these entry-level magnetic rowers are a great idea for warms ups and cool downs, they provide enough resistance to get the blood flowing and heart rate up before your main workout.
It's definitely a nice change from an exercise bike for a warm up and because it's a rower, you get to work the upper and lower body.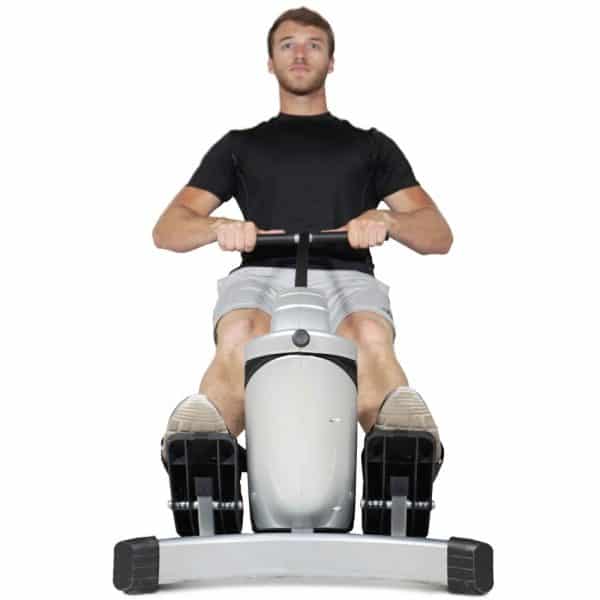 Resistance Settings
The Titan Fitness rower features a magnetic resistance system, the resistance system works by using a small flywheel and a magnetic element connected to the resistance knob.
Titan provides you with a versatile 8 resistance settings, the first 2 are for light workouts, great for beginners and people who haven't done any exercise in a while, whilst the next 6 levels give a greater resistance offering a more intense workout.
It's worth noting that the mini-computer console is in no way connected to the resistance settings, you have to manually adjust the resistance levels using the resistance knob.
Unlike the air rowers the Titan does not offer any dynamic resistance, by this I mean it doesn't matter how hard you pull, the resistance from the machine will not vary, the resistance is and always will be determined by the level you set it too.
Weight
 The Titan magnetic rower weighs in at around 50lb which isn't particularly heavy for a rower, yes, it's a good weight for moving and storing but sometimes it's the weight of a rower that will give you a telling clue to the overall quality of the thing.
 The track is made from aluminum, the frame from high gauged thin steel, and the seat and pedals are made from heavy-duty PVC.
Yes, it's light, so quality won't be as high, but most of the materials used seem to be of a decent standard and should prove to be durable.
LCD Screen
Always handy to have an LDC screen to help inform us of our workout stats, although this machine has the regular stats you'd expect such as calories burnt, count time and number of pulls, surprisingly it doesn't have a distance setting, must say was a little disappointed to see this.
Also worth noting the calorie count on any machine that doesn't know your weight etc, is going to be inaccurate, it can make at best an overall guess but in general I wouldn't pay too much attention to the calorie count.
Versatile 8 resistance levels
Whisper quiet smooth operation
Pivoting footrests with heal guards and straps
Easy to move and store between uses
People over 6 foot may struggle to achieve complete leg extention
LCD has no distance reading
Assembly
This is the one time when having a light machine works in your favor, and thankfully there isn't too much construction to do once this machine arrives on your doorstep.
Construction basically consists of a few steps. Connect the track to the mainframe, add the seat and finally the stabilizers and footrests. All should take around 30 minutes.
Keep the gliding rail free of dirt and anything that could dent or obstruct the rollers. This should be the only maintenance you'll need. All internal parts come pre-lubricated and shouldn't need lubricating if at all for a long time.
Marcy are well known for producing some of the most affordable effective home gym equipment. They always offer more than the bare minimum and this shows with their magnetic rower.
Offering a versatile 8 resistance settings, a solid ergonomically designed seat for added user comfort and a nice large built-in LCD display which also has space for a tablet.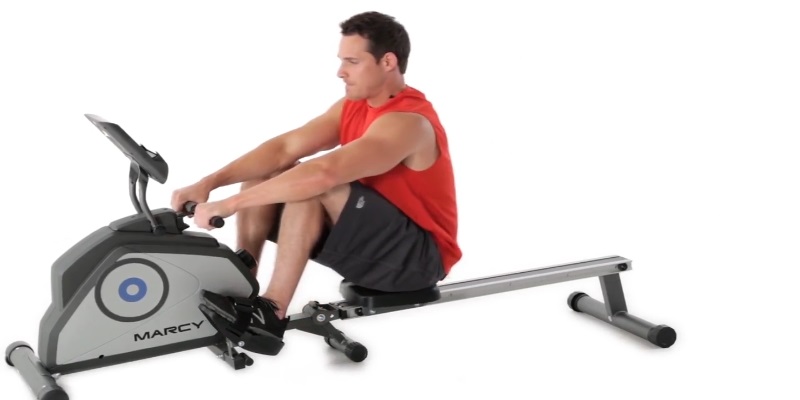 And it doesn't stop there, this quiet magnet rower is also foldable, making it much easier to store if your home gym is tight on space.
Unlike other foldable machines, the Marcy has three load bearing points, compared to the usual 2, helping to keep it sturdy and increase the overall durability of the rower.
Again this machine is not for advanced users but it does offer a lot for the money and if you're after a durable rower that's easy to set up, use and store, we think the Marcy is worth a closer look.
With a slightly more heavy duty feel, we have the Merax, weighing close to 90lb.
And just like the Marcy it too is foldable and has integrated transport wheels, allowing this machine to be easily moved and stored.
One of the most useful features of the Merax rower is the 15 degrees angle of the rail, this feature has a couple of important advantages, firstly the recovery phase is completed slightly faster, and because of the increased angle, the leg drive motion is a little more difficult giving the legs a tougher workout.
The upper end of entry-level, the Merax magnetic rower looks aesthetically more pleasing, it doesn't offer a whole lot more than the other two in the review but with wide stabilizing feet and slightly better build quality, stability when exercising on the machine should not be an issue.
Just like all magnetic rowers in the budget range, their main selling feature is how quiet they are.
But it's not all about noise when it comes to these excellent compact rowers, all three of these machines will provide you with a consistent cardio workout and all three are great trainers for muscle toning, increasing stamina and calorie loss.
And if you're only looking for a quick bit of cardio and full body warm up before a workout, then for under $200 you won't find much better than the Titan Fitness Magnetic Rower.