It's 2022 and the need for some sort of exercise routine among many of us is growing stronger, not everyone has the time to get to a gym and work out, and even if you are lucky enough to find the time to visit your local gym, you're normally disappointed to find the place is packed full.
So what can you do if you want to avoid the headache of going to a commercial gym? The past few years have seen a massive increase in people wanting to work out in the comfort of their own homes and the demand for affordable cardio machines has never been higher.
Cardio/Warm-ups/Calorie Loss
Whether you just want a machine for some cardio/calorie loss or you'd like to find a good cardio machine for general warmups, there really isn't a much better choice than a magnetic rower, and yes, you've probably seen one of these things in your local gym, they are now replacing many of the once popular air rowers.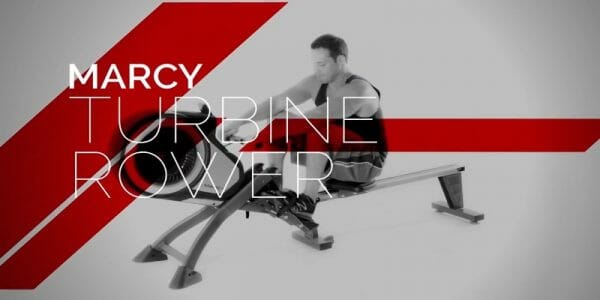 If you want a high-level cardio workout, while also strengthing the muscles of your arms, back, shoulders and quads then you will need a rowing machine like the Marcy Turbine Rowing Machine.
In this review we are taking a close look at this excellent magnetic rower from Marcy, we will also compare it with two of the other top rowers in this price bracket.
Why Choose The Marcy Turbine Magnetic Rower?
Marcy is a well known, respected brand that makes quality home gym equipment at a price most of us can afford.
I've had the pleasure of reviewing one of their budget weight benches and I have to tell you it was built and designed to a higher standard than many benches costing twice as much, and this same build quality shows with their magnetic rower.
Unlike many magnetic rowers in this price bracket, the Marcy has an almost heavy duty feel to it, ok, it's not commercial quality, but this thing weighs 85lb, 20lb heavier than most in its class.
Generally, the heavier the better when it comes to home gym equipment, weight aids stability and it also gives us a good clue to the overall quality of the product.
And yes, having a heavy machine does make it a little more difficult to move around the house, but no need to worry too much, Marcy has tackled this issue well with two important features:
Firstly the Marcy Turbine Rower is foldable, and secondly it has built-in transport wheels, both of these features should really help with moving and storing the machine.
Resistance Settings
The Marcy rower includes a versatile 8 resistance levels, great for beginners and intermediate users, you'll have no trouble finding the right intensity for your workout.
But we need to remember this is still an entry level magnetic rower, it's definitely not suited to seasoned rowers or pros, it's an excellent machine for people looking for a decent cardio workout, and a great option for people like myself who need a machine for a warm-up before the main workout.
Something else worth a quick mention is that magnetic rowers do not offer dynamic resistance, by this I mean it doesn't matter how hard you pull, the resistance will not vary as with an air rower. Magnetic resistance will always be determined by what resistance level you choose.
Now the big plus side of owning a magnetic rower is yeah, you might have guessed it, they're so quiet! Gone are the noisy workouts of air rowers, the magnetic rower is smooth and some say whisper quiet to use.
As with most entry-level cardio machines, the LCD displays have limited use, they'll tell you speed, time, distance and calories burnt, but for an accurate reading of calories, the machine would need to know your weight, etc.
Also, the monitor is in no way connected to the magnetic system, so changing resistance levels has to be done using the shifter, which is easily accessible, placed on the frame near the foot pedals.
An easy to assemble magnetic rower, most people will get this rower up in under 30 mins, nothing too tricky, the main structure is already assembled, all you need to do is connect the other pieces.
Tough, sturdy main frame, 300lb weight capacity
8 resistance levels to customize your workout
Can be folded away easily
Foam padded seat offers comfort and support
Affordable price for a quality magnetic rower
LCD monitor can not give an acurate calorie count
Large footprint 90.5 x 19 x 34.9 inches
Titan Fitness Magnetic Rower
Another excellent entry-level magnetic rower from Titan Fitness, a company renowned for producing some of the best home gym equipment on the market.
There's not a massive difference between this rower and Marcy's offering.
The Titan also has the 8 magnetic resistance levels, it too has an LCD monitor and just like the Marcy, the Titan rower is easy to store thanks to the foldable design and transport wheels.
A much lighter machine than the Marcy, it will struggle to compete with the build quality,  but we mustn't forget the Marcy is nearly $100 more, and for the lower price the Titan does offer a lot. What we like is the compact design and 15-degree rail height, it's also one of the quietest rowers available.
If you are not looking to spend over $300 then the Titan certainly warrants a closer look.
If you would like to take a closer look why not check out our full review here: Titan Fitness Adjustable magnetic Rower Review
EFITMENT Magnetic Rowing Machine
Similar in specification to both of the other rowers, 8 magnetic resistance levels manually adjusted by a shifter, steel frame and aluminum rail, it can be quite hard to actually find many differences with entry levels rowers. But there is one quite obvious difference with this rower and that's the seat design.
The seat is quite interesting compared to most, rather than use the industry standard solid plastic seat, EFIT have gone for a wide padded seat, this may not appeal for those who are used to the narrower plastic seats, but I feel this might be a nice option for beginners or anyone looking for a little more comfort when they are exercising.
Overall, a well built, compact, magnetic rower, great for a warm-up machine, but I fear will not offer enough resistance for serious athletes. An excellent first rower for people looking to increase their fitness levels at home.
To Sum Up
Another excellent cardio machine from Marcy. These guys are doing great in the entry-level cardio market. They deliver top-quality products at affordable prices. The Marcy Turbine Rower is evidence of the hard work this company is putting in behind the scenes.
The Marcy Turbine Rower is one of the top 3 rowers in this price bracket, a durable, well-built machine for beginners and intermediates.