The EchanFit Rowing Machine is a budget rower made by a company that specializes in cardio gear. This company makes some of the most impressive cardio machines out there, and they usually dont fail to impress when it comes to their rowers.
Still, most budget rowers do come with a few isuues, I've reviewed a ton of them over the paste few years, and the three biggest problems that arise when spending less on a rowing machine is 1. a short rail making them unusable for tall guys, 2. a lack of resistance levels, and lastly too much noise, some rowers most notably air rowers are loud in operation making them unsuitable for home use especially apartments.
Echanfit Got All The Essentials Right.
You know the guys at Enchamnet have done their research and listened to what customers want because their budget rower includes more resistance levels than any other low-cost rower, with 16 in total twice that of similar priced rowers. It boasts a whisper-quiet magnetic resistance system and a belt drive. And best of it includes a long rail accommodating users up to 6'4″.
The Echanfit is an impressive machine for the price point, which is why I'm going to take a close look at everything it has to offer. I'll also compare it with the best seller in this price bracket the Sunny Health SF-RW5155.
First, let's take a quick look at the product specs!
Product dimensions – 75.2 x 19.29 x 33.46 inches
Resistance type – Magnetic
LCD multi-function monitor tracks – Time, RPM, Distance, Scan, Calories, and Count which tracks your progress towards goals
Warrenty – one year free replacement parts
Why Do We Like The Enchanfit Rowing Machine?
For home use, we need a quiet resistance system; the last thing you want is to disturb others around you with the sound of your workouts.
And if you love to watch TV or listen to music while you row, a near-silent rower is an ideal choice. This is one reason why I like the Enchanfit Rowing Machine, as it utilizes whisper quiet magnetic resistance.
Magnetic Resistance No.1 Choice For Home Gyms
Magnetic resistance is the No.1 resistance system for home cardio gear. It's so popular because it's almost silent in operation, it's easy to use, and it's cheaper to produce than the other resistance systems, so it brings down the cost of the rower, which is always a good thing!
Belt Drive System Less Noise & No Minatence
Another benefit of magnetic rowers is that a belt drive system usually accompanies them. Rowing machines will either come with a chain drive system or a belt drive system. Ideally, we'd look for a belt drive for home use because they require no maintenance (a chain drive will always need lubrication), and a belt drive is much quieter than a chain drive.
A belt drive and magnetic resistance system is the quietest combination you will find on any rowing machine, and I'm glad to see both are included with Enchanfit rower.
Still, we must remember this is a budget rower, so the resistance strength even in the upper levels will not be strong enough for the serious rowers.
The Enchanfit Rower has been designed for light to medium workouts great for beginners or anyone looking to burn off some calories and increase their fitness levels.
16 Levels of Resistance
There are 16 levels of resistance that come with Enchanfit rower, which is double that of most rowers in the price bracket it doesn't mean you get twice the strength of resistance; all it really means is that you get more choice, great for beginners who prefer smaller jumps in resistance strength as their fitness levels improve.
Smooth Rowing Stroke
Many people have mentioned who owns the Echanfit rowing machine, how good it feels rowing on it, and how it feels as smooth as rowing on a machine they've used in a local gym. And while this machine is a long way off commercial grade, it does include everything you need for a smooth rowing stroke.
The seat slides effortlessly across the rail thanks to 3 sets of rollers and high-quality ball bearings great to see on a budget rower. Also, we have a smooth magnetic resistance system, a premier weighted flywheel, and a belt-drive, all of which contribute to a smooth rowing stroke.
Another essential feature is the angled rail.  An Angled rail puts you in the best position to row also the angled rail will intensify the push phase of the rowing stroke 'great for legs' and speed up the recovery phase.
Echnafit has got everything right regarding the rowing stroke, I dont think it's compatible with Concept 2, but for a low-cost rower, it's impressive.
Adjustable Angle Monitor
In this price bracket, there aren't any advanced monitors. So it was no surprise to find a pretty basic monitor featured on the Enchanfit rower.
Still, basic monitors aren't all that bad. They are easy to use easy to set up, and because we select resistance strength via tension knob rather than through the monitor, we dont need to plug this machine into the wall.
There are a couple of extra features: The monitor is angle adjustable – You can adjust the monitor to the perfect height to suit you, letting you view your workouts stats properly while you exercise.
Another handy feature is the goals setting feature, which can be used with time, distance and stroke.
There are no workout programs or BlueTooth, but we have a phone holder so you can, if you wish, download one of your fav fitness apps.
Easy Assemebly & Storage
The front housing (flywheel) of the rowing machine with the drive and resistance system comes pre-assembled.
All you'll need to do is attach the seat to the rail, connect the rail to the main unit, attach the stabilizers, footrests, and monitor. On average, this takes most people around an hour. Detailed instructions and the basic tools for the job are provided.
Storage is easy thanks to the Enchanfit rower being foldable. Just unlock the quick release pin and fold. It takes a few seconds. The rower also includes transport wheels, tilt and roll to store in the corner of a room.
Stability Adjustable Levelers
Budget rowers are light which isnt always a good thing as it's the rower's weight that keeps the machine planted to the floor. Thankfully the Enchanfit rower, although light, includes wide stabilizers to prevent wobble, plus they've included adjustable levelers built into the rear stabilizers.
Adjustable levelers are a handy feature because you can adjust them independently to keep the rower stable on uneven surfaces. Not all low-cost rowers include levelers, so I was happy to see this featured with the Enchanfit rower.
Still, even though we have wide stabilizers and levelers if you're going to use this machine on a polished floor? I recommend you get hold of a cheap rubber floor mat to prevent unwanted slips while exercising.
Decent build quality for price can handle up top 350lb
14 levels of whisper quiet magnetic resistance
Maintenance free belt drive system
Long rail accommodates users up to 6'4″
Quick release folding system
Built in transport wheels – just tilt and roll to store
resistance isnt strong enough for serious rowers
LCD isnt backlit making it hard to read in low light conditions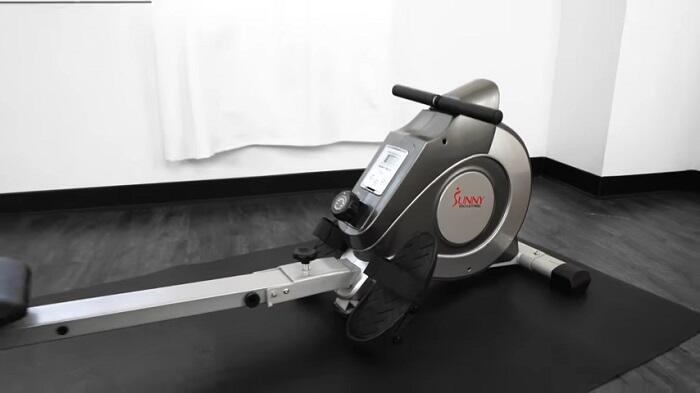 Sunny Health & Fitness SF-RW5155 Rower
Sunny Health & Fitness are the market leaders in budget cardio gear. These guys have been at the top of their game for over two decades, and if you're after a high-quality cardio product but dont want to spend a ton of cash, this is the one company you should have at the top of your list.
The Sunny SF-RW5155 is their flagship budget rowing machine. It has been out for a while and has been one of my favorites for years. This thing still outsells everything else in its price bracket five years after being first released.
This machine is so popular because it's one of the only low-cost rowers that provides strong enough resistance for intense workouts. Many people praise how strong the resistance feels in the upper levels, which is unusual for a budget rower.
The Sunny SF-RW 5155 also includes one of the longest rails and can accommodate users up to 6'6″; and has a weight capacity of 275lb, so it's an excellent choice for larger users.
It's very similar to the Enchanfit in that both rowers offer magnetic resistance and a belt drive system. Both rowers fold for storage, and both are equipped with easy-to-use but basic monitors. The only noticeable difference is how many resistance levels—the Sunny with eight and the Enchanfit with 16.
Users are still praising the Sunny years after buying.
The Sunny Rowing Machine has stood the test of time, with users still praising how well it works after owning it for years, and there are not many budget rowers that can lay claim to that. Overall an excellent rower from Sunny, and when you consider its price of $250, it's a bargain.
To Sum Up
I feel the Enchanfit rower is as good as anything else out there right now in this price bracket. It's one of only a few budget rowers that can boast a smooth rowing stroke. It's the only budget rower I've reviewed so far that includes 16 levels of resistance.
Build quality isnt excellent, but we can't expect it to be at these sorts of prices. And thats a mistake a lot of people make when buying a budget rower. They expect gym quality.
The Enchanfit rower is an impressive low-cost rower that includes everything you need for light to medium workouts at home. Its whisper-quiet, thanks to its belt drive and magnetic resistance systems so can be used in a house or an apartment without disturbing anyone.
Easy to assemble, easy to fold, and store, the Enchanfit Rowing Machine doesn't disappoint.