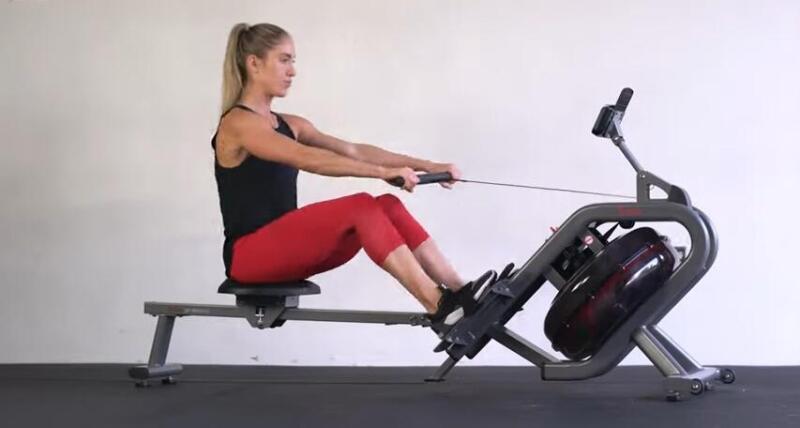 Buying A Rowing Machine For Home
If you've been looking for the best cardio machine for your home gym, the rowing machine is a great choice. It has more health benefits than any other indoor exercise machine, and its for this reason, its popularity has grown hugely in the past few years.
According to Harvard Health, a 30-minute moderate workout on a rowing machine burns 252 calories or 369 for an intense 30-minute workout thats a higher calorie burn than an elliptical, an indoor bike, even circuit training can't match the high-calorie burn of a rowing machine.
And it's not all about calories, either? As a cardio exercise, rowing strengthens the cardiovascular system, including the heart, blood vessels, and blood.
Rowing is also low impact on the joints and is recommended for people with early stages of osteoarthritis; a 2014 study that joint torques in the elbow, shoulders, and knees improved by 30% after using a rowing machine for 8 weeks, but no your matter your age, it's always a good idea to choose a cardio machine that protects your joints from damage.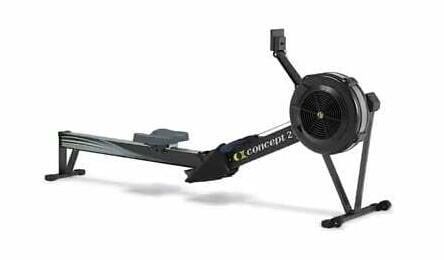 Buyers Guide
There's no doubt a rowing machine is great for your health but choosing the right machine to suit your home, your fitness needs, and budget is essential, so without further ado, let's get on with the guide.
1. Space – Do you Have Enough Space To House A Rowing Machine Permanently?
Rowing machines have large footprints, so making sure you've measured out a suitable space for the rowing machine before you buy is the most important first step.
An average-sized rowing machine measures around 2.5m x 0.6m (8ft x 2ft)
Make sure to factor in room for your arms and elbows, as well as some room on either side of the machine, so the drag factor isn't affected by closing off the air circulation ( if using an air rower)
Concept, the guys who build the concept 2 rowers recommend an overall footprint of 9ft by 4ft. This allows for elbow and fan room.  
If you do not have a dedicated space for the rower and need to sore it between uses? A folding treadmill may be your best choice. Still, many rowers can be stood up on one end and stored up against a wall.
2. How Much Do You Want To Spend
The amount of money you want to spend on a rowing machine will determine the type and quality of the rower. This will narrow down your choice, which is a good thing as there are well over 100 rowing machines out there, and being able to narrow the choice down to a certain price bracket will make the decision much easier.
The higher your budget, the higher the quality of the rowing machine. This is usually the case with all cardio gear, and we can generally break the price bracket and quality into three groups.
$200-400 – Entry level rowing machine perfect for beginners or light use
$400-800 – Mid-Levl Rowing Mahicnes – Includes some advanced features and a more durable build, perfect for home gyms
$800 + High-End rowing machines suitable for serious athletes – heavy-duty, long warranties, advanced features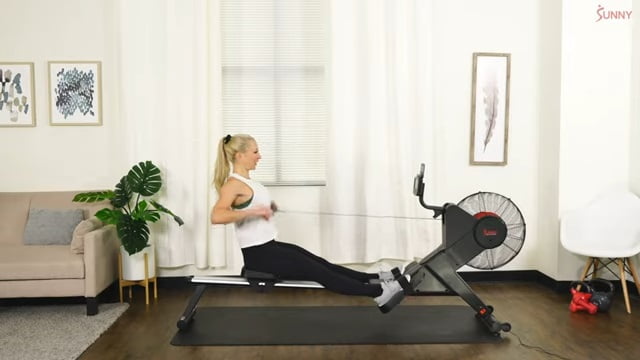 3. Resistance Types – Magnetic – Air or Water?
The next decision you'll have to make is which type of resistance you want for your rowing machine. Magnetic is the first type of resistance and has become increasingly popular.
Magnetic Resistance can be found on most budget rowers, and some mid-level machines, the appeal of magnetic resistance is just how quiet it is in operation, and thats because the magnetics of the resistance system never heave to make contact with the flywheel allowing for a whisper-quiet workout.
Also, another big plus of magnetic resistance is that it lets you row at a slow pace on a high resistance level, which is impossible with air resistance and great for building muscle strength.
The more serious rowers prefer Air Resistance as it mimics the resistance felt of rowing on water. This type of resistance is called dynamic resistance, as the force of resistance is determined by the rower's effort. The harder you pull, the faster you will go.
The downside to air rowers is the noise they make. Noisy rowers are okay for a commercial gym, but for home gyms, they are not ideal as the fan's noise can disturb you and others around you.
Water Rowers are much like air rowers in that the resistance strength only increases when you pull harder, which gives the water rower a more natural feel than magnetic resistance, and because there's no noisy fan, just the quiet swirl of the water as the blade/paddle cuts through it, the decibel count in lower than that of an air rower.
However, water rowers are expensive. A decent water rower can cost twice the price of a decent air or magnetic machine.
4. Stability
Something many people overlook when buying a rowing machine or any cardio machine is how stable the machine is going to be when in motion. Avoiding cheaply built lightweight unstable rowers is a must.
We need to look for rowing machines that weigh over 40lb. Not only will the extra weight help with stability, but it's also a telling sign the rowing machine is made from quality materials.
Also, look for rubber-capped stabilizing feet. Rubber capped feet are great for keeping the rowing machine from sliding on hard /polished floors; they also act as a floor protector and prevent scratches from the machine's feet.
5. Monitors
Most budget rowing machines monitors are, in general, very bad, especially at tracking data such as calorie count; lower-end monitors have no idea what weight you are or your pulse rate, which allows for very inaccurate data.
Most budget monitors will track distance, time, strokes, so they are of some use, and setting goals on distance and time is always a useful option.
If you would like a more advanced monitor, one with a built-in pulse receiver and one that connects to a PC or records 2K and 5K race times, you will have to spend a little more on your choice.