JX Fitness Weight Bench
The JX 600LB Capacity Weight Bench is JX Fitness's new version of their very popular dumbbell bench.
It's not hugely different from the previous version, except this bench includes a few important upgrades such as a ladder adjustment system for the back pad, much faster to adjust and sturdier than the previous system, and a higher weight capacity of 600lb.
This bench version costs only £10 more, and it's worth paying that extra 10 just for the ladder adjustment system. Also, we have a slighter wider back bad, and the bench weighs a few more pounds which will help a little with stability.
In today's review, I want to look at everything the JX Fitness Adjustable Weight Bench has to offer, including a few of its drawbacks. Then we'll compare the JX Bench with another impressive entry-level bench thats been around a few years, the Gymenist Weight bench.
First, a quick look at the JX Fitness bench product specs!
Product dimensions –  55″L x 25″W x 64″H
Resistance Type – Magnetic
Pre-programmed workouts – 24
Why Do We Like The JX Fitness Adjustable Weight Bench?
5 years ago, you couldn't get hold of a full FID (flat, decline, incline) bench for under £200. Now we can get our hands on a decent FID bench for under £100, which is impressive. Thats what I like about this bench it's versatile,  boasting 6 adjustable back pad positions and a 3-way adjustable seat.
It's great to see a low-cost bench that includes the all-important near vertical or full 90 for seated shoulder presses. You'd be surprised how many benches only adjust to a max of 70 degrees which is too low to hit the shoulder hard.
Also, the JX fitness includes decline for decline presses and sit-ups, and a number of incline positions so you can target the upper pecs.
And because this is the upgraded version, we have the ladder adjustment system, faster to adjust than the pull pin systems and sturdier.
There's nothing wrong with pull pin systems on high-end benches as the quality is there but on cheap benches, pull pin systems tend to snap under heavy loads. If you plan on lifting heavy and going low cost, opt for a ladder adjustment system.
Click here to check price JX Fitness Weight Bench on Amazon
 3 Way Adjustable Seat – Support For Low Incline Pressing
What's best of all is the JX Weight bench boasts an adjustable seat. Adjustable seats are vital for support when low incline pressing. They stop your butt from slipping down the bench and provide a stable base to press from.
 High-Density Foam Padding
Another impressive feature of this bench is that it uses high-density foam padding for the seat and back pad.
High-density foam is the gold standard for weight benches. It's not too soft to cause stability issues or too hard to be offputting; this stuff is just right, and a surprise to see it featured on a low-cost bench.
600lb Weight Capacity – Can It Take It?
Although the JX bench is one of the higher quality low-cost benches on the market, a 600lb capacity is a little unrealistic. Yes, it will probably take its max capacity a few times, but if you took it to its max regularly, the bench wouldn't last more than a few months.
We cant expect a bench thats cost under £100 to carry the weight loads designed for heavy-duty benchers costing three times what the JX costs.
The JX is a lightweight bench weighing just 16kg. It's a long way off commercial grade.
The JX is an excellent bench for dumbbell workouts, so if you have a set of 50lb dumbbells or even 70lb dumbbells, this is a great bench to accompany them.
For heavy barbell/rack work, choose something more stories with a heavy-duty build. The Rep Ab-3000 or an Xmark bench are good choices and available at just under £300.
Note. The max capacity of a weight bench includes your own body weight.
Stability
The JX is one of the only low-cost benches that doesn't suffer from stability problems because of its lightweight build, and thats thanks to the guys at JX Fitness thinking to include extra-wide front and rear stabilizers; these really help to prevent any wobble.
Okay, it's not going to feel solid like you're training on a tank, but for the cost, it's about as stable design-wise as you'll find.
Versitile – 6 back pad positions and 3 way adjustable seat
Fast to adjust ladder adjustment system
High density foam padding 
Easy to assmeblt (most ppl got this together in under 30 minutes)
Wide stabilizers keep the bench stable
Great price for a FID bench
If you're over 6'2″ you might find that the back pad is too short in incline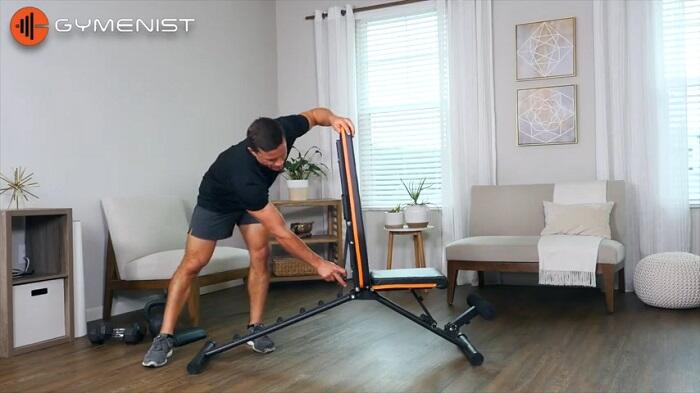 Gymenist Workout Bench
The Gymenist weight bench has been around for a few years, and it's always been a popular bench, a highly versatile bench boasting 6 back bad positions and a 3-way seat just like the JX  bench and includes the right type of padding for the back pad and seat.
The Gymenist is another lightweight, low-cost bench, so it is best suited to light to medium dumbbell workouts. It, too, carries the same 600lb capacity tag as the JX Fitness bench.
The big difference between this bench and the JX is that the Gymenist is a foldable bench, and it's nice and easy to fold. All you have to do is remove one pin, and it folds to almost half its original footprint, handy for those of you who don't have a dedicated space to store a bench.
Also, there's no assembly with Gymisyts bench. It comes completely pre-assembled.
The Gymenist cost around £30 more than the JX bench, and the only real difference is its folding feature. 
Is the Gymeist worth the Extra £30? yes, sort of, but only if you need a folding bench. The Gymneist has proven to be a durable, high-quality bench for the price with people still praising the bench years after purchace.
If you dont need a folding feature, I feel the JX bench is the better buy as the JX has a heavier frame, better padding, and a ladder adjustment system.
To Sum Up
Priced at under £100, I haven't come across a better bench in this price bracket than the JX Fitness Adjustable weight bench. This bench includes everything you need for dumbbell workouts at home.
Great to see the full incline for military presses and decline for decline presses and sit-ups. Thankfully these guys thought to include an adjustable seat, an essential feature for support when low incline pressing.
High-density foam padding, ladder adjustment system, this bench has it all at a great price. Still, it is not a heavy-duty bench so dont push it too hard and it should last you years of use.