If you wanted to reap the benefits of a water rower it would of cost you $1000+ for a decent one and that was only a few years ago.
Thnakfully a few reputable companies that specialize in low-cost cardio gear like Snode, Sunny Health, and Xterra took the challenge on and built some affordable versions. And they're not half bad!
A rower such as the Snode WR100 Water Rowing Machine is a long way off gym quality, but it includes all the essential features you need from a water rower. Yes, Snode had to save money somewhere, and with the Snode, it's the Monitor, its basic, but better to have a basic monitor and the money spent on the build.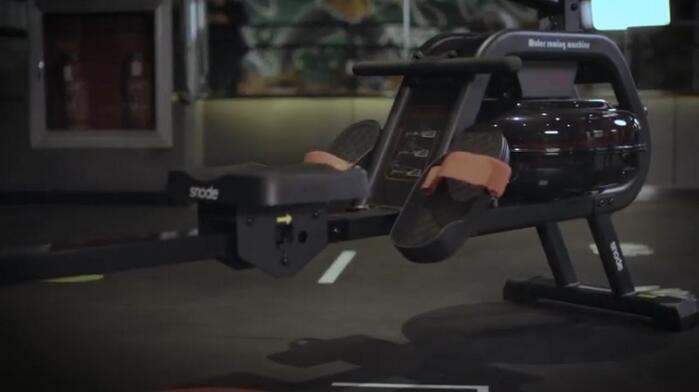 80lb Build – Long Rail – Dynamic Resitncae
The Snode water rower is an impressive machine for the price point, boasting an 80lb build – reassuringly heavy, tells us its made from quality materials, a long rail accommodating users up to 6'5″, a smooth rowing stroke, and perhaps what's best all a resistance system that suits all fitness levels because it's dynamic.
It's definitely a rowing machine worth taking a closer look at.
Product dimensions – 79 x 20 x 36 inches
LCD multi-function monitor –  time, speed, calories, distance, and heart rate. Also the angle is adjustable.
Why Do We Like The Snode WR100 Water Rowing Machine?
Bang for buck is what you have to love about the water rower from Snode. It weighs 80lb thats heavy for a low-cost rower giving us a good clue to the overall quality of the build, plus that extra weight will help a ton with keeping this rower planted to the floor.
We want heavy when it comes to cardio gear. You want to feel like you are rowing on a high-quality machine, and the extra weight really helps give that feel. You don't want a cheaply built lightweight unstable rower.
Long Rail Accomdates users Up To 6'5″
Another feature that surprised me about the Snode is the rail length, I'm talking about the movement span for the seat, not the total length, and its 40″ on this rower, thats one of the longest I've seen for any rowing machine in this price range and it gives the Snode rower an impressive max height limit of 6'5″
High-Grade Ball Bearings
It's essential when looking for a rowing machine that the seat glides smoothly on high-grade ball-bearings because without a smooth gliding seat, not only will your rowing form suffer the noise it makes can be a nightmare.
The guys at Snode made sure to use high-quality ball bearings for their seats, and I can report it runs effortlessly across the rail. Thumbs up!
Contoured Seat
To keep you stable and prevent you from slipping in the leg push phase of the rowing stroke, we should always look for a countered seat which thankfully the Snode includes.
The padding is important too because if it's too soft, it will cause you stability problems, and if too hard, it can be off-putting so far, no users have complained about the seat padding, which is reassuring to hear.
Dynamic Resistance Suitable For All Fitness Levels
The best feature of this rower is its resistance system; it's a water rower, which means the resistance system is dynamic, and what's great about dynamic resistance is it mimics the feel of outdoor rowing. How? The faster you rower, the stronger the resistance, just like an actual rower.
There's No Resistnace Settings
There are no resistance strength settings. It's you who determines how strong the resistance is by the pace of your workouts, and this is what I love about the machine because not only is the resistance dynamic you also hear the sound of the blades going through the water in the tank, which adds to the natural feel of the machine.
Dynamic resistance is suitable for any fitness level; go as slow as you want or as fast. It's your choice and great for HIIT workouts as you can slow down and speed up without having to change resistance strength from a monitor or tension knob.
Just Fill Up The Tank, and You're Ready To Go!
There's nothing complicated about water resistance or how it works. Once you have assembled the rower, just fill the tank with water; it's up to you how full. If it's only a quarter full, it will affect resistance strength somewhat because the blades have less water to push through.
I fill mine just under half full this gives a strong, smooth resistance at a medium stroke rate. The guys at WaterRower check this article say to fill the tank depending on user weight. If you're a heavy guy, add more, etc.
Monitor Includes BlueTooth
Most low-cost rowers are equipped with basic monitors, which isnt a bad as they're nice and easy to use. They only take a few minutes to set up, and they do not require a mains (utility) outlet for power.
Still, for a basic monitor, I quite like the Snode's as it can be used with Wireless HR chest straps and watches, great news for you guys who love to train in your chosen heart rate zone, but the bad news is you'll have to buy a chest strap separately. You can get a decent one for around $30.
FREE access to the
FITLOG App
Snode also gives FREE access to the FITLOG App for iOS and Android devices, where you can track a ton of workout data and take a look at workout tutorials.  I never have much luck pairing free apps to phones or tablets, so I usually dont bother them. I'm happy with the basic tracking features of the monitor.
And the basic tracking features of the Snode monitor include  time, speed, calories, distance, goal setting, and heart rate ( need chest strap)
The LCD is large on the Snode, so it's easy to read, plus it is height adjustable which is always a good thing no matter your size; you'll find a suitable position so you can always view it while you workout.
A Few Other Handy Features
The Snode water rower includes a couple of other features worth a mention. The first is that the Snode rower is designed to be stored vertically, allowing you to store it against a wall, taking up much less room than a folding rower—just 0.20 square meters of space.
The rower also comes with built-in transport wheels making it easy to move. Just tilt the rower and roll to move.
And one of my favorite features of this rower is that it includes adjustable levelers. Adjustable levels come in handy if you have uneven floors, and you can adjust them independently to keep the rower stable.
Easy To Assemble 40 minutes.
Most users found the Snode easy to assemble with an average build time of 40 minutes. The complicated stuff such as the tank and its fixtures plus the drive systems already come attached to the front of the rower.
All you'll need to do is connect the rail to the front of the machine, secure the seat to the rail attach the footrests, monitor, and stabilizers. Then fill the water tank. Detailed instructions and basic tools are provided.
Snode Installation video just in case you need any help
Heavy-duty frame can handle up to 330lb
Dymanic resistance system mimics outdoor rowing
Decent monitor for price point that includes BlueTooth
Long rail accommodates users up to 6'5″
Whisper quiet belt drive system
Contoured seat prevent slips in leg push phase of rower stroke
High grade ball bearings allow seat to glide smoothly across the rail
Adjustable levelers keep rower stable on uneven floors
LCD isnt backlit making it hard to read in low light conditions
A few users mentioned the foot pedals seemed low quality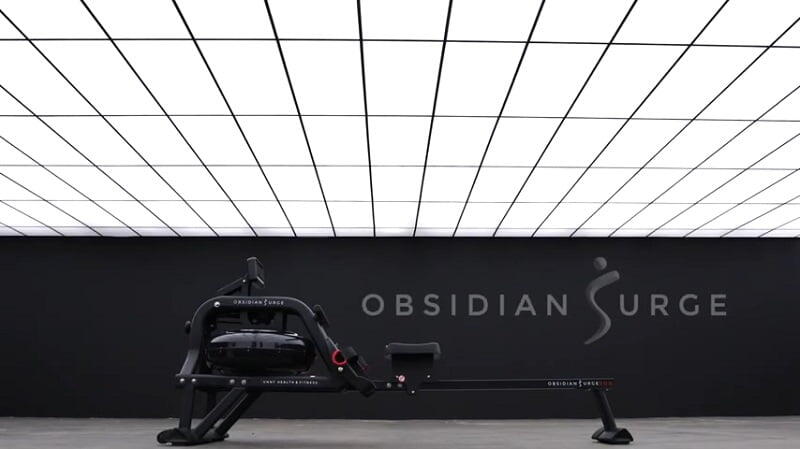 Sunny Health & Fitness SF-RW5713 Obsidian Surge Water Rower
Sunny Health & Fitness are the kings of affordable cardio gear. These guys have been at the top of their game for nearly two decades, so it comes as no surprise that their low-cost rowing machine is one of the best out there.
It weighs 91lb. It's a heavy low-cost water rower, so we know it's built from quality materials and is sturdy. It costs slightly more than the Snode but doesn't really differ in features; both rowers are very similar. They include good length rails for taller users. Both use 16 blade water reactance systems and belt drives. Both can be stored vertically and boast very similar designs.
The Sunny Obsidian Surge is a slightly more heavy-duty rower than the Snode. Still, the Snodes monitor is better as it's BlueTooth enabled and offers wireless heart rate capabilities.
There isnt much between the two rowers; the Snode is a better choice for larger users as it has the longer rail. The Sunny can only accommodate users up to 6'3″, but there really isnt much in it. 
To Sum Up
The Snode WR1000 Rowing Machine is one of the few water rowers worth taking seriously in this price bracket. It's not high-end, but it's good enough for a home gym. The build quality is there, and the resistance system is smooth, quiet, and best all dynamic, so it suits any fitness level.
As long as you dont expect gym quality, I think most of you will be impressed with this water rower.