A few years ago, there were no low-cost foldable rowers on the market. To get hold of a good one, you'd be looking at spending well over $500.
Fast fowrad a few years and with companies like PooBoo Sunny Health & Fitness & Joroto all making high-quality, low-cost cardio gear, we can all reap the benefits of rowing at home without having to spend a ton of cash.
Still, the quality of low-cost rowers can vary hugely from one company to the next, so we need to be careful.
I've reviewed a few low-cost products from PooBoo, and I was impressed because, bang buck, these guys are right up with the best. So at least we know with PooBoo you get hwta you pay fpoor and a little more.
Well Built Rower With a Smooth Rowing Stroke For Under $300.
The PooBoo Magnetic Rower costs just under $300, and it's a great buy considering we get twice as many resistance levels compared to other budget rowing machines, a smooth rowing stroke, a basic but easy to use monitor, and a surprisingly long rail that can accommodate users up to 6'4″.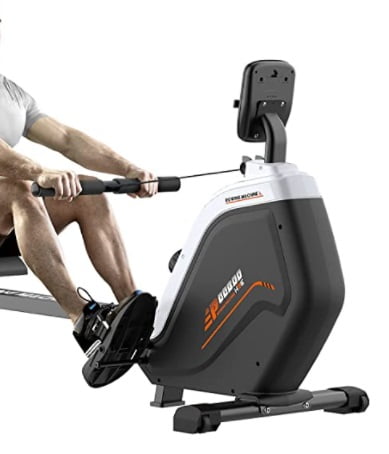 Dont Expect Gym Quality
The PooBoo Magnetic Rowing Machine is not a rowing machine for seasoned rowers, and we wouldn't expect to find a pro-level rowing machine in this price bracket.
The PooBoo is a fuss-free rower, it doesnt boast things like Blutooth and an HD screen
Its a well built budget rower that will help you tone and strengthen your muscles and increase your cardio fitness at the same time and today I want to look at everything the PooBoo offers, including its drawbacks.
First, a quick look at the PooBoo Magnetic Rowers Product specs!
Product dimensions – 68 x 22 x 33 inches
Resistance type – Magnetic
LCD multi-function monitor tracks –  time, distance, total stroke count, stroke, calories, scan
Warrenty – one year free replacement parts
Why Do We Like The PooBoo Magnetic Rower?
The best feature of this rower is its magnetic resistance system.
Magnetic resistance is the ideal choice when choosing a rower for home use. It requires little to no maintenance and is cheaper to produce than other resistance systems, which brings down the rowers' price, which is always a good thing.
The reason magnetic resistance is so quiet in operation is that the magnetics do not have to make any contact with the flywheel, making it a frictionless resistance system.
And because there's no friction, there's no noise or wear and tear. It's the preferred use for most indoor cardio gear, and even commercial gyms are starting to feature magnetic resistance bikes and rowers.
Constant Resistance – Row Slow on a High Resistance Level.
Another benefit of magnetic resistance is that it's a constant resistance. The resistance strength only changes if you manually change it via the tension know.
The reason constant resistance is good for our workouts is that it gives you the option to workout on a high resistance level but at a slow pace, great for building and strengthing the legs muscles and something thats impossible with air rowers because their resistance is dynamic.
16 Levels – Twice as many as Most Budget Rowers
The PooBoo includes 16 levels of resistance. This is more levels than I've seen featured on any rower in this price bracket.
Still, 16 levels don't necessarily mean resistance strength in the upper levels is any stronger than a $300 rower with eight levels. What it does offer is more choice, which is excellent for beginners who dont want large jumps in resistance strength.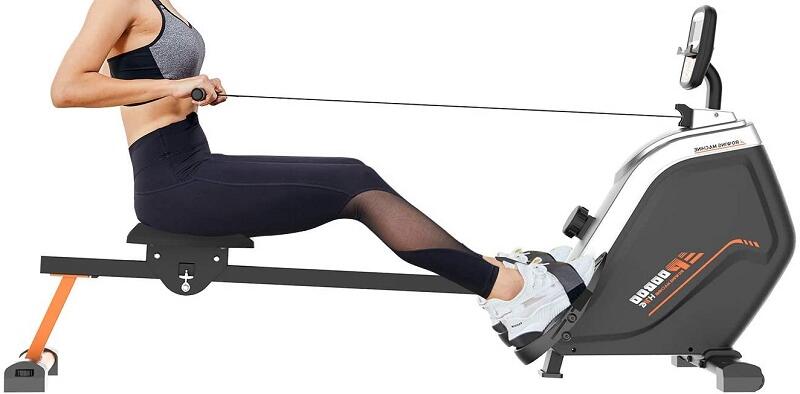 Smooth Rowing Stroke – High-quality Ball Bearings
Most budget rowers fail to achieve a smooth rowing stroke, and thats mainly due to how smoothly the seat glides across the rail. Thankfully the PooBoo utilizes high-quality ball bearings that glide the seat effortlessly across the rail.
But it's not just the rail and seat that affect the rowing stroke. You need a smooth resistance system with a decent weight flywheel to keep the resistance smooth and stable. Plus, an angled rail puts you in the best position to row and helps you stay in correct rowing form.
I always recommend looking for an angled rail when choosing a rower as it intensifies the leg push phase of the rowing stroke (great for the legs) and speeds up the recovery phase. You're glad to hear the PooBoo includes a slightly angled rail.
Stability – Adjustable Levelers
Stability is essential with all cardio gear, and it is something you need to consider before choosing. The weight of the rower will help with stability.
The PooBoo rower weighs about 65lb which is a good weight for a budget rower; it will help keep the rower planted to the floor, plus it is also a telling sign this thing is made from quality materials.
Also, we want nice wide front and rear stabilizers that the PooBoo includes and if you're lucky in this price bracket, some adjustable levelers.
Adjustable levelers are very handy for keeping the rower stable on uneven surfaces. The PooBoo has two adjustable levelers built into the rear stabilizes, so a thumbs up to PooBoo.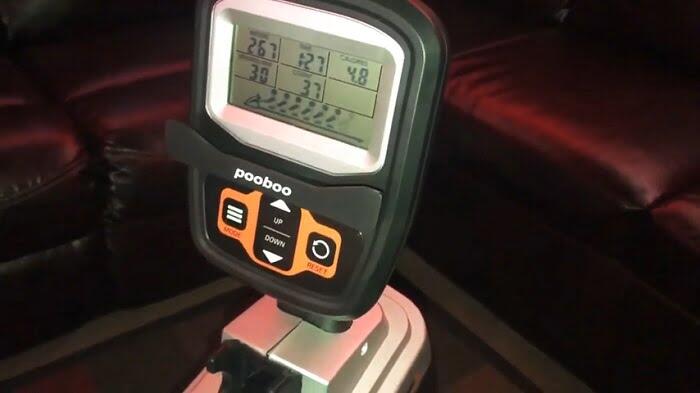 Basic but Easy To Use Monitor
None of the rowing machines in this price bracket include advanced monitors, so it's no surprise to see a basic monitor featured on the PooBoo magnetic rower. Still, basic monitors are easy to use, easy to see up, and they track all your essential workout stats such as distance, stoke, time calories burned, etc.
The PooBoo monitor includes a large LCD so you can easily read your stats while you exercise, and there's a phone holder if you want to use any of your favorite fitness apps with the rower.
This is one of the quietest rowers available because of its magnetic resistance system and belt drive system, so you can watch tv listen to music while you workout without being disturbed by the sound of the machine.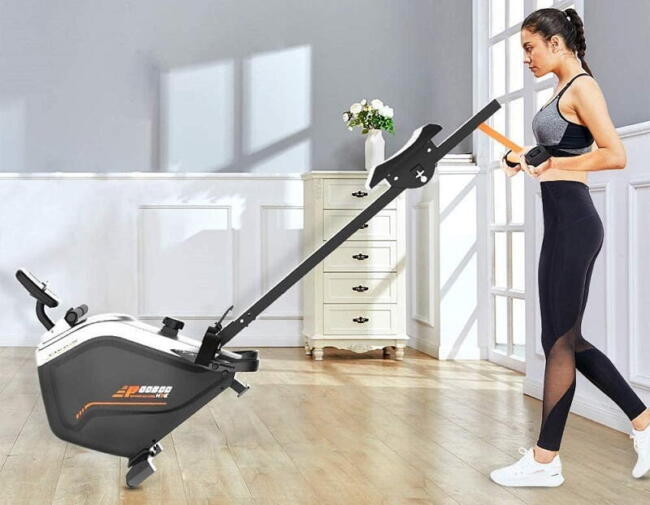 Anything Else We Liked, Didn't Like?
Something else worth mentioning is how easy this rower is to fold. Many budget rowers can be fiddly and annoying to fold; this one is simple, you just turn an Allen key remove a pin, and fold, takes a few seconds.
It has transport wheels, so you can tilt the rower and roll it to a corner of a room to store.
Easy To Assemble
And best of all, this rower is easy to assemble with some people getting the job done in 15minutes.
Most of the complicated stuff comes pre-assembled, such as the magnetic brake and drive systems. All you'll need to do is attach the seat to the rail, then mount the rail to the main body and lastly attach the front and rear stabilizers, the monitor, and footpads. Instructions and the basic tools for the job are provided.
Study build supports up to 300lb
Excellent rail length for price point – accommodates users up to 6'4″
Angled rail to intensify leg push phase of the rowing stroke
16 smooth levels of resistance – great for beginners and intermediates
Quiet rower thanks to magnetic and belt drive systems
Large LCD easy to read while you workout
Folds for storage – halves original footprint
Built-in transport wheels
One year parts replacement warranty
Not suitbale for serious rowers
LCD isnt backlit so will be difficult to read in low light
To Sum Up
Some people make the mistake of buying a rower such as the PooBoo and expecting gym quality. The PooBoo Rower won't feel like a rowing machine you've used in a local gym. Those things cost $1000 +.
We need to remember this is a budget rower and for a budget rower, it's impressive. The strength of resistance in the upper levels is strong enough for calorie-burning workouts and will help you tone and build muscle strength. It's one of the only low-cost rowers that can handle larger uses thanks to its long rail and 300lb max caocity.
Yes, the monitor is basic, but you save yourself a ton of cash by keeping things simple and fuss-free. Overall another well-built piece of cardio gear from PooBoo is an excellent choice for beginners or anyone who wants to increase their fitness levels at home.