The Fitness Reality 810XLT continues to be one of the most popular entry-level power racks on the market. The XLT810 power cage has been around for a few years now and, importantly, has stood the test of time! People are still praising their Fitness Reality power rack after years of use.
A Solid Rack With Years of Positive Feedback.
I'd usually recommend when buying any home gym gear to buy a product that has been on the market for at least 6 months. Hopefully, with some or a lot of user feedback,  then you won't have to worry about durability. You'll know that the product you've bought is going to be up to the job.
Thankfully the 810XLT has more positive feedback than any other budget rack out there.
Still, let's not get too carried away; yes, the 810XLT is impressive for the price point, but it's not a heavy-duty commercial-grade rack for serious bodybuilders or powerlifters. This thing is built from light gauged steel and designed for beginners and intermediate lifters.
The 810XLT is a fantastic rack for anyone who wants to transition from dumbbell lifting at home to heavier barbell workouts, and with an 800lb max capacity on the spotters, it should suit most of your lifting needs.
Make Sure To Read Through To The End – Comparision With Best Fitness Rack
In our Fitness Reality 810XLT Power Rack Review, we will take a close look at all of the pros and cons of this versatile rack.
I'll also compare the 810XLT with its current main rival in this price bracket, the Best Fitness Power Cage, and you should, by the end of the review, have a pretty good idea if the 810XLT is the right choice for your home gym.
First, lest take a quick look at the product specs!
Product dimensions –  50.5 L x 46.5 W x 83.5 H inches 
19 adjustable levels for the safety bars
Compatible with the fitness reality 1000lb weight bench, although you can use any bench you wish with this power rack
Build Quality/Design
2″ x 2″ steel tubing and an overall weight of 133lbs makes the Fitness Reality a fairly stable power rack. Ideally, when you are buying a power rack, you would be looking for the rack's weight to be over the 175-200lb mark, but then we would be looking at racks twice the price.
The rack's 133lb weight will ensure some much-needed stability, but you need to remember this is not a bolt to the floor rack (DIY skills needed), and with a low weight like this, the rack may tilt forward with some exercises. That being said, you shouldn't have much trouble as long as you are working inside the rack.
If you don't like the idea of bolting the rack to the floor yourself and need some extra stability, then I'd recommend you get hold of the weight plate holders sold separately for the rack.
Not only do plate holders keep your weight plates off of the floor and closer to the barbell on the rack they're also excellent for adding some extra weight and stability to light racks such as the Fitness Reality. Just make sure to load the plate holders evenly.
The Reality Fitness rack has been built to accommodate the 7ft Olympic bar length as all racks should do. The safety bars are solid steel and chromed and are 23″ in length.
J hooks are available to buy separately, and these are definitely a purchase I would recommend as the bar holders look to be questionable.
The thickness of the 2″x 2″ steel frame is 00.86, making it 14 gauge steel. The industry standard is 11 gauge, don't worry too much about having a lighter gauged steel frame.
The higher gauge will make the rack lighter, but from the many reviews I have read about this rack, it sounds to be very stable for its weight. And as we mentioned above, adding the weight plate holders will help a lot.
When we buy a rack, we need to consider one of the most important factors: depth, the walk-in depth, and the space between the upright pillars.
Powerlifters don't need to worry too much about depth because the bar mostly travels in a straight line for squats, presses, and deadlifts, but for us bodybuilders, we need some extra depth for arc movements such as curing and extensions.
Impressive For Price  23″ Pillar To Pillar Depth
A minimum depth of around 23-24″ between pillars is acceptable, it should give you enough forward and backward space for bar travel, allowing you to curl the barbell comfortably, which is just what the 810XLT has, so a thumbs up here, that's great to see from an entry-level power rack.
The 810XLT is a closed power rack; this is exactly what bodybuilders are looking for; it helps give the rack that extra stability and rigidness and importantly allows for a chin-up bar.
Open top racks are great for standing presses but don't give you a chin-up bar option. We definitely do not need an open-top rack.
Note: This rack is quite tall at 83.5″. It is not suitable for low ceilings. Also, plate storage will be on the back of this rack, so it will not be possible to store it against the wall if you choose to buy the plate storage upgrade.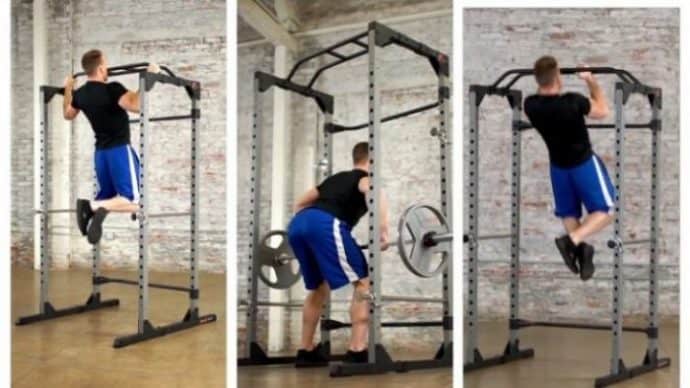 800lb Max Cacpity on Spotter Bars
800lb weight capacity is excellent for a power rack costing around $300 bucks. Apart from the extreme lifters among us, there won't be many needing a weight capacity higher than 800lbs. So this rack should suit most lifters' needs when it comes to weight capacity.
The weight capacity is this rack's main selling feature, and it's something that will make this a very popular rack amongst all types of weight trainers.
Disappointing 3″ Hole Spacing
It's disappointing to see the 3″ hole spacing on the 810XLT, whilst many of you will be ok with it, some of you will find the spacing is too wide, we generally like to see 2″ spacing on power racks with the gold standard being 1″-1.5″ but we're talking $300 here so we can't expect everything to be perfect.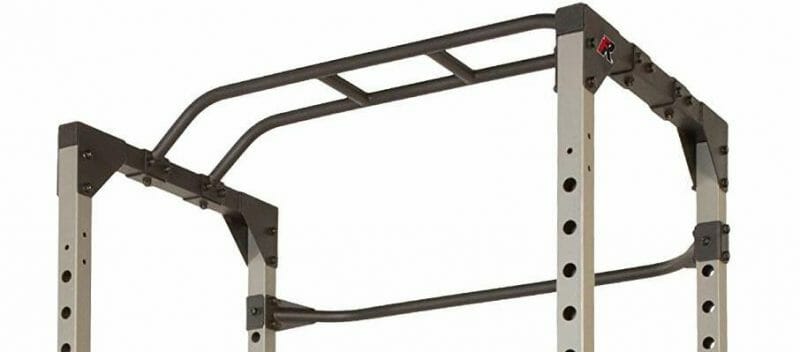 3″ spacing can affect your bench pressing, you won't notice too much for squatting but for benching it might prove problematic, so this is something to take note of.
If you do have issues with the spacing of the Fitness Reality rack, it shouldn't be too difficult to find some 1″ plywood or a 1″ rubber gym mat to put underneath when your benching, this will narrow the gap down to the desired 2″.
Fitness Reality 810XLT Attachments
My favorite feature of this budget power rack, and what makes this rack stand out for me over its rivals, is the option they give you for buying additional extras; not many budget racks allow for attachments like dip bars, plate storage, etc.
This is excellent news. Plate storage for myself and most bodybuilders is a must. Who wants to be bending down every time you need to add a plate?
Plate storage is a space saver and a time saver, and we highly recommend this additional add-on when purchasing this power rack.
The dip attachment is a great addition too, dips are fantastic for lower chest development, and I actually prefer dips for adding lower pec mass compared to decline pressing. So this is another add-on well worth taking a look at for this power rack.
Do I need A Pulley System?  (Lat Pull)
Even if you don't want a lat pulley right now, you might do in the future, so I recommend buying a rack with a pulley system or at least gives you the option to buy one as an attachment later on.
Lat pulleys are unique in that they offer something free weights can't, and that's the opportunity to perform constant resistance exercises like tricep pushdowns and side lateral raises.
The weight plate loaded type are normally around $200 as an attachment for your power rack. You can buy the Fitness Reality Power Rack with a high/low pulley system for an extra $220.
If you havent got the cash right now, Fitness Reality does sell the lat pull separately as an attachment or as a deal with the rack.
Buying a power rack with a pulley system is a much better option than having to buy a separate free-standing pulley machine; it takes up a heck of a lot less space having one incorporated into the back of a rack than it does a separate machine, great if you're training in tight quarters.
High quality for an entry-level rack
Easy to assemble, under 30 minutes
Numerous useful attachments aviliable
Doesn't come with any attachments have to be purchased separately 
3″ hole spacing not perfect for bench pressing
Who's The Fitness Reality 810XLT For?
Just about anyone looking to move up from dumbbell training to some heavier weight barbell rack work. Because of its excellent weight capacity of 800lb, even a few advanced trainers should be able to get some heavy barbell work out of this rack.
You can perform squats, pull-ups, incline presses, flat bench, shoulder shrugs, and a ton of other exercises with your rack, making it a very versatile piece of home gym equipment.
Safety should be your number one priority when lifting heavy weight loads, so does this rack meet safety expectations? Yes, with 23" catches for safety that is dual-mounted and two 3.25" safety pins, everything stays in place.
With two extra support bars fixed to the back of the cage, making the rack even more stable, you should hopefully have less wobble than some of the other budget racks.
Note: Stabilizer bars can impede certain placements of your adjustable weight bench and can be a hindrance to your feet when unracking the barbell for squats or pressing movements. I haven't read any complaints concerning this rack, and it's stabilizer bars.
Alternative – Comaprison Table
Our Choice
Fitness Reality 810XLT Rack
Height – 83.5″

Weight – 133lb

Hole Spacing 3″

Max capacity – 800lb

14 gauge steel frame
Height – 83″

Weight – 107lb

Hole Spacing 3″

Max capacity – 500lb

14 gauge steel frame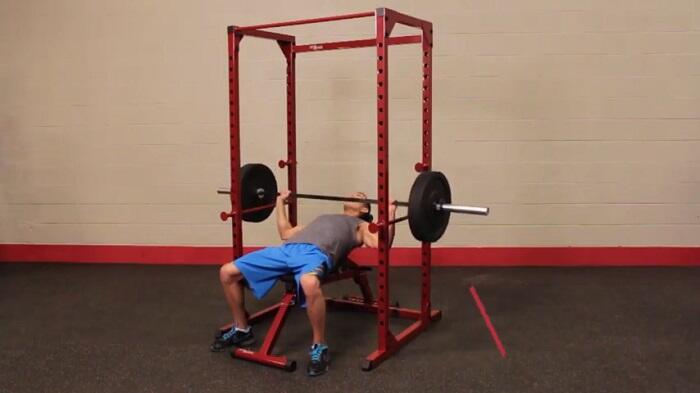 Best Fitness 
BFPR100 Rack
The Best Fitness BFPR100 is another impressive budget power rack. The Best Fitness rack is built by Body-Solid, a company known well for building quality gym gear, and these guys specialize in power racks. 
The BFPR is from their budget range, and it costs around $50 less than the Fitness Reality. It's very similar to the 810XLT when it comes to both the frame and the rack's weight. Both racks share the same 2″x2″ 14 gauge steel frame, and both weigh over 100lb and under 150lb, placing both racks firmly in the entry-level range of racks.
For $250, you can't really go wrong with the BFPR power rack. It's a well-designed rack built by a very reputable company.
Yes the Best Fitness cage is limited by way of attachments with just the dip bars on offer, but for many people out there looking for a fuss-free power rack for home, the Best Fitness rack is proving to be a popular choice.
Still, compared to the Fitness Reality, it does somewhat lag behind; the BFPR only has the single-use pull-up bar, a lower max capacity, and doesn't offer you the option of a pulley system or weight plate holders.
To Sum Up
A very well priced power rack from Fitness Reality, with a weight capacity of 800lb, the Fitness Reality 810XLT will suit most weight trainers.
I liked seeing options for important add-ons such as plate holders, dip bars pulley systems, they are certainly something you will get much use from and are usually reserved for high-end racks.
Overall a very well built power rack, perfect for your home gym barbell workouts, at a price most can afford.