Body-Solid has been around for decades; these guys produce some of the best racks for our home gyms, and the Best Fitness Power Rack BFPR100 is no exception. However, this thing doesn't boast a heavy-duty build with a high weight capacity. It's a value rack and has a decent capacity of 500lb.
Solid No Frills Rack
We're a long way off commercial grade with the BFPR100 power rack but don't let that put you off, this rack is solid, and when compared with others on the market, you won't find much better for the price point.
If you're squatting over 400lb right now, this isn't the rack for you. You'll need something more heavy-duty that can cope with future gains. The BFPR is an excellent choice for beginners and intermediate lifters, and its max capacity of 500lb reflects this.
Full Review of Best Fitness Power Rack & Comparison With PPR200X
In our review, we will take a close look at all the pros and cons of the BFPR100. At the end of the review, we'll also compare the Best Fitness Power Rack with the slightly more expensive PPR200X Body-Solid rack, a rack with a heavier steel frame, and higher weight capacity.
First, let's take a quick look at the BFPR100 product specs!
Product dimensions – 83" H x 45" L x 47" W 
2″x2″ 14 gauge steel frame
2 Full length safety bars
Why Do We Like The Best Fitness Rack?
Safty! The Best Fitness Power Rack provides an affordable, safe option for people to lift heavy using a barbell at home.
One of the disadvantages of lifting at home is the lack of spotters, and if you have reached that point where dumbbells aren't challenging enough to use exclusively for deadlifts, presses, and squats; you're going to need a power rack and a bar. A power rack is the safest way to lift heavy weights.
Most of us who train at home hold back on lifts such as presses and squats because we fear failing on that last crucial rep, a power rack lets you perform bench presses without the fear of getting pinned under the bar, and you can squat without fear of not being able to stand up again.
The power rack's safety bars act as our spotters so you can lift heavy and safely at home.
Yes, this isn't a heavy-duty power rack built like a tank, but it is an affordable option built by a reputable company; it will help many men and women on tight budgets to progress with their barbell lifting. The BFPR100 offers you the safety you need at home to lift heavy without fear of injury.
Build Quality, Stability – Too Light At 117lb?
Most budget power racks are made from light gauged steel, usually 14 gauge. The lower the gauge, the thicker the steel. The industry standard for a power rack is 11 gauge 2″x 3″ steel. The Best Fitness Rack BFPR is built from 14 gauge 2″ x 2″ and weighs just 117lb.
The BFPR is one of the lightest racks I've come across, so at 117lb, expect this rack to have a few stability issues, especially if you like to train outside of the rack and want to use the pull-up bar; this where a lot of people that buy light racks find the rack tipping forward.
However, the lack of weight and stability of low-cost power racks isn't a deal killer. You can, if you have a few DIY skills, bolt the rack to the floor. I highly recommend doing this as bolting the rack to the floor will eliminate any unwanted movement.
There's no plate storage on this rack, plate storage not only keeps your plates off of the floor and easily assemble to the bar but plate storage also adds a ton of weight to the rack helping with stability. With no plate storage and a light frame, bolting the BFPR to the floor is the only option if you want a stable rack.
3″ Hole Spacing
It seems all budget racks come with the same issues, light 14 gauge frames, and wide hole spacing. If you're new to power racks, you may not realize how important the holes' spacing on your power rack is.
Hole spacing is measured in the distance from the center of the two adjacent holes in the uprights. This distance can affect your reach, level of comfort, and range of motion when setting-up exercises.
For squatting, hole spacing isn't so important, but for pressing, it can make a massive difference and can be a vital aspect in your ability to progress past training plateaus.
Body Solids Best Fitness rack comes with 3″ hole spacing; this is just on the ok side, anything more, and I'd recommend a different rack. Still, 3″ holes spacing is much better than a few racks I've come across in this price range that include 6″ spacing making them unusable for pressing.
On the other end of the scale, a good rack won't exceed 2″ spacing, whereas the best racks 'commercial' ones use west side 1-1.5″ spacing—generally, the closer the hole spacing, the higher the quality of the rack.
We can live with 3″ hole spacing. It's nothing unusual to see 3″ hole spacing on budget racks. Fitness Realities 810XLT rack and Rep Fitnesse's PR-1100 power rack all have 3″ hole spacing, and they cost slightly more than the BFPR100.
Numbered Posts
The BFPR has 23 positions/holes for adjusting the safety rods. It really helps if those holes are numbered so you can quickly adjust the safety rods and write down that info in your training log. Constantly counting for the correct hole on each upright every time you change exercises can be a pain in the butt.
Because this rack doesn't come with pre-numbered holes, you can write them in with a permanent marker or some paint.
Pull Up Bar
Although it's quite easy to make a pull-up bar for your home gym, what we really want is one that's incorporated into the power rack, it saves space in your gym and gives you a ton of exercise flexibility. The BFPR100 comes with a completely straight chaining bar at the front of the rack.
If you want to take advantage of the chinning bar, you'll need an extra 12″ of space above the height of the rack for chin-ups. This rack has a height of 83″ around 7ft if you want to do chin-ups you'll need 8ft ceilings!
Great price for a home power rack
Powerder coated steel frame
Includes 2 adjustable lift offs and full length safety bars
Durable powder coat paint finish
83″ in height should fit into most basements and garages 
Doesn't come with any attachments such as dip bars etc
Quite a light rack, would benefit from being bolted to the floor to stop rack tilting forward when training outside of the rack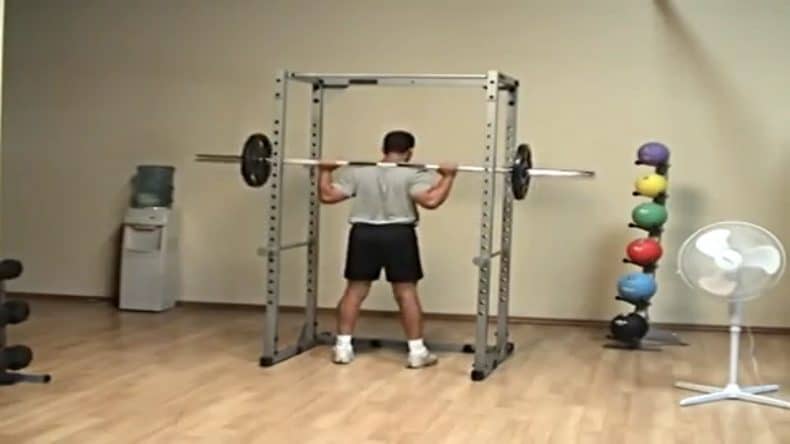 Body-Solid Powerline PPR200X
The Powerline PPR200X has been around for years and still is one of the most popular budget racks on the market. The Powerline PPR200X is so similar to the BFPR100 it's almost impossible to separate the two.
Both racks are built with 14 gauge steel, both offer the 3″ hole spacing both come with straight pull up bars at the front. However, the PPR200X only has 18 adjustment holes, while the BFPR100 has 23.
The frame of the PPR200X does seem to be a little bit beefier, and at 133lb, it weighs slightly more, so should feel more stable, but apart from the extra weight, there isn't much difference.
You might have read a few reviews saying the PPR200X is built from 12 gauge steel, but the Body-Solid website clearly states the PPR200X is built from 14 gauge steel. If it were made from 12 gauge steel, I would have probably agreed it's worth the extra dollars. 
I feel the Powerline PPR200X will be phased out soon, and the BFPR100 is its replacement; the BFPR100 has more attachments available it also has a powder-coated frame and extra adjustment holes. In general, it is an improvement over the PPR200X.
To Sum Up
While the Best Fitness BFPR100 power rack isn't anything special, however, it does offer many people an affordable option of heavy barbell lifting at home. The BFPR100 is built by BodySolid, a company with more experience than most when it comes to power racks, so you can be sure this thing is good quality and will last.
The only real drawback of the Body-Solids Best Fitness rack is the lack of weight storage horns to store weight plates as this would add a lot of extra weight to the rack and keep things stable.
Still, you can bolt the rack to the floor, and you'll have an excellent low-cost, stable power rack that should cope with all your barbell workouts.