I'd love to say to you, both the Rep Fitness power racks have Westside spacing, heavy 11 gauge steel frames with 3″ x 3″ tubing, and if I could say that we would be talking commercial grade, and looking at spending 2 or 3 times as much.
High quality Durable Racks For Price Tag
The PR1000 and PR1100 are two budget-friendly home gym power racks from Reps 1000 range both are high quality, well built, durable, and come with a lot for the price tag.
When we buy a rack for our home gyms, what we normally look for is stability, safety, versatility, and weight capacity, you get all of this and a lot more from both of these racks which is why they are both worth taking a closer look at.
First, we have a full detailed review of the PR1100, and for the PR1000 we have more of a summary and comparison because it shares many of the same features as the PR1100 but there are few very important differences worth noting which you can read at the end of the review
84" tall x 48" wide x 47.5" deep (84″ is to top of pull-up bar)
Interior area: 79" high x 44" wide x 45.5" deep
Covered by a 2-year warranty
Build Quality/Design
As we touched on earlier at this price you will not encounter the heavy gauge steel frames; I haven't seen a power rack yet that costs under $300 with an 11 gauge steel frame, so there were no surprises here to see 14 gauge steel is used for the PR 1100 frame.
Lighter frame gauges do not necessarily mean you will get lower weight capacities. The Rep Fitness PR 1100 power rack comes with a whopping 1000lb capacity limit, and there's not many of us who are ever going to lift that heavy in our lifetimes. So no risk of outgrowing this thing.
Because of the lighter gauged frame, the weight of the rack is 130lb, which isn't too bad and should help with stability.
High-end racks weigh around 200lb, cheap budget racks around the 80 – 100lb mark, so you're looking at middleweight mark with this one, as always with the lighter racks we recommend bolting them to the floor if you can, especially if you like to train outside of the rack.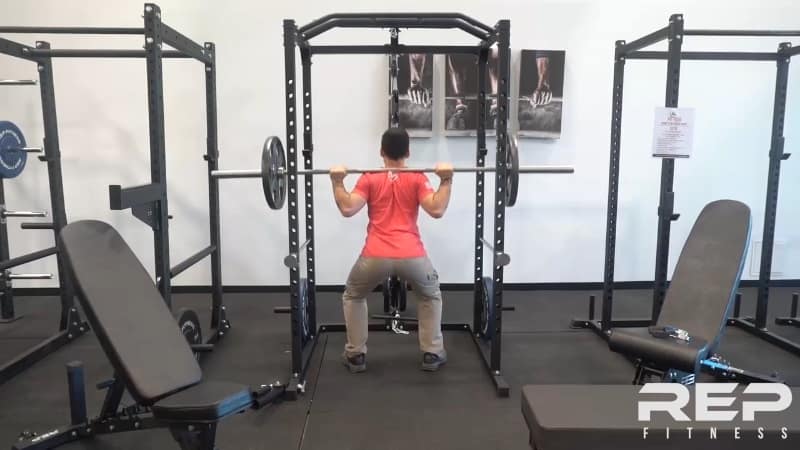 Hole Spacing
Hole spacing is measured in the distance from the center of the two adjacent holes on the uprights; this distance will affect your reach level of comfort when setting up and performing exercises.
2″ is great, 1-5″ is the gold standard, but at this price, you're not going to see Westside hole spacing, although on the positive side at least the hole spacing isn't around the 4 or 5″, which makes a rack almost unusable for bench presses.
The Rep fitness PR1100 rack has 3″ hole spacing, not perfect, but it's just ok for pressing and certainly not a deal killer. "We can live with 3″ spacing."
Multi-Grip Pull Up Bar
The PR1100 has a multi-grip bar perfect for natural, close or wide grip pull ups, with the standard size pull up bar at the front and a thicker bar at the back, the oversized thicker bar will help increase the stress on the forearms, helping you add some mass to a difficult area.
Numbered Pillars
It really helps if the upright post holes come prenumbered so you can quickly adjust the safety rods and write that type of info in your training log. I've reviewed many budget racks lately and this is the first rack in this price range with numbered posts, well-done Rep!
Will It Fit?
At 84″ its 6″ short of being a full height rack which you see at the local gym, point to remember here if you are going to be using the pull up bar remember you will need a 12″ clearance above the height of the pull up, you're going to need 8 foot ceilings to use the Rep rack comfortably.
Attachments
All three of the attachments we are looking at for the review, fit both the PR1000 and PR1100, I have picked out the three most useful attachments you might want to consider buying:
Dip Bars
Known by many as the squats for the upper body, no rack should go without a set of dip bars; this is one of the significant advantages to having a rack at home, you can add useful attachments such as the dip bars.
For ultimate comfort, dip handles should be spaced approximately 22 " apart, which is not a problem with Reps adjustable dip bars, you adjust the bars by simply sliding them on and tightening at the desired width.
Specs/ Rep Dip Bars
400lb weight capacity
Simple slide on installation
Compatible with PR-1100 & PR-1000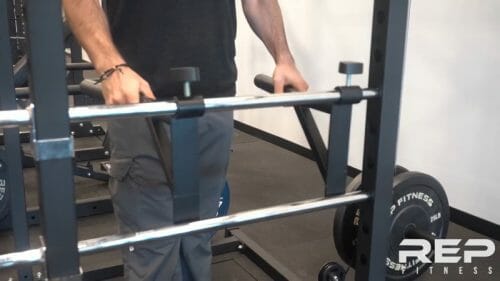 Lat Pull Down Attachment
Do we need a pulley system? Yes, you do if you want to add constant resistance exercises to your workouts. Constant resistant exercises are something you cannot perform with free weights. Pulleys are great for exercises such as tri-cep push-downs, side-lateral raises, and seated rows.
So having a cable pulley system in your home gym opens up additional portions of the exercise world to your training and provides a different type of resistance.
The Rep Fitness Lat attachment fits to the back of the rack, remember this will take up additional space, it's the slower plate version pulley. Hence, it's not best suited for drop sets but will still be a very valuable workstation to enhance your workouts.
Weight Horns
A cheap space-saving attachment I'd recommend purchasing, it both keeps the weights out of the way, off the gym floor and easily accessible to the bar on the rack. They mount to the rack just like their j cups so can be easily taken on and off, they are sold in pairs with a length of 9 ".
Rep Fitness Power Rack Video
Editors Choice
Rep Fitness PR1000
Hole Spacing – 2″

Steel Gauge – 14

Weight Capacity – 1000lb

Piller to Piller – 26″

Rating 4.5/5
Hole Spacing – 3″

Steel Gauge – 14

Weight Capacity – 1000lb

Piller to Piller – 24″

Rating – 4/5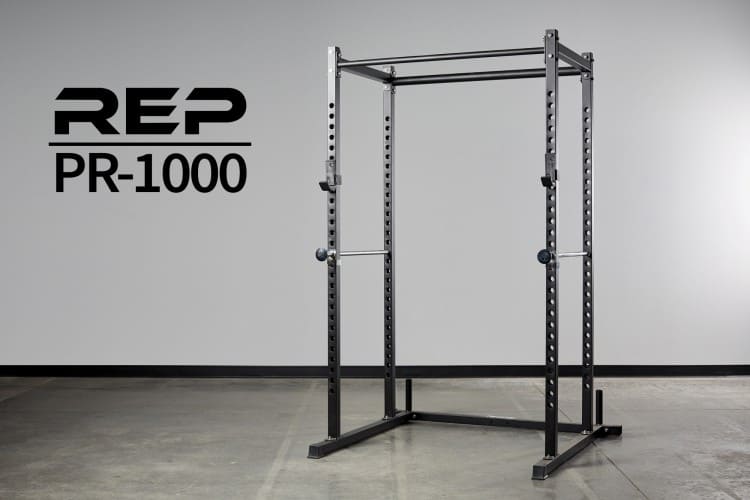 Rep Fitness PR1000
Considering both racks are quite similar, rather than go through a full review of the PR1000, it makes more sense to write a quick summary and comparison.
Pros
Firstly and most importantly, you get the 2″ hole spacing; this is fantastic to see on a rack at this price. As we mentioned earlier, spacing is crucial for reach and range of motion, so typically, we want to see more holes that are closer together..big thumbs up here!
Base weight storage bars are included with the PR1000, chuck a couple of plates on each one, same weight each side, and this will help stabilize the rack, especially for dips.
A 26″ pillar to pillar depth inside, I was surprised to see this much depth on a budget-friendly rack,  awesome stuff here from Rep, 26″ between the pillars will give you a lot of room for bar travel, which we need for arc movements. Some racks 2 or 3 times the price only have 24″ pillar to pillar depth; that's why I was surprised to see the 26″ nice!
Cons
I don't know if we can call this a con, but the second pull up bar on the PR1000 is at the back of the rack if you have the lat pull attached there'll be no rear pull up bar.
The PR1000 also has the 14 gauge 2″ x 2″ frame and the same height give or take an inch.
To sum up, both the PR1000 and PR1100 racks are excellent for the price bracket, to choose one over the other is tough, I love the multi-grip pull up bar of the 1100, but for many of you including myself, the 2″ hole spacing of the PR1000 is more appealing than the multi-grip pull up bar of the PR 1100.
Whichever one of Rep's racks you choose, you will not be disappointed, 2 of the best low priced racks out there, they easily rival the likes of the Fitness Reality 810XLT and BodySolids Powerline 200 rack.