The one significant disadvantage of training it home is the lack of spotters when lifting heavy on the bar. Enter the power rack! Power racks facilitate getting the barbell into position for things like squats and presses; they're the safest way to lift big weights.
Thankfully you don't have to spend a ton of cash to own one of these fully enclosed beasts.
Solid Rack – Great Value
We can get hold of a decent power rack for under $300; ok, we're not going to find heavy-duty, commercial-grade racks in this price range. Still, a rack like the ProGear 1600 Ultra Strength is an excellent starter rack for you to make the transition from dumbbell lifting too heavy barbell lifting at home.
If you decided you want to take your training to the next level, a power rack is essential for gains in strength and muscle mass, and if you're on a budget, the Progear 1600 is one of the best on the market right now.
Today we're going to take a close look at all of the pros and cons of this capable rack from ProGear. At the end of the review, I'll also compare the Progear with one of its closes rivals, the Best Fitness BFPR100 power rack.
Product dimensions – 50.4″L x 46.3″W x 83.7″H
19 adjustable levels for the safety bars
23″ piller to piller inside depth
Multi-position overhead chin-up/pull-up grip bars
Build Quality – Design
As I mentioned, don't go expecting Rogue quality frames when you spend $300 for a power rack. But don't let the price put you off either this isn't a piece of junk that's only going to last a few months.
This thing has been around for years. It's built by Paradigm Health & Wellness, and it's one of the most reviewed and tested power rack frames on the market.
Yes, Paradigm Health & Wellness are also the owners of Fitness Reality, and the ProGear 1600 looks to use the same frame as the Fitness Reality 810XLT.
The Fitness Reality power rack has been out for close to a decade. It's a rack that's stood the test of time, with users still praising their rack 5 years after buying it.
So when it comes to build quality, there's no need to worry as the ProGear, just like the Fitness Reality, will last years of heavy use.
The rack is built from 2″x 2″ 14 gauge steel; this is standard for an entry-level rack. Commercial racks usually boast 11 gauge 2″x3″ frames but cost at least twice that of an entry-level rack. Thankfully heavy-duty commercial frames are not essential for home gym power racks.
For home use, the 2″x 2 " 14 gauge frame has proven a winner for beginners and intermediate lifters.
Yes, the 2″x2″ frame lacks some weight, so we'll need to find ways to make the rack more stable, which I'll cover later, but it's easily strong enough for heavy rack work and should take the max weight of 800lb on the spotters.
3″ Hole Spacing – Too Wide?
If this is your first power rack, you may not realize how important hole spacing is. It can be the determining factor in getting past training plateaus.
Hole spacing is measured in the distance of the two adjacent holes on the uprights. An inch or two isn't going to make a huge difference in squatting, but it can affect your reach level of comfort and range of motion for other exercises.
You'll see some cheap racks with a hole spacing of 4″ even a few with 6″. Avoid racks with hole spacing any wider than 3″ as it will cause issues when pressing.
The ProGear 1600 has 3″ hole spacing; this is just about ok for presses. However, if you find the 3″ spacing is causing problems, try and get hold of a 1″ piece of plywood or 1″ rubber gyms mats and place them under your bench.
The closer the hole spacing on your rack is a telling sign of your power rack's overall quality. Good racks don't exceed 2″ while heavy commercial racks usually come with the desirable west-side hole spacing 1″-1.5″.
3″ hole spacing is typically found on entry-level racks, and anything wider than 3″ I would recommend staying away from.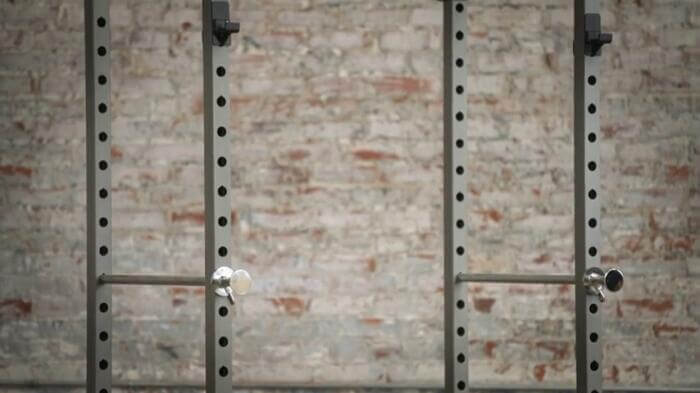 23″ Piller to Piller Inside Depth
You're going to spend a lot of time inside your new power rack, so we need as much space as possible to feel comfortable and perform exercises such as curls and extensions that need more space.
Inside depth isn't as important to powerlifters as the bar travels in a straight line for presses, squats, and deadlifts. However, bodybuilders need a little more room for arc-based movements. I'd recommend if you're a Bodybuilder looking for a power rack, look for a minimum depth of 23″.
The ProGear costs under $300, so I wasn't expecting to see an inside depth of 23″+.
23″ is sufficient for a home power rack; there's enough room in there for all of your barbell exercises. It's the minimum depth required, but to be honest, there are many budget racks out there that have much lower inside depths than this, so it's a thumbs up for the ProGear for inside depth.
Light Gauged Frames – Stability Issues?
All light gauge power racks will suffer slightly from stability issues, especially if you want to train outside of the rack.
For a budget rack, the weight of the ProGear 1600 isn't too bad at 130lb, but outside of the rack, training will cause this thing to tilt forward. There isn't enough weight in the frame to keep it fully planted to the floor.
What can we do to make it rock solid? The first and easiest option is to buy weight plate holders. I havent seen any offered with the ProGear; still, considering it's the same rack as the Fitness Reality, I'm sure their plate holders will fit the ProGear.
Plate holders are not only good at keeping your weights off of the floor and near the barbell on the rack; they're also excellent for adding some extra weight to the rack. Depending on what weight plates you have at home, you can add 100-200lb of weight to your rack. Extra weight = More stability.
If you want a really solid rack and have some DIY skills, you could always bolt the rack to the floor.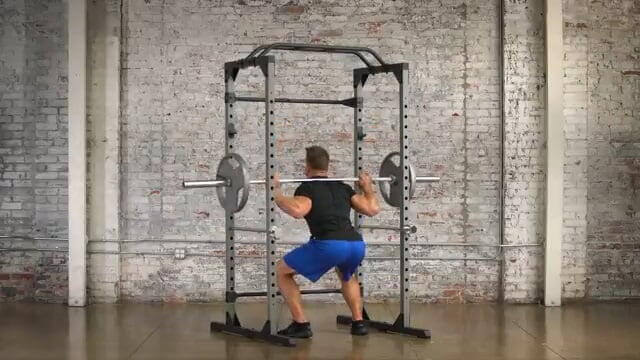 Attachments Do I need A Lat Pull?
There are 3 attachments that I think are essential for a power rack. The first we already covered, and that's the plate holders. They'll keep your plates off of the floor and add extra stability to your rack.
The next up are the dip bars. Dips bars are an essential power rack attachment, especially if you want to develop your lower chest; they are the squats of the upper body, you dont want to miss out on the benefits of dips.
Plus, buying a set of dips bars that integrate into a power rack saves a ton of space compared to buying a stand-alone dip station.
Do I Need A Pully System/Lat Pull?
Even if you don't want a lat pulley right now, you might do in the future, so I recommend buying a rack with a pulley system or at least gives you the option to buy one as an attachment later on.
Lat pulleys are unique in that they offer something free weights can't, and that's the opportunity to perform constant resistance exercises like tricep pushdowns and side lateral raises.
The weight plate loaded type are normally around $200 as an attachment for your power rack. Fitness Reality sells a separate High/Low pulley system for the 810XLT. It costs $220 and should fit the ProGear 1600 (send an email first to ProGear to make sure it's compatible)
Buying a power rack with a pulley system is a much better option than having to buy a separate free-standing pulley machine; it takes up a heck of a lot less space having one incorporated into the back of a rack than it does a separate machine, great if you're training in tight quarters.
Solid rack for price 2″x 2″ 133lb frame
800lb capacity on spotter bars
23″ pillar to pillar inside depth
Multi-position pull-up bar
Affordable for high capacity rack
3″ hole spacing isn't perfect for bench press
All attachments have to be purchased separately
Alternative/Comparison Table
Our Choice
ProGear 1600 Power Rack
Height – 83.5″

Weight – 133lb

Hole Spacing 3″

Max capacity – 800lb

14 gauge steel frame
Height – 83″

Weight – 107lb

Hole Spacing 3″

Max capacity – 500lb

14 gauge steel frame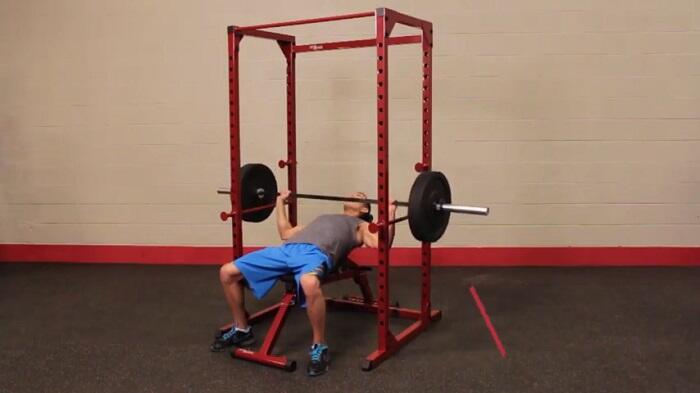 Best Fitness BFPR100 Rack
The BFPR100 is a no-frills power rack. There are no attachments on offer; what you see is what you get, and for a lot of lifters out there, a simple well built power rack is all they need.
Not everyone needs high weight capacities and tons of attachments. If you're after an entry-level well-built rack for presses and squats, the BFPR100 could be the perfect choice for your home gym.
Body-Solid owns Best Fitness. Body-Solid has a ton of experience building power racks. In fact, I think they've built more than any other company, and the BFPR100 is from their budget range.
It's built from 14 gauge 2″ x 2″ steel and has a max capacity of 500lb.
There really isn't a huge difference between the Progear and the Best Fitness Power rack. The only big difference is the lack of attachments, and if you're someone who loves the idea of dips and a lat pull, then the Best Fitness wouldn't be a good choice.
Still, this thing is even cheaper than the ProGear, and if budgets really tight, you might find this simple yet well-built rack a good place to start with your barbell lifting.
Overall the Best Fitness BFPR100 is a decent entry-level rack built by a company that really knows what they are doing when it comes to power racks. The lack of attachments is a bit of a downer but not a deal killer. 4/5
To Sum Up
It's tough trying to pick out a well-built power rack in the entry-level price ranges. There are so many power racks way below par in this price range it isn't easy to find something with both a high weight capacity and a durable build.
However, the ProGear boasts a high weight capacity, and we know the frames durable, the frame has been tried and tested for years with the Fitness Reality 810XLT, and its always come up trumps, which is why the Fitness Reality 800XLT is still the most popular entry-level rack on the market.
Considering both the Fitness Reality 810 and Progear are essentially the same power rack, it might be a good idea to see which one costs less. At the time of writing this, the Progear was slightly cheaper! I'll leave a link below for both racks so you can find the best deal on the day.