It wasn't so long ago this rack was called the Ironman Fitness X Class power rack. It's rumored a few companies had a fallout, and this thing has now been rebranded the Fitness Reality X Class Light Commercial. 
Heavy Duty 2″x 3″ 260lb Frame
Fitness Reality are known for building high-quality products. Their 810XLT rack has been a massive hit, and it looks like this rebranded semi-commercial rack is also proving popular, and there's good reason why, as it boasts a heavy-duty 2″x 3″ steel frame weighing a whopping 260lb without the lat attachment. It's a beast of a rack for around $500.
Still, the Reality X isn't commercial grade, and the only reason they can give it a semi-commercial badge is because of the 2″ x 3″ steel frame.
Good commercial racks cost over $2k. The Fitness Reality will always be a $500 rack never the less it's an impressive one. It has a couple of drawbacks that we'll talk about later, but for the price, the pros of this rack far outweigh the cons. Before we get on with the review, let's take a quick look at the product specs!
Product dimensions –  86.5 L x 52 W x 86 H inches
Weight – 260lb without lat pulldown, 300lb with lat
 Outer distance between the safety or catch bars is approx. 49″ (124 cm)
2 x 20″ dip handles – 600lb weight capacity
Short and long sets of safety bars both 1500lb capacity
BONUS pair of j-hooks included
long pull-up bar with curved grips – 600lb weight capacity
Pull-up handles for parallel grip pull-ups – 600lb weight capacity
High/Low pulley system optional
Why Do We Like The Fitness Reality X Class Light Commercial?
The stand out feature of the Fitness Reality X Class has to be its heavy-duty frame. You're not going to find many power racks with a $500 price tag that can boast 260lb in weight even without the lat attached.
If you wanted a 2″x 3″ heavy-duty Rogue rack, you'd be looking at twice the price.
The weight of a rack is a telling sign of the overall quality; the closer we can get to being built like a tank, the better when it comes to power racks. The heavy frame will also help a ton with stability.
Because of the heavy weight frame, you might avoid having to bolt this thing down.
Plus, if you buy some plate horns to store your plates. Storing the plates on the rack will add an extra 300lb! You've then got close to 600lb sitting there, and you shouldn't need to bolt it down.
Still, if you do want to bolt it down and have a super stable rack for heavy lifting outside of the rack and want to avoid any chance of the rack tipping forward, these guys have been thoughtful enough to drill the holes for you. It shouldn't be too much of a DIY headache.
2″ Hole Spacing
Many racks in this price bracket come with 3″ hole spacing; while this isn't a deal killer, it can affect your pressing.
Hole spacing is measured from the center of the two adjacent holes on the upright. This distance affects your reach, comfort level, and range of motion when setting up and performing exercises.
3″ -4″ hole spacing may not make a difference when setting up for a squat but can have a huge difference in pressing, this spacing may end up being a vital aspect in your ability to progress past training plates.
Good racks usually come with 2″ hole spacing while the best racks out there 'commercial' use 1-1.5″ Westside spacing, especially within the deadlift, bench, and clean and pull areas.
While the Fitness Reality doesn't include the favorable Westside spacing, it does thankfully boast the 2″ spacing, which is easily good enough for most of your barbell lifting needs.
However, it's a shame the holes on this rack aren't numbered.
Owning a rack with numbered holes saves you from counting the holes on each upright every time you change exercises; it can be a pain. This is easily fixed if you write them in yourself; get hold of a permanent marker or some paint and number those holes.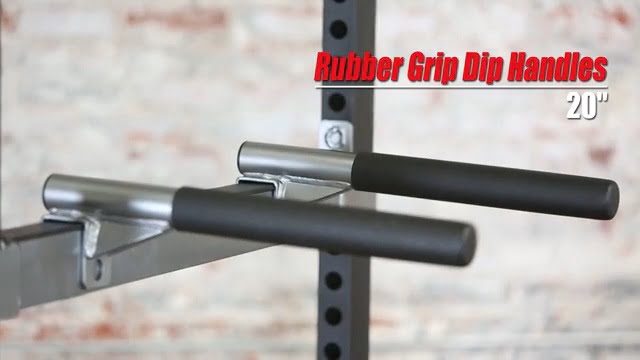 What Attachments Are Available?
I love that this rack comes with two sets of pull-up bars; I also love that it has its own set of dip handles. Dips are the squats for the upper body; they are one of the most important exercises out there, and if you want to develop your lower pecs, dips are essential.
However, I did mention a couple of drawbacks with the X Class rack, and the lack of attachments available is one of them.
Yes, it's great they provide dip bars, and there's a pulley system available, these are the two most important attachments for any power rack, but that's your lot! Fitness Reality doesn't make any other attachment for their X Class rack.
Thankfully Titan Fitness makes many attachments for their 2″x 3″ T3 rack, some of which will fit the Fitness Reality rack.
I'd recommend you get hold of their plate holders so you have a place to store your plates. This will also add that extra weight to the rack to keep it stable. Plus, their jhooks are better than the ones supplied for the Fitness Reality.
I use to own the Titan T3 power rack, so I can vouch for the quality of their attachments, and they're affordable too. Still, I'm only going to recommend their plate holders/horns and their jhooks as nothing else has been tested with the Fitness Reality rack.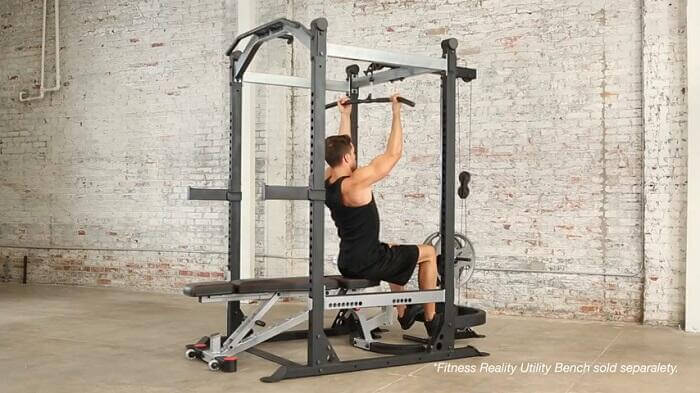 Do I Need A Pulley System?
Even if you don't want a lat pulley right now, you might do in the future, so I recommend buying a rack with a pulley system or at least gives you the option to buy one as an attachment later on.
Lat pulleys are unique in that they offer something free weights can't, and that's the opportunity to perform constant resistance exercises like tricep pushdowns and side lateral raises.
The weight plate loaded type are normally around $150-200 as an attachment for your power rack. You can buy the Fitness Reality X-class Power Rack with a high/low pulley system for an extra $200
Buying a power rack with a pulley system is a much better option than having to buy a pulley separately to the rack; it takes up a heck of a lot less space having one incorporated into the back of a rack than it does a separate machine, great if you're training in tight quarters.
Heavy duty, 2″x 3″ powder coated steel frame
25 positions for catch and stafty bars
2 pull up bars – 600lb capacity
360lb weight capacity lat pulley system available – buy with or without
Catch bars, safety bars and J-hooks rated up to 1500lb
Pre drilled holes for bolting rack to floor
Slight friction with the lat attachment cable – but Fitness Reality includes silicone oil to reduce friction
The tools for assembly are not included
No ankle strap for low pulley leg exercises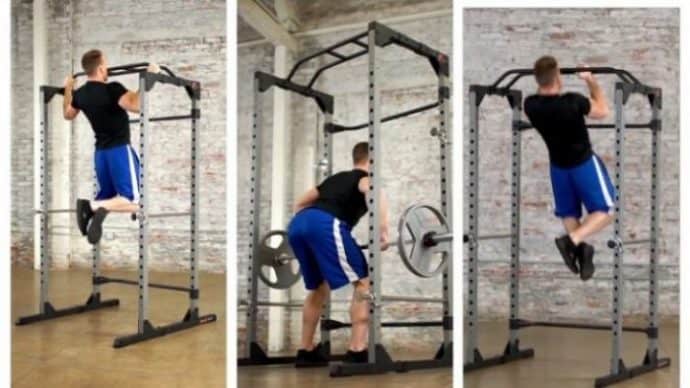 Fitness Reality 810XLT Power Rack
Some of you reading this may think the X Class rack is overkill for a home gym, and maybe it is? Not all of us need a rack that weighs 300lb and boasts a 1500lb max capacity.
Suppose you're not one of those guys who regularly squats 700lb and can bench press an elephant; you might want to save yourself a few bucks and take a look at the X Classes little brother, the 810XLT. This thing has been around for years, and it's stood the test of time, which is a great sign for any product; people are still praising the 810XLT 5 years after owning it.
With a max weight capacity of 800lb, the 810XLT should suit most lifter's needs. It also comes with multi-position chin-up bars, 19 adjustable levels for the safety bars, and a solid 2″x 2″ steel frame.
Thankfully there's a ton of attachments available such as dip bar,s plate holders, etc., more so than the X Class. Overall it's one of the best budget racks on the market.
What lets the 810 down is the hole spacing at 3″. Plus, it's maybe a bit too light at 137lb; you'll definitely need to bolt this one down to the floor. Still, for a budget rack, it's better than most I've reviewed.
The 810XLT is a rack the more serious lifters will avoid, but for a first rack and many intermediate bodybuilders (not weightlifters), the 810XLT is worth serious consideration.
To Sum Up
The Fitness Reality X Class Light Commerical Rack is surprisingly impressive for the price point boasting a heavy-duty 2″x 3″ frame with a huge max capacity of 1500lb; you won't be outgrowing this rack any time soon.
What I also liked about this rack is the lat attachment. Many of the plate loaded lat attachments suffer from low weight capacities. The X Class's 360lb weight capacity for their lat pulldown is excellent and similar in capacity to stand-alone high-end cable machines.
If your serious about your lifting, the X Class is a great choice. It's also priced very competitively and backed by a decent warranty.
If you have been looking for a heavy-duty rack, one that will last years of use, and you want to avoid the Rouge racks' high price tags, then the Fitness Reality X Class should prove to be a welcome addition to your home gym.