The power rack should be the foundation of any home gym especially if you are looking for a safe and versatile way to left heavyweights. Have you got a garage, spare room, a basement? Then you have the space for a power rack, the Atlas power rack measures 83 inches tall just under 7 foot.
It has been purposely designed to fit into most homes so even lifters without garages can use it. If you want to take your lifting to the next level, the Atlas rack could be the right choice for you.
Whilst the Atlas power rack doesn't have the heavy steel gauge of the Titan T3 rack it does have a very useful 28 adjustment positions, making this rack an extremely versatile option.
The holes on this rack do not come pre-numbered, this isn't a deal killer as you can simply write them on with a permanent marker or some paint.
Hole Spacing
With racks costing less than $500,  you'd feel quite lucky to find hole spacing of 2″ or less, generally the distance between the holes on the racks' uprights, gives us a big clue to the quality of the rack, 'closer together with more holes the better'.
Hole spacing doesn't make a huge difference when setting up for a squat but can make a massive difference in pressing.
Hole spacing can affect your reach, level of comfort and range of motion when setting up and performing exercises so it's great to see the Atlas rack incorporates the industry standard 2″ hole spacing.
Most budget racks use 3″ hole spacing and 14 gauge steel, so it's nice to see Atlas are offering that little bit more with 2″ spacing and a total of 28 holes.
Weight
When it comes to power racks,  the empty weight of a rack provides another clue to the stability and overall quality of a rack. Deep, wide, tall racks with large frame gauges will weigh and cost the most. Cheap racks made from cheap steel normally weigh around 140-200lb,
The Atlas rack weighs around the 140lb mark and is built from 12 gauge steel which is what you expect to see for most racks around this price.
Although lighter, more affordable racks offer less stability and overall durability they still provide a great option for lifting heavy for the beginner to intermediate weightlifters when making the crossover from dumbbell to barbell lifting.
Tip: If you do opt to buy a lighter rack like the Atlas power rack then one of the first things to do when you build it at home is to bolt it to the floor.
The Atlas rack doesn't come with pre-drilled holes but if you have a few DIY skills I'm sure you could manage to drill a few holes yourself and bolt this rack to the floor. It will increase the stability of the rack 10 fold.
And don't be afraid if you can not manage to bolt it to the floor, luckily the Atlas power rack has weight plate holders either side at the bottom of the rack, plate holders are not only good for keeping your weights away from the floor but they also work great at keeping the rack stable.
Make sure you load each side of the racks' plate holders with an equal amount of weight, this will really help to keep the rack stable especially if you like to train outside of the rack.
Capacity
A 1000lb weight capacity should make this rack appealing to any lifter, that's more than enough capacity to last through most people's lifting careers.
I don't think many of us can envisage lifting anywhere close to a 1000lb in our lifetimes but when looking for a rack we normally look for a capacity weight close to this, high capacity racks normally mean a well-made rack. And with a name like Atlas you should be assured this rack takes its max capacity.
Pillar To Pillar Inside Depth
Something very important to consider when buying your first rack is the depth inside the cage, you're going to be spending a lot of time in there so it's crucial you have enough room to work out.
If you're a powerlifter rack depth is probably not at the top of your list when looking at power rack specs, why?
Because the bar travels in a straight line for squats, deadlifts, and presses which are the powerlifters main movements, but for us guys into bodybuilding who use arc movements for exercises such as curls and extensions, we need racks with greater depth.
It's best to look for power racks with a minimum of 24″ between the pillars, the Atlas power rack has 26″ which is enough for our needs and nice to see on a budget rack. Thumbs up to Atlas!
Good depth between pillars 26″
 Versatile, 28 adjustment positions
Excellent choice of attachments
No dipping bars included in price
Lacks any pre drilled holes for bolting the rack to the floor
A light rack at 137lb can cause the rack to be unstable for some exercises
The other two top racks in this price bracket are the Titan T3 V2 short and the Rep Fitness PR1100, if you haven't quite made your mind up on the Atlas power rack then take a quick look at these two, the Titan T3 is my top pick for a rack under $500.
There really isn't much better out there for the money.  For well under $500, you get one of the most solid racks available. This is a commercial quality rack with a budget price ticket. What makes the Titan commercial grade? The Titan rack is made from heavy duty 2″ x 3″ 11 gauge steel, weighing 240 lb giving it a commercial grade rating.
There are two options for the T3 short, the 24″ inside depth and the 36″ deep short version. To be able to get hold of a power rack in this price range with a depth of 36″ the heavy gauged steel and WestSide hole spacing is quite remarkable.
Rouge sell a similar rack which comes in an at twice the price, so you can see how much you're getting here for the money.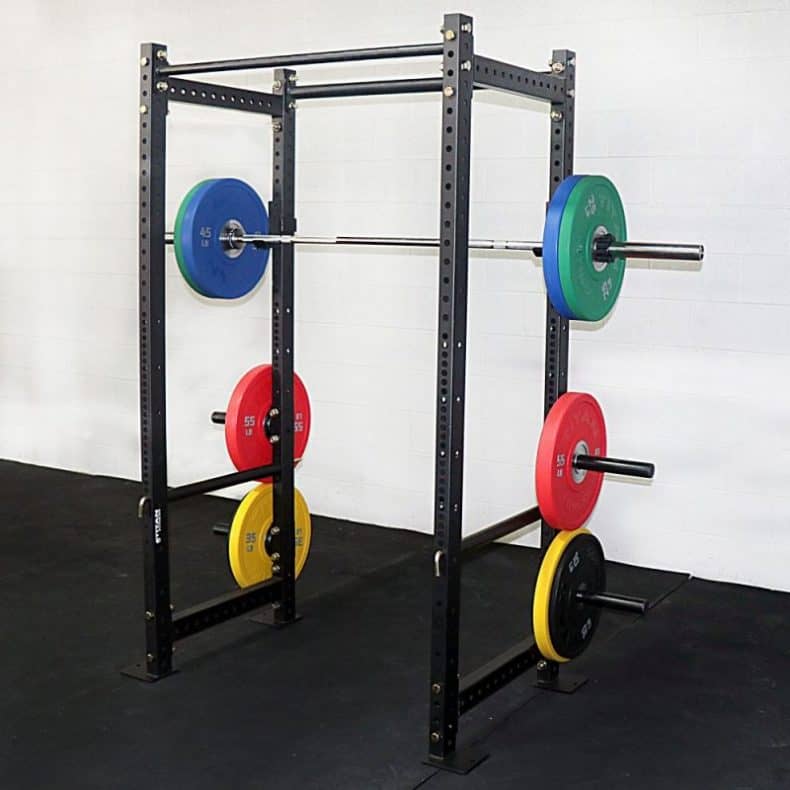 There's also an absolute ton of attachments available for the Titan rack (20+) which include everything from a lat pully system, high and low,  3 different type of dip bars to heavy duty spotter bars. If you are looking for a heavy duty highly versatile rack with a weight capacity to suit all lifters then this is a power rack I highly recommend checking out…Our full review – Titan T3 V2 Short
Rep Fitness PR-1100 & PR-1000
When you take a close look at the Rep Fitness power rack, you will realize it is very similar to the Atlas rack, but there are some vital differences. The Rep fitness rack is made from 14 gauge steel compared to 12 of the Atlas and the Rep rack has 3″ hole spacing, which is the Reps biggest drawback.
But at $330 it is a cracking rack for the money, if you can get past the 3″ hole spacing,  this rack has everything you will need from a power rack.
The Rep PR1100 rack has 1000 lb weight capacity, multi-grip pull up bar and an array of attachments available, helping to push Reps rack to the top of affordable power racks. A worthy contender for anyone's home gym.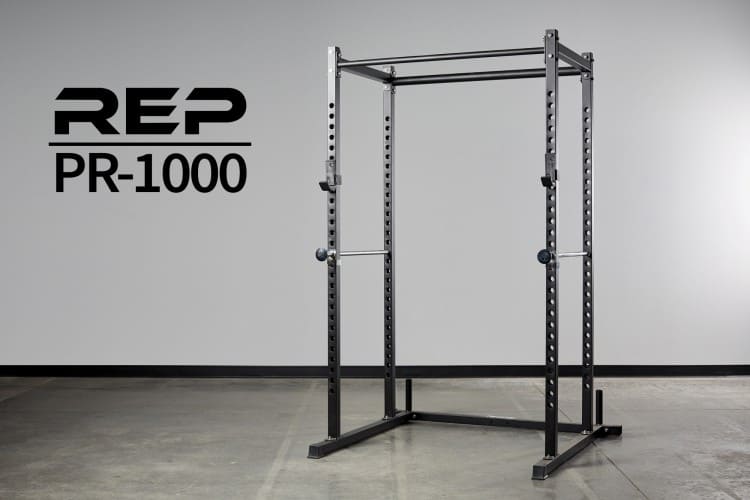 To Note, Rep make a PR1000 as pictured above, it uses 2″ hole spacing and has the all-important 26″ between the pillars plus a 1000lb weight capacity,  making the PR1000 almost an exact copy of the Atlas power rack, minus a few holes but at a much lower price.
Both of these racks are worth checking out they are our best picks for a budget home rack and if you don't want to spend as much as $500 on an Atlas then go for a Rep Fitness rack, built by a very reputable company Rep fitness are offering two excellent power racks at a price most of us can afford
Our Full review – Rep Fitness PR1100 & PR 1000