GoPlus have several 2.25HP treadmills on offer. Today we're going to take a close look at the grey-blue version of the GoPlus Folding Treadmill 2.25HP range.
The grey-blue version of their 2.25 treadmill costs around 100 bucks less than the black version, and the only real difference between the two is that the black treadmill is Bluetooth enabled, which we didn't think was worth an extra 100 bucks!
GoPlus, A company, Know For Building High-Quality Low-Cost Equipment.
GoPlus are known for building high-quality entry-level fitness products; they usually receive good feedback, and the GoPlus folding treadmill is no exception.
This thing boasts a few impressive features such as an incline, a impressive deck cushioning system to protect your joints, and a soft drop folding system.
Product dimensions – 62" L*26.5" W*49.5" H
Running belt size – 15.5″ X 47″
Why Do We Like The GoPlus Folding Treadmill?
One of the best features of the GoPlus folding treadmill has to be the Inline feature ok, it's not power-adjustable, and at this price, we wouldn't expect it to be. Still owning a treadmill with an incline, even if it is a manual incline, is essential to get the most out of your cardio sessions.
Walking/jogging at an incline will target different muscle groups compared to walking on a flat surface.
You'll build and strengthen hard to train muscles such as your calves, glutes, and hamstrings with incline workouts and the best thing of all is that incline workouts burn twice as many calories than flat workouts.
Walking at a 10% incline at 4mph for 30 mins burns 330 calories compared to 115 for the same amount of time and speed on a flat surface.
Impressive 12 Workout Programs
For an entry-level treadmill, it was surprising to see 12 built-in workouts programs. Many treadmills in this price bracket don't even include workout programs so to see 12 is impressive.
Workout programs can take away the monotony of long cardio sessions. I know from experience hour-long cardio sessions can get boring real quick. Having workout programs to keep the interest is important; not only do workout programs challenge you, but they also help you reach your cardio goals faster.
Also, this machine is quiet when in motion, which is a good thing because if the boredom really starts to kick in, you can watch TV while you exercise, and time flies by.
Easy To Use Monitor
Low-cost treadmills always come with basic monitors, don't go expecting anything fancy.
However, the 5″ backlit screen is impressive for the price point, and a few users have commented how easy it is to read workout stats thanks to the screen being backlit and a good size.
The monitor tracks all the important workout data such as speed, time, distance, and pulse. You can choose your workout programs and adjust speed, etc., from the monitor's one-touch buttons.
The handlebars also include speed buttons, which allow you to adjust the speed quickly while you workout. A handy feature that saves you having to reach the monitor in the middle of a workout.
Pulse sensors are included, especially useful for those who like to train in their chosen heart rate zone.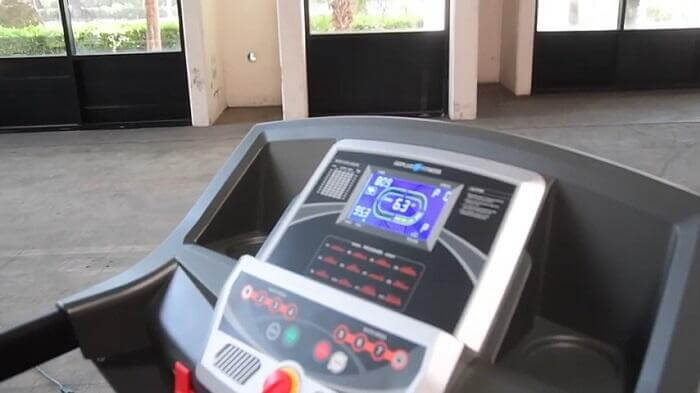 Is The Running Belt Too Narrow?
The size of the running belt is something you should always consider before buying a treadmill; why? Because the size of the running belt determines what you can use the treadmill for.
The GoPplus folding treadmill can only boast a 15.5″ width and 47″  length belt. Not too bad for the price, but the belt isn't long enough for fast-paced workouts, still for walking and light jogging, users up to 6'1″ should be ok.
However, the belt is quite narrow. 15.5″ is the minimum I would recommend for walking on a treadmill. Jogging on a belt this narrow might cause issues for larger users and users with a nonstandard gait, splay-footed, etc.) You may find yourself stepping off the running belt in the middle of a session, which isn't ideal.
The size of the GoPlus running belt isn't a deal stopper. Most users seem happy with the machine, and we cant expect gym-sized belts in this price bracket.
We need to remember the GoPlus isn't a heavy-duty treadmill built for running.
If you're after a machine for fast-paced workouts, you'll have to spend more and look for a machine with a larger running surface and heavy-duty build. This GoPlus is a light weight entry-level treadmill designed for light cardio workouts. 
Anti-Shock System – Reduce Impact By 40%
It wasn't so long ago that we'd only find anti-shock systems on high-end expensive treadmills. Fast forward a few years, and thankfully we can benefit from the joint protecting systems even if we're on a budget.
The Goplus folding treadmill includes a decent cushioning system to protect your joins from the impact of each foot strike, its one of the main reason people choose to exercise indoors, instead of the high impact hard surfaces of road running; you can protect your joints by up to  40%  if you choose a treadmill with an anti-sock system.
Soft Drop Folding System
Not all of us have dedicated spaces to house a treadmill. These things have large footprints, so a folding treadmill is a must for many.
The GoPlus folds to almost half its original length, saving you a ton of space plus its light and includes the integrated transport wheels, so once folded, this treadmill is easy to move and store.
It has one of the better folding systems in this price range, called the Soft Drop. All you have to do is give it a little kick, and it will fold down all on its own, Nice…
Assembly
You'll glad to hear most of the GoPlus treadmill is shipped fully assembled. All you need to do is insert and tighten 6 screws. A step by step guide is included.
12 built-in workout programs
Backlit 5″ LCD easy to use monitor
Folds for storage – SoftDrop folding sytem
Integrated transport wheels
The arms have to be removed entirely for it to lie flat and this requires removing screws
This model can only be operated with the remote control, so if that stops working you cannot use the treadmill
To Sum Up
The GoPlus Folding Treadmill offers everything you need for calorie buying cardio workout at home.
The GoPlus Treadmill includes the all-important incline to challenge you and take your cardio sessions to the next level. Plus, 12 workouts programs to help you reach your fitness goals faster and keep away the boredom of long workout sessions.
The only drawback is the narrow belt; however, this won't affect everyone, and narrow belts are expected in this price range. It's not something that only affects the GoPlus.
Overall it's a very capable treadmill for the price and offers more bang for the buck than most; benefiting from a great folding feature and a decent deck cushioning system.