Body-Solid GPR378 Power Rack
Heavy-duty industry-standard 11 gauge steel, knurled chin-up bar, 3″x 3″ verticle support columns and a 1000lb weight capacity, you would think we were talking about a commercial gym power rack and we are!
Commercial And Home Use
The Body-Solid GPR378 power rack is commercially rated, but it is also perfect for home gyms and is fast becoming a popular choice for many weightlifters.
If you have been searching hard for a well built, versatile, stable power rack, then this beast of a rack with its wide walk-in design might be just what you're looking for.
With some handy attachments on offer such as the lat pulley system and 1.5″ comfort dip bars, the Body-Solid rack will prove hard to beat on price and versatility.
When you buy this rack, you can be confident you'll be purchasing one of the best mid-range racks on the market, treat it well, and there's no reason why this heavy-duty power rack shouldn't last a lifetime.  Be sure to read our full detailed review below to help you make your mind up.
20 adjustable levels for the safety bars
11 gauge steel – 3″x 3″ vertical support columns
41″ wide knurled chinning bar
Heat tempered Lift-Offs and sabre-style safety rods
Product dimensions – 79″H x 49″L x 46″W
41″ wide knurled chin-up bar
Build quality/Design
A commercially rated rack, the GPR378 is going to be able to take a beating, 11 gauge 3″ x "3 tensile strength steel is just what we are looking for, too many of the cheaper racks are made from the thinner 12-14 gauge steel this will make them light and inevitably unstable.
Industry standard or commercial standard for a power rack is 11″ gauge and it's excellent to see a home gym power rack with the standard gauge steel.
Commercial grade steel will make this rack one heavy beast to put up and assemble but when you have done this, you can be assured this thing will have minimal wobble when performing exercises such as chin-ups or out of rack barbell work.
This is a no-frills honest power rack, built to be strong, stable and safe
Wide walk-in frame allows for the 7-foot Olympic bar which all power racks should do, the rack has been designed to accept some very useful attachments such as the lat pulldown and dip bar, keep reading and we'll get to the attachments later.
The 200lb weight from the sturdy 11 gauge steel frame is what makes this rack solid.
It's a shame to see the upright posts have not come pre-numbered, numbered posts really help you to speedily adjust the rails to the numbered height for specific exercises.
Constantly counting hole spaces is time wasting and something you do not want to be doing in the middle of your benching or squatting routines.
Quick fix: Add the numbers yourself next to each hole with a permanent marker or some paint.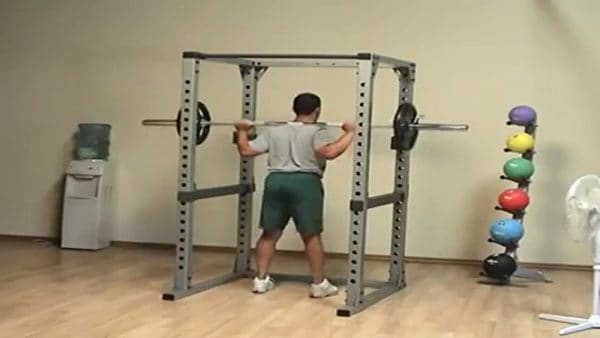 A whopping 1000lb capacity on the safety bars will prove hard to outgrow,  not many of you are going to outgrow this weight capacity.
Apart from maybe a couple of extreme lifters, the weight capacity of this rack should suit everyone from beginners to advanced.
Hole spacing is measured in the distance from the centre of two adjacent holes on the uprights. And it's this distance that can affect your reach, motion and how comfy you feel when setting up and performing exercises…
So what size spacing are we looking for? Ideally, we look for as many adjustment holes as possible with a space of 2″ being excellent and 1-1.5″ as the gold standard.
The Body Solid rack has 3″spacing with a total of 20 adjustment levels/holes.
Not great news, and a slight thumbs down for the GPR378.
Cheaper rack spacing is typically around 3″, it's not a deal breaker and not everybody has problems with 3″ hole spaces but wider spacing can cause some issues when trying to find a comfy position for benching.
We expect to see 2″ from mid-range power racks like the Body Solid.
Body-Solid Power Rack Attachments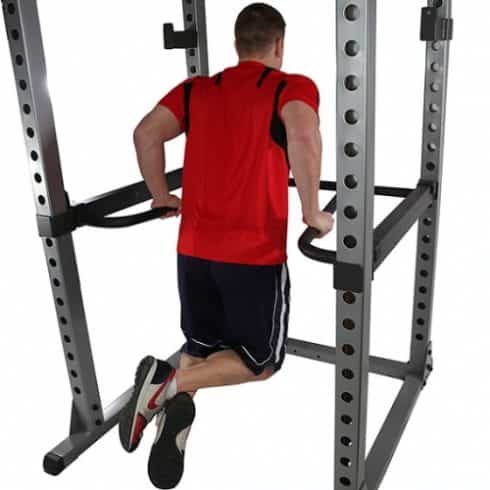 Body Solid offer some excellent attachments to go with this power rack, including a 2200lb tested cable strength pully lat attachment. (that's the weight the cable can take not how much weight comes with the lat attachment)
Why do we need a cable pulley system? It provides constant resistance unlike the variable resistance of free weight exercises. Exercises such as tricep push downs and lateral raises are just a couple you can not duplicate with free weight training.
A cable pulley system is a great addition to have in your home gym, you can either buy a rack that includes a lat pulldown or option to add one, the only other option is to buy separate cable apparatus.
We like the first option because it's a great space saver to have a rack that already incorporates a pulley system at the back. If you can not afford one now, you can always add at a later date but make sure you buy a rack that has the option to add one.
Another of the most important features we expect to see in a high quality power rack is the dip bars, dips are a crucial exercise for developing the lower pecs and triceps, also known as the squats of the upper body, make sure your rack includes or has the option for adding dip bars.
The dip station sold with the Bodysolid rack, unlike other dip bars I've seen, spar both safety bars providing extra stability. The dip attachment has wider 1″5 bars providing extra comfort for your grip.
Built to last, strong durable powder coated  3″ x "3 frame
Great to see a lifetime warranty on the home use of this rack, it covers all parts including lat attachment. Shows Body Solid has a lot of confidence in this rack
Many optional useful attachments offered by Body Solid
Large weight capacity of 1000lb
$600 is a good price for a commercially rated rack
3″ hole spacing could cause some issues when looking for a comfortable position for bench pressing
Attachments can be pricey
The Body-Solid has an in-home and commercial warranty, the in-home warranty offers a lifetime warranty for everything including frame, cables, pads and pulley.
If you are interested in using this rack commercially Body-Solid offers a mix of one and two-year warranties on different parts.
To Sum Up
An excellent choice for home gyms, the Body-Solid GPR378 offers all you need from a power rack including the option for a pulley system. What's great about this rack is its build quality. Sturdy, stable, and safe is what you need from any power rack and the Body-Solid GPR378 offers all 3.
With a weight capacity of a 1000lb, this power rack will appeal to a variety of weightlifters, certainly a rack for serious consideration, you won't find much better at this price point.