These guys have been building bikes for over 100 years and producing cardio gear for our home gyms for the past 40! Schwinn is an impressive company that has managed to stay at the top of their game for years.
Today we're going to take a close look at one of their popular ellipticals, the Schwinn 430.
In our Schwinn 430 Elliptical Trainer Review, we'll go through all the pros and cons of this capable elliptical. I'll also compare it to its lower-priced little brother, the Schwinn 411 elliptical so, by the end of the review, you should have a good idea if this low impact cardio machine is the right choice for you.
First, let's take a quick look at the product specs!
Product dimensions –  70.1 x 28.2 x 63.2 inches
Resistance Type – Magnetic
What Do We Like About The Schwinn 430 Elliptical Trainer?
Elliptical trainers typically take up a ton of room, especially if you opt for a rear-drive elliptical. Front-drive ellipticals boast smaller footprints and are much better for those of you who have limited space.
The 430 elliptical is a front-drive machine, and it's one of the most compact on the market.
You may be thinking 'great' it's compact, but is the stride length going to suffer? And yes , that's usually true for front-drive, compact machines, but Schwinn has put a lot of thought into the design of their compact series of ellipticals.
So, although we have a front-drive machine, it provides an impressive stride length of 20," and at this price, a 20″ stride length is good for a rear-drive elliptical let alone a front-drive.
Why's stride length so important? It's the most important feature you need to considers because the stride length is what will determine how freely you can run or walk on the elliptical.
And at 20″ the Schwinn 430 elliptical will be suitable for users up to 6'1″. To put it in perspective, a 20″ stride length is similar to the stride length of ellipticals you find in local gyms.
If you're ok running/walking at a fast pace on the ellipticals in your local gym you should be ok with the Schwinn 230.
However taller users over 6'1″ and over will need to spend a few bucks more on an elliptical with a wider stride length (recommended 22″-24″)
Resistance/Type
Apart from build quality and stride length, one other important feature you need to think about before buying any cardio gear is the resistance type and strength.
The Schwinn 430 provides 20 magnetic resistance levels; this is twice as many as any budget machine and more than enough resistance levels to suit your fitness needs.
If you're a serious athlete, then I'd recommend you check out a commercial machine. Still, for most of us, 20 levels of resistance are enough for light, medium, and intense calorie-burning workouts.
There are two types of resistance available for ellipticals; the first is magnetic the other air. Which is best? For home use, I'd always urge anyone to go magnetic. Why? For the simple reason, these things are much quieter in use compared to an air machine.
Air resistance uses a noisy fan to create resistance.
Decent magnetic ellipticals such as the Schwinn 230 are whisper quiet in use because they utilize magnets for their resistance. Great if you want to watch TV while you exercise and also a much better choice for people who don't have a dedicated room to house the elliptical.
And lastly, because magnetic resistance is constant, you can workout on a high resistance setting while walking- running at a slow pace, something that's impossible with air resistance as air resistance is dynamic, the strength of resistance only increases when you run or walk faster.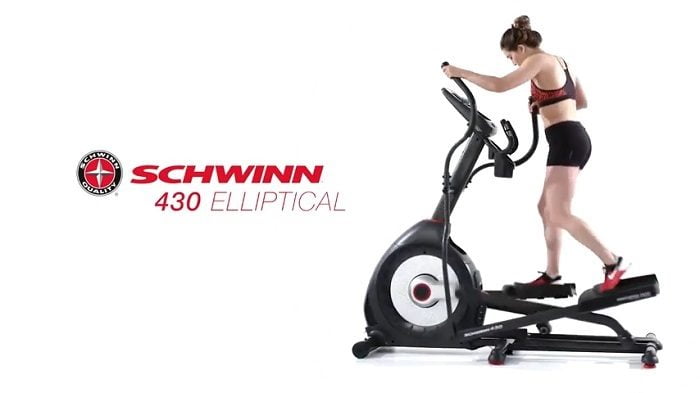 Incline
We should expect to see incline as a feature in this price bracket. It's an excellent option to have as you can target different muscle groups, especially useful if you want to work on your butt, hamstrings, and calves.
The Schwinn 430 includes six levels of incline 0 to 10 degrees, which is great to see and better than a lot of models in this price bracket. What might be slightly disappointing to some is having to adjust the incline manually.
Manually adjusting the incline means you have to stop your workout to change the degree of incline (takes a couple of seconds), heck, it's not a deal killer but can be annoying.
Yes, you might find power incline on a few machines in this price bracket, but their overall build quality is miles off that of the Schwinn elliptical so much so, it's not worth the risk, just for a power incline.
If power incline is a must, then check out our review of the higher price bracket NordicTrack ellipticals here, which all include the power adjust incline but cost a few hundred bucks more than the Schwinn.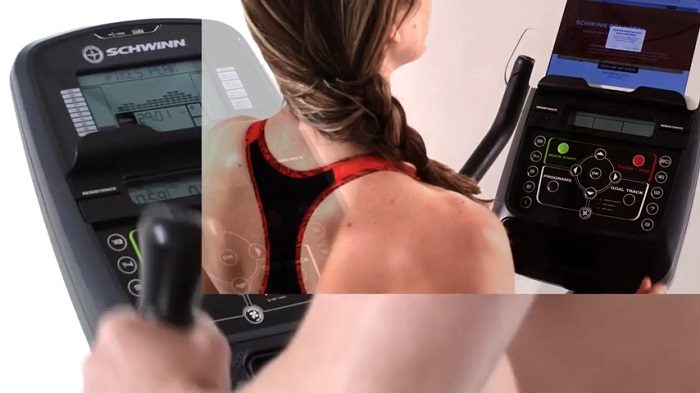 Monitor/Control console
This isn't a super-advanced monitor, nor is it basic, ok there's no color LCD. And disappointingly, the monitor lacks wireless heart rate monitoring; however, it does boast some cool workout programs such as fun rides, mountain rides, challenges, and heart rate programs for beginners and advanced users.
It's great to have a variety of workout programs, while not essential they do keep you coming back for more.
I find workout programs help keep away the monotony of long workout sessions. An hour on elliptical can be quite boring, so choosing a challenging workout can be just the thing to keep you interested.
Another feature that stands out is the DualTrack™ two LCD window system; this feature allows you to keep an eye on the 13 display functions, including all of your goal tracking. Goal Track capability enables users to set individual exercise goals by tracking time, distance, and calories to compare with previous workouts.
The 430 monitor is capable of tracking:
Time
Revolutions per minute
Distance
Pulse
Speed
Calories
Resistance levels
Course profile

Heart Rate Zone Indicator

% complete indicator

Intensity meter

User indicator

Goal achivement
Assembly
The 430 elliptical is supplied with a step by step, fully illustrated manual. Most users got this elliptical together within 45 minutes. Remember, even tho this is a compact elliptical, it's still a large piece of equipment, which is why we recommend two people for assembly. All tools for the job are provided.
Compact home-friendly size
Two sets of handles one fixed one moving
Transport wheels – tilt and roll for storage
Manual incline instead of automated incline
No wireless heart rate monitoring
Inaccurate calorie estimates according to customer reviews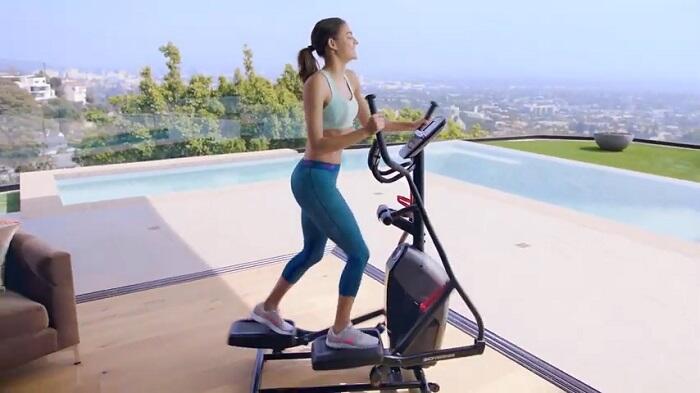 Schwinn 411 Elliptical
The little brother of the Schwinn 430 and 470, Schwinns 411, is an impressive machine for the price bracket. This is my current top pick for an elliptical under $500, and there's a good reason why.
Not only is this machine compact, but it also boasts a great stride length for the price point. An 18″ stride length is impressive for a budget-priced machine, so too is the updated Bluetooth enabled monitor, which also provides wireless hear rate monitoring something the Schwinn 430 lacks.
The Schwinn 411 is aimed more toward the beginner market but packs the punch of a much higher priced machine with 13 built-in workout programs + Bluetooth to sync with the trainer app. Yes, there are fewer resistance levels 16 compared to the Schwinn 430, which has 20, but remember this machine is a couple of hundred bucks less.
There's no incline, and you wouldn't expect there to be at this price, but for a solid compact machine, the 411 is hard to beat. For anyone, whos budget may be limited. I'd highly recommend checking out this excellent elliptical from Schwinn.
Our full review: Schwinn 411 elliptical Review
N.B Max user height for an 18″ stride length is around 5'11"
To Sum Up
The Schwinn 430 elliptical is a decent elliptical built well by company that knows what they are doing in the cardio market. There are enough resistance levels for intense calorie-burning cardio workouts and enough workout programs to keep most users happy and coming back for more.
A competitively priced compact home-friendly elliptical for beginners and intermediates.