I thought it was about time I updated this review, as the first time I reviewed the Schwinn 430 elliptical was over five years ago,  and all I can say is not a lot has changed with this machine.
It hasn't had any major updates, it's basically the same elliptical as it was five years ago, but that's not really a bad thing because the 430 was one of the best mid-level ellipticals back then, and it still is today despite not being updated.
An Elliptical That Gets The Essentials Right
Yes, it might not have the power incline of its bigger brother, the Schwinn 470, or the wireless heart rate monitoring of its cheaper little bother, the Schwinn 411, but what it does boast is a nice heavy build and most of the essentials we look for from an elliptical, like the desirable 20-inch stride, a smooth elliptical motion and enough workout programs to keep away the monotony of long cardio sessions.
Is The Schwinn 430 still worth it today? Yes, for the most part, it is, as there isn't much else out there that can challenge the Schwinn 430 for under $800. You have the Schwinn badge, and it's the brand name that sells this machine.
You know you'll get a high-quality machine and not some piece of junk that breaks down in a month or two.
Still, there is the E616 from Nautilus, one of my fav's in this price bracket, and at the end of the review, I'll compare the E616 with the Schwinn 430 to see how they match up. But first, let's take a close look at everything the Schwinn 430 offers, including any drawbacks!
Product dimensions – 70 x 28 x 71 Inches
Resistance Type – Magnetic
Pre-programmed workouts – 22
Why Do We Like The Schwinn 430 Elliptical?
What I like most about the Schwinn 430 is that it weighs 165lb, that may sound like a funny thing to say, but I reviewed so many ellipticals in this price range, and they're too light, some weighing just 100lb.
When you buy an elliptical, you want some weight there because the weight of an elliptical gives us a good clue to the overall quality of the parts used in the build, and the heavier, the better when it comes to elliptical machines.
Also, that extra weight gives the 430 a sturdy feel. It's not going to feel cheap and unstable like many ellipticals in this price bracket. Okay, it's still a long way off commercial grade, but for an 800-buck machine, it's solid, and that's what you want.
Desirable 20″ Stride
Something else I like is that the 430 comes with the desirable 20″ stride, and I say desirable as this is the length most commercial machines use, and the reason they use a 20″ stride is because it's a stride length that suits most peoples heights with a height range from 5ft to 6'3″.
It's the stride length you want to find on an elliptical for home, and great to see it on a machine in this price range.
Work The Glutes and Hamstrings With The 6 levels of Incline
It's always good to find an incline feature, especially on a front-drive elliptical, as front-drive ellipticals only really work the anterior muscles of the legs like the quads.
To get the most out of an elliptical workout, you really need to work the much larger posterior muscles of the legs, like the glutes and hamstrings. These muscles have a higher caloric output requirement than the smaller anterior muscles, and to work them on a front-drive elliptical you need to pedal on an incline.
Pedaling on an inline is going to switch the focus of your workout from the front to the rear, and you'll be burning at least twice as many calories.
You get 6 levels of manual incline with the 430 from Schwinn, with a max of 10 degrees which is enough to give the posterior muscles a hard workout.
The slight drawback here is that the incline feature isn't power adjustable. You have to get off of the machine and adjust the incline manually. It's not a deal killer, but I feel Schwinn needs to update to power-adjustable in the near future if they want to keep up with the competition.
Nice Monitor but No BlueTooth?
This is a decent monitor, and I love the dual LCDs, they're a handy feature because a common problem with ellipticals, in fact with most cardio machines, is that when you use a tablet, it hides the monitor, so you can't see all your workout stats.
Schwinn thought it was a clever idea to use two screens, so when you're watching Netflix/Youtube or following a fitness app on your tablet, you can still see all the vital workout stats on the smaller LCD. 
Also, what's nice about this monitor is you get a ton of workout programs, 22 in total, which is much better than ellipticals from NordicTrack, etc., that only provide a couple of built-in programs.
And you get 20 levels of resistance which you can select via the quick touch buttons of the monitor.
Still, perhaps what's most impressive about this monitor is its easy use. The quick-touch buttons speed things up, and thankfully there aren't loads of menus to scroll through. 
What lets this monitor down is there's no wireless heart rate monitoring which will be a disappointment for those who love to train in their chosen heart rate zone. All you have is the handlebar pulse sensor which are never very accurate.
Also, there's no BlueTooth which is something I would expect on an $800 elliptical; again, this is down to this machine not being updated in a long time. Even the cheaper Schwinn 411 has Bluetooth and wireless heart rate monitoring, but that's simply because it was updated last year.
How Smooth is The Elliptical Motion?
How smooth your elliptical feels is mainly down to the weight of the flywheel, there are a few other factors, like the gear ratio and the resistance system, but the main one is the flywheel weight.
The weight of the Schwinn 430 flywheel is 17lb which is okay for the price point. There's enough weight to keep the motion smooth and consistent and the upper levels of resistance strong.
Also, you have a frictionless resistance system this is the best type of resistance system for an elliptical because the magnets of the system never have to touch the flywheel; thus, it keeps everything smooth.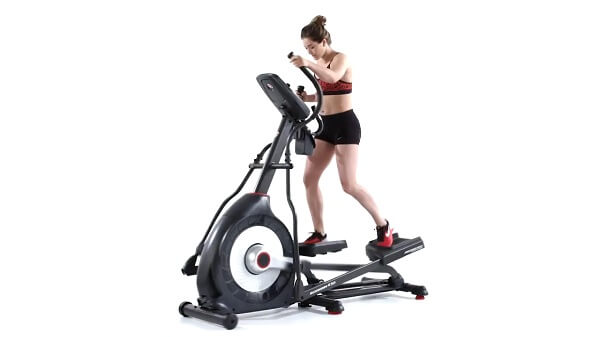 Who Is The Schwinn 430 For?
The Schwinn 430 is far from gym quality, but thats okay you can't expect gym quality in this price bracket. Also, the flywheel is mid-weight, and you don't have the high-ratio gears you find on more expensive machines. So it's not a machine for serious training.
Resistance is strong enough in the upper level for calorie-burning workouts and great for increasing fitness levels. A good choice for beginners and intermediates.
Moving and Stationary Handlebars
You get two pairs of handlebars with the Schwinn 430, a stationary pair, and a moving pair. The stationary pair are handy for beginners as you can use this pair to get used to the elliptical motion before trying the moving handlebars for a full-body workout.
Even seasoned elliptical users love the stationary pair as they allow you to focus on the lower body. You can grab hold of the static pair, adjust the resistance to a high setting and really give the legs a hard workout.
Assembly
The 430 elliptical is supplied with a step by step, fully illustrated manual. Most users got this elliptical together within 45 minutes. Remember, even tho this is a compact elliptical, it's still a large piece of equipment, which is why we recommend two people for assembly. All tools for the job are provided.
Compact home-friendly size
Two sets of handles one fixed one moving
Transport wheels – tilt and roll for storage
Manual incline instead of automated incline
No wireless heart rate monitoring
Inaccurate calorie estimates according to customer reviews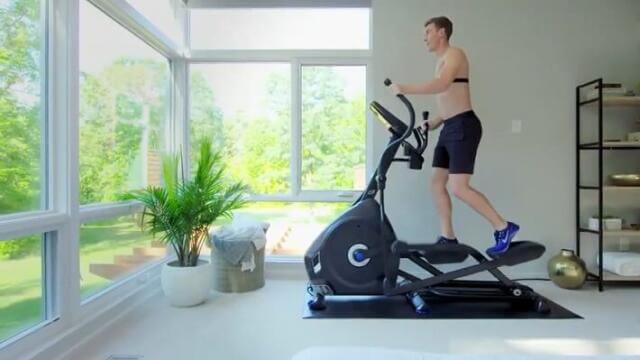 Nautilus E616 Elliptical
Nautilus are a pretty big company. They own a few brands like Bowflex, Universal, and Schwinn. That's why Schwinn and Nautilus ellipticals are so similar.
The E616 Elliptical is almost identical to the 430 from Schwinn, except for some reason, Nautilus likes to updates its line of ellipticals more often than the Schwinn line of ellipticals. So yep, you guessed it, the Nautilus E616 is an updated version of the 430 and doesn't cost extra.
The E616 uses that same heavy frame weighing 165lb. They also share the same dual screen monitors, 20″ stride length, pedals, resistance systems, and flywheels.
The only big difference here is that you get a power-adjustable incline with the E616, and you get 25 resistance levels and 29 workout programs – impressive for an $800 elliptical.
And one other improvement is that you have Bluetooth and wireless heart rate monitoring with the E616 from Nautilus, and they throw in the heart rate chest strap for free, which saves you a few bucks.
The Updated E616 is an excellent machine for the price, you have everything that's good about the 430, and you get a few extra features like the power adjustable incline, more workout programs, and the wireless heart rate monitoring with chest strap.
These extra features are why the Nautilius E616 is my favorite elliptical under $800. Yes, it doesn't come with the Schwinn badge, but it's built by the same company, so if I were you, I'd have this elliptical at the top of your list.
To Sum Up
The Schwinn 430 is still one of the best ellipticals you'll find in its price bracket, easily in the top 3. It has the build quality, the 10-degree incline, and the elliptical motion is nice and smooth as you'd expect it to be from a Schwinn elliptical. Plus, you have that 20″ stride which is impressive.
But with ellipticals like the E616 on the market retailing at the same price, the Schwinn 430 is starting to feel dated. It doesn't even include Bluetooth, which is disappointing for a machine that costs $800.
Schwinn 430 Elliptical Machine FAQs
Is The Schwinn 430 a Good Elliptical?
The Schwinn 430 has a sturdy build. It weighs over 160lb which is much heavier than most ellipticals in this price bracket, and this extra weight is a sign this machine is made from high-quality parts. Also, the Schwinn includes a 20″ stride which is impressive for the price point.
Does The Schwinn 430 Elliptical Have an Incline?
The Schwinn 430 includes a 6-level manually adjustable incline; this means you have to get off of the machine to adjust the incline level.
How Much Does The Schwinn 430 Weigh?
The Schwinn 430 has an assembled weight of 168 pounds.