Best Quiet Ellipticals
If you want to reap the health benefits of a full-body workout at home and increase your cardio fitness at the same time, an elliptical is the best machine for the job.
Ellipticals are the No.1 choice for home cardio fitness because they offer so much more than a treadmill.
A treadmill is a high-impact cardio machine: when running on a treadmill, the force of each step can be up to four times the user's weight which puts a lot of pressure on your knees and can cause pain and irritation in the knee joint.
Treadmills High Impact – Noisey / Ellipticals – Quiet – Low Impact
And treadmills are noisy. Not only the impact noise from your running, but the noise coming from the powerful motors that drive the running belt can be as loud as 70DB, which will disturb you and others around you. 
An elliptical is a low-impact machine; your feet never leave the pedals 'you're walking in mid-air' this is great for your joints, and it's a lot quieter than a treadmill.
While all ellipticals are reasonably quiet because of their low-impact design, we can consider a few other features if we want a really quiet elliptical.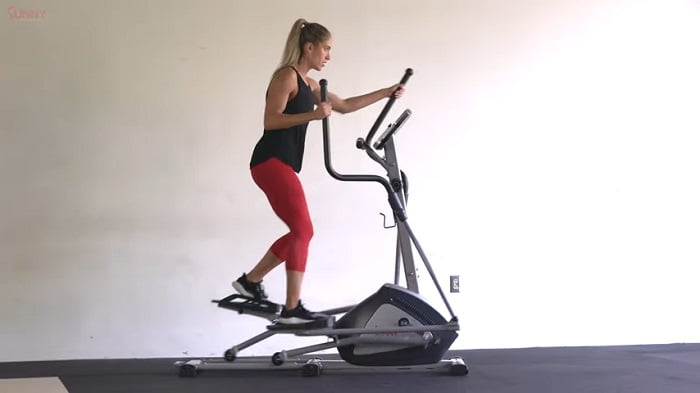 Top 4 Features of a Whisper Quiet Elliptical
If you want to keep noise to an absolute minimum, the resistance system is the first features you must consider. There are two types of resistance systems for ellipticals. One is a fan (air) the other is magnetic. Magnetic is the best choice for home as it's almost silent in operation this is thanks to the magnets never having to make contact with the flywheel. There's no friction involved; thus, no sound is created.
Choose a belt drive system – Most new ellipticals are fitted with a belt drive system. These are much quieter than the old noisy chain drives and are maintenance-free.
Heavy flywheel-

The 

heavier

 an 

elliptical flywheel

 is, the 

smoother and quieter it operates because the extra weight helps it spin efficiently. 

Adjustable levelers – A good idea is to check if your elliptical comes with adjustable rear stabilizer levelers. These help keep the elliptical stable on uneven floors and will prevent any wobble.

And lastly, try and get hold of a Rubber Floor Mat, especially useful if living in an apartment. Rubber floor mats not only protect your floors but help disperse the weight evenly and are an excellent sound dampener.
Today we're going to take a close look at the Top 5 Quiet Ellipticals. With prices ranging from $300 to $999, there is nothing too expensive nor too cheap.
All ellipticals in our reviews feature magnetic resistance, a belt drive system, and a decent weight flywheel, so you can be sure whichever one you choose will be whisper quiet in operation.
For those in a rush, here's a comparison table of our top 3. If you have more time, please read the reviews that follow the comparison table.
Weight – 197lb

Resistance type – magnetic

Drive system – belt

Flywheel weight – 20lb

Incline – yes

Stride length – 20″
Weight – 200lb

Resistance type – magnetic

Drive system – belt

Flywheel weight – 15lb

Incline – yes

Stride length – 20″
Weight – 100lb

Resistance type – magnetic

Drive system – belt

Flywheel weight – 13lb

Incline – No

Stride length – 15″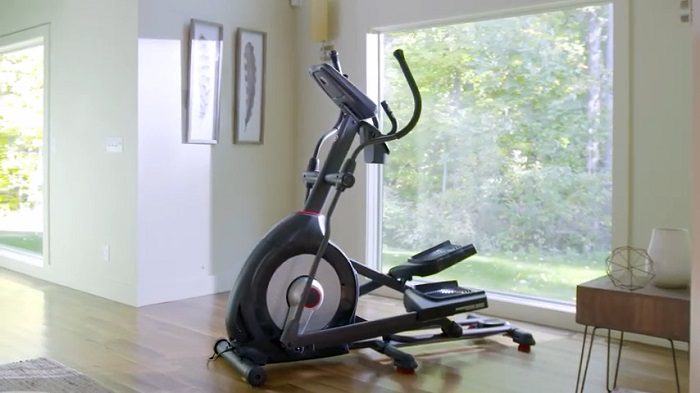 Schwinn 470 Elliptical
Schwinn are a company that's been building fitness equipment for our homes for over 50 years. These guys have more experience than anyone when it comes to home cardio gear.
Their 470 elliptical has been their most popular mid-level elliptical trainer for a long time, and today we're looking at the 2021 version.
This thing is packed full of features, including 25 levels of magnetic resistance, a 20″ stride length, a ton of workout programs, and an impressive power adjustable incline.
It is the most expensive elliptical in this review. Still, when you pay slightly more, the build quality is higher. This machine weighs close to 200lb. The extra weight is a telling sign this elliptical is made from quality materials; the extra weight will also help a lot with stability.
A 200lb elliptical will feel study and not much different from machines you've used at your local gym. It will not feel like some cheaply made lightweight elliptical.
We also have a decent weight flywheel at 20lb, ensuring a smooth, quiet, unjerky elliptical motion and a belt drive system that will keep noise to the minimum.
The Schwinn 470 boasts a magnetic resistance system with 25 resistance levels, which is more than enough to suit most fitness levels. No one should have trouble finding a resistance strength suitable for their workout.
What's most impressive about the Schwinn is that it includes a 0-10 degree power-adjustable incline. It's always a good idea to choose an elliptical with an incline as incline workouts target different muscle groups to walking on a flat surface.
When walking on an incline, we target hard-to-train muscles such as the glutes, hamstrings, and calves. With just a touch of a button, you can adjust the incline, no need to step off the machine to manually adjust.
The Schwinn monitor also includes a whopping 29 pre-programmed workouts to challenge you and help you reach your goals faster.
The Schwinn 470 workout programs include challenges, fun rides, heart rate programs, and thanks to the Schwinn Run Social App, you can also race against friends with an extra 27 routes to choose from.
The 470 has been Schwinn's Flagship elliptical for some time now, and it's easy to see why it's so popular; excellent build quality and an advanced monitor with more workout programs and resistance levels than any of its completion. Plus, we have the power-adjustable incline and a 20″ stride which allows users up to 6'2″ to achieve a full stride at pace on the elliptical. 
Easily one of the best ellipticals you'll find under $1k and one of the quietest.
High info monitor – Dual Track LCD displays
29 workout programs – Including free access to Schwinn Trainer App
25 levels of whisper-quiet magnetic reistance
Wireless heart rate capabilities
Media shelf, in console speakers with MP3 input port, USB media charging and adjustable fan
Fairly large footprint – Not suitable for small apartments
If you want to take advantage of the wireless hear rate capabilities of the monitor you will need to buy the chest strap separately (around $50 for a good one)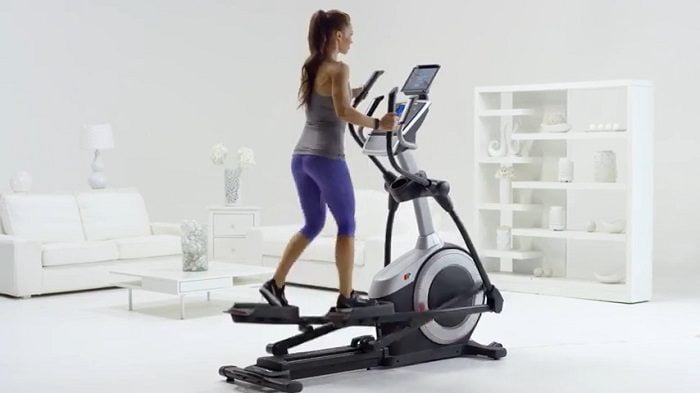 ProForm 520E Elliptical Trainer
Coasting a few hundred bucks less than the Schwinn 470, we have ProForms mid-level elliptical, the 520E.
This is another elliptical with some impressive features, especially when we consider the price. Most importantly, the ProForm is equipped with a 20″ stride, so again just like the Schwinn, users up to 6'2″ can achieve a full stride at pace.
We're paying less for the ProForm, so we can't expect a power-adjustable incline. However, the ProForm does come with an incline of 0-20 degrees. There is no adjusting the incline from the monitor. You will have to step off and manually adjust, it takes a few seconds.
It's another extremely quiet elliptical thanks to its magnetic resistance system, 15lb flywheel, and belt drive system.
What ProForm and NordicTrack are best known for is their iFIT fitness app. The iFIT apps literally has 1000s of workouts in its library for you to choose from. There are fitness classes, one-on-one sessions, global routes, google maps, just about everything you could possibly want from a fitness app. And if you're serious about your fitness, you'll love this app.
The only downside to iFit is it's a subscription app. I think it's worth the money at around $15-20 a month.
Most people think you have to subscribe to iFIT to use a ProForm elliptical which is why you may see a few low ratings for ProForm 520E on Amazon. However, this isn't true. You do not need to subscribe to use the Proform 520 elliptical.
If you dont want iFIT, just hold the iFIT button down for 15 seconds on the monitor, and this will disable the app. You'll be able to use the elliptical just like any other.
The monitor includes a good selection of workout programs, 18 in total, and 18 levels of magnetic resistance; all can be selected via the one-touch large buttons.
The 520E is my favorite ProForm elliptical because it offers all you need for an elliptical workout at home without breaking the bank. Yes, it doesn't include a power incline. Still, everything else is there, a high-quality build, an advanced monitor, a 20″ stride, and it's almost silent in operation thanks to its magnetic resistance system, high inertia 15lb flywheel, and belt drive system.
0-20 degree incline ( works different muscle groups especially your glutes)
High info monitor for price range
iFIT ready, thousands of workouts, global trails, personal trainer workouts 
Two sets of handle bars – Use the moving set for a full-body workout!
Intergrated transport wheels, tilt and roll to store
Does not have a wireless pulse receiver
iFIT app is subscription not Free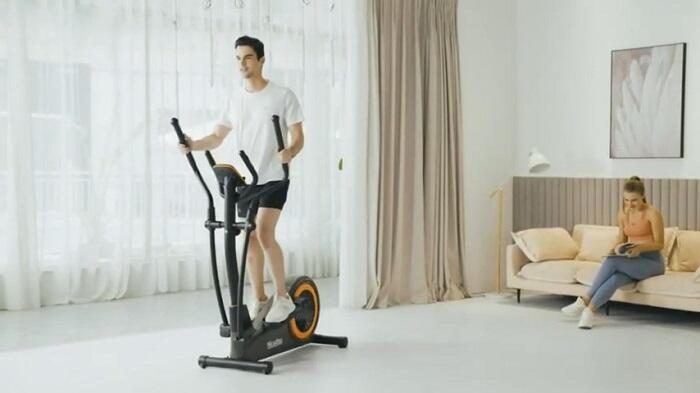 NiceDay CT-11 Elliptical (Best Budget)
An excellent entry-level elliptical from the guys over at NiceDay. It's not often you come across a budget elliptical that outperforms many mid-priced machines.
NiceDay have got all the essentials right with this machine. It has a hyper quite 15lb flywheel, magnetic resistance system, and a 15.5″ stride.
A 15lb flywheel and 16 levels of magnetic resistance is impressive for a budget machine, and when coupled with its belt drive system, this elliptical will be almost silent in operation.  At just 20DB, this elliptical is whisper quiet.
But it's not just the quiet operation of this elliptical that impresses me; it also supports a surprisingly long stride length for a budget elliptical.
15'5″ is one of the longest strides I've seen in this price bracket. Most entry level machines only provide a stride length of 12″, which sadley limits their max user height to just 5'7″
The 15.5″ stride of the NiceDay elliptical will allow users up to 6ft to active a full stride at pace.
We have to remember this is a budget-priced elliptical, so it's not going to have the reistnace strength of higher-end machines. Still, it's perfect for light workouts, calorie loss, and improving your cardio fitness.
The NiceDay CT-11 is smaller than the other elliptical in this review, so it's perfect for a small apartment or anyone who doesn't have the space to house a large commercial-grade elliptical.
The only real negative I can find with withe NiecDay elliptical is its basic monitor. Basic monitors are common with most entry-level machines. There are no built-in fitness apps or workout programs. It's a simple, easy-to-use monitor that tracks all your usual workout data such as time and distance, etc.
Thankfully the monitor does include heart rate monitoring with the pulse sensors built into the fixed handlebars. Another positive of a basic monitor is that it doesn't require power from the grid, so no annoying cables to deal with.
Overall an extremely quiet elliptical at just 20DB and an elliptical that gets all the essentials right. If you can live with a basic monitor, it's hard to see why anyone would be disappointed with the newly released NiceDay CB-11.
Study build – Supports weight capacity up to 400lb
18 levels of resistance – suitable for beginners and intermediates
Super quiet machine – won't disturb others with the sound of your workouts
Two sets of handlebars one fixed – one moving for full-body workout
Easy assembly – Comes 90% pre-assembled
Basic monitor that doesn't include workout programs
Can only use pulse sensors when using the fixed handle bars
Schwinn 411 Elliptical
It shouldn't come as a surprise to see another elliptical built by Schwinn in our reviews. Schwinn are the company to beat when to comes to quality and price, and we just had to include the 411 as it's one of the best compact ellipticals on the market.
The 411 is Schwinn's compact elliptical machine. It boasts all the advanced features of its other machines but has a much smaller footprint.
And what's most impressive is Schwinn has managed to produce a compact elliptical yet keep a long stride length, something you will not see on other compact ellipticals.
This is an elliptical perfect for apartments. Its small footprint makes it easy to store and move, plus it's equipped with a heavy flywheel, an excellent magnetic resistance system, and a belt drive all of which will help keep noise to a minimum.
The monitor is surprisingly good for the price point. It includes wireless heart rate monitoring, BlueTooth, 16 levels of resistance, their Run Social app, and a ton of workout programs to help keep away the monotony of long cardio sessions.
If you've been looking for a quiet compact elliptical built by a company with a great reputation, the Schwinn 411 is certainly worth some serious consideration.
High-quality build – solid ,stable
16 levels of smooth whisper quiet magnetic resistance
13 built in workout programs + Bluetooth to sync with trainer app
Fixed and moving handlebars 
Excellent warranty 10 year frame, 2 year parts
Heart rate monitoring – pulse sensors + wireless heart rate capability 
Long stride length for a compact elliptical 
Integrated transport wheels
The display is not backlit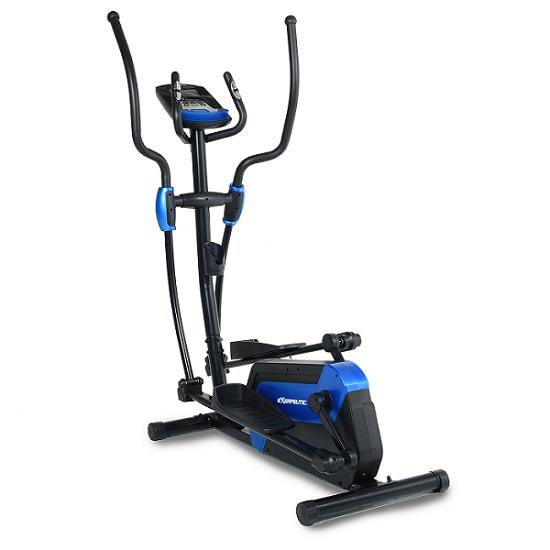 Exerpeutic 6000 QF Elliptical
Exerpeutic are well known for build high-quality affordable cardio gear for our homes, and the 6000 QF Elliptical is no expectation. This machine hasn't been out long, but it's starting to become very popular.
I like this company because although their cardio gear is fairly cheap, the build quality of their machines doesn't suffer. They achieve this by providing fairly basic monitors and using the build money on important stuff such as heavy-duty frames and high-grade drive systems.
And what's nice about this machine is that it includes two flywheels one for each pedal, this results in an even smoother elliptical motion which thankfully means this machine is extremely quite when in use.
We also have a belt drive system and 24 levels of magnetic resistance, again helping keep the noise to a minimum perfect if you dont want to disturb others around you with the sound of your workouts.
The Exerpeutic is another compact machine, so it's great for apartment living and comes with built-in transport wheels, so it's easy to move from room to room.
I mentioned the monitor is fairly basic, but it's still much better than similarly priced ellipticals. We have 24 workouts programs, 24 levels of magnetic resistance and BlueTooth with access to Exerpeutiocs Free version of MyCloudFitness. Heart rate monitoring is achieved through the pulse sensors built into the handlebars.
What I like most about this machine is its impressive stride length of 18″, one of only three machines in this bracket to boast such an impressive stride length and suitable for users up to 6'1″.
Exerpeutic 6000 QF Elliptical has it all at a very good price indeed and deserves the high ratings it receives. One of my favorite affordable ellipticals built by a company with decades of experience.
Sturdy build – supports 270lb
18″ stride – impressive for price point 
24 levels of whisper quiet magnetic reistnace
Adjustable stabilizers – help to keep elliptical level on uneven surfaces
Duel flywheels & belt drives – smooth elliptical motion
Bluetooth connectivity and compatibility with the MyCloudFitness app
Lacks a USB port for charging
Can only measure pulse when using the fixed set of handle bars
Free version of MyCloudFitness app is very basic, you have to pay for the pro version
Elliptical buying Tips General Info
We've already touched on the best features you should consider when choosing a quiet elliptical, but there are still many other things to think about before purchasing an elliptical. Here is a quick list of the most important.
The most important feature you should think about before buying any elliptical is its stride length. The stride length is the measurement between the toe of the front pedal and the rear pedal's heel. This measurement is so important as it will determine how naturally you will be able to stride.
Most budget ellipticals have a stride length of between 11″-13″. This length stride is suitable for users up to 5'6″ to run at pace. Taller users can use machines with shorter strides, but they will not be able to run on the machines because faster-paced workouts require longer strides.
Mid-Level elliptical typically can have stride lengths anywhere from 15″ – 20. If you're paying mid-level prices, look for an elliptical with at least an 18″ stride.
There many mid-level ellipticals with short strides 'avoid these.' Do your research first, as there are some great mid-level ellipticals out there, and a few even boast 20″ strides, such as the ProForm 520E.
Elliptical costing over $1k should all have stride lengths of 20," and more, usually high-end ellipticals are equipped with stride lengths between 20-22″. This stride length is what you'd find on commercial ellipticals in your local gym.
If more than one person will be using the elliptical at home and your heights vary significantly, then it's best to choose an elliptical with an adjustable stride length—this way, each user can set the right stride length for their needs.
Ellipticals with adjustable stride lengths are the most expensive. Still, ProForm and NordicTrack have seasonal sales on some of their high-end ellipticals, sometimes up to $500 off, so best to check there first if you need an adjustable stride.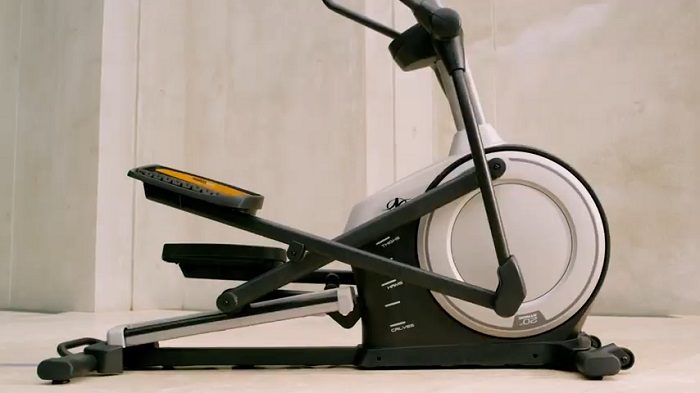 Weight/Stability
Something people often forget to consider when choosing an elliptical is the weight of the machine. And the weight is more important than you think.
The weight is a good sign of the quality of materials used in the build, and when it comes to fitness gear, especially ellipticals, the heavier, the better is always the case.
Also, heavy ellipticals are going to feel sturdy. The extra weight will help keep the elliptical planted to the floor.
You can feel the quality when you're exercising on a heavy, well-built elliptical. You want to get as close as you can to the feel of a commercial elliptical within your budget range. You dont want to end up with a cheaply built lightweight machine. This type of elliptical will not last and will feel unstable when in use.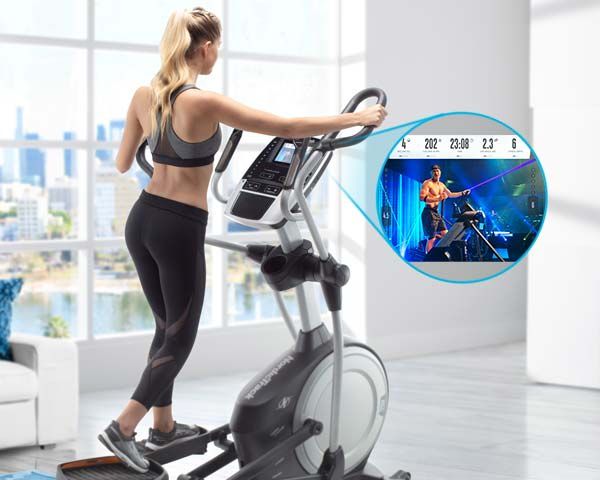 Bonus Features
This is the fun part of your machine; bonus features can include water bottle holders, tablet holders, fun workout apps, wi-fi, pre-programmed workouts, and heart rate monitoring. While some are more useful than others, remember not to go too crazy here. The more features you choose, the more money you'll need to spend.
While still not essential to your cardio fitness, work programs, and heart rate monitoring are two features I feel are worth spending a few extra bucks on.
Workouts programs are excellent for setting new challenges and keeping your interest, especially for long cardio workouts sessions. Heart rate monitoring is extremely useful for those of you who wish to exercise in their target heart rate zones.
Benefits of Ellipticals
1. Boost your stamina and cardio capacity – Aerobic exercise is a vital part of any balanced exercise routine. Aerobic exercise demands your heart and lungs to work harder; thus, in doing so, making them stronger.
Elliptical allows for an excellent aerobic workout ellipticals work both your upper and lower body, strengthening your muscles, heart and lungs continued use will help build your stamina and endurance
2. Low Impact – Elliptical reduce the stress and strain on your legs through an elliptical motion. Your feet never leave the pedals; it is like walking in mid-air. In comparison, when you walk or run on a treadmill, every step causes a jolt to your body.
3. Burn A Lot of Calories – Depending on how much you weigh. An elliptical can burn 230-350 calories in 30 minutes. Burning more calories than you consume can really help you to lose weight. If you want to give a significant boost to your calorie burn, try increasing the intensity of the workout on your elliptical.
4. Dual-action workout – One of the benefits you are going to like about elliptical machines is the combined upper and lower body workout. This is why elliptical are sometimes called cross-trainers! When we use the elliptical properly, the elliptical trainer can strengthen and tone the quadriceps, hamstrings, glutes, chest, back, triceps, and biceps.
5. Weight Bearing – Unlike an exercise bike, an elliptical provides a weight-bearing exercise. Weight-bearing exercises help slow down and prevent osteoporosis.
6. Improve Balance -We know weight-bearing exercising can help to strengthen our bones, but did you know they can also help you improve your balance. If you stand up straight on an elliptical and let go of the fixed set of handlebars, you not only target your core muscles, but you also improve your balance.
To Sum Up
In general, elliptical are quite cardio machines because of their low impact design. Even the cheapest of ellipticals will have a lower DB count than a treadmill.
But if you want to keep noise to an absolute minimum, then you'll have to spend a bit more and choose a machine such as the Schwinn 470 Elliptical. This is an excellent mid-priced machine that includes an almost silent belt drive system, a whisper-quiet magnetic resistance system, and a heavy flywheel to keep the elliptical motion smooth and quiet.
The Schwinn 470 is also packed full of useful features such as a power-adjustable incline and wireless heart rate monitoring, perfect for those who love to train their chosen heart rate zone.
If your budget is smaller, then I'd recommend NiceDays excellent CB-11 elliptical this is an impressive elliptical for the price, not just because it one of the quietest ellipticals out there, but it also provides one of the longest stride lengths in its price bracket and is compact in design so is suitable for apartments and small spaces.