There's no other company out there that has more experience at building fitness gear than Schwinn, I've reviewed and owned their exercise bikes and ellipticals, and these guys never fail to impress me; bang for your buck, they're right up there with market leaders such as Sole fitness and NordicTrack.
Their ellipticals, like the Schwinn 411, while not the most expensive on the market, and a long way off commercial grade, are a popular choice for beginners and intermediates.
They offer value for money and are great for those who want to burn off some calories and improve their overall fitness levels—offering an excellent alternative to a gym membership at a fraction of the price.
Schwinn 411 Elliptical: the only compact with a large stride.
The Schwinn 411 Elliptical is my favorite out of all their ellipticals, I've reviewed the Schwinn 430 and 470, and both are excellent machines; however, for the price, they just didn't offer as much as the compact 411. The Schwinn 411 boasts features of much higher priced ellipticals, like the wireless heart rate monitoring and 18″ stride length but manages to keep the price tag low.
For the past five years, the Schwinn 411 has been the best elliptical for around $500, and with its recent update, it's even better than before.
And in today's Schwinn 411 elliptical review, I want to take a look at all the pros and drawbacks of this capable machine. I'll also compare it with another best seller in this price bracket, the Fitness Reality E5500XL, to see how they match up.
Product dimensions – 53.8″D x 24″W x 62.5″H
Resistance Type – Magnetic
Pre-programmed workouts – 13
Why Do We Like The Schwinn 411 Elliptical?
After build quality, the stride length is the most important thing you need to consider when buying an elliptical. Why? If it's too short, your stride we be restricted, and it won't feel unnatural, and that's the last thing you want.
The Schwinn 411 boasts an 18″ stride which is impressive for the price point. Most ellipticals in this price range can only boast a 12-14 inch stride. An 18″ stride is going to accommodate users up to 6'1″, maybe 6'2″.
A friend of mine is 6'3″, and when pedaling the 411, his stride looked more like he was on a stepper, not an elliptical, he needed that extra couple of inches, but he has got a long inseam. So to be on the safe side, let's say a 6'1″ max height for this machine which is still excellent considering its costs around $500 (minimum 4'11")
Designed For Small Spaces
What's even more impressive about the 411 elliptical is the compact design. There's no other elliptical on the market with a footprint this small that has an 18″ stride. It's unheard of. Schwinn did well here, and it's really what sells this machine.
Build Quality/Stability
This is a Schwinn product, so we can expect decent quality, but it's not a high-end machine. It will always be a $500 elliptical. The mistake a lot of people make when spending this amount of money on an elliptical is expecting something that will feel like an elliptical they have used in a local gym.
The machines you use in your local gym cost over $1.5k. Some cost over $2k. They're large, heavy machines that feel rock solid when exercising.
Low-cost ellipticals like the Schwinn are lightweight. The Schwinn weighs just 100lb which isn't super light, but it's a long way off the 300lb weight of commercial ellipticals.
So yes, the Schwinn elliptical isn't made from heavy-duty materials; it's a lightweight elliptical that may move a little when pedaling fast. Stability is always an issue in this price range.
Still, Schwinn has included adjustable levelers on the front and rear stabalizer bars. These work great if you have uneven floors, as they can be independently adjusted to keep the elliptical level.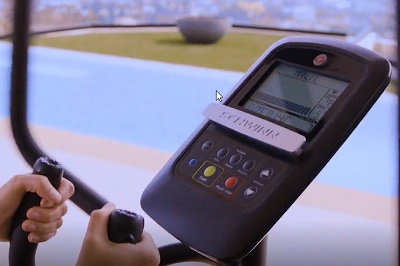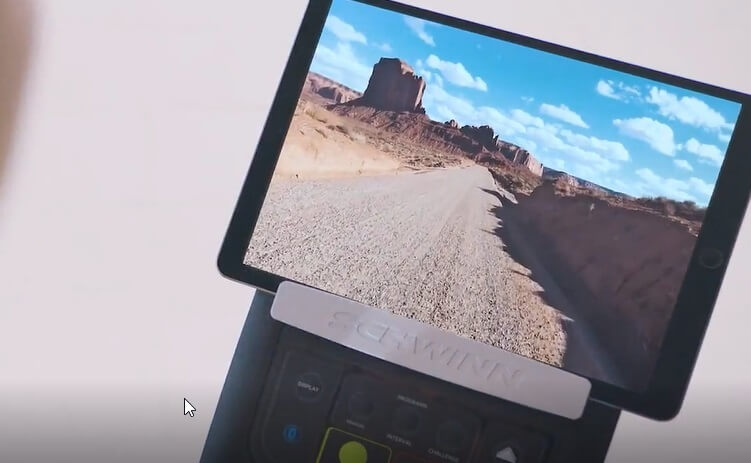 Updated Monitor With Wireless HR Monitoring & 50 Global Routes App
The new version of Schwinns 411 monitor includes both wireless heart rate monitoring and Bluetooth. These two features are usually reserved for their much higher-priced elliptical, the Schwinn 470 elliptical, so it is great to see you can take advantage of both features with the Schwinn 411.
Wireless heart rate monitoring is the next step up from handlebar pulse sensors, which the 411 also has. You will, however, need a heart rate chest strap to take advantage of the wireless heart rate feature (chest straps are sold separately)
Another feature I know many will like about this monitor is that it includes Schwinn's Explore The World app, which you can sync with your phone or tablet. The Explore The World app includes a few free global routes and some paid ones. I think there are 50 in total. With auto adjust for speed.
Still, not everyone likes using fitness apps, and you don't have to, as there are 13 built-in workout programs to keep you challenged and coming back for more.
What I liked most about this monitor is that it's all nice and easy to use. Large one-touch buttons and no annoying menus to scroll through. You can set the monitor up in a few seconds and get going.
Light Flywheel?
The weight of the flywheel is one of the factors that determines how smooth the elliptical motion will be. Heavy flywheels 25lb+ always have a smooth elliptical motion, especially when coupled with magnetic resistance. The only problem is that you'll have to spend a ton of cash for an elliptical with a heavy flywheel.
Schwinn doesn't state the weight of the 411 flywheel, however, most ellipticals in this price range use 10-18lb flywheels. The only way we could find out the flywheel weight is to take the elliptical flywheel housing part and weigh the flywheel, but it's not worth it.
Schwinn uses 12-15lb flywheels in most of their spin bikes, and as this is their low-cost elliptical, I'm pretty sure there's nothing heavier than this inside.
Premier Weighted
The one positive here is that Schwinn uses premier weighted flywheels, premier weighted flywheels are what the more expensive ellipticals use, and they really do help keep the elliptical motion smooth and not jerky.
The 411 elliptical has been around for years now, and no one has complained about the elliptical motion being jerky or stuttering, even after owning the machine for a few years. So the premier weighted flywheel must be doing the job well.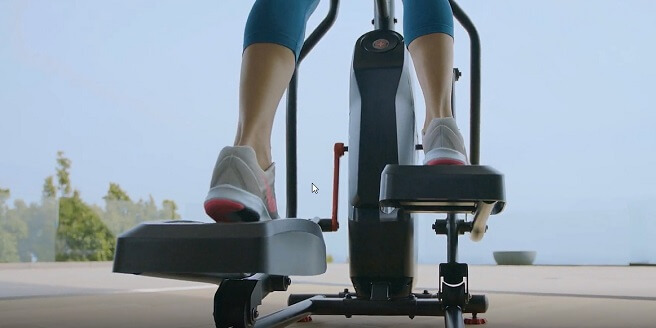 16 Levels of Whisper Quiet Magnetic Resistance
Magnetic resistance has become increasingly popular for home cardio machines; even commercial gyms are switching to magnetic and removing their old air resistance machines.
But why the changeover? The first reason is noise; if you have worked out on an exercise bike or rowing machine in your local gym which utilized a  fan to create resistance (air), I'm sure you realized just how load they are!
In contrast, magnetic machines are whisper quiet; there's no fan, just the smooth motion of magnetic resistance; for us guys exercising at home, it allows us to watch TV and listen to music without being disturbed by the sound of the machine.
There's also no need to worry about disturbing others with the sound of your exercising, which is great for people living in apartments where space is minimal.
The other reason people love magnetic resistance is that you have the choice to pedal at a slow pace on a high resistance level; this is great for strengthing and toning muscles and is something impossible with air machines.
Are 16 Levels Enough?
Are 16 levels of resistance enough for my needs? It should be! This isn't a top-end elliptical, so the higher resistance levels may not be enough for the seasoned athlete but for most people looking for low/med level workouts, the Schwinn 411 should be up to the job.
 Basic Ellipticals (beginners) – 8 levels of resistance
Mid-level elliptical (intermediate) – 16 to 32 levels of resistance
High-End Commercial – (advanced) – Anywhere from 16 – 40 levels of resistance
Static and Moving Handlebars
An essential feature of an elliptical is the second set of fixed handlebars. It was reassuring to see that unlike many ellipticals in this price bracket, Schwinn has thought to include both. Why the fixed set?
Not only does a fixed set give some much-needed stability for beginners who are not used to the elliptical motion. Fixed handlebars are also important for people who want to work on the lower body solely.
Assembly – Average Build Time: 1 Hour
It seems most of the people who have bought the Schwinn 411 elliptical are patting themselves on the back for assembling the elliptical all by themselves. Excellent news for the people who dread the assembly part but still, I'd recommend two people for the build; some parts usually need holding in place, and it's a heck of a lot quicker with someone helping you.
The manual provides very clear schematics and assembly instructions; the main body comes pre-assembled, as does the base frame. Most of the heavy stuff is done for you. All tools for the job are included, average build time 1 hour.
Decent build quality for price point – can handle 300lb
Compact design – great for people tight on space
Impressive 18″ stride – suitable for users up to 6ft
13 built-in workout programs and the choice to sync with Explore The World App for an extra 50+ global routes
Heart rate monitoring – pulse sensors + wireless heart rate capability 
16 levels of magnetic resistance – suitable for light to medium cardio
Good warranty for the price – 10-year frame, 2-year parts. and 90-day labor
Built in transport wheels
LCD isn't backlit making it hard to read in low light conditions
Fairly light elliptical might be worth buying a rubber mat to prevent any movement on polished floors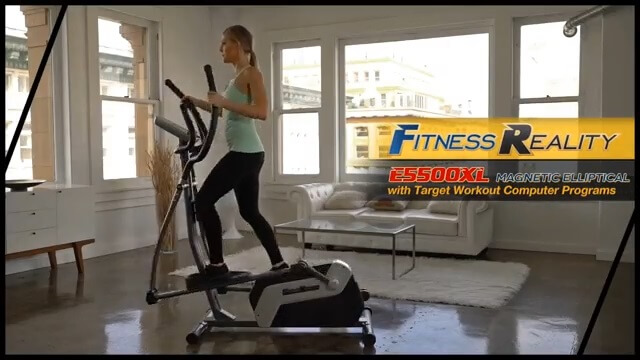 Fitness Reality E5500XL Elliptical (under $400)
Fitness Reality are a company that's always been popular because these guys are one of the only companies that manage to make good quality low-cost gear.
Their new elliptical, the E55000XL is one of the best you'll find under $400; it's not as high quality as the Schwinn, but it's not far off, and it's $150 cheaper.
The reason I like this elliptical is because of the stride length. The E5500XL boasts an 18″ stride, which is excellent considering how much it costs.
Also, the monitor is impressive for the price. You get 21 resistance levels and 24  workout programs. There's no advanced feature like wireless heart rate monitoring or an HD screen, but for a budget elliptical, it's pretty good, and like the Schwinn monitor, it's easy to use.
The Fitness Reality elliptical is a low-cost machine, so you won't find a heavy flywheel. Instead, to keep costs down, Fitness Reality uses two light flywheels, still not as good as a single heavy flywheel, but because there are two, one for each pedal, it keeps everything balanced, and this helps to keep the elliptical motion smooth, much smoother than anything else that shares the same price tag.
Overall you can't help but be impressed with the fitness Reality elliptical. It has everything you need for low impact workout at home. Yes, resistance strength isn't going to be strong enough for seasoned users, but for beginners, this is an excellent choice.
To Sum Up
What sells the Schwinn 411 Elliptical is its compact size, it has one of the smallest footprints of any elliptical I've reviewed, yet it still boasts an 18″ stride length which is impressive.
I also like the monitor as it includes a few high-end features like wireless heart rate monitoring and BlueTooth, features that are missing from the Schwinn 430 elliptical, which costs $300 more.
Even before the update, the Schwinn elliptical was unbeatable in this price range on the essentials like the build quality and stride length, and now with its updated monitor, it's even better. It's the best low-cost elliptical I've come across.
Schwinn 411 Elliptical  FAQS
Who is The Schwinn 411 Best Suited For?
The Schwinn 411 is a low-cost elliptical, therefore it has a lightweight build and light flywheel so is best suited for light to medium workouts. It's not an elliptical for seasoned athletes in training.
How Do I Adjust The Resistance Levels of The Schwinn 411 Elliptical?
It's easy to adjust the resistance level on the Schwinn 411. There are large one-touch buttons for resistance on the monitor. Press the up arrow to increase resistance and the down arrow to decrease resistance. There are 16 levels of resistance to choose from.
Does The Schwinn 411 Elliptical Fold?
No 411 elliptical doesn't fold, but on the positive side, this is a compact elliptical designed for small spaces. It has one of the smallest footprints of any elliptical. So if you are tight on space, it is one of the best choices on the market.
Where Can I Buy The Schwinn 411?
You can buy directly from the Schwinn website or other popular retailers like Amazon and Walmart.
Is The Schwinn 411 Magnetic?
Yes, all Schwinn ellipticals use whisper-quiet magnetic resistance systems. Magnetic resistance is the best choice for ellipticals because it aids a smooth elliptical motion and best of all its maintenance-free.