Schwinn 411 Elliptical Trainer
In our Schwinn 411 Elliptical Review, I'll be digging deep and taking a close look at all of the pros and cons of this capable elliptical. I'll also compare the Schwinn with its little brother the Schwinn A40, so by the end of the review; you should have a good idea if the Schwinn 411 elliptical trainer is the right choice for your fitness needs.
4 Decades of Experience
There are so many ellipticals out there to choose from it can be incredibly hard for anyone to pick out a single elliptical over everything else.
Thankfully there are a few that stand out from the crowd, and one of them is the 411 elliptical; this thing boasts way more than most in the price range.
The Schwinn elliptical is packed full of features including heart rate monitoring, Bluetooth, and more importantly, it's built by one of the most respected companies in the business with over four decades of experience in cardio equipment.
So we can be sure we have a great company behind the product, a company known for building high-quality cardio gear. Still, company rep alone isn't enough to persuade anyone to choose one elliptical over another?
We need to understand why the Schwinn is better than anything else out there in the price bracket, and we'll find out just why after a quick look at the product specs!
Product dimensions –  53.8L x 24W x 62.5H inches (137L x 61W x 159H cm)
Resistance Type – Magnetic
Frame – Heavy duty steel tubing
What Do We Like About The Schwinn 411 Elliptical?
For the past five or six years, fitness companies have been focusing on compact cardio machines, Schwinn was one of the first companies that realized not many people were after large cardio machines as they were difficult to move and store.
Most people who buy cardio machines do not have dedicated gym space. Many people live in apartments where space is tight, and storing a machine when not in use would typically mean the machine has to be stored in one of the living areas.
Schwinn listened to customer feedback, and now we see compact cardio machines everywhere, and that's a good thing, but compact and elliptical can sometimes be a bad mix.
Why? Simply because a compact design will usually mean a short stride length, yes its proved hard for most companies to design a compact machine that fits both our home and fitness needs.
But the Schwinn 411 deals with both the smaller size and stride length well, their 411 elliptical boasts an 18″ stride length which is almost unheard of for a compact elliptical, not only is the 411 one of the most compact machines you're going to find it also has one of the longest stride lengths in this price bracket.
What does a longer stride length mean? It means taller users can finally get hold of a compact, high quality elliptical that doesn't cost $1000+ for the privilege of a longer stride length.
For those of you that don't know what stride length is, it's the measurement between the toe of the front pedal to the heel of the rear pedal while the pedals are at their widest stride.
This measurement is super important as it determines how naturally you will be able to stride. And with an 18″ stride length, the Schwinn will appeal to users of up to 6ft. Ok, some taller users over 6 ft will be able to use the machine, but walking or running at a fast pace may prove uncomfortable.
An 18″ stride length in this price bracket is excellent, especially if you consider most of the Schinns 411's competition has a stride length of between 11-16 inches. To achieve this stride length with the all-important compact design is impressive stuff from the guys over at  Schwinn.
16 Levels of Magnetic Resistance
Magnetic resistance has become increasingly popular for home cardio machines; even commercial gyms are  switching to magnetic and removing their old air resistance machines.
But why the changeover, the first reason is noise, if you have worked out on an exercise bike or rowing machine in your local gym which utilized a  fan to create resistance (air), I'm sure you realized just how load they are!
In contrast, magnetic machines are whisper quiet; there's no fan just the smooth motion of magnetic resistance; for us guys exercising at home, it allows us to watch TV listen to music without being disturbed by the sound of the machine.
There's also no need to worry about disturbing others with the sound of your exercising, great for people who live in apartments where space is at a minimum.
The other reason people love magnetic resistance is that you have the choice to run/walk at a slow pace on a high resistance level, this is great for strengthing and toning muscles and something impossible with air machines.
Are 16 levels of resistance enough for my needs? It should be! This isn't a top-end elliptical, so the higher resistance levels may not be enough for the seasoned athlete but for most people looking to for low/med and intense calorie-burning workouts the Schwinn 411 should be up to the job.
 Basic Ellipticals, (beginners) – 8 levels of resistance
Mid-level elliptical (intermediate) – 16 to 32 levels fo resistance
High-End Commercial – (advanced) – Anywhere from 16 – 40 levels of resistance
Monitor/Control Console
Although the Schwinn 411 is priced considerably lower than the Schwinn 430 elliptical, the Schwinn 411's monitor is more advanced.
The new (2020) version of the Schwinns 411's monitor surprisingly includes both wireless heart rate capability and Bluetooth. These two features are usually reserved for their high end elliptical the Schwinn 470 elliptical, so it is great to see you can take advantage of both features with the way lower priced Schwinn 411!
Wireless heart rate monitoring is the next step up to pulse sensors in the handlebars, which the 411 also has. You will, however, need a heart rate chest strap to take advantage of wireless heart rate feature (chest straps are sold separately)
Bluetooth is a cool option; it allows you to sync with their mixed reality app RunSocial and race through 19 locations with 27 routes. You can join friends for a run or a race it's up to you.
Not everyone will use the RnSocial app, but it's a useful option to have, especially if you want something to take away the boredom of long workout sessions.
As we mentioned above, the Schwinn 411 monitor includes 16 levels of smooth magnetic resistance, which are easily selected via the large 5.5″ backlit LCD. And if all that wasn't enough, the monitor also includes a ton of workout programs such as hill climbs, country walk and ones that focus on heart rate HIIT and other cardio challenges.
And lastly, the monitor will track all your usual workout stats such as time, distance, calories, heart rate, and speed.
Overall an excellent monitor for the price!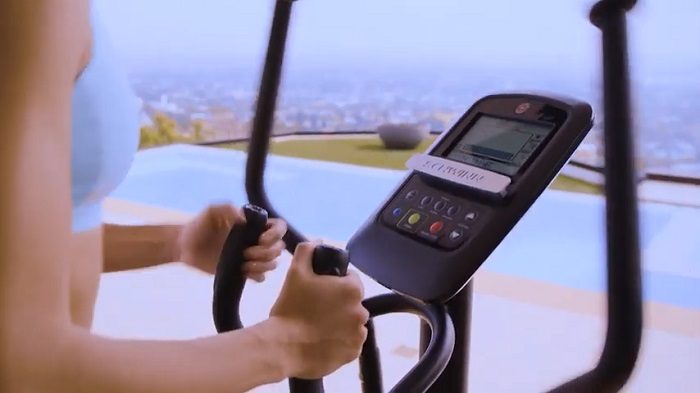 Two Sets of Handle Bars
An essential feature for an elliptical is the second set of fixed handlebars. It was reassuring to see that unlike many elliptical in this price bracket, Schwinn has thought to include both. Why the fixed set?
Not only does a fixed set give some much-needed stability for beginners who are not used to the elliptical motion. Fixed handlebars are also important for people who want to work on the lower body solely.
So if you're a beginner, the fixed set is a great feature that will help you get used to the elliptical motion while you gain the confidence to move on to the moving handlebars for a full-body workout.
Stability
For an elliptical costing just under 500 bucks, this thing is built well. It's solid and stable, and with a weight of 119lb which is quite heavy for its price bracket.
The extra weight is great for adding some much-needed stability to the machine plus the heavier the machine in general means the quality of the materials used for build are high.
And let's not forget the 411 has four adjustable stabilizing feet, adjustable feet stabilizers are excellent for uneven floors you can adjust each foot to avoid any wobble.
Assembly
It seems most of the people who have bought the Schwinn 411 elliptical are patting themselves on the back for assembling the elliptical all by themselves. Excellent news for the people who dread the assembly part but still I'd recommend two people for the build, some parts usually need holding in place and its a heck of a lot quicker with someone helping you.
The manual provides very clear schematics and assembly instructions; the main body comes pre-assembled as does the base frame. Most of the heavy stuff is done for you. All tools for the job are included, average build time 1 hour.
High-quality build – solid ,stable
16 levels of smooth whisper quiet magnetic resistance
13 built in workout programs + Bluetooth to sync with trainer app
Fixed and moving handle bars 
Excellent warranty 10 year frame, 2 year parts
Heart rate monitoring – pulse sensors + wireless heart rate capability 
Wide stride length for a compact elliptical 
Integrated transport wheels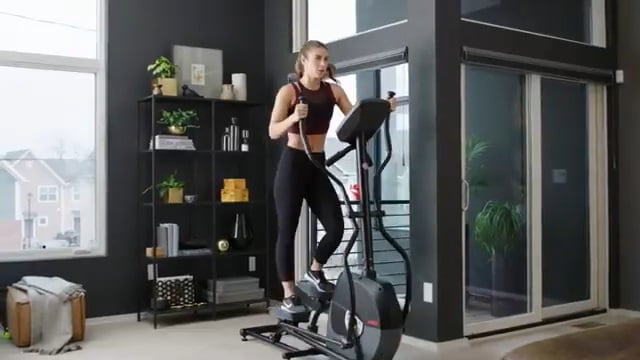 Schwinn A40 Elliptical Machine
While many people may think the Schwinn 411 is Schwinn's entry-level elliptical, what most people don't realize is Schwinns already have an excellent entry-level elliptical on the market the Schwinn A40.
When the A40 first came out a couple of years back, it lacked a few essential features such as a fixed set of handlebars and large LCD; however, the most recent release of this already impressive machine includes the much-missed second set of handlebars and the new and improved larger LCD screen.
So how does the A40 differ to the Schwinn 411, first off it costs 100 dollars less, the A40 can only boast eight resistance levels and has five fewer workout programs with seven in total.
There's no Bluetooth option either. But what you do get is another awesome compact elliptical with a decent stride length of 17.5″ the same excellent build quality and a reasonably high weight capacity of 275lb.
Sometimes simple can be best, especially if this is your first elliptical, not all of us need options such as Bluetooth and tons of workouts programs, just a simple well built elliptical with a medium stride length should be enough.
If you think the Schwinn A40 is better suited to your fitness needs, you can check out our full review or view it on Amazon from our links below.
To Sum Up
I hope our Schwinn 411 Compact Elliptical Review has gone some way in helping you choose the right machine for your home cardio needs.
The 411 is undoubtedly an impressive machine for the price point. I've reviewed a ton of ellipticals and must have researched over 100 in the past few weeks, and there's nothing else out there in the under $500 bracket that comes close to the Schwinn 411 both in features and build quality.
A compact, solid elliptical that offers all you need for a low impact workout at home.