Xterra Fitness has been around for over a decade, and in the last five years, these guys have really started to up their game. Specializing in low-cost cardio gear for home use, they're starting to challenge and overtake the likes of Schwinn and Sunny Health & Fitness in this price range.
If you want quality and are on a budget, Xterra Fitness should be one of the companies you check out first. The Xterra FS2.5 Elliptical is a low-cost rear-drive elliptical. It's well made, has one of the heaviest flywheels I've come across for the price point, and it's whisper quiet thanks to its magnetic resistance system.
Low-Cost Ellipticals Always Have Drawbacks.
Still, no matter the company, there'll always be a few drawbacks at this price point. The main one is the stride length, and you won't find any high-end features like HD screens or power-adjustable inclines. The best you can hope for is a well-built fuss-free machine that will not break down in a few months. And that's what you get with e FS2.5 from Xterra.
In today's review, I want to take a close look at all the Pros and drawbacks of the Xterra Elliptical. At the end of the review, I want to compare the Xterra FS2.5 with Fitness Reality's new budget elliptical, the E5500XL, which I reviewed the other day; it's surprisingly good for the price, so it will be interesting to see how these two match up.
First, a quick look at the product's specs!
Product dimensions – 51″D x 24″W x 63″H
Resistance Type – Magnetic
Pre-programmed workouts – 24
Why Do We Like The Xterra FS2.5 Elliptical?
The best feature of this elliptical is its 22lb flywheel, this is a heavy flywheel for an elliptical costing under $500, especially when you consider ellipticals costing well over $1.5k from NordicTrack and Sole Fitness only boost flywheels weights of 25lb; you're not far off some of the top ellipticals on the market.
A heavy flywheel is important because it keeps the elliptical motion smooth. Many ellipticals in this price range come with lightweight flywheels, making the elliptical motion jerky and unpleasant.
Also, a heavy flywheel will ensure resistance strength in the upper levels is strong. The higher the weight of the flywheel, the more resistance you will encounter when you accelerate.
If you buy an elliptical with a light 10lb flywheel, it doesn't take much effort to reach the top speed, even on a high resistance level. Going for a heavy flywheel will ensure the upper resistance levels aren't easily reached, meaning you won't outgrow this elliptical too soon.
Easy To Use
Something else you'll like about this elliptical is how easy it is to use. There's nothing complicated about it.
Everything is fuss-free. All you need can accessed with a single touch of a button. And this is what I've always liked about low-cost ellipticals you don't have to mess around with subscription apps and monitors with too many features. You can get on the elliptical, put some music on, and get pedaling.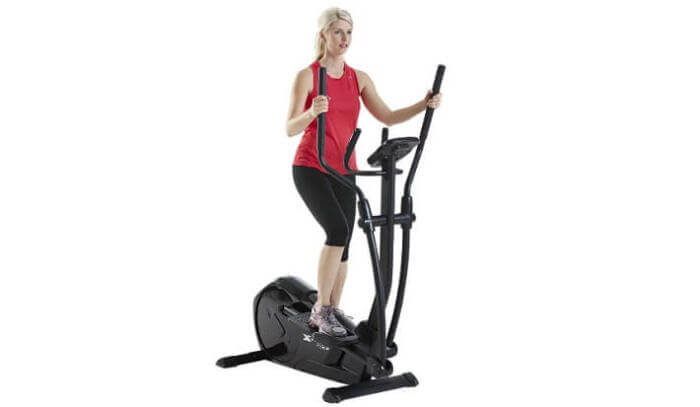 14″ Stride Will Limit Max User Height To 5'10"
The biggest drawback of going low-cost is a shorter stride length. Stride length will always be one of the most important features when choosing your elliptical. You don't want to be restricted or feel uncomfortable on your elliptical. And if you're over 5'10", the stride length on the Xterra elliptical will be too short.
Yes, taller users will still be able to use the elliptical, but your stride won't feel natural and will be restricted, which can cause joint problems. To get the most out of this elliptical, you need to be 5'10" or under.
Short stride lengths are something you'll find on most cheap ellipticals, not just Xterra FS2.5.
Light Weight Ellipticals Can Have Stability Issues
The weight of an elliptical is important, yes it's nice to own a light elliptical because they're easier to move, but what you really want is something heavy as that extra weight keeps the elliptical planted to the floor, which means it won't move around much while exercising.
The Xterra isn't super light; it weighs 103lb which is about right for the price point. Still, if you compare this to a commercial or high-end machine that weighs over 300lb, you'll certainly notice the difference.
You can always expect some movent with a lightweight elliptical, but still, because this is a rear-drive elliptical, it's not going to be as unstable as a lightweight front-drive machine.
Rear Drive Ellipticals Feel More Balanced
Rear-drive ellipticals are slightly longer, and the flywheel is at the back of the machine, so the elliptical feels more balanced, also because it's a rear-drive elliptical, it has a flatter elliptical movement and a lower step on height, which means the center of gravity will be lower too; a lower center of gravity will always aid stability.
Another handy feature that Xterra has included are the adjustable levelers in the rear stabilizer bars. These are a useful feature for those with uneven floors.
So although you haven't got much weight to help with stability, the rear drive design will help keep things stable.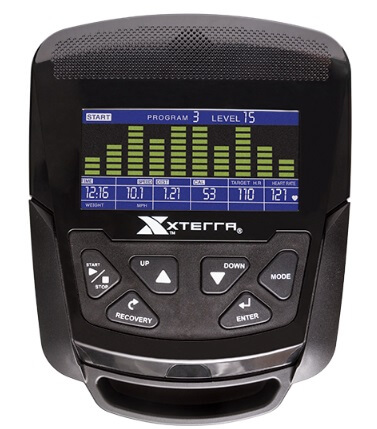 Decent Monitor With 24 Workout Programs
You can't expect too much in this price range when it comes to the monitor, but even though it's pretty basic, I like it. You have large quick-touch buttons for your workout programs and resistance levels. It's easy to use, and you get a 5″ color LCD that displays all your workout stats.
The best feature of the monitor are the workout programs; you won't have to subscribe to any fitness apps instead, you have 24 built-in programs to keep you challenged and coming back for more.
Other features include a tablet holder and speakers. And, of course, it tracks all the essential workout data such as time, speed, distance, calories, target heart rate, and heart rate.
Quiet Elliptical – Magnetic Resistance
I remember when magnetic resistance was only featured on high-end ellipticals. Thankfully in the last ten years or so, it slowly filtered its way down to the low-cost machines, which is excellent news as it's the perfect resistance system for ellipticals. Why? Because it's a frictionless resistance system, not only does a frictionless resistance system help keep the elliptical motion smooth, but it's also whisper quiet in operation, which means you won't disturb anyone with the sound of your workouts.
Maintenance Free
Another big plus of magnetic resistance systems is that they are virtually maintenance-free, as the flywheel doesn't make any contact with the magnets of the resistance system. There is no wear or tear, which means no maintenance.
The Xterra FS2.5 elliptical comes with a whopping 24 levels of resistance, level 1 being the weakest and level 24 the strongest.
Still, we must remember this is a low-cost machine, so even in the highest resistance setting, it won't be strong enough for seasoned athletes.
The Xterra Elliptical is an elliptical for people who want to lose weight and increase their overall fitness levels. It's not an elliptical for serious athletes. You'll need to spend three times the cost of this machine if you want something for serious training.
Static and Moving Handle Bars
Most ellipticals come with Two sets of handlebars, one static, and one moving. I like to use the static pair of handlebars because they allow you to really concentrate on your lower body. You can set the resistance to a high level and work the glutes and quads hard.
But there's also another use for the static handles; they're great for beginners as they allow the beginner to get used to the elliptical motion without having to use the moving handles. If this is your first elliptical, it's best to use the static handles for a few days to get used to the elliptical, and then you can move on to the moving handles for a full-body workout.
The only drawback is that the pulse sensors can only be used with the static pair of handles. There's no way to monitor your heart rate while using the moving pair of handles.
Average 2-Hour Assembly
Ellipticals are a little more tricky to assemble than treadmills and bikes because there are more moving parts. Still, most of the complicated stuff has already been assembled for you, like the drive and resistance systems. You'll need to attach the base stabilizer bars, the main upright bars, the two moving handles, the static handles, the monitor, and the pedals.
Most people put this elliptical together in under 2 hours.
It's not a heavy elliptical, so you'll probably be able to put it together yourself. Still, it's always easier to have an extra pair of hands to hold parts in place.
For maintenance: Because we have magnetic resistance, maintenance is low with this elliptical. However, it's best to keep the machine clean and check for loose bolts every few months. Ellipticals are prone to developing squeaks over time; even expensive ellipticals develop squeaks, so it's best to keep the joints lubricated.
Sturdy machine for the price can handle 300lb
Impressive 22lb flywheel – smooth elliptical motion
24 levels of  magnetic resistance
24 built-in workout programs
Easy to use, fuss-free design
Fixed and mobile handlebars
Quiet elliptical – can watch TV or listen to music while you exercise without being disturbed by the sound of the machine
Built-in transport wheels, speakers, adjustable levelers, and audio jack
Can be used in forward and reverse
Short stride length limits max height to 5'10"
You need to buy your own heart rate chest strap to use the wireless heart rate monitoring feature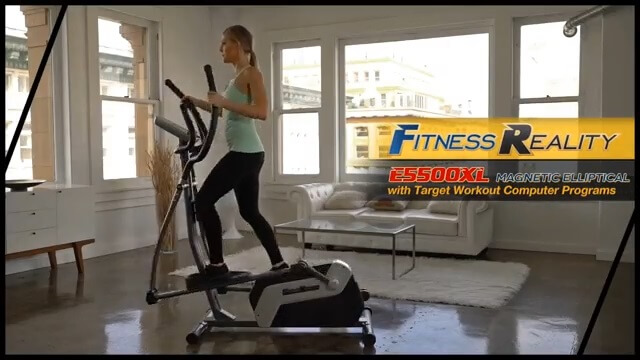 Fitness Reality E5500 Elliptical
I've always liked Fitness Reality. These guys make some great low-cost gym gear. I've reviewed their power racks and weight benches and have always been impressed by the quality for the price point, and their fitness gear is equally impressive.
Okay, we're still a long way off gym quality with the E5500XL, but for just under $400, their new elliptical is unbeatable.
There's no heavy Flywheel with this elliptical. Instead, you get two light flywheels, one for each pedal; using two flywheels allows for more balance. Thus, it helps keep the elliptical motion smooth.
However, the dual flywheels aren't this elliptical's best feature; the best feature is its stride length. This thing boasts an 18″ stride which is almost unheard of in this price bracket. 18″ stride gives this elliptical a max user height of around 6ft.
The monitor, just like the Xterra FS2.5, is pretty basic, there's no nice HD screen or anything like that, but you do get 21 workout programs and 24 resistance levels, so it's very similar to the Xterra monitor.
Overall this is another well-made real drive elliptical with a smooth motion, it is affordable and a great first choice for beginners. The 18″ side length is what sells this low-cost elliptical for me.
To Sum Up
A mistake many people make when spending under $500 on an elliptical is expecting too much. In this price bracket, you can't expect to find an elliptical that feels anything like something you'd use in your local gym.
These machines are for beginners, they are meant to be used a few times a week to help you lose weight and increase your fitness levels, and that is about it.
Plus it's tough to find a decent low-cost elliptical most are very cheaply made and break down within a few months. The Xterra elliptical is somewhat different. It's made by a company specializing in low-cost fitness gear, so they have a ton of experience. Yes, it's not a high-end machine, but it is a machine that can provide a full body low-impact workout at home for a fraction of the price of the high-end machines.
The Xterra FS2.5 even has a heavy flywheel which is great to see in this price range, and it means the elliptical motion will be much smoother than most of its competitors. Bang for your buck; the Xterra FS2.5 elliptical is a winner.