I've always liked the Fitness Reality guys because they deliver a lot of bang for your buck. I reviewed their low-cost rower a few months ago, and it was unbeatable on features and quality; it's now my top choice for a magnetic rowing machine under $500. And their low-cost elliptical machine, the Fitness Reality E5500XL, is equally impressive for the price point.
Well Made Low-Cost Choice For Beginners.
Okay, you won't find heavy-duty builds and advanced monitors in this price range; you need to spend at least twice the cost of the E5500XL to find that type of elliptical. But for beginners looking for a well-made machine capable of providing light to medium workouts, something like the Fitness Reality elliptical is the perfect choice.
It's certainly an elliptical I feel deserves a closer look, and today I want to take a close look at everything it offers, including any drawbacks, as there are a few. At the end of the review, I'll compare it with another best seller in this price bracket, the Schwinn 411, to see how it matches up.
Product dimensions – 57.5″D x 24″W x 66″H
Resistance Type – Magnetic
Pre-programmed workouts – 21
Why Do We Like The Fitness Reality E5500XL Elliptical?
This is a cheap elliptical, so you won't find a heavy flywheel which is a shame as heavy flywheels are important for a smooth elliptical motion, and without one, they usually suffer from a somewhat jerky sort of stuttering motion. But this doesn't seem to be the the case with the E5500XL elliptical from Fitness Reality?
To keep the price down, they couldn't use a heavy flywheel but instead chose to use a dual flywheel system. This basically means you have a flywheel for each pedal; this keeps the elliptical motion balanced and, therefore, smoother than a single lightweight flywheel.
A dual flywheel system isn't as effective as the heavy 30lb flywheels you'll find on high-end ellipticals, but it's much better than what most of the low-cost ellipticals can offer. And users have even praised how smooth this elliptical feels while pedaling.
Impressive 18″ Stride
Something else I liked about this elliptical is the stride length. The elliptical's stride length is one of the most important features you should consider, as it will determine who can use the machine and how comfortable you will feel.
Most ellipticals in the $400 price range suffer from short stride lengths, some as short as 14″. The Fitness Reality boasts an 18″ stride which means users up to 6'1″ can comfortably use this elliptical without restricting their stride.
And if you're wondering, the minimum height for an 18″ stride is 5ft.
Is This Elliptical Too Light?
High-quality parts are expensive, and they weigh more. This is why heavy-duty ellipticals are rock solid, and you won't feel any wobble when exercising.
The Fitness Reality is a lightweight elliptical, it costs $400, and as I mentioned in the intro you can't expect heavy-duty in this price range. And this sadly means you are going to have a few stability issues.
There's going to be some wobble, nothing too off-putting, but don't go expecting gym quality here. It will not feel like something you've used in your local gym. Those machines weigh around 300lb and cost over $2k. The Fitness Reality elliptical weighs just 93lb!
Thankfully Fitness Reality has used nice wide stabilizing feet on the rear and front of the elliptical. This will help with stability.
And there is one upside to owning a light elliptical; they are much easier to move and store than heavy high-end machines.
Monitor With Quick Touch Buttons
I feel the monitor is where this elliptical shines. It's got everything you want from a monitor in this price range, and with 21 pre-set workout programs, it's one of the most impressive I've come across.
You also have quick touch buttons, which allow you to select everything with a single touch of a button, and there are no annoying menus to scroll through. And you have 24 resistance levels, built-in pulse sensors, a bottle holder, and a tablet holder.
There are no advanced features in this price range on any elliptical, so the best you can hope for is a ton of workout programs and resistance levels, which is where Fitness Reality has delivered. There are enough resistance levels to challenge most users and enough pre-programmed workouts to keep you coming back for more.
Plus, you have a tablet holder so you can watch Netflix or download a fitness app.
Magnetic Resistance
Is it best to always choose an elliptical with magnetic resistance? Why? It's much quieter than the noisy fans of the air resistance machines, and it's smoother.
You want your elliptical motion to be as smooth as possible. And magnetic resistance has always been the best choice for smooth elliptical motions.
The strength of resistance really depends on the weight of the flywheel. Because we haven't got a heavy flywheel with this elliptical, the strength of resistance, even on the upper levels, won't be strong enough for serious athletes in training.
This is an elliptical for beginners and intermediates who want to lose weight and increase their fitness levels. It's not for serious cardio.
Maintenance Free
Another big plus of magnetic resistance is that it's maintenance-free. It's a frictionless resistance system, so there's much less wear and tear. A magnetic resistance system should last years of heavy use.
One Hour Assembly
There's nothing too complicated about the Fitness Reality E5500XL assembly. All the complex stuff, like the main body with duel flywheels and belts, comes pre-assembled. This leaves you with a few minor parts to assemble. You'll need to attach the base, the console post and console, and the two handlebars.
Most people got this elliptical together in under an hour. A detailed manual with step-by-step instructions is included, as are all the tools for the job.
For maintenance: This is a magnetic elliptical, so there isn't much maintenance. Still, it's a good idea to keep the elliptical clean and every few months, make sure all the bolts are tight. Also, joint lubrication is something you'll need to do when the elliptical develops any squeaks. Nearly all ellipticals develop a squeak over time.
Impressive 18″ stride suitable for users up to 6'1″
Narrow Q factor eliminates stress on the knees
Wide fronts and rear stabilizers give this low cost elliptical some extra stability
Duel flywheels provide a smooth elliptical motion for price point
Decent monitor with 21 workout programs and 24 resistance levels
Magnetic resistance and belt drive system, makes for a very quiet elliptical. Can watch TV or listen to music without being disturbed by the machine
Built-in transport wheels, bottle and tablet holders
Not suitable for serious cardio
If you place a tablet on the tablet holder it will cover the LCD of the elliptical
Can only monitor pulse when using the static pair of hanldes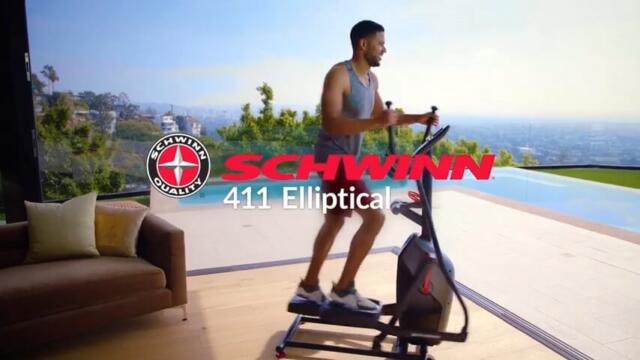 Schwinn 411 Elliptical
Schwinn has more experience building cardio gear for our home gyms than any other company. Schwinn has been in business for over 100 years, and their ellipticals are some of the best and most respected on the market.
The Schwinn 411 elliptical is one of their low-cost ellipticals. Still, it costs $100 or so more than the Fitness Reality elliptical, so it's slightly more expensive.
What sells the Schwinn elliptical is its compact size, it's a small elliptical, yet it boasts an impressive 18″ stride. There's no other elliptical with a small footprint with such a large stride length. So if you're tight on space, this is the elliptical to go for.
Also, the build quality is there because this is a Schwinn product. It weighs 120lb, so it's nearly 30lb heavier than the Fitness Reality Elliptical, and you'll notice that extra weight; it will feel more sturdy.
You don't have quite as many workout programs with  411 elliptical, which has just 16, compared to the Fitness reality, which has 21, but with the Schwinn, you have BlueTooth and access to their free fitness apps, with an extra 16 workouts programs that include globals routes, etc.
Also, with the Schwinn 411, you get wireless heart rate monitoring which is a much more accurate way to monitor heart rate than using the handlebar pulse sensors.
So yes, for an extra $100, you get BlueTooth, access to a fitness app, and wireless heart rate monitoring which is excellent news if you need those features, but overall when we look at the essentials, it's not much more impressive than the Fitness Reality E5500XL, it's just slightly heavier.
However, if you love the idea of a compact elliptical that still has the 18″ stride, it's a worthwhile buy for those tight on space.
To Sum Up
For $400, I don't think you can go wrong with the Fitness Reality E5500XL Elliptical. As for the price point, it has everything you need from a home elliptical. The stride length is about as wide as you'll find on any elliptical in this price range, and the monitor includes more workout programs and resistance levels than anything else I've come across for $400.
Fitness Reality always offer just that little bit more than the competition, and they have done it again with their low-cost elliptical, the E5500XL. If you're looking for a well-made elliptical for light to medium cardio and you're on a budget, you won't find much better than this.