There's one solid reason to like Horizon Fitness, and that's their customer service, heck there's a ton of feature-packed ellipticals out there right now, NordicTrack, ProForm but you'll come across numerous complaints about their machines durability and their incompetent customer service.
High Quality – Long Warranty
Horizon Fitness shine when it comes to both build quality and customer service, some of their machines lack a few features of the similarly priced ellipticals, but if you are after a machine that will last years, and you want the confidence that if something should go wrong, it will get fixed fast with no questions asked, you'll find Horizon are a safe bet.
Today we're going to take a close look at the front-drive Horizon Fitness EX 59 Elliptical, an elliptical with the best warranty of any elliptical in this price bracket, an impressive stride length of 18″, and a compact build thanks to its front-drive design.
Before we get on the review, let's take a quick look at the product specs!
Product dimensions –  68″ x 25″ x 64″ (L x W x H)
Resistance Type – Magnetic
Frame – Heavy duty steel tubing
Why Do We Like The Horizon Fitness EX-59 Elliptical?
We need to remember this is Horizon's entry-level elliptical, entry-level ellipticals typically weigh around 80-100lb; this thing weighs 160lb.
160lb is a great weight for an elliptical trainer; not only does the extra weight help with stability its also a telling sign the machine is made from quality materials.
And that's what stands out most about the Entry Level EX-59 it has been built to last. Yes, it's not a commercially rated elliptical, but when you are exercising on it, it's not going to feel like some cheaply made unstable machine like most budget ellipticals.
Many users have commented on how stable this machine feels when exercising, and one user even mentioned it felt similar to training on the ones he used in his local gym.
Stride Length
The most important feature we need to look out for when choosing an elliptical is the machine's stride length, and this is especially important when we are considering low priced ellipticals such as the EX-59.
Low priced ellipticals usually provide shorter stride lengths, some as short as 12″. Thankfully, we see a reasonably wide stride length with the Horizon EX-59 Elliptical of 18″ it's not as wide as what you would find at your local gym and health clubs. Still, for an entry-level machine, it's impressive.
So why is stride length so important? The length of stride will determine how naturally you will be able to stride. If you buy a machine and the stride length is too short for your height, you'll end up with a machine you can not run freely on, and the elliptical will not be doing the job it should.
Will I be able to run freely with an 18″ stride? Yes, if you are no taller than 6ft. Generally, the recommended max height for an 18″ stride is 6ft.
Older users and walkers who are not interested in using the elliptical for fast-paced exercise could have a higher max height as walking on the elliptical requires a shorter stride.
10 Levels of Magnetic Resistance
Magnetic resistance has become the go-to resistance type for all home gym cardio machines. The reason why it's so popular is that magnetic resistance is whisper-quiet in operation; you can watch TV listen to your favorite music all without being disturbed by the sound of the machine.
The EX-59 boasts ten levels of magnetic resistance; while this isn't a huge amount, there are enough levels of resistance to suit fitness levels from beginners to intermediates. With a 14.4lb flywheel, you can be sure the resistance will feel smooth and consistent even in the upper levels.
Full-Body Workout
One of the biggest selling points of an elliptical is the two sets of handlebars. The fixed set is especially useful for beginners or anyone who just wants to work the lower body, the fixed set of handlebars give the beginner that extra bit of security as you get used to the elliptical motion.
The moving set of handles are for when you are ready for a full-body workout; you'll burn more calories and tone and strengthen both your lower and upper body muscles.
Slightly disappointing is that the moving set of handlebars does not include the pulse sensors. You'll find the pulse sensors on the fixed set, so sadly, you will not be able to monitor your heart rate when performing a full-body workout using the moving set of handles.
Monitor/Control Console
When we look at monitors in this price bracket, we expect a basic one, and that's what you get here it's basic yes, but its user friendly, and has all you need at a touch of a button for your workout.
Ten resistance levels can be chosen from the one-touch buttons.
Ten workout programs can be selected from one-touch buttons.
The monitor also tracks,  

Calorie Goal, Constant Watts, pulse, and distance.
And let's not forget the monitor is BlueTooth enabled you can sync your device to the integrated speakers to stream media with crisp, vibrant stereo sound.
Plus, it has a tablet holder so you can download your favorite fitness apps on your tablet or phone.
What stands out most about this monitor is its workout programs, I'm sure you'll agree that long workout sessions can get boring? The Ex-59 includes ten fun and challenging workouts –  Manual, Random, Reverse Train, Rolling Hills, Weight loss, Weight Loss Plus.
Workout programs are great for keeping away the boredom of long cardio sessions, and best of all, they challenge you and help you burn more calories and reach your fitness goals faster.
Excellent Warranty
As we mentioned earlier, the Horizon ellipticals come with one of the most comprehensive warranties out there for cardio gear. The EX-59 boasts a 2 year labor and part warranty plus a lifetime frame warranty.
2 yr parts and labor may not sound that great to you, but I've reviewed ellipticals costing $2k plus, and their warranties aren't half as good as the one that comes with this machine.
This is the best warranty by a long way in this price bracket, and thankfully their customer service is just as good. It's always nice to see a company that stands behind their products.
Easy to use monitor with BlueTooth
10 whisper quiet resistance levels + 10 workout programs
Space-saving front drive design
Full body low impact workout
Lacks an incline feature for extra calorie burn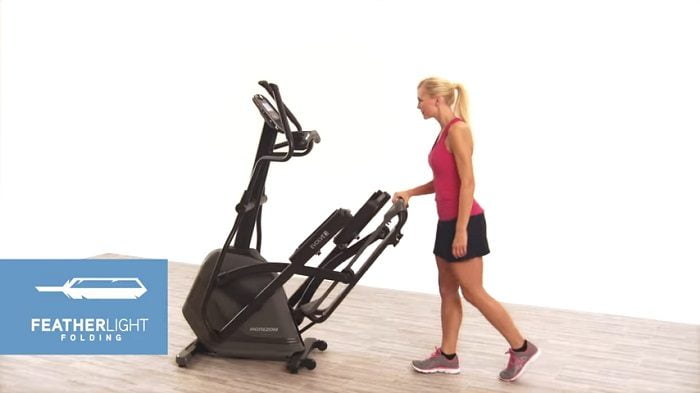 Horizon Evolve 3 Elliptical
For comparison, I thought we'd take a quick look at one of Horizon's folding ellipticals, the Evolve 3 elliptical their next up in cost, and its a big jump considering this thing costs twice as much as the EX-59.
So why is it so expensive, I can only think it's because of the folding feature, I know many people love this machine because it folds so easily. As light as a feather, so the manufacturers say.
However the folding  feature alone doesn't warrant such as high price tag, yes this machine has a wider stride length 20″ compared to the 18″ of the EX-59, and yes, it has three times the workout programs still it seems expensive for an elliptical that doesn't even include wireless heart rate monitoring, something I'd always expect to see on any elliptical costing $1k+
The 20″ stride is excellent; this is a stride length comparable to that of commercial ellipticals, and just like the EX-59, the impressive warranty is included. I'm sure people who have very little space to house a cardio machine will benefit from the fold for storage feature, but at over $1k, it's too much.
No incline, no wireless heart rate monitoring, and boasts little more in the way of features than its little brother the EX-59.
Probably the best built folding elliptical on the market but doesn't offer enough for the hefty price tag.
To Sum Up
The Horizon Fitness EX-59  Elliptical is an excellent choice for anyone looking to increase their fitness levels at home.
It's easy to understand why the EX-59 is Horizons' best seller, great build quality, impressive stride length, and a long warranty, all at an affordable price.
I'll admit I do feel some of their ellipticals are slightly overpriced, including the Evolve 3 and 5 ellipticals. Still, the EX-59 is, thankfully, priced competitively, and if you factor in the durability of their machines, you might say the EX-59 is available at a great price for around the $800 mark.
It was refreshing to come across a ton of positive reviews for the Horizon brand and its ellipticals, it's not often ellipticals score 4.5/5 and 5/ 5  most of these high marks are down to the excellent build quality of their machines and of course their great customer service.