Costing slightly more than a budget elliptical, the Horzion Ex-59 boasts a few impressive features for the price point that you won't find on budget ellipticals under $500.
For starters, the EX-59 elliptical is pretty heavy, weighing 150lb, twice the weight of most budget ellipticals which is great news, also the flywheel weighs over 10lb which is important as it helps to keep everything smooth, and you get a fairly large stride length.
Excellent Choice For a First Elliptical
So yes, it's worth paying a little more than budget because rather than getting hold of a cheap unstable machine that offers little resistance, you can actually have a pretty good elliptical with the EX-59. Still a long way off anything you might use in your local gym, but for beginners at home, the EX-59 is an excellent choice as a first elliptical. And because you have a heavier flywheel than the budget machines, the resistance in the upper levels will be strong, so you won't outgrow this elliptical any time soon.
The Horizon EX-59 elliptical has been a favorite of mine for years. It's one of only two ellipticals in this price range that can deliver on build quality and all the essentials, the other elliptical is the Schwinn 411, and I'll be comparing both at the end of the review.
First, I want to talk about everything the EX-59 has to offer, including any drawbacks.
Product dimensions – 74″ x 25″ x 64.5″
Resistance Type – Magnetic
Pre-programmed workouts – 5
Why Do We Like The Horizon EX-59 Elliptical?
Horizon Fitness have been around for years, and these guys are known for the quality of their cardio gear; they're one of those companies that go the extra mile to ensure their equipment stands out above the rest on the market, and its the build quality that stands out most about Horizons EX-59 – it's a heavy, sturdy machine for the price.
This thing weighs 145lb assembled which is impressive for a $700 machine.
The reason 145lb is impressive is that it's the weight of an elliptical that gives you a good clue to the overall quality of the parts used in the build. The heavier, the better. Also, that extra weight will help keep things feeling nice and stable.
To compare it with a mid-level elliptical like the Schwinn 470 that weighs 160lb but costs $1100, you can see that you really aren't that far from the quality and feel of your average mid-level elliptical.
Easy To Use
Something else you'll love about this elliptical is how easy it is to use. There's nothing complicated to work out. You have the quick touch buttons, so you can access everything with a single touch of a button, and there are no annoying menus to scroll through, you can just jump on this elliptical and get exercising.
And best of all, assembly only takes 30 minutes, it's not a 3 hours job like most ellipticals.
Impressive Stride Length – Suitable For Users Up To 6ft
One of the most important features you need to consider when choosing an elliptical is the machine's stride length, and this is especially important when we are looking at lower-priced ellipticals such as the EX-59.
Some ellipticals in this price range have stride lengths as short as 12″. Thankfully, we see a reasonably long stride length with the Horizon EX-59 Elliptical of 18″ it's not as wide as what you would find at your local gym and health clubs. Still, for an elliptical costing under $700 it's impressive.
So why is stride length so important? The length of stride will determine how naturally you will be able to stride. If you buy a machine and the stride length is too short for your height, you'll end up with a machine you can not run freely on, and the elliptical will not be doing the job it should.
Will I be able to run freely with an 18″ stride? Yes, if you are no taller than 6ft. Generally, the recommended max height for an 18″ stride is 6ft.
Older users and walkers who are not interested in using the elliptical for fast-paced exercise could have a higher max height as walking on the elliptical requires a shorter stride.
10 Levels of Magnetic Resistance
Magnetic resistance has become the go-to resistance type for all home gym cardio machines. The reason why it's so popular is that magnetic resistance is whisper-quiet in operation; you can watch TV listen to your favorite music all without being disturbed by the sound of the machine.
The EX-59 boasts ten levels of magnetic resistance; while this isn't a huge amount, there are enough levels of resistance to suit fitness levels from beginners to intermediates. With a 14.4lb flywheel, you can be sure the resistance will feel smooth and consistent even in the upper levels.
Full-Body Workout
One of the biggest selling points of an elliptical is the two sets of handlebars. The fixed set is especially useful for beginners or anyone who just wants to work the lower body, the fixed set of handlebars give the beginner that extra bit of security as you get used to the elliptical motion.
The moving set of handles are for when you are ready for a full-body workout; you'll burn more calories and tone and strengthen both your lower and upper body muscles.
Slightly disappointing is that the moving set of handlebars does not include the pulse sensors. You'll find the pulse sensors on the fixed set, so sadly, you will not be able to monitor your heart rate when performing a full-body workout using the moving set of handles.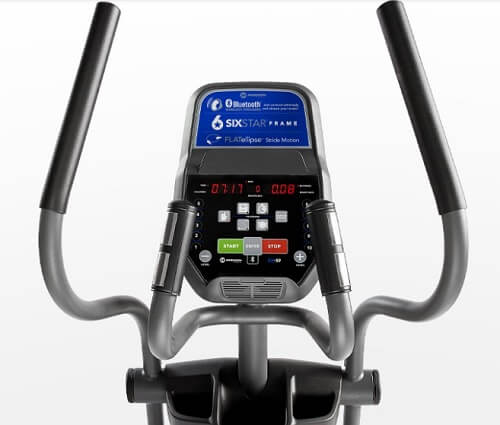 Monitor/Control Console
When we look at monitors in this price bracket, we expect a basic one, and that's what you get here it's basic yes, but its user friendly, and has all you need at a touch of a button for your workout.
Ten resistance levels can be chosen from the one-touch buttons.
Ten workout programs can be selected from one-touch buttons.
The monitor also tracks,  

Calorie Goal, Constant Watts, pulse, and distance.
And let's not forget the monitor is BlueTooth enabled you can sync your device to the integrated speakers to stream media with crisp, vibrant stereo sound.
Plus, it has a tablet holder so you can download your favorite fitness apps on your tablet or phone.
What stands out most about this monitor is its workout programs, I'm sure you'll agree that long workout sessions can get boring? The Ex-59 includes ten fun and challenging workouts –  Manual, Random, Reverse Train, Rolling Hills, Weight loss, Weight Loss Plus.
Workout programs are great for keeping away the boredom of long cardio sessions, and best of all, they challenge you and help you burn more calories and reach your fitness goals faster.
How Smooth Does The EX-59 Feel?
Sadly you can't expect silky smooth elliptical motions in this price range. This isn't a $3k machine like the ones in your local gym with a 35lb flywheel.
The weight of the flwyheel is the main factor that determines how smooth an elliptical feels. You have a 14lb flywheel with this elliptical, which is good for the price point and will keep things reasonably smooth. But it won't have that premium feel you get from a commercial machine.
Also, other factors play a part in how smooth an elliptical feels. The resistance system is one of them, and magnetic resistance is the best choice as it's a frictionless system.
And you need a belt drive system as it's much smoother than a chain, and the EX-59 boasts one of these as well. So when you combine the 14lb flywheel, the magnetic and belt drive systems, you have one of the smoothest motions you'll find on a low-cost machine like the EX-59. Nothing to shout home about but good enough for a home elliptical.
There's No Incline
The main drawback of the EX-59 is the lack of an incline. And to be honest, none of the ellipticals costing under $700 include one, which is a shame as even a manual incline would be great.
An incline is so important on a front-drive elliptical because front-drive ellipticals only work your anterior leg muscles like your quads.
If you want to burn extra calories, you need to work the much larger posterior muscles, like the glutes and hamstrings, as they have a higher caloric output requirement. The only way you can do that with a front-drive elliptical is to pedal on one that has an incline feature. An incline feature will switch the workout's focus from the front to the rear.
So if you want to benefit from incline workouts, you'll have to spend a little more and go for a mid-level elliptical, preferably one with a power-adjustable incline; the best ones for around $1000 are the E618 from Nautilus or the Sole Fitness E25
30 Minute Assembly
The updated version of this elliptical, the one we're looking at today, is much easier to assemble than the previous version, thanks to most of the updated version coming pre-assembled. All you'll need to do is attach the stabilizer bars, the handlebars, and the monitor. Shouldn't take longer than 30 minutes.
Still, this is quite a heavy machine, so you might want someone to give you a hand to unbox and get everything in place. Tools and illustrated manual are provided.
Sturdy build for price point
18″ stride length suitable for users up to 6ft 
Easy to assemble and easy to use
14.3lb flywheel helps keep elliptical motion smooth and consistent
Space saving front-drive design
Built-in speakers, BlueTooth, bottle holder, media shelf and transport wheels
Not many workout programs
Used to have a two years parts warranty now only has a one year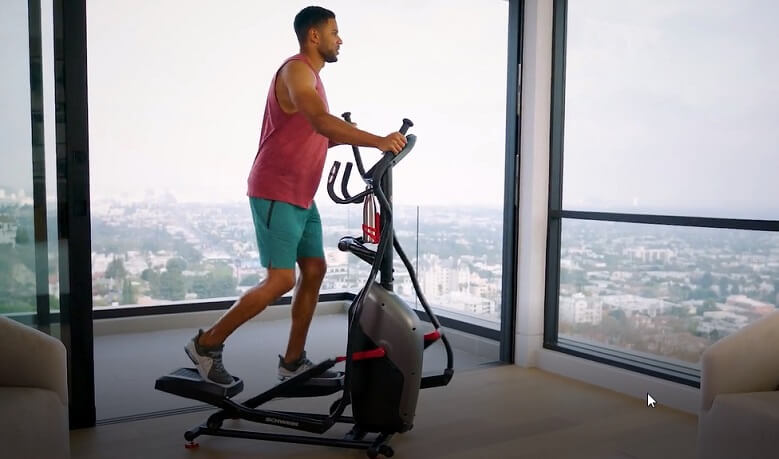 Schwinn 411 Elliptical
Schwinn has more experience than anyone at building cardio gear for our homes. They have been doing it for over 50 years and are well known for producing quality equipment at affordable prices. And their 411 elliptical is one of my favorites for under $600.
Yes, the 411 is cheaper than the EX-59, yet it's still just as impressive. What I like most about the 411 is its compact size. It's been designed for small spaces, but what's most impressive is that it boasts an 18″ stride. There's no other elliptical on the market with such a small footprint that still delivers on the stride length.
Also, with the Schwinn, you get an excellent monitor for the price point., the monitor includes 16 levels of magnetic resistance and 13 built-in workout programs. Plus, you get access to their Explore The World App, where you can download all your workout stats and try out some of the Global routes.
But the best feature of the Schwinn monitor has to be that it includes wireless heart rate monitoring, which is a much more accurate way to monitor heart rate than the handlebars pulse seniors, its an advanced feature we never usually see on ellipticals with price tags this low.
However, not everything is perfect. You don't get such a study build with the 411, as it weighs just 102lb. Also, the flywheel is slightly lighter at 12lb.
To Sum Up
The Horizon EX-59 is about as close to a mid-level elliptical as you're going to get for under $700. The build is there, the stride length is impressive, and the flywheel is just about heavy enough to keep everything smooth. It's a shame there isn't even a manual incline; this is the feature that's most missed on these lower-priced ellipticals.
The only other elliptical I've liked in this price range is the Schwinn 411, as it boasts so many features for the price, and it's compact with an 18″ stride, making it a great choice for those of you tight on space.