Power adjustable incline, 7″ full HD monitor, packed full of workout options and boasting an impressive 19″ stride length the ProForm 920 E elliptical is worthy of some serious consideration.
Hovering around the $1k mark, the ProForm 920 E is proving to be a popular choice. The only elliptical in this price range to include a full HD screen!, still, it's also the only elliptical in this price range NOT to include wireless hear rate monitoring something its main rival the similarly priced Schwinn 470 includes.
In our ProForm 920 E Endurance Review, I'm going to take a close look at this versatile front-drive elliptical. If you read through to the end of the review, you can check out my comparison of the ProForm 920 E with the excellent Schwinn 470 elliptical.
First, let's take a quick look at the ProForm product specs!
Product Dimensions –  36.5" W x 68.25" D x 69.3" H
Resistance Type – Magnetic
Built-In Workout Programs – 32
Frame – Heavy duty steel tubing
Why Do We Like The ProForm 920 E Elliptical?
The stand out feature of the ProForm 920 E has to be the power-adjustable incline.
We always recommend anyone looking for an elliptical to choose one if budget allows with an incline feature. Why? Because having an incline lets you target different muscle groups, especially useful for people looking to strengthen, build, and tone their butt, calves, and hamstring muscles.
While most mid-level ellipticals do include the incline feature, it is typically manually adjusted, which usually means you have to get off the machine to adjust it.
Manually adjusting the incline will disturb your workout it's not a biggy, but can be annoying. The ProForm lets you easily adjust the incline from the monitor there's no more jumping off the machine in the middle of your workout to change the incline level, the one-touch buttons of the monitor allow for fast access.
And that's not all; the ProForm boasts an impressive 0-20 degrees power adjust incline compared to its rivals 0-10. Great for the more serious of athletes out there who prefer a steeper angle to really work those glutes and hamstrings!
Stride Length
Vitally important is the stride length! Before you buy an elliptical, check the stride length out. This is the measurement between the toe of the front pedal to the heel of the rear while the pedals are at their widest stride.
Whys the stride length so important? Because it will determine how naturally you will be able to stride, the last thing you want is to buy an elliptical and not be able to run or walk at a fast pace because the stride is too short. You'll be happy to hear the ProForm provides a decent stride length for the price point at 19″ its around industry standard.
Most ellipticals you find in commercial gyms and health clubs have a 20″ stride, so if you're ok using one of those, you should be just fine exercising on the ProForm.
For those who have never used an elliptical before, we recommend a min-height of 5'2″ to a max height of 6'1 for a 19″ stride length.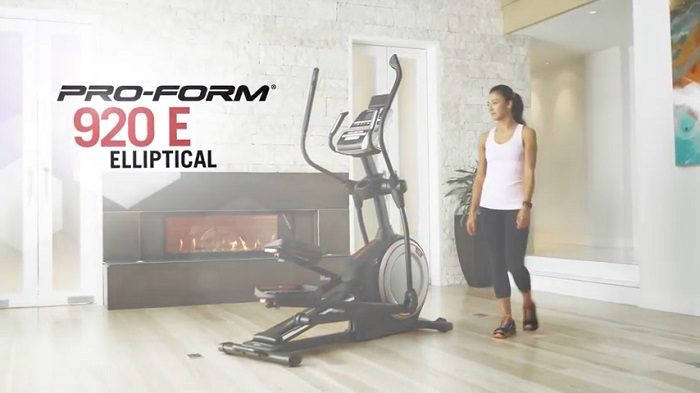 24 Levels of Resistance
The ProForm 920 E excels when it comes to resistance levels, with 24 levels that can be selected via the monitor. 24 resistance levels are more than enough for most people through beginners to advanced users, and with a 25lb flywheel, you can be sure the resistance and motion will feel smooth and consistent.
Ok, this isn't a commercial machine, so it may not be suitable for seasoned athletes. Still, for most of us, the upper levels of resistance will be challenging enough for intense calorie-burning workouts with enough room for growth as your strength and fitness levels increase.
And let's not forget this thing uses magnets to create resistance a much quieter resistance system than air (fan) for home gyms.
Air resistance cardio machines utilize a noisy fan to create resistance, which is ok for commercial gyms and health clubs, but for home gyms, it can be too loud and disturb others around you.
For our home gym, we want magnetic resistance; this will allow us to watch Netflix, listen to our fav tunes, and, most importantly, not disturb other household members with the sound of our exercising.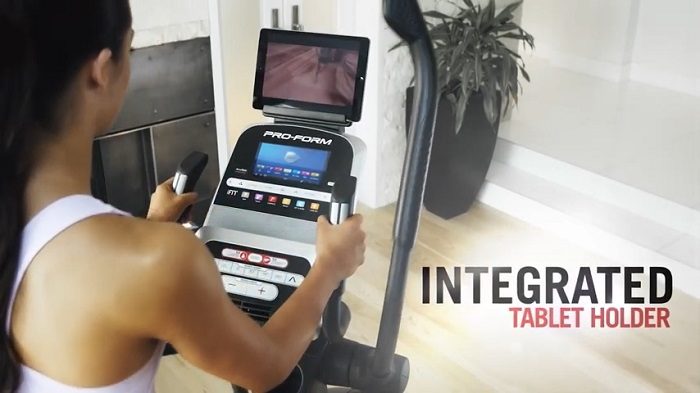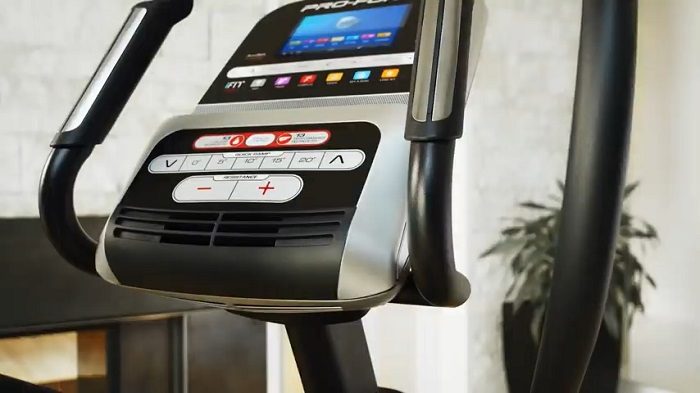 Monitor/Control Console
An excellent monitor for the price point, and it's probably what makes this machine so popular. It's always nice to have a full HD screen with any cardio machine, especially if it integrates with a fitness app such as iFIT.
The full HD 7″ touch screen will allow you to take all your workouts online with the iFIT app; you can track your workouts and download workouts with literally thousands to choose from the iFIT library.
You can also check out the global trails where a personal trainer will take you running in locations all over the world!
There's a ton of other stuff too you can do with iFIT too much to mention here.
Still, one last feature worth a mention is the Google Maps feature where you can create your own workout trail anywhere in the world, even in your local streets if you wish, and the cool thing about this is the incline will self adjust mimicking the terrain where you are running.
The downside to all the fun stuff is that it costs…iFIT is a subscription app, so you'll have to pay a small sum for the privilege. And sadly, the ProForm doesn't work well with other apps; these machines are designed around the one app.
But if you don't fancy using iFIT you don't have to, there's still the 32 built-in workout apps to keep away the boredom of long workout sessions, and you have the tablet holder so you can always watch a movie on your tablet while you're exercising.
ProForm does offer the elliptical with a one-year free subscription to iFIT. However, to take advantage of this offer, the Elliptical must be purchased from their website, which you can find in the link below.
Click here to check out the ProForm with 1yr iFIT Subscription on their website.
The monitor also tracks all the usual data such as distance, calories burned, speed, heart rate, and time.
(heart rate is measured through the pulse sensors in the fixed handlebars – no wireless heart rate monitoring included)
Stability
It's easy to get caught up wondering how many workout programs you need, or should I buy one with an HD screen, BlueTooth, etc. but what many of us tend to forget are the fundamentals, one of which is stability. You want this thing to feel solid with no movement when you're exercising.
Cheap, lightweight machines feel exactly that, they feel unstable, and like they could fall apart if used too heavily.
This is something you will not have to worry about with the ProForm; weighing close to 250lb, the ProForm is heavy, and with weight comes stability, also weight is a telling sign this machine is made from quality materials, so for stability, the ProForm gets a thumbs up!
24 smooth quiet magnetic resistance levels – 25lb flywheel
High info monitor for price range – iFIT enabled (global trails – Google maps and 1000's workouts from their library)
32 built-in workout programs
Two sets of handlebars one fixed, one moving – full-body workout
0-20 degrees power incline (target different muscle groups)
Oversized, adjustable cushioned pedals
Intergeated transport wheels, tilt and roll to store
ProForm customers have complained about quality control and customer service
Alternative & Comparison Table
Our Choice
ProForm 920 E Elliptical
Stride Length – 19″

Resistance Levels – 24

Workout Programs – 32

Incline – Power Adjust 0-20°

HD Touch Screen

25lb FlyWheel
Stride Length – 20″

Resistance Levels – 25

Workout Programs – 29

Incline – Power Adjust 0-10°

+ HD Touch Screen

25lb FlyWheel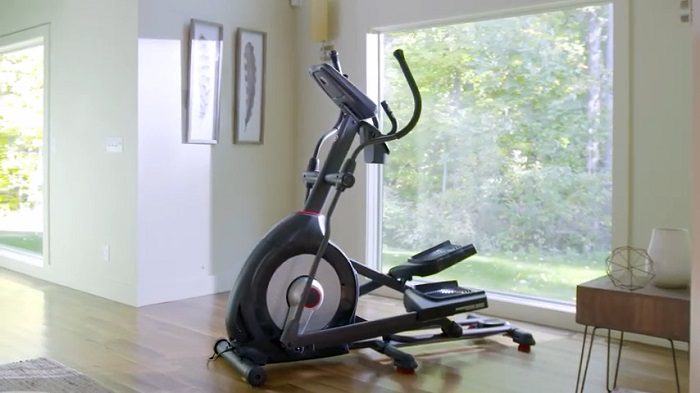 Schwinn 470 Elliptical Trainer
Schwinn are a company that has been around for a long time for over 40 years. These guys have been building quality cardio gear for our home gyms; it goes without saying this is one company that knows what they are doing when it comes to making fitness machines.
Their 470 is their flagship elliptical, it's one of the best elliptical under $1k and offers more than most in this price bracket.
What sells this elliptical is its build quality, Schwinn always receives high ratings wherever their products are sold, and the 470 is no exception with many users prising how solid the elliptical feels when in use.
And thanks to the machine being front-drive, its also compact, which means it can be stored easily in the corner of a room.
One important feature the Schwinn can boast over the ProForm is its wireless heart rate monitoring. This is an essential feature for some as it offers an accurate way to measure heart rate a lot more accurate than pulse sensors and an excellent feature for those of you who like to work out in specific heart rate zones.
There's not much between the two machines when it comes to workout programs and resistance levels.
Both machines only start to differ when we look at the monitors, and that's where the ProForm slightly outshines the Schwinn. The Schwinn monitor is still excellent for the price with its dual tracking backlit screens, but it lacks a color screen that will feel missed if you like using the online workout apps.
Also another deciding factor I'm sure will sway some of you is the max angle of the incline, if you're after an elliptical for butt and calve workouts then you will need a steeper incline 0-20 degree is perfect. The 0-10 is ok from the Schwinn, but for more experienced users, it may not be challenging enough.
View Schwinn 470 Elliptical on Amazon
To Sum Up
The ProForm 920 E Elliptical offers most fitness levels an excellent full-body low impact workout. The power-adjustable incline feature will add that something extra when you need it, and the advanced HD monitor provides more than enough workout options and resistance levels to keep most users happy and coming back for more.
Both the Schwinn 470 and ProForm 920 are currently the top 2 ellipticals in this price range, closely followed by NordicTracks C.9.5.
The ProForm was more appealing to me as it had the higher incline and HD screen, plus my cardio doesn't call for wireless heart rate monitoring, so this feature from the Scwhin would be wasted on me.
But if you do need a machine that includes wireless heart rate monitoring, the Schwinn is probably the best you will find in the under $1k price bracket. Its packed full features, including power-adjustable incline. It includes their FREE  Run Social App, which provides an extra 27 workouts. Whichever machine you choose, I'm sure you will not be disappointed.