Proform 520 E Elliptical Trainer
The Proform Endurance 520 E Elliptical boasts some excellent features for a low price elliptical. It's not often we see an elliptical under $700 that includes incline, an impressive stride length, and a ton of advanced workout options such as studio workouts, global trails, and live trainer control – a cool feature that adjusts the resistance to the intensity of your workout.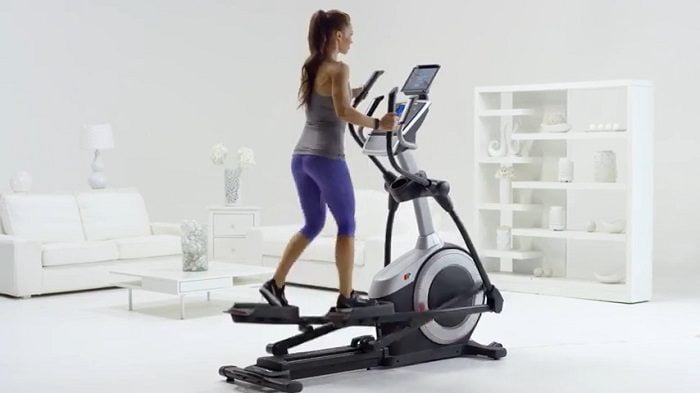 For an entry-level elliptical, this thing is packed full of useful features. The only other machine out there that comes close to matching the ProForm 520 both in build quality and features in this price bracket is Schwinns 430, which I'll be comparing with the 520 E at the end of this review.
Before we get going with the review of this capable elliptical from ProFrom, let's take a quick look at the product specs!
Product dimensions –  H 66″ x W 25″ x L 67.1″ 
Resistance Type – Magnetic
Frame – Heavy duty steel tubing
Why Do We Like The ProForm Endurance 520 E Elliptical?
Its all well and good owning a machine with a load of workout programs and apps, but when we get down to the important stuff like stride length and incline, these are the features that make a real difference to your workout. And ones you should pay close attention to before you buy any elliptical.
The most appealing feature of this machine is its incline. It was a surprise to find an elliptical with a decent incline' 0-20 degrees', great to see, especially if we compare the 520 E  with some high-end machines, many costing over $2k which only offer a 0-10 degree incline.
So whys incline important? Because it allows you to target different muscle groups, especially your butt, calves, and hamstring, the higher the incline, the more you work, strengthen and build those muscles.
Ok, this thing doesn't include a power incline likes its bigger brother the Proform 720 E, still, at this price, we wouldn't expect to see a power-adjustable incline.
Five levels of manual incline are still impressive at this price point, and if you need the incline to be power-adjustable, you'll have to spend a couple of hundred bucks extra for their mid-range elliptical the 720 E.
Click here to check price of ProForm 520 E on Amazon
Stride Length
This machine becomes even more impressive when we take a look at the stride length. Usually, machines in this price bracket offer a stride length between 14-18 inches. But ProForm tops them all with a 19″ stride.
For those of you that may be wondering, the stride length is the measurement between the toe of the front pedal to the heel of the rear pedal.
The Stride length is a vitally important measurement as it will determine how naturally you will be able to stride.
Thankfully a 19″ stride should suit most people's height and will allow for fast-paced running and walking, with a max height of about 6'1″; anyone taller will need an elliptical with a wider stride.
To put the stride length in some context, you need to think about ellipticals you may have used in your local gym or health club. These machines usually have a stride length of 20″ so if you were ok using those, the ProForm should be fine for all your elliptical workouts.
Resistance Type
For decades the resistance type for nearly all cardio gear was a fan (air) resistance. But lately, things are starting to change. Air resistance is still used in a few commercial gyms etc. but with an increasing number of people performing all their cardio workouts at home, air resistance has become less popular. Why?
Simply because air resistance is noisy, people like to watch TV or listen to tunes while they exercise at home. They also don't want to disturb other household members with the sound of their exercising.
Whisper quiet resistance is why magnetic is now the go-to resistance for our home gym cardio machines, and that's what we have here with the ProForm elliptical, this thing boasts 18 levels of whisper-quiet magnetic resistance.
Eighteen levels of resistance is enough for most fitness levels and should leave a lot of room for growth. But remember, this is an entry-level machine, and we have quite a light flywheel at 15lb, so for serious athletes, the resistance strength even in the upper levels may not prove strong enough.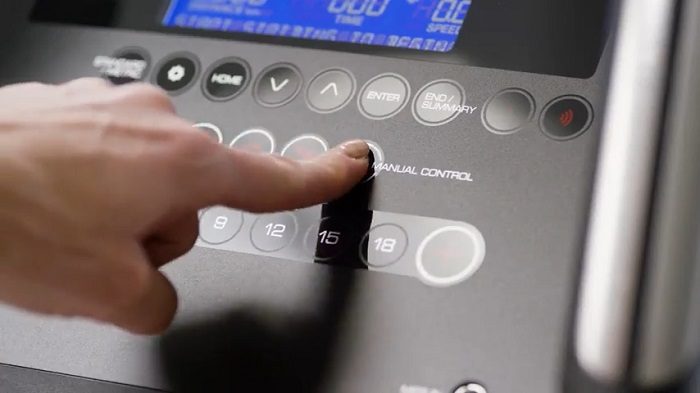 Monitor/ Control Console
An advanced monitor for the price range, it includes all the workouts options you'll ever need. With countless workouts from the ProForm library, including global outdoor workouts led by personal trainers, studio workouts into your home with iFIT and LIVE Trainer Control matches resistance to workout intensity.
Plus, if you're not in the mood to use the iFIT app, you can always challenge yourself with the 18 built-in workouts, and with manual mode, you can design your own. Nice!
A 5″ backlit LCD lets you easily track all your stats in one place, and something I like about all the ProForm monitors is they are easy to use. All the essential stuff like resistance levels and workouts can be accessed with just one touch of a button.
If you're serious about your cardio, you may be disappointed to find out there's no wireless heart rate monitoring with ProFoms 520 E. It's a shame I know. Still, at this price, we don't often see the incline feature plus wireless; it's usually one or the other.
You do, however, have the pulse sensors integrated into the fixed handlebars not as accurate as wireless heart rate monitoring, but its better than nothing.
And lastly, the ProForm 520 E monitor tracks all the usual workout data such as time, distance, and calorie burn.
N.B Speakers and Tablet mount included
Assembly Proform 520 E Elliptical
Although most of the assembly is already done for you, there's still a lot of smaller bits that will need to be put together, most people didn't find assembly to be too time-consuming with an average build time of 2-3 hours. A handy step by step guide is provided. (two people recommended)
0-20 degree incline ( works different muscle groups especially your glutes)
High info monitor for price range
iFIT ready, thousands of workouts, global trails, personal trainer workouts 
Two sets of handle bars – Use the moving set for a full-body workout!
Intergrated transport wheels, tilt and roll to store
Does not have a wireless pulse receiver
Short warranty on the parts and electronics
Schwinn 430 Elliptical Trainer
These guys have building bikes for over 100 years and producing cardio gear for our home gyms for the past 40! Schwinn is an impressive company that has managed to stay at the top of their game for years. Their 430 elliptical is part of their compact range and usually retails at around $600.
The Schwinn 430 is very similar to the ProForm both offer the same amount of workout programs and the Schwinn provides a couple more resistance levels with 20.
What the Schwinn 430 lacks is any workout apps, unlike the Proform that can boast an extra 1000+ workouts and globals trails thanks to its iFIT app, the Schwinn can only offer its users the 22 built-in workout programs.
What sells the Schwinn is its build quality and the company reputation, you know when you buy a Schwinn product you're going to receive a quality machine, however, at this price, we would expect to see some sort of app to go with the machine.
The lack of a fitness app or BlueTooth is not a deal killer but I feel the monitor of the Schwinn 430 needs to be updated especially if Schwinn wants to keep up with the competition.
The Schwinn does offer an impressive stride length of 19″ the only elliptical in this price range to match the ProForm, and the Schwinn includes incline which again is great to see at this price point. Although the ProForm trumps the Schwinn with 0-20 degrees while the Schwinn offers just the 10-degree incline.
Overall the Schwinn 430 is a  well built machine with an easy to use a monitor that offers everything you need for a  low impact calorie-burning workout.
The 430 has been around for many years and it is still as popular now as it was when it first hit the market. Yeah, it could do with a few updates but this machine has stood the test of time with people still praising the machine after years of use.
A good alternative to the ProForm especially for people looking for a compact front-drive elliptical with an impressive stride length.
To Sum Up
For an entry-level elliptical, I was surprised at just how much the ProForm 520 E had to offer! The 0-20 degrees incline is really going to add that extra something to your workouts, and the 19″ stride will make sure you can exercise comfortably at a slow or fast pace.
An excellent cardio machine for beginners and intermediate users, there's more than enough workouts options on offer to keep anyone interested and coming back for more.
If you have been looking for a low impact cardio machine to burn calories, tone muscle, and increase fitness levels the ProFrom 520 E is a well equipped affordable option, it's definitely up there with the top 3 in this price category.