Yosuda has come a long way in the past couple of years. Their products are even outselling market leaders like Sunny Health and Fitness, and that's because these guys offer a lot of bang for your buck. I've reviewed their rowing machines and exercise bikes and was impressed with what was on offer; for money, they were unbeatable.
Yosuda Elliptical: cheap but good
The recently released Yosuda elliptical machine seems to be just as impressive as their bikes and rowers, it's cheap, but it's good. Like everything Yosuday make, their elliptical is made for beginners, so dont expect anything gym quality this is, after all, a $300 elliptical. What you basically get is a fuss-free well made machine for beginners.
If you want to burn off some belly fat at home and increase your overall fitness, a low-cost elliptical like the Yosuda is the perfect choice, and today we're going to take a close look at everything it offers, including any drawbacks.
First, let's check out the product specs!
Package dimensions – 38.5 x 22.4 x 10 inches
Resistance Type – Magnetic
Pre-programmed workouts – no
Why Do We Like The Yosuda Elliptical Machine?
What's great about this elliptical is that it only costs $300, so you get a full body workout at home whenever you like for a lot less than the cost of a gym membership, and you haven't got the hassle of driving to the gym, but perhaps whats best about the Yosuda elliptical is that its a rear-drive machine.
Rear-drive ellipticals are more appealing than front-drive machines because they work the posterior muscles, such as your glutes and hamstrings. The flywheel is behind you, so you have to pull it to get it spinning rather than push like you would with a front-drive machine.
Burn More Calories
Pulling the flywheel not only naturally keeps the body in an upright standing position, but its works those large posterior muscles that have a much higher caloric output demand than the smaller anterior muscles of the legs like your quads. When these large muscles contract, their burn many more closures than the smaller anterior muscles.
So if you want to keep correct form and burn more calories, it's always best to choose a rear-drive elliptical.
Easy To Use
Something else I know many people will love about this elliptical is its fuss-free design. It's so easy to use. There is nothing complicated about it. You can jump on it and get going, there's no subscription apps to deal with, and the monitor is so simple anyone can use it.
Assembly is easy, which is rare for an elliptical, and moving it is a breeze thanks to the built-in transport wheels; just tilt and roll the elliptical to move.
Short Stride Length – Just 13″
The stride length is one of the most important features you need to consider before buying as it will determine how comfortable you feel on the elliptical. If you choose an elliptical with a stride length that's too short, it will restrict your movement, and that's the last thing you want.
The Yosuda Elliptical has a 13″ stride, and while this is a short stride length, it's something to be expected in this price range. Some budget ellipticals only boast 11″ strides. What does a 13″ stride mean? The max height for this elliptical is just 5'8″.
How Smooth is The Elliptical Motion?
A few things determine how smooth the elliptical motion will be; the first is the weight of the flywheel. The Yosuda elliptical boasts an 8lb flywheel which is about right for the price point, but 8lb is light for a flywheel.
Still, this elliptical uses magnetic resistance and a belt drive system, two other features that help keep the elliptical motion smooth. It shouldn't feel jerky even with the light flywheel.
But because the flywheel is light, it will affect the strength of resistance in the upper levels, so dont expect very strong resistance with this machine; it's strong enough for beginners and some intermediates but not for serious athletes.
Basic Monitor That Tracks Just The Essentials
Basic is the word for this monitor. Cheap ellipticals always come with very basic monitors, which keeps the price of the elliptical down. There are no workout programs, no BlueTooth; basically, there aren't any advanced features, not even a cooling fan.
On the positive side, it is easy to use, and its tracks all your essential data, such as distance, time, pulse, calories, and speed.
I won't complain about the monitor, as this is a $300 elliptical. I'm happy there is a monitor. I've seen some cheap ellipticals with no monitor at all.
And there is a tablet holder so you can download some free fitness apps or watch Netflix while you work out.
Just 25DB Whisper Quiet Magnetic Resistance
You get 16 levels of magnetic resistance with the Yosuda elliptical, which is more than enough for most beginners. However, what's best about magnetic resistance is how quiet it is in operation.
The magnets of the resistance system never have to make contact with the flywheel, which means it's a frictionless resistance system which is why it's so quiet.
Also, this elliptical has a belt drive system, not a chain drive. Belt drive systems are much quieter and work great with magnetic resistance. If you want a quiet elliptical, always choose magnetic resistance and a belt drive system.
Only 25DB for the Yosuda elliptical, which really is whisper quiet, you can watch TV and listen to music, and you won't be disturbed by the sound of the machine.
Stability/Build Quality
All ellipticals in this price bracket are lightweight, so stability can be an issue. 
The Yosuda elliptical weighs just 70lb, which is good for the price point, but when you consider the ellipticals you use in your local gym can weigh 300lb+, you realize just how light low-cost ellipticals are. The Yosuda elliptical will feel a long way off the sturdy commercial-grade machines.
It is a lightweight machine made for beginners. But it is well made, it won't feel really cheap. Yosuda are a good company; and if you go cheap, they are one company you should check first; just don't expect too much from a budget elliptical.
Still, the design of the Yosuda elliptical will help with stability. Rear-drive ellipticals are more stable than front-drive because the flywheel is behind you. It gives the elliptical more balance.
Also, rear-drive ellipticals have a lower step on heights, which means the center of gravity is lower, which will aid stability. So although you have a light machine, the design will help keep things stable.
Static and Moving Handlebars
There are two pairs of handlebars that come with this elliptical, a moving and a stationary pair. The stationary pair will come in handy for beginners because you can grab hold of these and get used to elliptical motion for a few days. And once you've built your confidence and feel good, you can move on to the moving pair of handlebars for a full-body workout.
Yosuda Elliptical Assembly Video
Just in case you run into any problems assembling the Yosuda Elliptical, here's an assembly video. All tools for the job and a detailed manual are included.
Quiet elliptical just 25DB, can watch TV and listen or music without being disturbed by the sound of the machine
Decent stride length for price point – suitable for users up to 5'8″
Built-in transport wheels  – just tilt and roll to store
Static and moving handlebars
LCD isn't backlit making it hard to read in low light conditions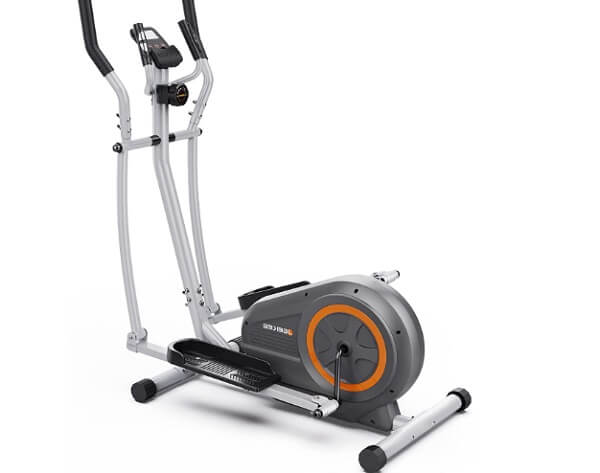 JEEKEE Elliptical Machine
The Jeekee, just like the Yosuda elliptical, is another new release hitting the market a month or so ago. The reason I'm showing you this elliptical is that it's another budget elliptical, but it includes a slightly longer stride and a heavier flywheel. And cost just $50 more than the Yosuda.
The JeeKee is very similar to the Yosuda elliptical in that both include 16 levels of resistance, both are rear-drive ellipticals, both come with basic easy to use monitors, and both are lightweight machines.
Still, the JeeKee is $50 more, and that is because you have a slightly longer stride length of 15″ compared to the 13″ of the Yosuda. This means users up to 5'10" can use the JeeKee comfortably.
Also, because it has a heavier flywheel weighing 15lb, resistance strength in the upper levels will feel stronger, and the elliptical motion will be smooth.
I think the JeeKee Elliptical is great for the price. The 15lb flywheel is impressive for this price bracket. It means you won't outgrow this elliptical so fast because of that extra strength of resistance in the upper levels.
Still, if you're a beginner and want to keep things under $300, then the Yosuda is an excellent buy as well, as it too offers a lot of bang for your buck.
To Sum Up
You have to be careful in this price bracket because there can be a huge difference in quality from one elliptical to the next, which is why it's always best to choose something made by a company with some history. And to be honest, there aren't many decent ellipticals costing under $300. Usually, I'd avoid ellipticals in this price range.
Still, the Yosuda Elliptical is an exception. It's made by a company that specializes in low-cost gear who seem to get all the essentials right. Their elliptical is one of the best in this price bracket and offers good value for money. Great for beginners wanting to burn some calories and increase their fitness levels.