There's a ton of low-cost ellipticals on the market right now, and choosing one that will last more than a few months can be tough.
I normally wouldn't recommend ellipticals costing under $400 as the flywheels are too light, the build quality is usually low, and the stride lengths are too short. Still, there are exceptions, and the JeeKee Elliptical Machine is one of them.
JEEKEE Elliptical – Outshines The Competition.
What I like most about the JeeKee elliptical is that it boasts a rear drive design which is important, I'll explain why later, also it has a decent flywheel weight, which is almost unheard of in this price range, and the stride length at 14″ is suitable for users up to 5'10" so overall its a low-cost elliptical that punches above its price tag, which is why I like it.
It's certainly one of the budget ellipticals I feel is worth taking a closer look at, so in today's review, we'll check out everything this elliptical has to offer, including any drawbacks. At the end of the review, I'll compare it to another fav of mine in this price bracket, the Fitness Reality E5500 Elliptical, so we can see how they match up.
First, a quick look at the JeeKee Elliptical product specs!
Product dimensions –  32 x 20 x 61 inches
Resistance Type – Magnetic
Pre-programmed workouts – No
Why Do We Like JEEKEE Elliptical Machine?
As I mentioned in the intro, the rear drive design is one of the best features of this budget elliptical; why? Because having the flywheel behind you means you'll have to pull it to get it moving rather than pushing it like you have to with a front-drive elliptical.
And because you're pulling the flywheel, it naturally keeps the body in an upright standing position; you dont have to worry about correcting your posture all the time as you do with front-drive ellipticals. Instead, you naturally keep the correct form, which is essential to get the most out of your workouts.
Rear Drive Ellipticals Burn More Calories
Also, because you pull rather than push, you'll work the posterior muscles which are much larger than the anterior leg muscles.
Large muscles have a higher caloric output demand which means every time they contract, you'll burn many more calories than using a front-drive elliptical that works the smaller anterior muscles like your quads.
So yes, if you want to burn more calories, keep the correct form and build and train those large posterior muscles like your glutes and hamstrings, it's always best to choose a rear-drive elliptical.
It's So Quiet
Something else you'll love about this elliptical is just how quiet it is. It's rated at just 20DB. This means you can watch TV and Listen to music without being disturbed by the sound of the machine.
The reason it's so quiet is that it uses a magnetic resistance system. The magnets dont make any contact with the flywheel, which is why it's so quiet. Plus, you have a belt drive system which is much quieter than a chain drive. Both of these features are what you need to look for if you want a quiet elliptical.
Suitable For Users Up To 5'10"
When you go low-cost, one of the features that suffers the most with ellipticals is the stride length. The stride length is one of the most important features as it determines who can use the machine and how comfortable you will feel when pedaling.
Most ellipticals under $500 typically have a stride length ranging from 11″ to 16″, so 14″ isn't too bad, and when you consider this machine only cost $350, it's actually quite impressive. So what does a 14″ stride length mean? It means users up to 5'10" can use this elliptical without feeling restricted.
Only Weighs 63lb, Stability Could Be an Issue.
One of the main problems with buying budget ellipticals is their lightweight build; this machine weighs only 63lb which is light. Yes, it makes moving the elliptical nice and easy, but when it comes to stability, you need weight.
Heavy ellipticals are more stable because that extra weight keeps them planted to the floor.
Also, the weight of an elliptical is a telling sign of the quality of the materials used in the build. The heavier the parts, the higher the quality. So when you choose low-cost machines, it's inevitable the quality won't be so high, and the build will be light.
Still, it's not all bad, because of the rear drive design, this elliptical is much more stable than a budget front drive elliptical.
Rear-drive ellipticals are more balanced because the flywheel is behind you, and rear-drive ellipticals have a lower step on height which means the center of gravity is lower, which always aids stability.
So, although this is a light machine, its design certainly helps keep things stable.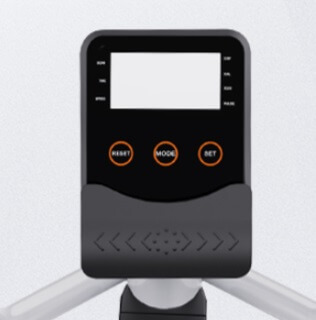 Basic Easy To Use Monitor
In this price range, the monitors are basic. There are no HD screens or BlueTooth. You basically get a monitor that tracks all your essential workout data, such as time, distance, pulse, speed, and calories. And thats all many people need.
A basic monitor keeps the price of the elliptical down, and they are very easy to use., There's nothing complicated to set up. You dont even need a power supply.
Smooth Elliptical Motion For Pirce Point
Something I was pleased to see featured on this elliptical was a decent weight for the flywheel. 15lb is a good weight for a flywheel in this price range, and it's important that it's not too light. The weight of the flywheel is the main factor determining how smooth the elliptical motion will be.
Many ellipticals in this price range have jerky elliptical motions, and that's because the flywheel is too light. At 15lb, there's enough weight there to keep things smooth, and it will ensure the resistance strength in the upper levels are strong.
And let's not forget you also have the belt drive and magnetic resistance, two other features that help keep the elliptical motion smooth.
Low Maintenance
Because this elliptical uses magnetic resistance, the maintenance is low. As I already mentioned, with magnetic resistance, the magnets never make contact with the flywheel, which means there is no wear and tear.
The only maintenance you'll need to do is to check for loose bolts every few months. Also, ellipticals, whatever the price, will develop a squeak from time to time, so make sure to lubricate when needed.
16 Levels of Resistance – Suitable For Beginners & Intermediates
You have 16 levels of resistance with the JeeKee, which is pretty good for the price point. And because you have the 15lb flywheel, resistance strength should feel strong in the upper levels.
However resistance strength, even at the highest level on this elliptical, isn't strong enough for seasoned athletes. This is a $350 elliptical designed for beginners and intermediates. It's best for burning some unwanted calories and increasing overall fitness levels. It's not for serious users.
Allow Two Hours For Assembly
Ellipticals are a little tricky to assemble, more so than treadmills and exercise bikes which is why I've said to leave two hours for assembly.
This is a fairly light elliptical, so you should be able to assemble it on your own. Most of the complicated stuff, like the drive and resistance system, already come pre-assembled. You'll need to attach the two base bars, the pedals, the front mast of the machine, the handlebars, and the fitness monitor. Clear instructions and all the tools for the job are provided. 
15lb flywheel impressive for price point
Magnetic resistance system  and belt drive – just 20DB
Rear drive design helps you keep correct form and burn more calories
Transport wheels, just tilt and roll to move
Fuss-Free design easy to use
Only suitable for users up to 5'10"
LCD isn't backlit making hard to read in low light conditions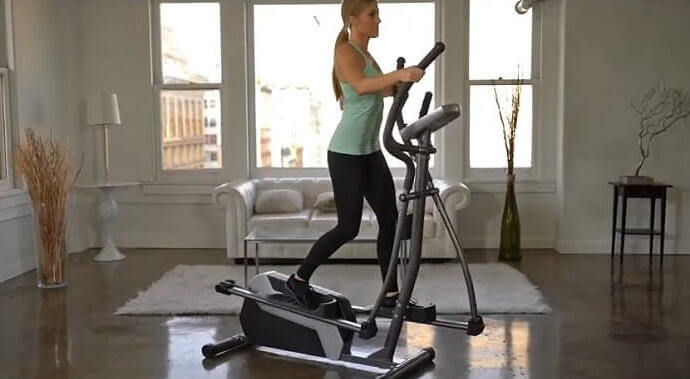 Fitness Reality E5500XL Elliptical
I've been reviewing Fitness Reality gym gear for years, and these guys have always impressed me. They are one of the only companies that make good quality gym equipment and manage to keep the prices low.
Their elliptical, the E5500XL, is one of the best I've come across for under $400. It boasts more features than anything else in this price range and delivers on all the essentials. It's definitely an elliptical worth considering.
The best feature of this elliptical is its stride length which measures 18″, which is impressive for the price point. This means users up to 6'1″ can use this elliptical without feeling restricted. You also have the rear drive design to help you keep correct form and duel flywheels for a smooth elliptical motion.
But perhaps what's most impressive is its monitor as it includes 24 resistance levels and 21 workout programs; this is great for the price, and you can adjust the level of resistance from the monitor you dont have to adjust manually using a resistance knob as you do with the JEEKEE elliptical.
This is still a budget elliptical, so it's not for serious users, but it's a great choice for beginners and intermediates; it offers that bit more than anything else in this price range. The 18″ stride will be appealing to taller users, and it's great to see some workout programs with the monitor.
To Sum Up
The Jeekee elliptical surprised me with its 15lb flywheel, it is excellent to find a budget elliptical with a decent flywheel weight because we know the elliptical motion will be smooth, and that is what you want. The last thing you need is jerky motion.
And they got the design right; it's always best to have the flywheel behind you when you have a lightweight machine because it will aid stability, and of course, rear-drive designs help you keep better form which is essential.
Overall the JeeKee is a fuss-free elliptical. There are no bells and whistles here. This makes it easy to use. There's enough strength in the resistance for both beginners and intimidates; yes, the monitor is lacking, but most monitors are in this price range.