For years Niceday has been making high-quality parts for fitness equipment. I always wondered if they might get around to building some of their own gear, and they finally did. The Niceday Elliptical Machine is the first elliptical they have made, and they did well.
Essentials are There, But The monitor is Lacking.
Most importantly, they got all the essentials right, like a sturdy build, a smooth elliptical motion, and a decent stride length. For the money, it hits the mark. Where they didn't do so well is with the monitor; it's basic, lacks any advanced features, and in one word is disappointing. Still, a basic monitor isn't a deal killer when the rest of the elliptical has been made so well.
And in today's review, I want to take a close look at everything the Niceday elliptical offers and any drawbacks. At the end of the review, I'll compare it with Fitness Realities' new low-cost elliptical, the E5500XL.
First, let's check out the Niceday CT 11 Elliptical product specs!
Product dimensions – 48″D x 25″W x 62″H
Resistance Type – magnetic
Pre-programmed workouts – none
Why Do We Like The Niceday Elliptical?
What I like most about this elliptical is that it's a rear-drive machine. A rear-drive elliptical is always the best choice because it naturally puts the body in a straight and upright position, and this is because you are pulling the flywheel rather than pushing it.
Instead of leaning forward and standing on the balls of your feet like you would with a front-drive machine that makes you push the flywheel to get it moving, with a rear-drive elliptical, your feet are in a flat position as you'll be pulling the flywheel.
And what's great about pulling rather than pushing is that you won't have to keep correcting your posture; the rear drive design ensures proper form when using the elliptical, which means you'll get the most out of every workout.
Burn More Calories With Rear Drive
And you'll burn a ton more calories using a rear-drive elliptical because the pulling motion uses your posterior muscles, such as your hamstrings and glutes.
The hamstrings are three times larger than your quads, and your glutes are the largest muscles in your body. Every time these large muscle contract, they have a much higher caloric output requirement than smaller muscles like your quads.
So basically, if you want to burn more calories, have the correct form, and build and strengthen your posterior muscles, it's best to have the flywheel behind you, which is what Niceday have chosen with their elliptical, and it's the right design choice.
Easy To Use
Something else I know many people will love about his elliptical is its fuss-free design. This thing is so easy to use; there is nothing complicated about it. There are no subscription apps to deal with, you dont even need a power supply, and assembly takes less than 30 minutes because most of it comes pre-assembled. You can basically jump on this elliptical and get going.
Heavy Enough To Feel Stable
The weight of an elliptical not only determines how sturdy the machine will feel but also gives you a good clue to the overall quality of the parts used in the build. And at 100lb, the Niceday elliptical isn't heavy duty, but it's not super light either. For the price point, it's about right.
There's enough weight there to keep things stable, and it's not going to feel cheap, either.
It's a well-made elliptical for the price, but it will always be a low-cost elliptical. You have to remember that heavy-duty machines like those used in your local gym can weigh over 300 lbs. The Niceday weighs just 100lb, so dont expect it to feel like a commercial machine.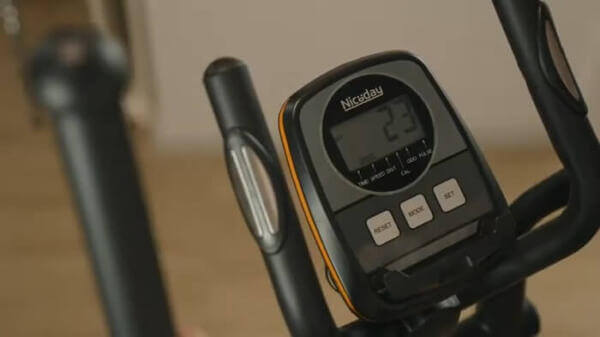 Disappointing Monitor, But It's Easy To Use.
A lot of the monitors I review on high-end ellipticals can be a headache to use, they're over complicated and take 30 minutes just to set them up, and half of them have features you'll never use. So sometimes a basic monitor like the Niceday monitor can be a good thing because it is so simple to set up and use.
Still, the Niceday elliptical monitor is one of the most basic I've come across, and for the price, it really should include a few more features. I didn't expect an HD screen, but there's not even any workout programs.
What you get is a monitor that tracks all your essential workout data such as distance, pulse, time, etc., and that's about it.
A 15.5″ stride Length – Max Height of 5'11"
The stride length of an elliptical is one of the most important features to consider, as it will determine who can use the machine and how comfortable they will feel.
I know Niceday advertises this elliptical to suit heights up to 6'2″, but to be honest, even an 18″ stride will have trouble accommodating 6'2″ users. In the real world, a 15.5″ stride length is suitable for users with a max height of 5'11"  if you're any taller than this you'll feel restricted and thats the last thing you want.
Still, a 15.5″ stride is good for the price bracket. Many ellipticals in this price range can only boast 14″ strides.
Smooth Elliptical Motion – 16lb flywheel
Something that really shines about this elliptical is how smooth the elliptical motion is, which shouldn't come as a surprise, considering these guys spent so many years specializing in parts.
There are many factors that contribute to a smooth elliptical motion; the most important is the weight of the flywheel. Most elliptical flywheels in this price range weigh between 6 and 15lb, so finding a 16lb flywheel on this elliptical was a nice surprise. There's enough weight to help keep the motion smooth and resistance strong.
Magnetic Resistance
The resistance system also affects the elliptical motion's smoothness, and the best choice for an elliptical machine is magnetic resistance. Why? Because it's frictionless, the magnets never have to make contact with the flywheel, which results in a smooth, non-jerky resistance system.
Also, because it's frictionless, it's whisper quiet in operation, you can watch TV or listen to music without being disturbed by the sound of the machine. Just 20DB for the NiceDay CT 11, it's one of the quietest ellipticals on the market.
You get 16  levels of resistance with the Niceday elliptical, with many users mentioning how strong the resistance feels in the upper levels, which is great to hear.
The only downside is that you can't change the resistance levels from the monitor. Instead, you have to manually adjust the resistance level using the resistance knob.
Belt Drive
The Niceday boasts a belt drive system which is a good thing as they are much quieter than the alternative, which is the chain drive. Belt drives also require little to no maintenance and, when coupled with a decent weight flywheel (which the Niceday includes -16lb), provides a smooth elliptical motion.
Always look for a belt drive when choosing an elliptical for home use.
Stationary and Moving Handlebars
I think it's always best to choose an elliptical with two sets of handlebars, one moving pair and one static. The static pair can come in handy if you're a beginner. You can use them to get used to the elliptical motion, and once you build your confidence, you can move on to the moving pair for a full-body workout.
Also, I like to use the static pair of handlebars because they allow you to focus fully on your lower body. You can hold on to these, increase the resistance level to high, and give the glutes and hamstrings a really good workout.
Assembly – 90% Pre Assembled
You'll be happy to hear most of this elliptical comes pre-assembled. All you'll need to do is unbox it attach the two stabilizer bars, add the fixed handlebars and the fitness monitor. It shouldn't take longer than 30 mins. A detailed manual is provided with clear assembly instructions. Tools for the job are included.
Study build – Supports weight capacity up to 400lb
18 levels of resistance – suitable for beginners and intermediates
Super quiet machine – won't disturb others with the sound of your workouts
Two sets of handlebars one fixed – one moving for full-body workout
Transport wheels, just tilt and roll to move
Impressive lifetime warranty on parts
Basic monitor that doesn't include workout programs
Can only use pulse sensors when using the fixed handle bars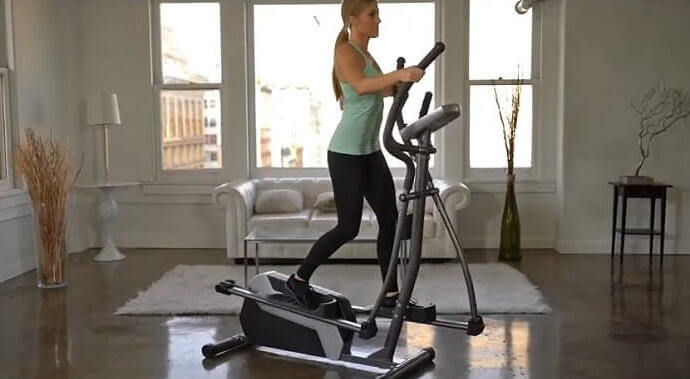 Fitness Reality E5500XL Elliptical
I've always liked Fitness Reality. I've been reviewing their gym gear for years, and they always manage to deliver on quality and features despite the low prices of their equipment. They specialize in low-cost gear and their new elliptical, priced at just under $400, is one of the best budget ellipticals on the market.
The reason I like the E5500XL is that it boasts an 18″ stride which is almost unheard of for a $400 elliptical it means users up to 6'1″ can use this elliptical without feeling restricted.
Also, you get dual flywheels with the E5500XL elliptical. Because this is a cheap elliptical, they dont have the budget for a single heavy flywheel, so the next best thing is two lightweight flywheels. Two flywheels give balance, resulting in a smoother elliptical motion.
Other impressive features of the E5500 are 24 levels of magnetic resistance that can be adjusted from the monitor. You get 21 workout programs, so a much better monitor than the Niceday elliptical.
Like the Niceday elliptical, this is a low-cost machine, so it's not a heavy duty; it weighs just 93lb which is heavier than most entry-level ellipticals but still a long way off anything commercial.
The E5500XL is an excellent choice for beginners and intermediate it has everything you need from an elliptical for home use at an affordable price, it doesn't quite have the quality of the Niceday Elliptical, but it's not far off. 
To Sum Up
I think Niceday has done well with their first elliptical, the rear drive design is what sells it for me, and the sturdy frame makes this elliptical feel more expensive than its price tag.
Also, you get a pretty decent weight with the flywheel, it's heavy enough to keep the elliptical motion smooth, and it will help keep the resistance strong in the upper levels, which is essential. 
And best of all, these guys give you a lifetime parts warranty. You dont even see that on $2k ellipticals, so that was a nice surprise to find a warranty this impressive on a low-cost machine.
The only letdown is the monitor. I would have hoped for a few workout programs. Still, at least the monitor is easy to use, and Niceday has done so well with the rest of the elliptical it kind of makes up for the poor monitor.
Niceday Elliptical Machine FAQS
Is Niceday a Good Brand?
Niceday are a brand known best for making parts for fitness equipment. They have only recently started to make their own ellipticals. The CT11 is their first elliptical, and it has proved very popular, outselling most budget ellipticals. It's well made and boasts an excellent warranty.
Can I build Muscle on An Elliptical?
Since an elliptical involves pulling and pushing your feet and hands, it can be used to tone and build muscle in your lower and upper body.
Can Lose Belly Fat on a Budget Elliptical?
Yes, ellipticals are an excellent way to burn calories and shed those extra pounds. The elliptical provides a full body workout burning up to 300 calories an hour at a medium pace, and if you choose an elliptical with an incline feature, you'll burn even more. Combine your elliptical workouts with a healthy diet for best results.