Niceday Elliptical Machine CT-11
The Niceday CT-11 Elliptical Machine is a mid-level elliptical built by a company whos been around for a couple of decades. They usually provide parts for other companies but lately have decided to build their own ellipticals, and their CT-11 is their Mid-price offering.
Sturdy Build – Whisper Quiet – 15″ Stride
The CT-11 boasts some impressive features for the price, including an extremely stable build weighing 100lb.
100lb is a good weight for an elliptical; it's not going to feel cheaply built like many elliptical in this price bracket, it also comes with a 15.5″ stride so is suitable for users up to 6'2″, whisper-quiet magnetic resistance system and an excellent lifetime warranty on parts.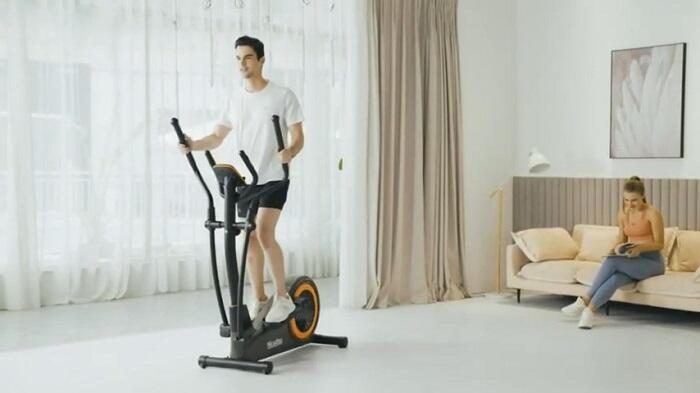 In this review, I want to take a close look at everything the Niceday CT-11 has to offer, including its drawbacks. At the end of the review, I'll compare the CT-11 with its closest rival in this price bracket, the Schwinn A40 elliptical.
First, a quick look at the Niceday CT-11 elliptical machine product specs!
Product dimensions – 48L x 25W x 62H inches
Resistance Type – Magnetic
Why Do We Like The Niceday CT-11 Elliptical Trainer?
It can be difficult to find a decent elliptical in this price range as the quality on offer can vary hugely from one elliptical to the next. If you can, try and avoid lightweight machines, these will be constructed with low-quality materials affecting the durability and stability of the machine.
We need a heavy machine, as the extra weight is a telling sign the elliptical is made from quality materials and will help keep the machine planted to the floor, aiding stability.
The Niceday elliptical weighs 100lb when assembled, an impressive weight for an elliptical in this price bracket. It's going to feel sturdy and not like some cheaply made unstable elliptical.
Niceday are one of the only companies I've come across in this price range that offer a lifetime warranty on all parts, always good to see a company that stands behind their products, and even more evidence that this machine is made from quality materials.
Whisper Quiet Magnetic Resistance System
It wasn't too long ago that nearly all our home gym cardio equipment used air to create resistance, and while there's nothing wrong with air resistance, it's still very popular today. Sadly it's noisy.  Noisey cardio machines are okay for a commercial gym but for home use there not ideal.
The Niceday CT-11 benefits from a magnetic resistance which is extremely quiet when in motion.
The magnets of the resistance system do touch the flywheel, so no noise is created when we use the system. This is ideal for home use as it allows you to exercise without disturbing others around you with the sound of your workouts.
Another benefit of the magnetic resistance system is that it allows you to exercise at a slow pace on a high resistance setting, something that is impossible with air resistance. Great if you want to strengthen and tone the muscles in your legs and butt.
It's also a maintenance-free resistance system, so you won't have to worry about replacing parts of the resistance system due to wear and tear.
Belt Drive
The Niceday boasts a belt drive system which is a good thing as they are much quieter than the alternative, which is the chain drive. Belt drives also require little to no maintenance and, when coupled with a decent weight flywheel (which the Niceday includes -16lb), provides a smooth elliptical motion.
Always look for a belt drive when choosing an elliptical for home use.
15″ Stride Length
Something we should always consider when buying an elliptical is the machine's stride length. This measurement is vitally important as it determines how naturally you will be able to stride.
For those that dont know, the stride length is the measurement from the toe of the front pedal to the heel of the rear pedal while the pedals are at their widest stride.
The Niceday CT-11 Elliptical Machine is equipped with a 15.5″ stride which for the price is about what I'd expect to see. Its a decent stride length that can accommodate users with a height range from 4'9″ to 6'2″
Still, anyone whos over 5'10" will have issues running at pace on an elliptical with a 15.5″ stride length. Fast-paced workouts require larger strides, and in my experience, a 15.5″ stride will not allow users over 5'10 to active a full stride at pace.
If you're tall, a 15″ stride is okay for light workouts because light workouts require shorter strides, but If you're over 5'10" and need an elliptical for intense workouts you should be looking at ellipticals with a stride length of 20″-22″.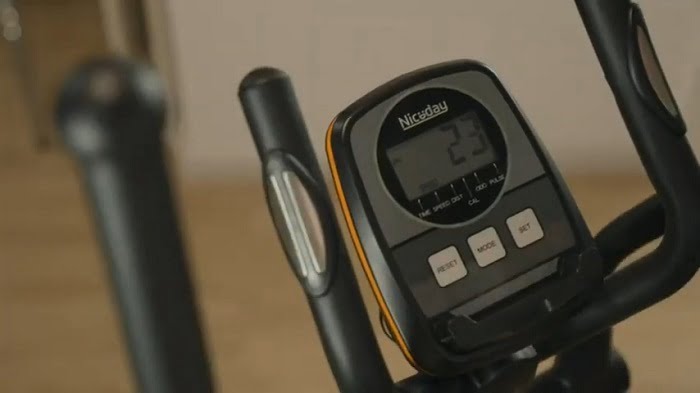 Basic Monitor For a Mid-Level Elliptical
I'm slightly disappointed with the monitor of the Niceday elliptical. It's quite basic for the price point. There are no workout programs, no Bluetooth, and resistance strength is manually adjusted via a tension knob rather than digitally from the monitor.
Manual adjustment of resistance is something I'd expect from a budget elliptical, not from a mid-level elliptical.
Manually adjusting resistance strength isn't a deal-killer by any means. It's easy enough to adjust, all you do is turn the tension knob to the level you want, but you should have the privilege of digitally adjusting resistance strength from a touch of a button at this price.
On the positive, the elliptical includes pulse sensors useful for those of you who like to train in your chosen heart rate zone, and the monitor tracks all the important workout stats such as distance, time, speed, and calories. All stats can be viewed on the large LCD screen.
The one good thing about basic monitors is they are easy to use; you dont have to spend half an hour figuring out how to use all the different features. You can just jump on this machine and get going with your workout.
Assembly – 90% Pre Assembled
You'll be happy to hear most of this elliptical comes pre-assembled. All you'll need to do is unbox it attach the two stabilizer bars, add the fixed handlebars and the fitness monitor. It shouldn't take longer than 30 mins. A detailed manual is provided with clear assembly instructions. Tools for the job are included.
Study build – Supports weight capacity up to 400lb
18 levels of resistance – suitable for beginners and intermediates
Super quiet machine – won't disturb others with the sound of your workouts
Two sets of handlebars one fixed – one moving for full-body workout
Transport wheels, just tilt and roll to move
Basic monitor that doesn't include workout programs
Can only use pulse sensors when using the fixed handle bars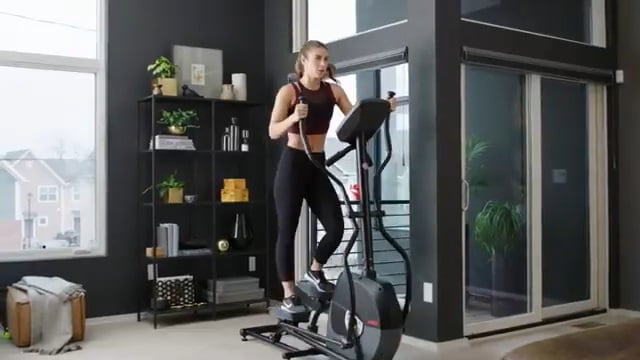 Schwinn A40 Elliptical Machine
Schwinn are a company with over 100 years of experience, these guys are one of the market leaders in home cardio gear, and their Schwinn A40 is one of the best sellers in the under $600 price bracket.
This machine boasts an 18″ stride length allowing users upon 6ft to work out at pace. It offers excellent build quality, as we would expect from Schwinn, and it's past the test of time. Users who have owned the Schwinn A40 still price the machine years after owning it, reassuring to hear in this bracket.
The monitor of the A40 elliptical is slightly more advanced than the Niceday in that it offers workout programs and access to the Schwinn fitness app. However, there are only 8 levels of magnetic resistance compared to the 16 of the Niceday CT-11.
The A40 certainly gives the newly released Niceday CT-11 some serious competition in this price range, and if you'd like to read a more detailed review of this machine, you can click here for our full review of the Schwinn A40.
To Sum Up
There's nothing I can really fault about the Niceday CT-11 Elliptical machine apart from its basic monitor; the company has got all the essentials right. Great build quality, a good stride length, a whisper-quiet resistance system with 18 levels, and an excellent lifetime warranty.
The CT-11 is an impressive mid-level elliptical for home use. It makes up for its basic monitor with its superior build quality and smooth elliptical motion—an excellent choice for beginners and intermediates looking for a full-body, low-impact workout at home.