In the last decade, ellipticals have grown hugely in popularity. Their low-impact designs and whisper-quiet resistance systems have made them the number one choice for cardio fitness not just in commercial gyms but also for home use.
These excellent cardio machines provide full-body workouts and allow us to protect our joints at the same time, something a treadmill sadly can't offer.
Large Range of Ellipticals on Offer
Still, it can be quite difficult choosing an elliptical for home use as there are many different options out there, ranging from budget fuss-free ellipticals suitable for beginners and gentle workouts. To heavy-duty, high-end elliptical packed full of advanced features, specially designed for high-intensity workouts.
Budget – How Much Do You Want To Spend?
Deciding how much you want to spend on an elliptical is your first important decision. Elliptical's prices range from $200 for a low-end budget machine to $3000 for a high-end commercial grade elliptical.
Going too cheap on an elliptical typically results in buying a machine thats not going to last that long. Durability suffers more the cheaper we go.
At the other end of the scale spending, $3k on elliptical is overkill for a home gym. A $3k ellipticals are designed for serious athletes. Even some commercial gyms dont spend this much on their ellipticals.
When we buy an elliptical, we need to into account our workout needs and our body size. If you're a large guy who loves HIIT training, you'll need an elliptical that can cope with your workout demands and body size.
Most people do not need commercial-grade machines, especially smaller people and people looking to use the machine for light workouts and a daily run. Here compact, less expensive ellipticals are perfect for the job and most popular for home use.
Apart from cost, there are many other features you should take into consideration before purchasing your first elliptical. Here's our quick guide to the Top 5.
1. Stride Length
The most important feature we should look out for when buying an elliptical is the machine's stride length. The stride length is vitally important as it determines how naturally you will be able to stride.
The stride length is the measurement from the toe of the front pedal to the heel of the rear pedal while the pedals are at their widest stride.
Budget ellipticals are typically equipped with short stride lengths anywhere between 11-14 inches. Short stride lengths will allow users up to 5'6″ to run at pace, so they are best suited to shorter users.
Tallers users can still use ellipticals with short stride lengths for light workouts that require shorter strides.
Mid-priced ellipticals usually have stride lengths ranging from 16-20 inches. This length stride will allow users up to 6ft to run at pace on the elliptical.
High-end ellipticals have the longest stride lengths, from 20-24 inches allowing users as tall as 6'4″ to exercise comfortably at any pace.
Some expensive ellipticals have adjustable stride lengths. Adjustable strides are a handy choice if multiple people use the elliptical, as you can adjust the stride length to suit each person's needs. 
2. Resistance System
Most ellipticals will use either air (fan) or magnets to create resistance. While there's nothing wrong with air resistance, it is noisy, so it's not best suited for home use.
For home use, I'd recommend you look for an elliptical that benefits from magnetic resistance, sometimes times known as ECB (eddy current brake).
The reason we recommend magnetic resistance is because it is whisper quiet in operation. The magnets never have to touch the flywheel, which results in a near-silent resistance system. It's also maintenance-free.
Magnetic resistance can either be controlled manually by turning a tension knob to the desired resistance level or electronically by pushing the resistance buttons on the elliptical monitor.
Budget ellipticals are usually equipped with manual tension knobs, while more expensive ellipticals allow you to adjust resistance strength via the monitor.
Thankfully you dont have to spend a ton of money to benefit from magnetic resistance. You can find this excellent resistance system, even on ellipticals, for under $300.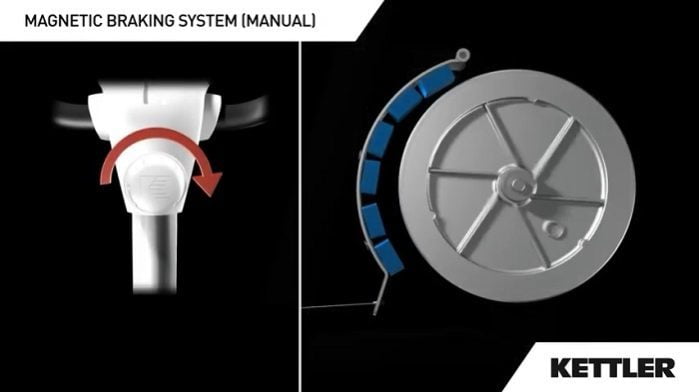 3. Elliptical Weight
The weight of an elliptical is more important than most people think. The weight of an elliptical can give us a big clue to the overall quality of the materials used in the build.
Budget ellipticals weigh the least, some weighing under 50lb. This type of elliptical isn't going to last you long; the materials used for build are cheap and will wear quickly.
Heavy-duty ellipticals weigh the most, some weighing over 200lb; this type of elliptical will last years of heavy use thanks to the high-quality parts used in the build. The extra weight will also help a lot with stability as it keeps the machine planted to the floor.
Not all of us can afford heavy-duty ellipticals, but we can at least look for an elliptical somewhere in the middle of cheap and high-end, preferably with a weight not less than 100lb. This way, you can be sure the elliptical is of good quality and will be stable when in use.
Sunny Health & Fitness are the market leaders when it comes to quality ellipticals at affordable prices. You can get hold of a well-built solid elliptical for under $400. Check these guys first if your budget is limited.
4. Adjustable Incline – Target Specific Muscle Groups
An adjustable incline isn't an essential feature. However, walking or running at an incline will help you target those hard-to-train muscle groups such as your glutes, hamstrings, and calves.
Budget elliptical do not include an incline feature. Incline features start to appear on elliptical as we pass the $500 mark.
The cheapest incline options are the manually adjustable inclines. The only problem here is you have to step off of the machine to adjust the incline manually. It's not hard to do, takes a few seconds, but can be an inconvenience if you're in a middle of a workout.
Next, we have power-adjustable incline. It's a great feature as you can adjust your incline level with a touch of a button. Some ellipticals even have the incline controls built into the handlebars as well. Power adjust incline is an advanced feature, so we typically see power adjust on ellipticals costing over $800.
Bonus Features (The Fun Stuff)
Your elliptical can come fitted with all sorts of extras such as HD screens, built-in fitness apps, 3-way cooling fans, workout programs, wireless heart rate monitoring, google maps, even VR! However, the more extras we choose, the more your elliptical is going to cost.
ProForm and NordicTrack are known well for their excellent iFit app. This fitness apps includes 1000s of workouts from their extensive online library.
iFit also features one-to-one workout sessions, global routes you can follow either with the built-in HD screen or on your tablet. And tons of other useful workout aids, but apps like this come at a price. iFit costs $20 a month for the privilege, so it's really down to you and your budget to how many extras you really need?
While still not essential to your cardio fitness, workout programs and heart rate monitoring are two features I feel are worth spending a few extra bucks on.
Workouts programs are excellent for setting new challenges and keeping your interest, especially for long cardio workout sessions. Heart rate monitoring is extremely useful for those of you who wish to exercise in their target heart rate zones.
To Sum Up
What most important when choosing an elliptical is that you choose a machine that suits your workout needs. Make sure to choose an elliptical with the correct stride length; otherwise, the elliptical will not be able to do the job it's built for.
Its also a good idea to choose an elliptical built by a reputable comonay, a comany with a lot of history and great cutomner feedback this way you'll have a good idea about the quality of elliptical you are going to receive, and the customer service you can expect should anything go wrong.
For home use, we reccomed a magnetic elliptical  because they are silent in operation, you wont diturb others around with the sound of your workouts.
And lastly, your elliptical should be equipped with a decent flywheel, something heavier than 10lb. Heavier flywheels ensure a smooth elliptical motion (ideal flywheel weight is around 20-40lb) and a belt drive system. Belt drive systems are quieter than the old chain drive systems, plus they are maintenance-free.
If you want to save yourself some time searching for the best budget elliptical, check out our in-depth review Best Elliptical Under $500
or – Best Elliptical Under $1000 With Power Adjustable Incline Schwinn 470 Review