Xterra Fitness hasn't been around as long as some of the more well-known companies, such as Schwinn or NordicTrack, but this small company is starting to make a real impact on the cardio market.
These guys have built a few impressive entry-level and mid-level ellipticals, the most popular being the one we're looking at today, the Xterra FS1.5.
The Xterra FS.1.5 An Entry-Level Ellipticaol That Gets All The Essentials Right.
The reason this elliptical is so popular is that it offers some impressive features for the price point, such as a heavy flywheel, a whisper-quiet resistance system, more workout programs than most of its competition, and a decent stride length.
The Xterra Fitness elliptical gets all the essentials right, something so many ellipticals in the under $500 fail to achieve.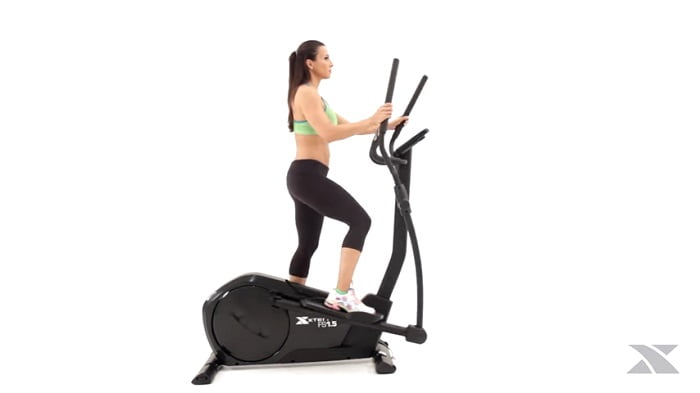 Today we're going to take a close look at everything the Exterra Fitness FS1.5 Elliptical has to offer, including a few of its drawbacks. I'll also compare the Xterra FS1.5 with one of its closes rivals, so make sure to read through to the end if you want to find out how it compares.
First, a quick look at the Xterra Ellipticals product specs!
Product dimensions – 50.8″ L x 24″ W x 63″ H
Resistance Type – Magnetic
Pre-programmed workouts – 14
Why Do We Like The Xterra FS1.5 Elliptical Machine?
One of the most important features we must consider when choosing an elliptical is the machine's stride length.
The stride length is the measurement between the toe of the front pedal to the heel of the rear pedal while the pedals are at the widest stride. It's crucially important as it determines how naturally you will be able to stride.
Thankfully the Xterra FS1.5 boasts an impressive stride length for the price bracket. Its 14″ stride will allow users up to 6ft to active a full stride even at pace.
Most ellipticals under $500 have stride lengths of around 12″, limiting the user height to 5'7″. So to see a 14″ stride on an entry-level elliptical was a nice surprise.
Also, the Xterra includes a surprisingly heavy flywheel at 17.6lb; this, coupled with its belt drive system, will provide you with a smooth, uninterrupted elliptical motion, exactly what we want from an elliptical for home use.  
16 Levels of Whiper Quiet Magnetic Resistance
Another excellent feature of this elliptical is its magnetic resistance system (ebs). The good thing about magnetic resistance is that it's friction-free, resulting in an almost silent resistance system. Great if you dont want to disturb others around you with the sound of your workouts.
Magnetic resistance also allows you to choose a high strength resistance level while walking at a slow pace, which is impossible with air resistance. This is a handy feature for those who want to build and strengthen the muscles in your legs, butt, and core.
The Xterra FS1.5 comes with 16 levels of magnetic resistance, which is more than enough for most fitness levels to find a resistance strength to suit their workouts.
However, we have to remember this is an entry-level machine. The resistance strength, even in the upper levels, will not be enough for serious athletes.
This is a machine built for the beginner and intermediate. Great for weight loss, muscle toning, and increasing cardio fitness. It's not a machine for event training etc. You'd have to spend quite a bit more for a commercial-grade elliptical.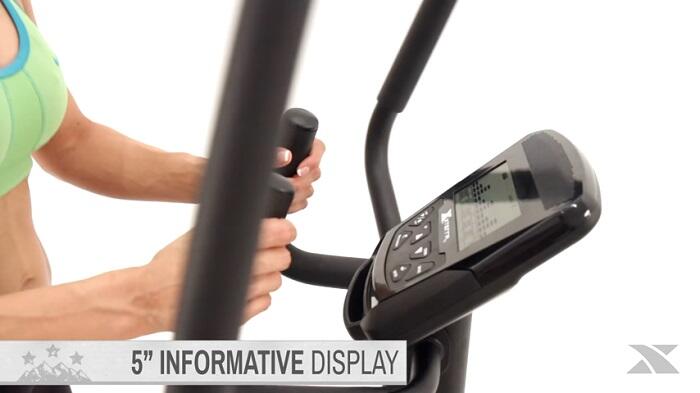 Easy To Use But Basic Monitor
One of the only real drawbacks of buying a low-cost elliptical is that they are usually equipped with a basic monitor. Still, basic means easy to use, which is always a good thing you won't have to spend half an hour trying to figure out how to use it.
The main problem with this monitor is that the LCD isn't backlit, making it hard to read in low light.
But on the positive, I like that you can change the resistance level from the monitor rather than manually from a tension dial.
Okay, so there's no HD screen and no built-in fitness apps, which is what I'd expect at this price, but we do get 14 workout programs, which is impressive. Workout programs are great for keeping away the monotony of long cardio sessions. They will help you reach your goals faster and keep you coming back for more.
There's also heart rate monitoring through the pulse grips useful for those of you who like to work out in your chosen heart rate zone.
Overall it's one of the better monitors I have seen in this price bracket—just a shame the screen isn't backlit.
Note. The monitor tracks all the usual workout data such as Time, Distance, Speed, RPM, Calories, and Watt.
2 Sets of Handlebars – Full-Body Workout
The Xterra Fitness FS1.5 is equipped with two sets of handlebars, one fixed set and one moving the set. The fixed set are excellent for beginners as they provide support and allow you to get used to the elliptical motion before moving onto the moving set of handlebars.
The second set of handlebars are the moving set. The moving set will work your upper body resulting in a full-body workout.
However, you may have noticed the pulse sensors are built into the fixed set of handlebars, an issue with most budget ellipticals. It means you won't be able to monitor heart rate while using the moving set of handlebars. Not a deal-breaker but worth a mention.
Assembly
While most of the heavy stuff comes pre-assembled, there are still many parts you will have to attach yourself. They include two base stabilizers, the upright mast, the fixed handlebars, the console, the moving arms, and the pedals.
Assembly takes most people around an hour. It's nothing too complicated. You'll have clear assembly instructions, plus you won't have to worry about having the right tools for the job as the tools needed come with the machine.
Once built, maintenance on a magnetic resistance elliptical is minimal. It's the reason why these machines are so favored for home use. All you'll need to do is to lubricate the joints if they start to squeak with a few drops of lubricant.
16 levels of whisper quite magnetic resistance
A decent stride length of 14″ will allow users up to 6ft to exercise at pace
Compact will fit into small spaces
Heavy 17.6lb flywheel and belt drive system – smooth elliptical motion
Large pedals with a textured surface and side/front guards for improved foot stability
Transport wheels, just tilt and roll to store
Adjustable rear stabilizer levelers – helps keep elliptical stable on uneven floors
Impressive warranty for price point
Can only monitor heart rate when using the fixed set of handlebars
No backlight on console display
Sunny Health & Fitness SF-E320002 Elliptical
Sunny Health has been around for decades. These guys specialize in high-quality, affordable cardio gear, and it's always a good idea to check out what Sunny Health has on offer for your budget.
Their SF-E320002 is one of their most popular entry-level ellipticals. This thing is packed full of features for the price and includes 24 workout programs, 16 levels of mantic resistance, and a sturdy frame that support up to 285lb user weight.
In fact, it's very similar to the Xterra FS1.5s in that both machines include the same amount of resistance levels both come with workout programs, a decent warranty, and are of similar size.
I prefer the monitor of the Sunny. It slightly larger includes a tablet holder, and thankfully it's backlit. But what lets the Sunny down is its stride length at just 11.5″. It's only suitable for users up to 5'7″.
The Sunny is an excellent entry-level elliptical, and it's always nice to buy an elliptical from a company with decades of experience. Still, the Exterra FS1.5 seems to be a better buy as it has a longer stride length and a heavier flywheel.
To Sum Up
The Xterra is what I'd call a well-built fuss-free elliptical. It doesn't include a fancy monitor or any built-in fitness apps. But it does get everything else right, a solid elliptical perfect for home use thanks to its quiet resistance system, compact size, and silent belt drive.
Boasting one of the longest stride lengths in this price bracket allows the Xterra a max user height of 6ft which is impressive for an entry-level elliptical.
And lastly, a surprisingly heavy flywheel so you can be sure of a smooth elliptical motion.
A serious contender for best elliptical under $500, the Xterra FS1.5 Elliptical is worthy of some serious consideration.