MaxKare Folding Treadmill
Trying to pick out a decent treadmill in the under $500 range can be difficult. There's a ton of below-par treadmills out there in the entry-level range that promise a lot yet deliver so little.
Thankfully, the Maxkare folding treadmill isn't one such treadmill; this machine boasts a powerful 2.5hp motor, an impressive control panel for the price with 15 preset workouts, and most importantly, a solid build.
But we can't forget this is an entry-level treadmill. It hasn't been built for serious runners, and the size of the running belt reflects this at just 16″ W and 46″ L.
 Making sure you buy the right treadmill for your fitness needs is vital. The last thing you want is to buy a machine that's either way too advanced for your needs or purchase a machine that's the wrong fit for your body size (stride & weight).
It's a good idea first to consider your fitness goals; why are you buying a treadmill? Weight loss? Walking? Running? Marathon Training etc.
Great Choice For Walkers & Joggers
The Maxkare is one of the best machines out there in this price range for power walking and jogging.
Okay, the Maxkare isn't a heavy-duty machine, and you'll never find one in this price bracket. What it is, is a well-built treadmill that should suit most people's fitness needs.
The Maxkare treadmill is super quiet, which is great for apartment living. It folds for storage, has a powerful enough motor for calorie burning, and includes an incline feature.
Before we get on with the rest of the review, let's take a quick look at the product specs!
Product dimensions –  54.8 L x 25.6 W x 44.5 H inches – Folded  45.9 L x 25.6 W x 32.7 H inches
Running belt size – 16″ X 43.3″
Why Do We Like The MaxKare Foldable Treadmill?
What I like most about the Maxkare treadmill is its incline feature. So many of the budget treadmills do not include an incline feature. So it was great to see a 3-way incline included with the Maxkare treadmill.
Not only do incline workouts burn a load more calories, but they also target a different set of muscles, especially useful if you want to tone your butt, calves, and hamstrings.
Walking at pace or running on an incline can burn up to 70% more fat than running on flat surfaces. So as you can see, having an incline feature certainly has its health benefits.
We need to point out the incline on the Maxkare is manually adjusted, not power adjusted, so you will have to get off the machine to adjust the level for incline. Sadly you need to pay quite a lot more to find a power-adjustable incline. Still, to even include a 3-way incline at this price point is a bonus.
The incline of the Maxkare adjusts from 1-3 degrees. In percentage, that's a max 5% incline. Not a huge max incline, I know, but it's enough to add that little extra to your workouts.
Monitor/Control Console
At this price, I wasn't expecting to see an advanced monitor, and the Maxkare, like most budget treadmills, doesn't include one.
However, many users have praised this monitor, saying it's nice and simple to use, and they particularly liked that you can change the speed of the treadmill from the buttons on the support bars, which I think is quite a cool feature too.
What's most impressive about the Maxkare control panel is the number of preset workouts it includes. 15 is a good amount for a treadmill costing under 400 bucks.
Preset workouts are great for beginners; they allow you to jump straight on the machine, hit a workout button, and get going. You don't have to worry if you are doing something wrong. The preset workouts take care of the speed adjustments.
If you're a beginner, you can start with workout 1 and work your way up as your fitness improves. They'll also a great way to prevent boredom; a long workout session can get pretty dull, so choosing a workout from the menu is going to help keep your interest levels up plus give you a challenge.
The monitor also tracks time, distance, and heart rate.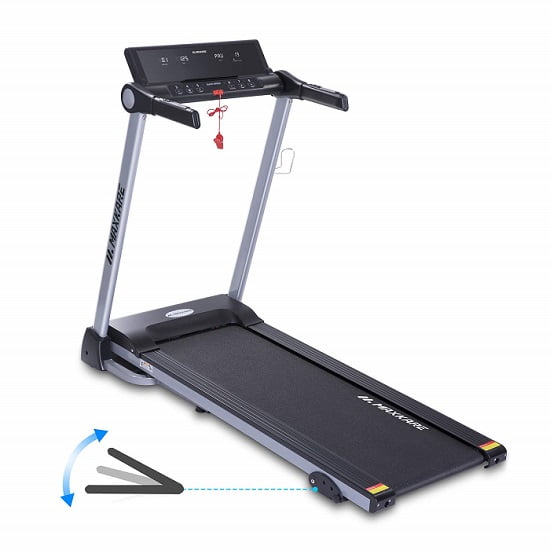 Folds For Storage
In general, treadmills have large footprints, so it's a good idea to take measurements before you buy to see if you have enough room to house the machine.
Thankfully the Maxkar does fold for storage, which is a handy feature for those of you who do not have a dedicated space to store the machine.
Still, even when folded, these machines do take up quite a lot of room, so again I'd recommend measuring before buying.
The plus side about this folding feature is that it's super easy to use. The manufacturers call it the SoftDrop system, the running deck self locks when you lift it, and when you want to lower the deck, you touch the kick button, and the running deck softly self lowers using the hydraulics.
Anti-shock system
Anti-shock systems are nothing new to the treadmill market; they have been around for over a decade now, but what's new is that they now feature on entry-level machines such as the Maxkare treadmill and not just high-end machines.
Anti-shock systems are particularly useful for those of you who want to protect your knees from any unwanted stress caused by running. The anti-shock system runs under the treadmill and helps absorb the impact of each running step.
Anti-shock systems are said to reduce the impact on your joints by up to 40%. It is reassuring to see these systems on cheaper machines, and it makes a machine like the Maxkare an even better buy for the price.
Surprisingly Quiet!
For a treadmill, this one is surprisingly quite. Many of the users who own the Maxkare have commented on how quiet the machine is when in motion. A few users mentioned what a good choice the Maxkare is for apartment buildings.
Decent motor for price point 2.5HP 
Quiet and compact – great for appartments
Easy to use control panel
Not suitable for taller users over 6'1″
Low max weight capacity of 220lb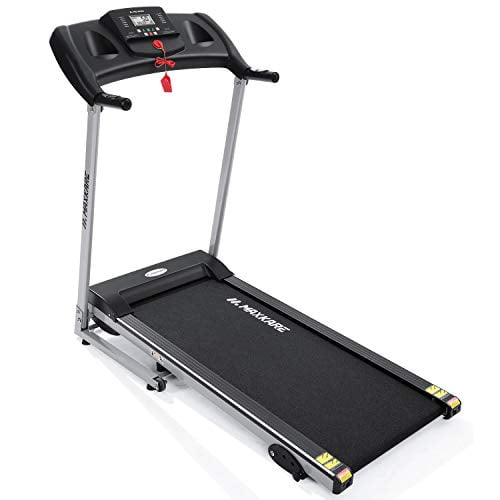 Maxkare Electric 1.5hp Folding Treadmill
The little brother to the Maxkare 2.5Hp treadmill, the 1.5HP Maxkare boasts the same excellent build quality, a similar-sized running belt, actually its slightly wider at 17″, and the same fold for storage feature.
There's really not much separating the two machines apart from the power of the motor.
With just 1.5Hp, this machine is only going to appeal to walkers or people who want to use the machine for light jogging. The treadmill has a top speed of 7.5mph, so there's no fast-paced running on this machine.
Still, if you are only after a treadmill for walking or light workouts and warmups, this machine is an excellent alternative to their more powerful 2.5HP treadmill. I like that they havent cut on quality; the only real difference is the power, so yeah, you pay 100 bucks less for a machine with one less HP.
Again, just like the 2.5HP machine, the 1.5HP machine receives excellent reviews from its owners, with many praising the build quality and also how quiet the treadmill is when in use.
Another excellent machine for beginners on a budget or for people who don't need a powerful motor for running. And just like its bigger brother, it's one of the best in its price range!
To Sum Up
The Maxkare 2.5HP is an impressive bit of kit; there are not many budget treadmills that can boast a sturdy build, a 3-way incline feature, are super quiet when in use, and provide a no-fuss easy to use control console.
The Maxkare 2.5Hp is perfect for home use – the space-saving design, it so quiet you'll never disturb family members with the sound of your exercising, you can even watch TV without the sound of the machine disturbing you. Plus, the motor has enough power for calorie-burning workouts.
As long as you are not over 6'1″ or weigh over 220lb, the Maxkare 2.5HP treadmill shouldn't disappoint.