If you're looking to spend around $600 for a treadmill, don't expect long-running belts and HD screens.
At this price, we're lucky if we can find a treadmill that's well built and boasts some useful features to boost your cardio fitness. Thankfully there are a few stand-out treadmills in this price range, and the SF-T7515 Smart Treadmill is one of them.
Sunny Health are the kings of affordable cardio gear. These guys specialize in delivering quality equipment with as many features as possible at prices that won't break the bank.
I've reviewed a ton of their stuff, and most of the time, I've been impressed with what's on offer; their rowing machines are, by a long way, the best in their price range and by the looks of things, so too are their treadmills. Today we're going to take a close look at the Sunny Health & Fitness SF-T7515 Smart Treadmill.
Impressive Features For Price Point.
The SF T7515 Smart Treadmill sits between entry-level and mid-level. This machine has a few impressive features for the price point, such as power-adjustable incline and preset workout programs.
We also have a motor with enough power for walking and jogging, and a running surface of 49.5″ in length, which I'd expect to see at this price point.
So if you've been looking for a decent treadmill that's designed for walking and jogging, one that includes a surprisingly good incline feature, and you're under 6'1″ and weigh less than 250lb, you might want to read the rest of this review? But before we get on with that, let's take a quick look at the product specs!
Product dimensions –  64.5 x 28 x 50.5 inches
Running belt size – 49.5L x 16.5W
Why Do We Like The Sunny Health & Fitness SF-T7515 Smart Treadmill
While many of the budget machines do come equipped with an incline feature, all of them are manual, heck there's nothing wrong with a manual inline, and it's great to find a treadmill in the budget range (a good one) that provides an incline feature.
Still, if you can spare a few more bucks on a machine such as the SF-T7515 Smart Treadmill, we can now benefit from a  power-adjustable incline.
The incline feature of the Sunny Health & Fitness machine has to be its best selling feature; it boasts a massive 12 power adjustable incline levels ranging from 0-12%. I've sen machines costing twice that of the Sunny Health that only have 5% or 10% Incline, so to see a 12% max and 12 levels is impressive.
What's great about incline workouts is, not only do they strengthen and build your butt, calves, and hamstrings. Incline cardio sessions also burn a load more calories when compared to walking or jogging on flat surfaces.
A 160lb person will burn 345 calories walking on a 10% incline at 4mph for 30 mins. That's 3 times more than you'd burn if you were to walk on a flat surface for the same amount of time.
As you can see, owning a machine with an incline feature has many health benefits, and the Sunny Health Treadmill's incline is probably the best incline you're going to find in this price bracket. First big thumbs up for the SF-T7515 Treadmill
Monitor/Control Console
The best feature of the Sunny Health SF-T7515 monitor is its workout programs.  It's always best when choosing a treadmill to find one that provides you with a few workouts programs.
Workout programs or preset programs are excellent for bringing an extra challenge to your workout. They'll also keep away some of the boredom of long workout sessions.
It's good to see that some of the workout programs of the Sunny Health SF-T7515 take advantage of the power-adjustable incline system. By this, I mean it will self adjust the incline level while you are exercising and the speed.
Self adjust is a cool feature; it saves you from worrying about adjusting any of the controls; you can concentrate on your cardio session and let the machine do it for you.
As for the rest of the monitor, it's relatively simple, which isn't a bad thing as some over-complicated monitors can take half an hour just to figure out and get going. With this machine, you can jump on and get exercising, yeah it's basic but nice and easy to use.
However, the monitor does include a few advanced features such as BlueTooth, and you have the built-in pulse seasons, which monitor your heart rate great for those of you who love to train in your chosen heart rate zone.
The monitor also tracks all the usual stuff, such as distance, speed, time, and calories.
The speed can be adjusted either from the monitor or from the handle's buttons, so too can the incline.
I see a slight design flaw by having the buttons for speed, pulse, and incline built into the handles?
Yes, handlebar controls are great for ease of use; you don't have to reach up to the monitor in the middle of a workout. Accept the Sunny SF-T7515  buttons take up the length of the handlebars, there's no room to put your hands, and if you need the bars for support, you'll end up pressing the buttons.
This isn't a deal killer, it's just annoying that Sunny, unlike the other manufacturers in this price bracket, decided (or didn't think to) make the handles that much longer so you have space for your hands as well.
Most won't need handlebars for support while they jog or walk on the treadmill. Still, I'm sure a few beginners or seniors who need the support will not be happy with Sunny when they first try the machine.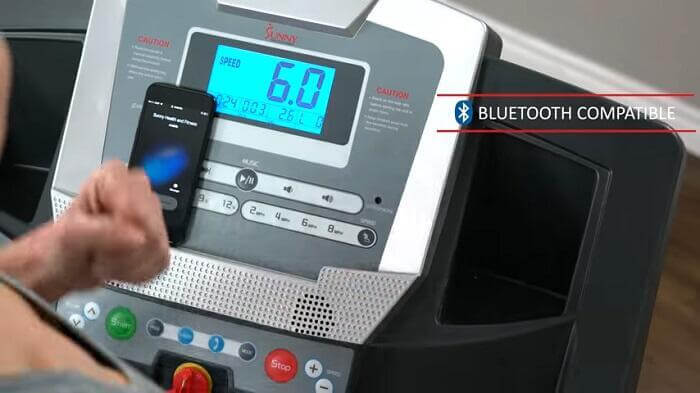 Whos It For?
You don't want to be one of those people who send back their treadmill because it doesn't suit your specific needs, so it's worth paying attention to this bit.
The Sunny Health SF-T7515 Treadmill has been designed for walking and jogging. I'm sure many will be asking why not running? The first reason most won't be able to run on the Sunny is the length of the running belt. At 50,"  the running belt is just a few inches from ideal for running, typically we need to be looking at machines with 55-60″ running surface for fast-paced cardio sessions.
Shorter users may be able to run on the machine as shorter people have smaller strides, so will not need a long-running belt, but anyone over say 5'8″ will have issues running at pace.
It's also a lightly built machine it's not going to take heavy impact running sessions every day. You need to spend a little more if you're serious about your running.
The Sunny is an excellent choice if you're after a machine walking, power walking, or jogging, you can still burn a ton of calories jogging or walking, plus you have the excellent incline feature to challenge you even further.
Folds For Storage
A few years ago, I owned a foldable treadmill, and it was a nightmare to unfold and fold; thankfully, a decade or so later, systems such as the soft drop have appeared. These systems make unfolding the treadmill effortless, you just give the fold system a little kick with your foot, and it slowly lowers the running surface to the ground.
When folded, the Sunny Health & Fitness Sf-T7515 folds to almost half its original length. This feature will save a lot of space. Plus, the machine includes integrated transport wheels, so all you have to do is tilt and roll to store.
The Sunny Health SF-T7515 is compact thanks to the smaller running belt, so the overall footprints isn't that large; even if you decide not to fold it, the machine shouldn't take up too much room.
Assembly
Most of the Sunny Health & Fitness SF-T7515 Smart Treadmill comes pre-assembled. The majority of users found the treadmill easy to assemble and mentioned all you have to do is screw in a few screws. Tools and clear instructions are provided—average build time 30minutes to an hour.
Solid, well built treadmill
12 levels of power-adjustable incline 0-12%
12 preset workout programs
A tablet placed on the tablet holder will cover the quick speed controls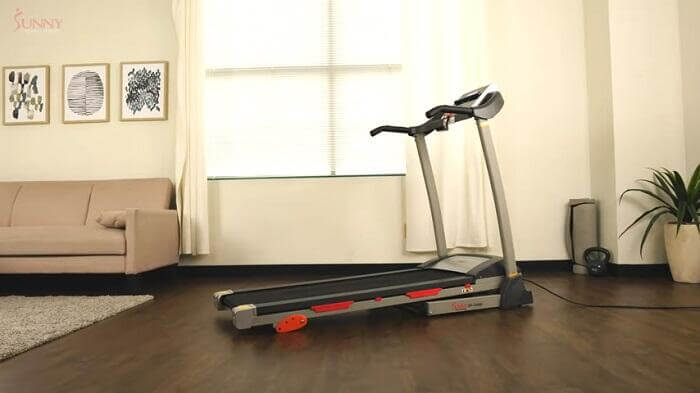 Sunny Health & Fitness SF-T4400 Treadmill
The SF-T4400 is Sunny Health's best budget treadmill. It costs around $150 less than the SF-T7515 Smart treadmill.
This treadmill from Sunny is almost the same as the SF-T7515 as both have the same 2HP motors, both have very similar length running belts, and both come with the extra controls built into the handlebars.
So why does the SF-T4400 cost considerably less than Sunny's mid-level SF-T7515? It's all about the incline. The SF-T4400 only has 3 levels of manual incline, whereas the SF-T7515 has 12 levels of power-adjustable incline.
I think it's worth paying the extra for the power-adjustable incline as its an excellent feature to have, especially as the incline on the SF-T7515 has a max of 12% compared to the 5% max of the manual incline of the SF-T4400. Higher inclines burn more calories plus give the leg muscles a really good workout.
Still, not everyone needs a power-adjustable incline for their cardio sessions, which is why I wanted to show you basically the same treadmill but without the power adjust system.
If you want to save yourself $150 and can live without a power-adjustable incline, then the SF-T4400 is an excellent choice.
To Sum Up
There's really isn't anything bad to say about the Sunny Health SF-T7515.
The only thing I didn't like was the lack of space for your hands on the handlebars. Apart from that, this machine is impressive. One of the best power incline features I've come across in the under $600 price bracket, lots of preset workout programs, and an excellent, easy-to-use fold feature.
As I mentioned earlier, it's a long way off what you would find in your local gym, but you'd have to pay $2k plus for one of those.
The SF-T7515 is a perfect machine for home use; it's compact, easy to store, and has enough features to keep most users happy.
Whether you have been looking for a cardio machine to lose some unwanted calories, increase your cardio fitness, or tone the muscles in your lower body? The Sunny Health and Fitness SF-T7515 is a cable machine up to the job.