There's always been one treadmill 350 pound weight capacity that stands out way above the rest, yes, there are a few other impressive machines around, but none come close to the Sole F80 treadmill on features and build quality. This machine has outshined everything else in its class for years. Ever since I started reviewing treadmills (many years ago), the Sole F80 has always been the Go To treadmill for walkers, joggers, and runners looking for a high capacity machine.
350 lb capacity treadmills don't come cheap. If you want something with a heavy-duty build that can handle 350 lb of weight for many years, you'll have to expect to pay a little extra for the privilege.
Just Over $1500 For a Semi Commerical Treadmill.
The Sole Treadmill costs just over $1500, and when you consider this machine comes with a commercial-size belt, a heavy-duty commercial motor, a rock solid frame, and a 15% power incline, you realize that's a lot of treadmill for the money. And with a lifetime warranty on the frame, motor, and running deck, and five years on parts,  plus two years on labor, you also realize you'll never find a better warranty on a treadmill in this price range.
The reason you get such an outstanding warranty because these guys have so much confidence in their fitness gear, which is always a good thing.
But it's not all about the Sole F80 in our review today, you have the Xterra Fitness TRX4500 Treadmill, another impressive machine that doesn't break the bank but delivers on all the essentials, and I'll be comparing the Xterra Fitness TRX4500 with the Sole F80 at the end of this review.
For those in a rush, here's a quick comparison table of the two best treadmills with 350 lb Weight capacity. For those with more time, please scroll past the comparison table and read our in-depth reviews.
Best Treadmill 350 Pound Weight Capacity Comparison Table
Best Overall
Sole F80 Treadmill
Foldable

Weight – 265lb

Running belt – 22″ X 60″

Speed – 0.5 – 12mph

Motor – 3.5HP

Weight capacity – 375lb

Power Incline – 15 levels
Foldable

Weight – 220lb

Running belt – 20″ x 60″

Speed – 0.5 – 12mph

Motor – 3.25HP

Weight capacity – 350lb

Power Incline -15 levels
Why Do We Like The Sole F80 Treadmill?
As I mentioned in the intro, what sells the F80 treadmill is its build quality; this treadmill weighs over 260lb it's a heavy machine for the price point. That extra weight tells me it's made from quality materials, and that extra weight really helps keep this treadmill planted to the floor. It's a solid treadmill, and it's not going to feel much different from treadmills you've used in your local gym.
Even the rollers under the running deck are large high-quality rollers with sealed bearings; these are the rollers they use on $5k treadmills. High-quality large rollers deliver a really smooth, quiet belt motion, just like a commercial treadmill. And great to see them in this price range.
Commerical Size Running Belt – 22″ x 60″
And it's not just the quality I love about the F80. You also have the commercial-size running belt. The belt measures 22″ x 60″. This is what you want. It is nice and wide, so you can run at pace without the fear of stepping off the side of the belt, and at 60″, it has a max height for running of 6'1″ and for jogging 6'3″.
Burn 3 Times More Calories Hill Walking/Jogging
Whatever treadmill you choose, I'd always recommend you choose one with an incline feature. Whether you're a beginner or a seasoned runner, an incline will bring an extra challenge to your workouts. Even at a 10% incline, you'll burn three times more calories than jogging on a flat surface. And best of all, you'll build and strengthen those hard-to-train muscles like your glutes, calves, and hamstrings.
The Sole Treadmill boasts one of the best inclines in its class. It's power-adjustable, so you can adjust it using the quick touch buttons under the monitor. The incline adjusts in increments of 1% up to 15% giving you 15 levels.
If this is your first treadmill or the first time you've used an incline, it's best to get used to the treadmill in a flat position first for a few months. You need to build strength and confidence to start hill walking or jogging.
Can I Run on The F80 Treadmill?
There's very few treadmills under $2000 that can actually be used for running. Most don't have the build, belt size, or power. Thankfully the F80 is one of the treadmills you can use for running. Still, we need to remember this is a semi-commercial treadmill, not a full commercial treadmill which means it's not a treadmill for serious runners.
So while the Sole F80 might not be the best choice for serious runners, it can still be used for jogging and light running. It certainly has the power and the belt size; it just doesn't quite have the heavy-duty commercial build of the gym machines, but it's not far off! And it's still mighty impressive for the price point.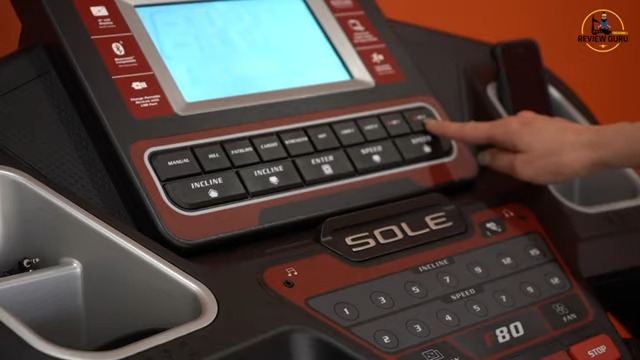 Easy To Use Monitor With The Features, You Need
Sole Fitness isn't like NordicTrack and ProForm, you won't find huge HD touchscreens with expensive subscription apps on Sole Fitness Treadmills.
Sole has always preferred to focus most of their attention on the essentials like a durable build, a large belt, etc. Still, the monitors on their treadmill do include everything you need.
The F80 monitor was updated this year; it's now larger and includes a better stereo system. You have a 9″ LCD where you can easily view all your workout stats. You also have eight workout programs, and what I like most are the quick touch buttons because they allow you to access everything with a single touch of a button. This is an easy monitor to set up and use.
Other features of this monitor include wireless heart rate monitoring, which is a much more accurate way to monitor heart rate than the pulse sensors, and they throw in the HR chest strap for free, which is great news. Also, you get the 1/4 track feature, an essential feature for some of you guys.
Plus, there are built-in cooling fans and BlueTooth speakers. Overall it's a monitor that has everything you need for your workouts. And if you want to download any fitness apps, there's a tablet holder for your iPad.
Flex Deck Cushioning – Joint Protection
It doesn't matter what age we are, protecting our joints is important. And if you're heavy, it's even more important because your joints are under more stress. Most decent treadmills include a deck cushioning system to protect your joints.The Sole F80 uses the flex deck system, a system that runs under the belt of the treadmill, they've used this system for years, and it works well. It's said to reduce the impact of each foot strike by 40%.
Lift-Assist – Hydraulic Folding System on F80
When you buy a treadmill, you don't want to choose the electric folding systems as that's just something else that can break down; you need to look for manual hydraulic folding systems. These are the best type of folding systems for treadmills. They're so easy to fold that you can do it with a single hand because the hydraulics do all the heavy lifting.
The Sole F80 is a fairly large treadmill because of its 60″ running belt, but you almost halve its overall footprint once folded. And because it has built-in transport wheels, all you need to do is tilt and roll the treadmill on its wheels to store.
Overall – You won't find a better treadmill for the price point than the Sole F80, it's a durable, well-made machine capable of handling heavy weights regularly, and by regularly, I mean every day you can use this treadmill, and it won't break down. These guys are known for the durability of their machines. And if anything goes wrong, you have the best warranty for peace of mind.
Sturdy build can handle 375lb
Full size running belt – 22″ x 60″
3.5HP heavy duty high quality motor
Impressive 15% 15 level power incline
9″ easy to read LCD monitor with wireless heart rate monitoring, BlueTooth, workout programs and 1/4 mile track feature
Flex deck cushioning to protect your joints 
Built in transport wheels, speakers, tablet holder and cooling fans
Raised buttons are more likely to get dirty or sticky
The TRX4500 from Xterra is the only other treadmill I like that can handle 350lb of weight every day without breakdown and doesn't come with a silly price tag.
Xterra Fitness has come a long way in the last ten years. These guys are starting to rival NordicTrack, Sole Fitness, and Schwinn. They make some impressive fitness gear, and their treadmills are some of the best on the market. And just this year, they finally released a heavy-duty treadmill, the TRX4500, and I can happily say it doesn't disappoint.
$400 less Than The F80
It's a few hundred dollars cheaper than the Sole F80, so it's not as heavy-duty, but it still weighs 220lb, so it is no lightweight treadmill either. It's a study machine and won't have any problems coping with heavy users. You also get a near commercial-size running belt measuring 20″ x 60″ and a powerful 3.25HP motor which is excellent for a $1100 machine.
And the incline is impressive, too; just like the Sole F80, you have the 15 level 15% incline, which is excellent news for those who want to burn off some extra calories or add an extra challenge to their workouts.
Xterra Fitness is like Sole Fitness when it comes to the monitor. They have spent all the money on the important stuff, so you basically end up with a simple monitor.
There's no HD screen or subscription apps, but like the Sole F80, the monitor is super easy to use and comes with those large one-touch buttons. There are 30 built-in workout programs to help you set goals and keep you challenged, and you have wireless heart rate monitoring with an HR chest strap.
It's another folding treadmill, and you'll be happy to hear Xterra has used the hydraulics, so it's effortless to fold and lastly, you have a decking cushioning system to protect your joints.
Overall, an impressive, full-featured treadmill at a great price. Xterra got everything right with their heavy-duty 350lb capacity treadmill. This is a fuss-free well made machine. It's not going to leave you wanting, and you have the build quality from Xterra which ensures you won't need to worry about durability. It's a treadmill I'm happy to recommend.
Solid build for price point, can handle 350lb
Can be used for walking, jogging and light running
Excellent incline 15% – 15 level
30 workout programs & BlueTooth
Wireless heart rate monitoring (includes HR chest strap)
Near commercial size running belt 20″ x 60″
Built-in transport wheels, cooling fans, bottle holders and tablet holder
Monitor is going to feel a little basic for some people
Deck cushioning isn't adjustable
Treadmill Buying Tips
The last thing you want to do is return a treadmill. They're large, heavy items, and returning them can be a headache. This is why it's always a good idea to know exactly what to look for when buying the right treadmill for your needs. Getting it right the first time will save you money and time. I've put together a 2-minute buyer that explains what to look for and what you should avoid.
Treadmill Weight
The weight of a treadmill is more important than you might think. Many people look for a light treadmill because it's easier to move and store, but this is a mistake. Light treadmills are unstable, often made from cheap materials, and do not last.
What you need to look for is a treadmill with a minimum weight of 150lb. The extra weight aids stability, and the heavier the treadmill is usually a telling sign of the quality of the materials used in the build. Heavy treadmills feel solid and are much more durable than the cheaper lightweight alternatives.
$400 – $800 – You should be able to find treadmills weighing at least 150lb
$800 – $1200 – You should be able to find treadmills weighing at least 200lb
$1200 – $1500 – you should be able to find treadmills weighing at least 220lb
$1500 – $2000 – You should be able to find a treadmill weighing anything from 250lb – 300lb
Treadmills costing over $2000 should weigh over 300lb. This is where you start to see the heavy-duty full commercial machines for serious runners.
Belt Size
After build quality, the next most important thing to look for when choosing your treadmill is the size of the running belt. The size of the running belt will determine who can use the treadmill and for what.
A commercial-size running belt measures 22″ x 60″. This is the ideal size for treadmill belts as it will allow almost anyone to use the treadmill for walking, jogging, and running.
Still, not everyone needs a treadmill for running. Some of us only need a treadmill for light to medium cardio, like walking and jogging; therefore, you will not need a commercial-size running belt. You can choose a lower-priced treadmill with a shorter belt.
Walking requires a shorter stride than jogging, and jogging requires shorter strides than running, so you need to choose a treadmill belt suitable for your type of workout.
Treadmill belts under 45″ are usually only for walking as they are too short, even for light jogging.
A 50″ belt can be used for jogging for users up to 5'8″
A 55″ belt can be used for running up to 5'6″ and jogging up to 6'1″
A 60″ belt can be used for running up to 6'1″ and jogging up to 6'3″ or more (can depend on leg inseam)
If you're taller than 6'1″ and need a treadmill for running, you might have to look for a treadmill with a 65″ belt. These treadmills are extremely expensive, and not many companies make them.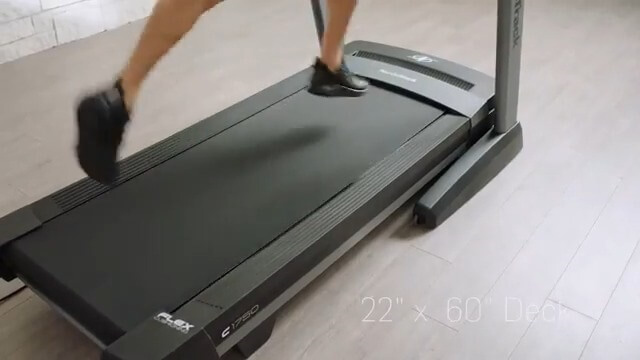 Incline
I feel that an incline on a treadmill is an essential feature because of the huge health benefits. You burn three times more calories walking or jogging on an incline, and you get to strengthen and build those hard to train muscles in your legs, such as your calves, hamstrings, and glutes. An incline is a must if you want to get the most out of your cardio session.
Most treadmills do come with an incline feature. The low-cost treadmills are equipped with manual inclines. A manual incline means you have to get off the treadmill and adjust the inclination manually, which is a bit of a hassle, but it's still better than nothing. Also, manual inclines tend to only have three levels with a max of just 5%
If you spend a little more money, over $800, you can usually find a treadmill with power adjustable inclines. Power adjustable inclines are the gold standard for treadmills. You can adjust the incline level with a touch of a button.
Depending on your budget and how serious you are about your training, you want a treadmill with at least a 10% power incline, which will leave you room to grow. Many people who buy treadmills with manual inclines outgrow them in a few months because the 5% becomes too easy.
Look for power-adjustable inclines with at least 10% and preferably adjusting in increments of 0.5% or 1%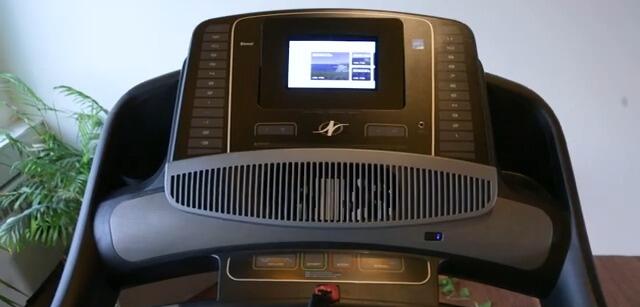 Monitor/Control console
The more features you want from a monitor, the higher the treadmill cost. But you need to be careful with some companies as they concentrate too much on the monitor and the tech and forget about the essentials of the treadmill. Too many people end up with fancy 22″ HD touch screens and treadmills that keep breaking down.
Features that are important on a treadmill monitor are things like quick touch buttons; these save a ton of time and are much easier to use while you're exercising than having to scroll through menus ext. Many of the top treadmills now use one-touch buttons for speed, incline, and workouts.
Also, a good idea is to look for a few built-in workout programs. Especially if you don't won't want to pay for subscription apps.
And wireless heart rate monitoring is a must if you're someone who likes to train in their chosen heart rate zone. Wireless heart rate monitoring using HR chest straps is a more accurate way to measure heart rate than the Ergo bar sensors.
A 1/4 mile track feature is handy for those of you in training and something I always look for.
And yes, you do need a decent size screen to view all your workout stats. I've found anything over 7″ works just fine.
And if you love subscription apps like iFit, remember you're paying an extra $400 for a 22″ HD screen. 10," or 14″ screens are easily large enough to view iFit and follow the global routes, etc., or the studio classes. Save yourself some money: large HD screens are overkill for a home treadmill.
How Much Power Do I Need? (Motor)
This depends on the type of workout you plan on doing and how much you weigh. If you weigh over 300lb, you'll always need a treadmill motor with at least 3HP if you want to avoid early motor burnout.
Runners, whatever weight, will also need a treadmill motor with at least 3HP.
Ideally, 3.5HP-4HP is what to look for, but treadmills with this amount of CHP (continuous horsepower) usually cost over $2k.
Deck Cushioning
Most treadmills should include a cushioning system for the running belt. A cushioning system works by cushioning the impact of each footstrike. Some of the best systems can reduce this impact by 40%. The best systems are found on the higher-priced treadmills (over  $1k), but even the low-cost treadmill cushioning systems will reduce the impact on your joints to some degree.
The most impressive deck cushioning systems are adjustable. An adjustable system is important because the user can choose how much cushioning they need. An adjustable system is essential for road runners who like to train indoors in the winter months as they can adjust it to the firm option to replicate road conditions.
Folding Systems
Not all treadmills include folding systems, but if you're tight on space, you'll need a treadmill that folds, as it can halve the machine's overall footprint.
It's best to look for hydraulic folding systems. The hydraulics of the folding system do all the hard work for you. You can fold a treadmill deck with a hydraulic system with one hand. It's that easy.
You won't find hydraulic systems of the cheaper treadmills under $400, but anything over this price usually includes a hydraulic system. 
To Sum Up
The choice isn't huge for treadmills with a $350 weight capacity because most with a weight capacity this large are commercial machines, so you are looking at $2k + price tags, and the others that are cost less don't have the build to cope with this kind of weight daily.
Still, there are a couple of treadmills, although not cheap, that stand out from everything else on the market right now, and one of them is the Sole F80. This treadmill has stood the test of time; people who have owned it for years still sing praise for it. There are not many treadmills that can boast that type of feedback, especially with a price tag of around $1500
I like the Sole F80 because it delivers on everything, has all the tech you need, has a heavy-duty frame that can handle 375lb, and best of all, comes with a Commerical size running belt and a powerful high quality 3.5HP motor. You won't be disappointed.
Treadmill 350 Pound Weight Capacity FAQS
What are The Differences Between a $1000 Treadmill and a $3000 one?
$3000 treadmills are commercial-grade treadmills. This type of treadmill has a heavy-duty frame. Some can weigh over 350lb. Treadmills in this price range are usually seen in your local gym and, if bought for home use, are bought mainly by serious runners in training for marathons, etc. Most people do not need a treadmill costing $3000, especially if you only need a treadmill for light to medium cardio.
Are Treadmill Subscription Apps Worth It?
Some subscription apps like iFit are excellent for keeping you entertained and challenged. iFit offers over seventeen thousand workouts from their online library, so you'll never run out of challenges. Still, at over $1, a day subscription apps like iFit can be expensive. If you're someone who thinks they need that extra bit of encouragement to get the most out of your cardio sessions, then yes, I think they can be worth it.
What Brands Make The Best Treadmills With Weight Capacities Over 350lb
The best brand that makes treadmills with high-weight capacities is Sole Fitness. This company makes heavy Duty treadmills but keeps prices below the $2k mark. Other companies that produce high weight capacity treadmills are Life Fitness, Reebok, and Life Span. Still, most of these treadmills are designed for serious runners and commercial gyms, which means they are full commercial grade and they cost more than $2000.